AirPod Lost in Airplane Seat: Quick Tips
Don't adjust your seat. If the AirPod (or any other electrical device) is in an unfortunate position, moving the seat could snap the device.
If you're having trouble locating the AirPod visually, try disabling Automatic Ear Detection under Bluetooth settings and playing music through it.
Or try the "Find My" app to "Play Sound" through the AirPod.
If you're still unsuccessful, notify a flight attendant. They may be able to help with a flashlight or light duty retrieval techniques.
If not, a flight attendant should be able to arrange for a ground crew technician to assist upon arrival.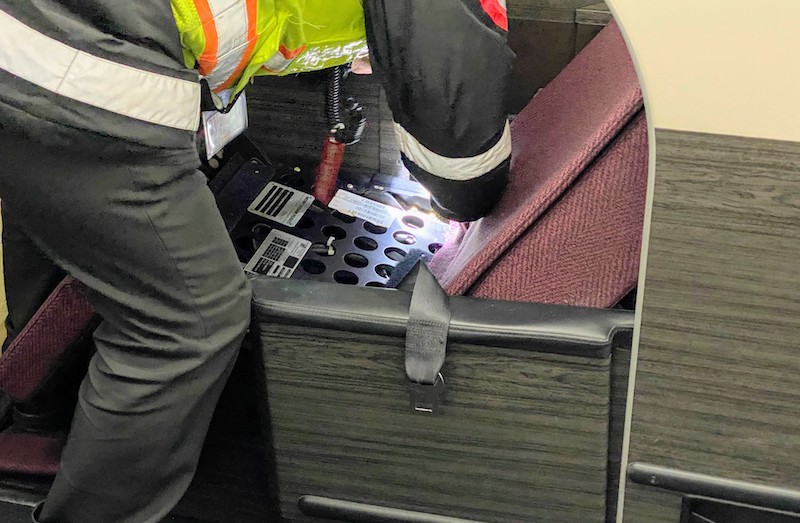 Our Experience with Japan Airlines
We were flying Japan Airlines from Tokyo to Boston on a 787-9 in Business Class. My son fell asleep while listening to music and when he woke up he told us he'd lost one of his AirPods behind his seat.
He knew they were back there because when he turned music up all the way, he could hear the AirPod. By default, AirPods stop making sound when they're not in your ears but this can be overridden in Bluetooth setttings.
I did some looking and poking around with the flashlight on my phone but couldn't see the AirPod anywhere.
My first Google search was "can you buy a single AirPod?" which tells you how low my confidence was in retrieving the device.
We asked a flight attendant for help and she too looked around. But nobody could see it.
Coincidentally, another passenger realized he too had lost an AirPod right around the time that we were looking for my son's. Fortunately, he was able to retrieve it with a makeshift stick and packing tape from the flight attendants.
I don't think there's anything particularly unique about these seats in terms of their "AirPod gobbling" tendencies. But I thought it peculiar that two people were simultaneously hunting for lost AirPods on the same flight.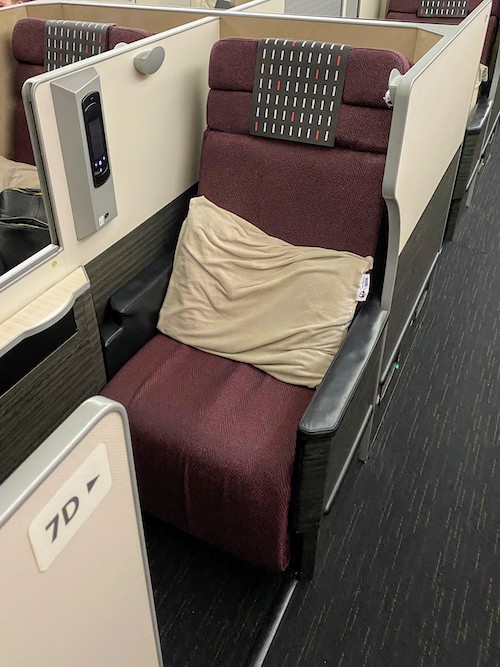 Assistance After Landing
The cabin on our flight was lightly loaded. To avoid adjusting the seat position the fight attendant moved my son to another seat for landing.
Before the plane had completely deplaned, a JAL ground technician and a manager came on board to help.
At first, the technician couldn't see the AirPod, even after removing the seat cushion.
But after further disassembly of the seat, he was able to locate it visually.
It was going to take some time to get at the AirPod so they asked us to meet them at baggage claim.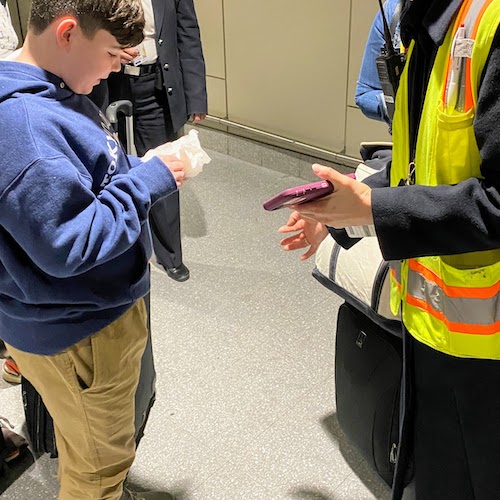 Success
We met the JAL manager right where she said she would be, and my son was reunited with his AirPod. He was thrilled.
The Boston-based JAL technician and manager were so helpful and professional. Just like all the Japan Airlines flight attendants and so many people we met in Japan.
I was surprised and impressed that JAL maintains a dedicated ground crew in Boston, especially with only one flight a day.
Bottom Line
If an AirPod or any other item falls behind your airplane seat and you can't find it, contact a flight attendant. If they can't help you they should be able to get assistance from the ground crew.
I was really impressed with Japan Airlines across the board (we flew them in both directions) and this was just one example of their spirit and style of service.
Here's a related puzzler: Japan has a culture of not tipping – even for exemplary service. But can you tip a JAL employee on US soil?
I thought I had a solution that involved asking the manager to share with the technican 2,000 Yen (around $20) we had left over from our trip.
But the manager would have none of it: They were just doing their job. She said I'd have to return to Japan to spend it.
A return trip to Japan? I love it. I'm planning it already.
In case you missed it, we released a free episode of the podcast where shortly before our outbound travel AA terminated my account live on the show. Listen as I resuscitate the trip with alternate airline miles.
I talk more about the flights, and how to book award travel for family of four in premium cabins to Japan, in a point-fueled trip report on this week's paid podcast.