Note: Today's post is loosely related to the "Icarus Paradox," which you may want to read if you haven't already.
I had originally titled this post "The First Shutdown of #Milemadness," however as you'll come to see the shutdown had nothing to do with the tournament.  It will impact my ability to earn miles in the long term, but in the short term it won't have a huge effect.
Via Certified Mail and First Class Mail
Suntrust sent me a wonderful letter, a Dear John letter of sorts:
I regret to Inform you that Suntrust is no longer able to provide the financial services you require. As a Result we ask that you immediately close your accounts.
Suntrust continuously reviews its products, markets and client relationships to ensure that we are able to provide the best possible client service while also meeting our corporate business objectives. There are circumstances where the company will identify a specific account relationship that no longer meets these criteria. In the best interest of our clients and Suntrust the company will request that those accounts be closed.
In accordance with these Rules and Regulations and as a result of a recent account review we find it necessary to discontinue our banking relationship. We must ask that you close the account by March 26, 2014. If you do not close the accounts by this date we will close them for you, and either hold the proceeds until we hear from you, or we may mail you a check for any collected balance. If any account is overdrawn you will be responsible for all items along with any associated fees, that are present after closure.
If you have a Suntrust Check Card, it will become inactive within 10 days of the date of this letter. In preparation for your account closure you should begin immediately to make other arrangements for any automated credits to, or from your accounts.
I've long expected a letter like this. While expected, it still stung a little to receive it.  I'll move on of course, and there's no huge loss, since the Delta Skymiles debit card is an Open System Card. The miles have long since been transferred to my Delta account and are mine to keep.
From Georgia, With Love
The beginning of this story is as old as time itself:
Boy Meets Card, Boy Falls for Card, Card Breaks it Off
That's not the whole story, or at least not the story of how my time with this Debit card came to an end:
In late January my card was damaged, broken in half actually, and I reached out to Suntrust to receive a new one. In order to receive a new card I needed to change my mailing address.  I delayed doing this as long as possible–I knew that if eyes were placed on my account I would probably not be a customer for long. 
After a week, then two, of no new card I figured that things were probably going south. I pulled as much cash out of the account as possible and waited to hear from Suntrust. Today's letter was unwelcome, but not unexpected news.
What Caused the Closure?
From the above letter, "…as a result of a recent account review we find it necessary to discontinue our banking relationship." I take this to mean that a person looking at my account red-flagged it for something. That something is probably one of the following:
1. Location. Simply having a Suntrust account opened with a California mailing address seems to be a significant risk factor.  They've been known to close accounts out of their geographic area: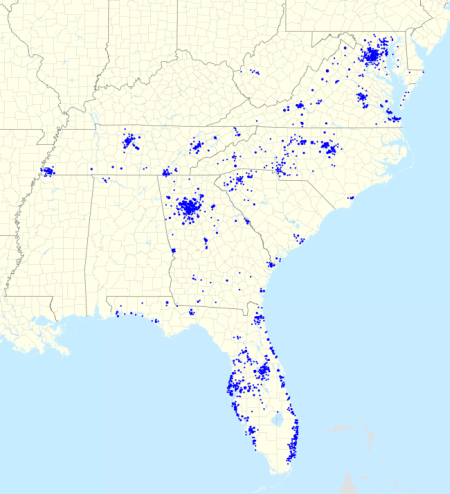 It is possible that the address change to a CA address (from a CA address) is what caused problems.
2. Spending. I opened the account via online chat back in 2012, earning 30,000 Skymiles during the summer promotion.  From that point on I never once contacted the bank. I slowly ramped up production month by month, and went full steam ahead starting in December 2012. The closure could be based on the number of miles earned from the card, or the monthly spend on the card.
3. Activity Pattern. I was transferring in money multiple times a month, and transferring it out while still pending. At first this seemed super risky to me, but this also became one of the most challenging parts of producing Milenomics Manifolds.
Let's Bee Friends

Whatever the reason for this letter, I'm not bitter.  Suntrust, we had a great year and a half. I'd like to thank you actually, for making such an excellent product which allowed me to earn many wonderful Skymiles.
And who knows, perhaps someday (soon even) you might see an application from a Mrs. Simon cross your desk.
If (and when) that happens, please be sure to approve it, so we can go on making Skymiles together. Who knows, we might see each other in the future. I'm not above flying to Florida to open one of these accounts.
Does This Affect #MileMadness?
As you can see this account closure is not related to the Spending tournament I am currently a part of.  After I contacted Suntrust and I didn't receive a new card right away I was pretty much expecting this to happen. Since I didn't have the card I did not incorporate this card into my strategy for the tournament.
A second, more sinister idea that crossed my mind is that a competitor in the #MileMadness tournament works at Suntrust, and flagged my account to clip my earning potential.  I dicounted this because it 1)sounds is crazy. and 2)The card was likely shut down prior to anyone knowing my involvement in the tournament.
Never a dull Day! In brighter news, I've spent $2,425 so far today and earned 2,113 miles, with $2.10 in fees.