I've decided after a decade of traveling the world that I've found my happy place, at least for now. And proudly I can say that place is here in the United States of America: Kauai.
Why is Kauai my happy place? The best beaches on earth? While there certainly are fantastic beaches, and two of my favorites are on the island most would agree there are far more picturesque beaches in S.E. Asia, or even the Caribbean. Maybe the tours and activities? Nope, actually I think Kauai, while full of good tours, is actually not even the best Hawaiian island for that, with better tours in Maui.
So what is it? I can't say. Or maybe I don't know? So when something can't be explained and can't be understood–what's left?
Magic.
There really is just something magical about this island, that keeps calling me and my family back.
Kauai Cravings
A patron of our Podcast once told me, "You Can't Vendome in Kauai," and I thought about making that the title of this post. The statement really is true. While there are some ok higher end places to eat at the resorts along the south shore–that's not really what Kauai is about, at least not for me. I'm not in Kauai for anything other than food I can't get in Los Angeles.
When I'm home, I'm craving these foods, and the places that are uniquely Kauai. That means fresh fruits, savory meals full of rice and meat, cold Poke of all different flavors and types, and desserts which are so good you take pictures of them and ask friends to try to recreate them when you get home. (Is that something only I do?)
Before I run down the places that I'll keep coming back to a note: Many, many places closed or had reduced hours due to the holidays. Call whenever you're driving a good distance to make sure they're still open.
North Shore
The North Shore of Kauai presents a more difficult landscape for food options. Plan out your day and where you'll eat up here. You'll struggle to organically find places to eat at if you don't make sure that you have things set. Slow pace and places that close early are the norm.
That said, the places I will keep coming back to are:

Ama (Hanalei)– Reservations strongly suggested. Hanalei is a mindset, not a destination. You can't go to Hanalei and be in a rush. You can't go there and think: I want fantastic ramen and I want it now. Is the Ramen at Ama great? If I'm being honest, no, it isn't. All of their food is relatively inauthentic on an island full of authentic food in my opinion. But their drink menu is fantastic, and nowhere on earth will you sit and enjoy a sunset and a meal with this view: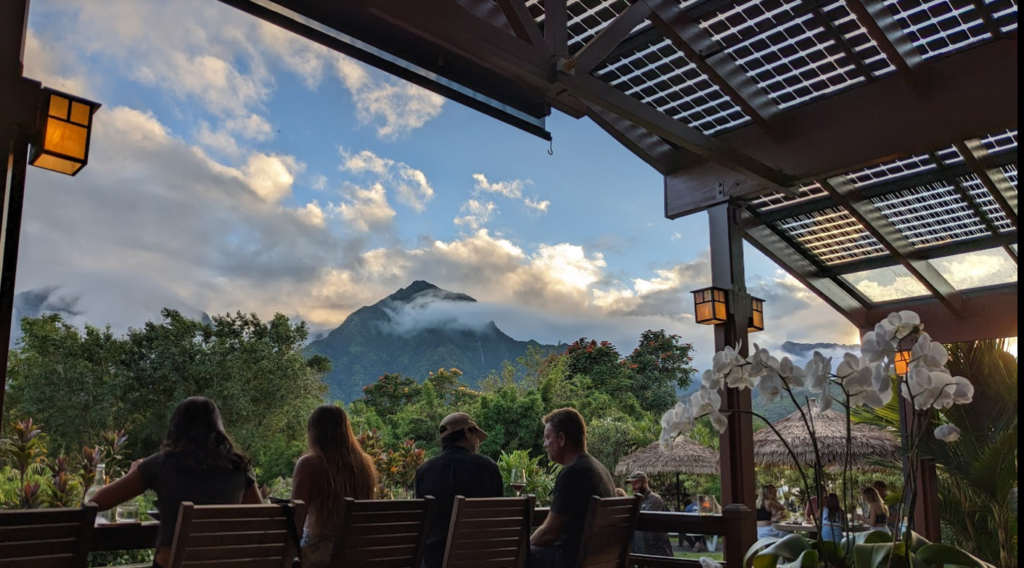 I would not drive up to Hanalei for Ama. Please don't come with expectations. If you're already in Hanalei, or coming back from the edge of the world make a reservation, slow down, and enjoy the world and your loved ones as you share this special place. (Ama on Yelp)

Kilauea market and cafe – This was a new find (and is a new market). The store itself is great, and I'd say is a good option if you're staying in the area or on the morning drive up to Hanalei from a South or West side stay. The cafe serves up some solid breakfast and great coffee. They even have a few rotating beer taps. Trilogy Coffee (across the parking lot) is a better coffee shop, but the food here wins out. Good wine selection and a decent fresh fruit area if you're struggling to find or get to a farmer's market. (Yelp)

Kilauea Fish Market: While this is no substitution for Konohiki (see below), if you're staying on the north shore and espeically near Kilauea this is a great place to grab plates for lunch. Nextdoor to the Kilauea Market, across the street from Kenji Burger–Kilauea is up and coming, but the Fish Market has been here for the long haul.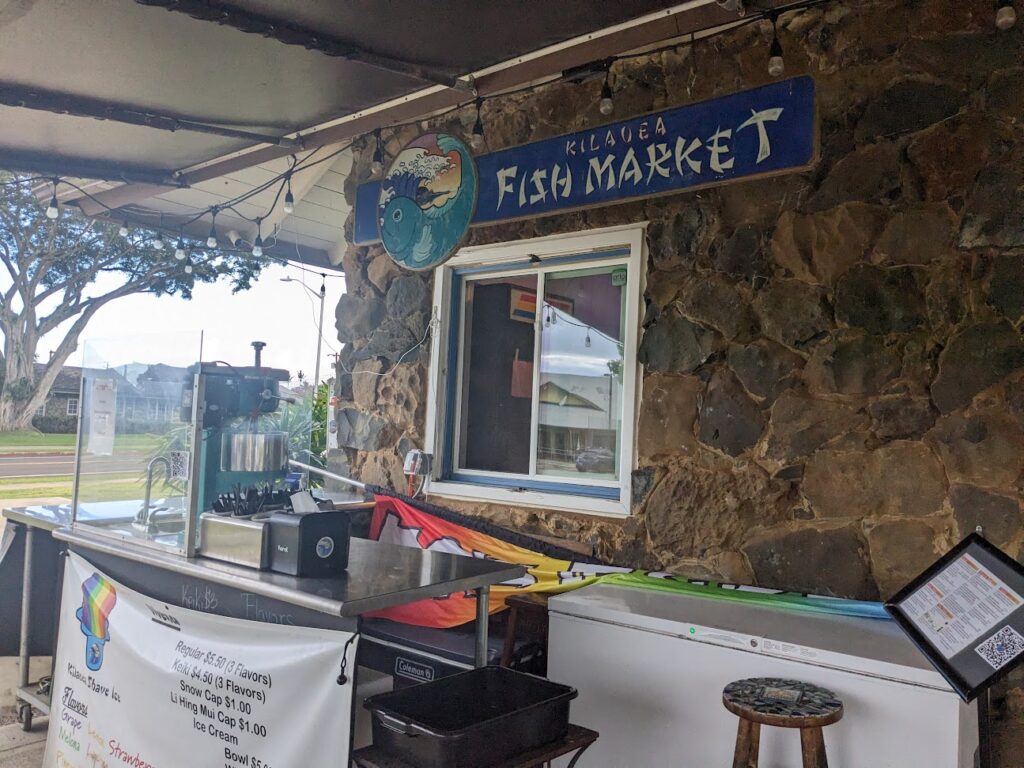 Plates of fresh fish, poke, salads (rare!) and Teri Chicken. They're working hard in a small space and seating is outdoors. Hope for rain while youre there because it makes everything so much more beautiful.

Tropical Taco: (Hanalei) Again don't drive up for this, but Tropical Taco is really the only 'Mexican' food I will order on the island. Fish tacos, salads and the rest, all with a little Kauai twist like Taro Fries instead of potato fries.
They make their own hot sauce, and they're RIGHT nextdoor to Hanalei Liquor store who have a big craft beer fridge. Grab a beer and enjoy Tropical Taco out on the patio in the rain. Watch the traffic on the street. Slow down. (Yelp)

Wake Up coffee Bar (formerly trucking delicious): This is a Food truck turned corner shop/Cafe success story. They close right after breakfast, so get here before noon. My theory is they do breakfast so well they don't want to try to do Lunch or dinner.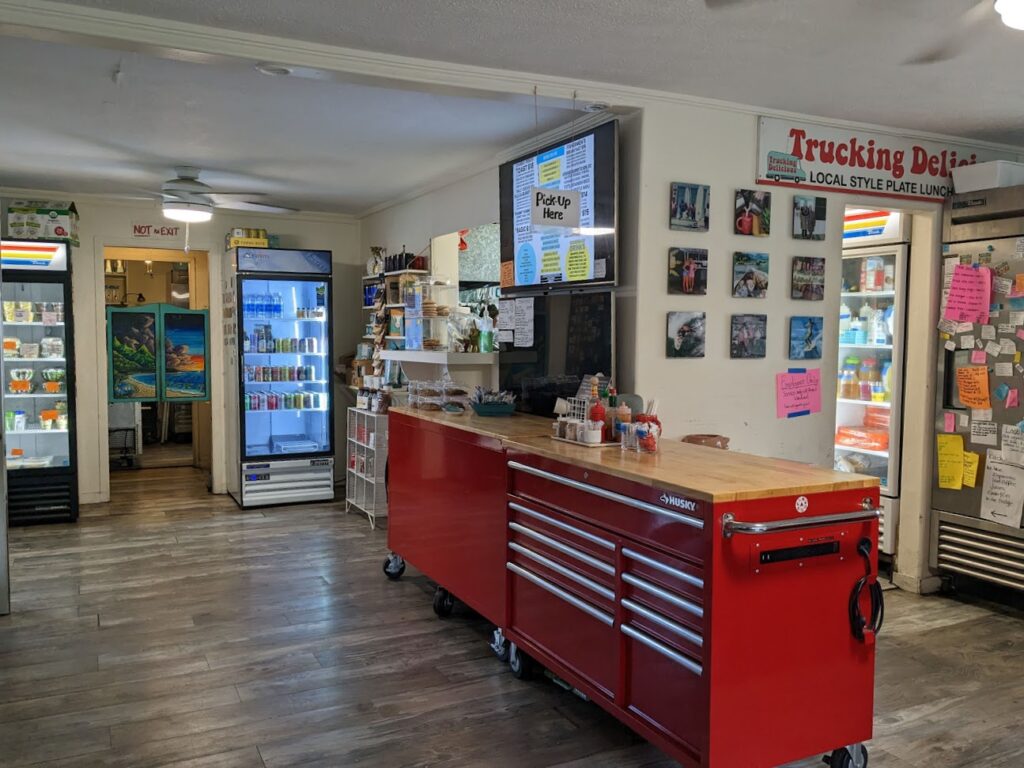 Bagels, muffins and lighter fare are grab and go. Then things get heavy: Churro French Toast. Breakfast burritos that 2 people can share. Actually everything they make two people could split, so plan accordingly. Good coffee, and a shop full of tchotchkes (for better or worse). Seating is very limited but the food is serious. (Yelp)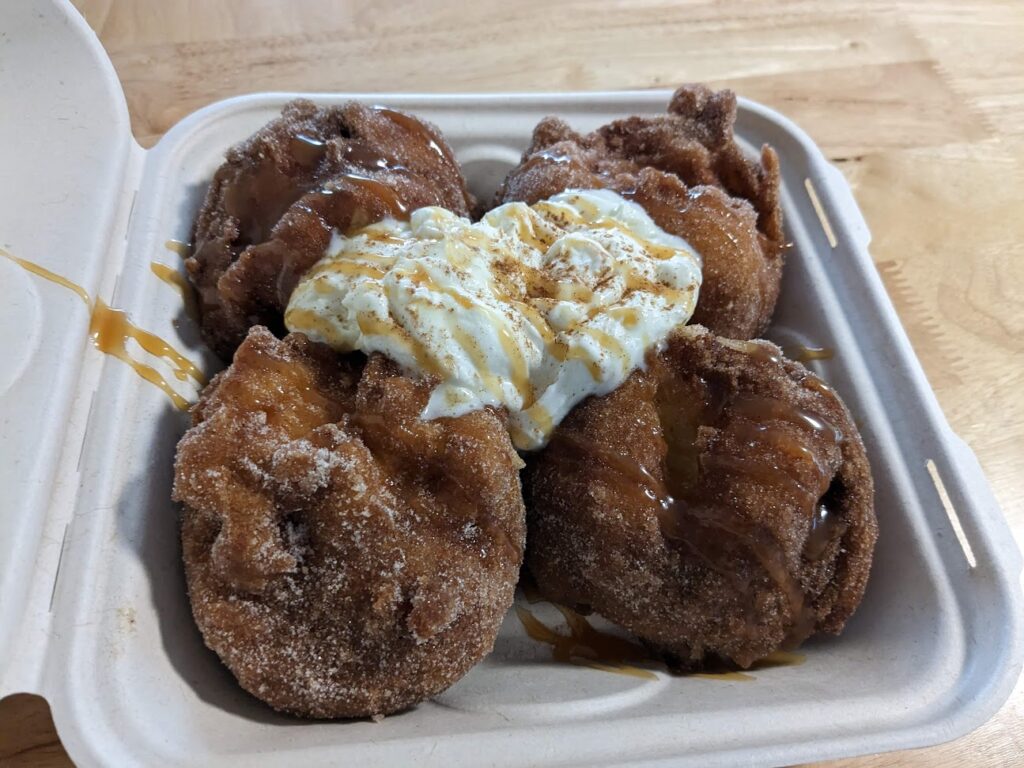 Food land Princeville- It might sound weird to put a grocery store on this list, but after about 3pm it might just be the only place you can get to that has food some days. Walk in, keep going straight and stop at the deli counter.
Poke here is good and runs out so get there before 3 or 4 if you want something specific. Ahi, Tako and Scallop poke are good here. Beyond Poke grab and go muffins, fresh made bagels and pastries are prefect for picky eaters back at your rental. (Yelp)
A note about groceries: Are prices of groceries on the island high? They sure are. You're on the edge of the world and things need to be shipped in. That said, focus on the things you can't get back home! Poke, scallops, Tako, Fresh Hawaiian fruits and local meat and seafood. Eggs from Oahu with beautiful orange-yellow yolks. SPAM and Portuguese Sausage. I'd gladly pay MORE for these things here at home and some of them are impossible to find here!
West Side:
You'll always find yourself in this area at least one or two days. There is a LOT to do on the west side: Wiamea Canyon is here, Polihale State Beach is here. Salt Pond Park is here, Kalalau lookout, Port Allen is here. Hanapepe Art walk and swinging bridge. Food is great but again call and ask for hours before you come. If places are closed you'll be driving far to find another option. Plan your trip around the following places:
Kalaheo Cafe and Coffee: I've written about this place for 9 years and they're still doing it right. On this trip I realized the reason that this place feels so at home to me: If you know LA Beach breakfast places this is a close cousin to one of those. Great egg plates, baked goods and coffee. Seating is tough and the line gets long so go early. A good option for grab and go coffee, there's a separate line for to go orders. If you're going to go to Kalaheo go another 5 minutes West to Right Slice and grab some pie to go for later in the day. (more on that later) (Yelp)


Japanese Grandma's Cafe: I can't say enough about Japanese Grandma's cafe. I've eaten here 4 times (2 times this most trip) and never been disappointed. Live music. Great cocktails/beer and super fresh, well executed Japanese dishes. Small dishes so you can order plenty of things to share. If Ama was inauthentic with an amazing view Japanese Grandma's is the opposite; Not much of a view but executing really well done authentic Japanese flavors.
Everything is good. Reservations for dinner are highly suggested. If you can get Friday night reservations Hanapepe art walk might be worth pairing with this. If you'd like a slower day come for lunch (no reservations). Note; No-show reservations are charged, so be sure to cancel 24 hours out. And call and ask about cancellations, Yelp doesn't always show accurate reservation info! (Yelp)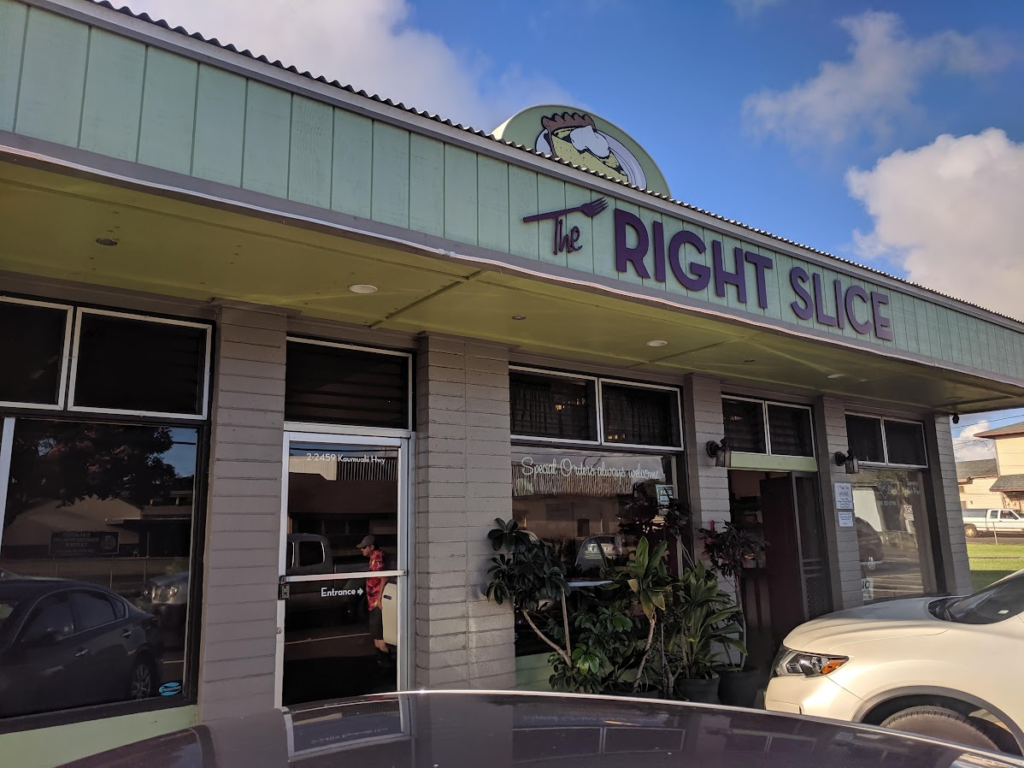 The Right Slice: Easily the best pie on the island, and maybe anywhere. Not really a fair fight, as no one else except Konohiki's pie comes close. Right slice makes pie you wish you knew how to make.
They specialize in Hawiian twists on classie pie. So think of a pecan pie, but instead of pecans they'll use Macademia nuts–and chocolate, and coconut. Or think of a peach pie, but instead of using ripe peach slices they're using super ripe mango and then adding in Passion fruit juice.
Can I pick a favorite. No I cannot. They are all so good you need to literally eat ever pie they make. (Yelp)
Note: I do not actually like pie when I'm not in Kauai, there's that Magic again.

East Shore:
Kountry Kitchen Kapaa: This is a HEAVY breakfast place. I only like one item they make here: their Ube French Toast. The fact I keep coming back shows how good the Ube French toast. Now that I think about it I should probably just take it to go. They have, universally, the worst coffee I've ever had anywhere. If you like Ube get the french toast to go, pick up coffee across the street at Java Kai, and be smarter than I have been. (Yelp)
Island Country Market (Coconut Marketplace)- I've had breakfast at Island Country or Island Gourmet Markets probably 40 or more times. I've never eaten Lunch or Dinner there. This is a chain, run by ABC stores. They have a Food counter, a so-so coffee bar and grab and go items (skip them). For me I'm here for two reasons: Kimchee Fried Rice with BBQ Pork and Eggs and their Ube Haupia Pie.
Especially if you don't have breakfast at your hotel and you're staying near by come here. Prices are good, breakfast is decent and you're right in the Coconut Marketplace so if you plan it right you can have a Farmer's market day here, and grab shave ice afterward. (Yelp)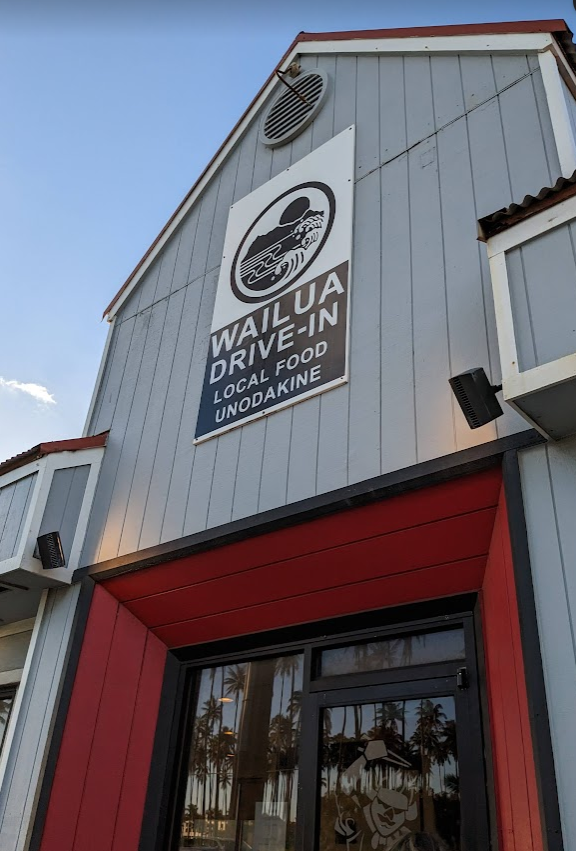 Wailua Drive In This is a hard one to review because I have a lot of history with the building. In the same building as Saimin Dojo used to be (same owners I think) now sits Wailua Drive in. The menu is some of the favorites from Saimin Dojo but the best Saimin (The title picture) on the island is gone ???
Plate lunches that 2 people could share. Salty, meaty deliciousness with furikake rice and savory mac salad. Wailua Drive in takes seriously the challenge of filling an 8×8 togo container. For the kids the SPAM Musubi here are fully wrapped, not like too many places who don't use enough seaweed. (Yelp)
Waipolui Deli: There was a Foodland in this shopping center, and for years I thought that was the anchor, drawing people to come here. But the real anchor is Waipouli Restaurant and Delicatessen. Foodland's gone. There's a McDonalds in the same parking lot–and most days Waipouli will be busier than McD's some days.
They've been open longer than I've been alive. Their Saimin is crazy. Better than Hamura's, (ok that's probably going to upset some people). But look at their "Super Saimin":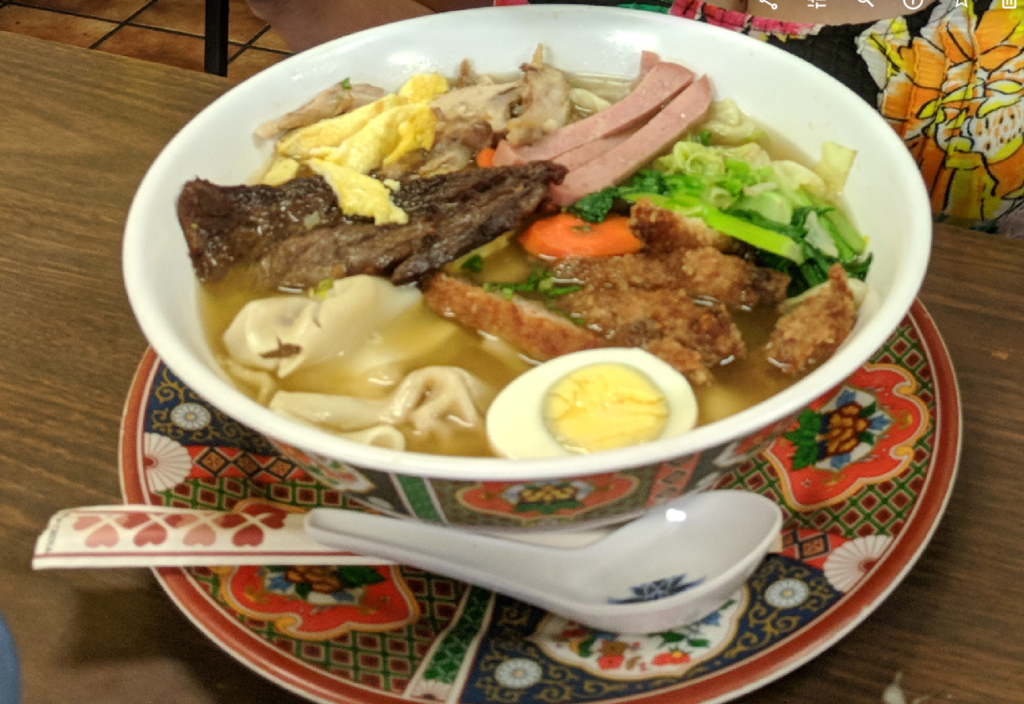 Don't even look at the Saimin. Look at the Plate and the bowl. That's all you need to see to know this place is real. They're the kind of bowl and plate your grandma would still have and use. They're a family business who's been cooking up local grinds for 45 years. Every day they're still doing it is a gift. I will continue going here until either myself or the restaurant no longer exist. (Yelp)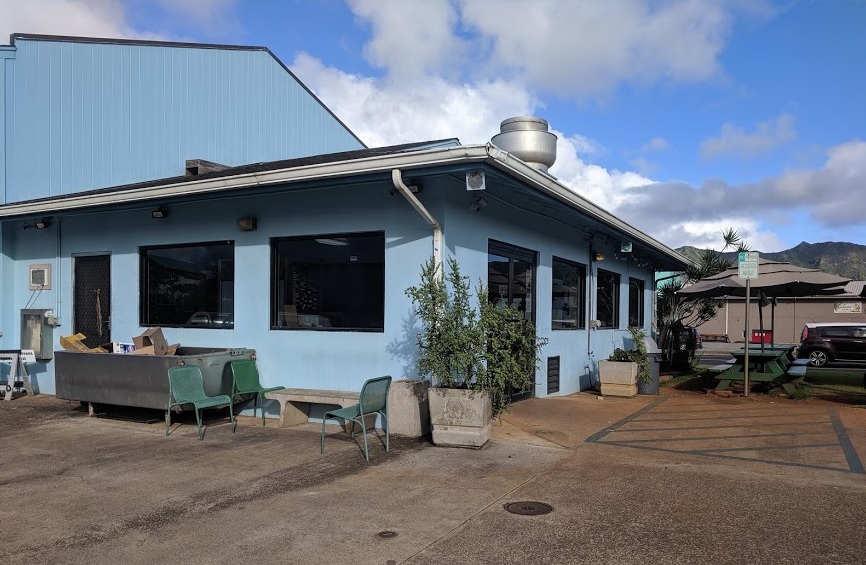 Mark's Place: This trip I didn't get to eat here (closed for the holidays) but I've come here every trip for the last 9 years. This place is on the corner in an industrial/commercial area of Lihue. You can easily miss it, as there isn't a sign on the front of the building. Their Mixed plate is enormous, and their Spam Musubi is fantastic, up there with Wailua Drive in.
They also have great homemade deserts. Each day there is something different so be sure to ask what the desert of the day is. No trip to Kauai is complete without one (or more) stop off at Mark's Place. There are 2 or 3 picnic tables outside if you want to eat there, but really you can't beat taking it to go, grabbing some pie at Right Slice and eating it at the beach… (Yelp)

Konohiki Seafoods: Located minutes from the airport, the first place I always stop at. Central to almost anywhere on the island. Konohiki does the following really well: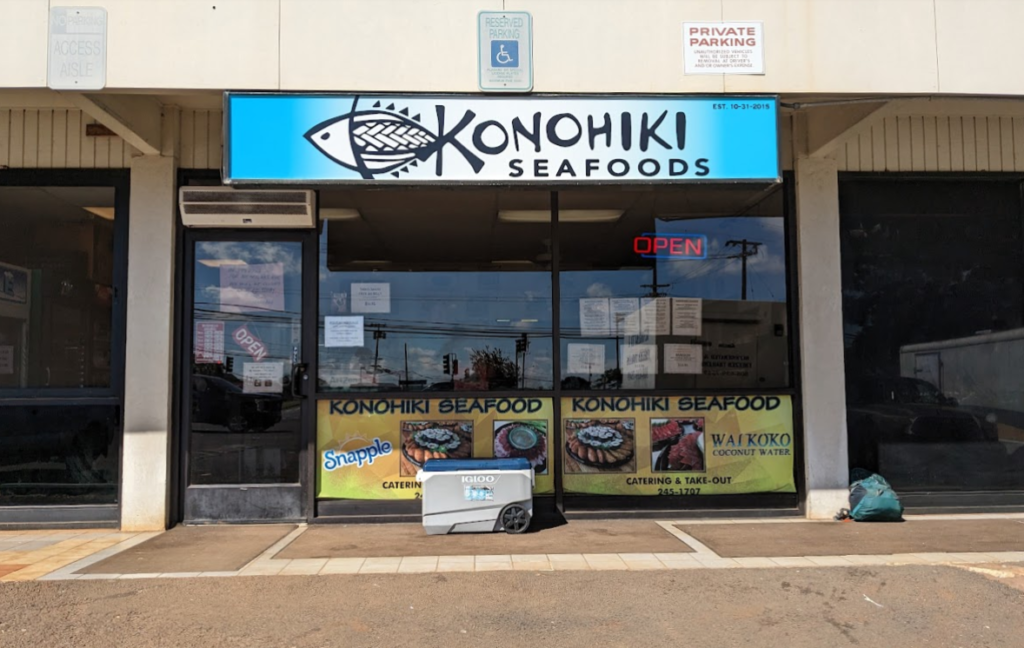 Ginger fried chicken, Plate lunches, bento, Nigiri, Poke (Spicy Ahi, Scallop and Tako). Basically, everything.
This is *the best poke* on the island in my opinion. (not Fish Express, not Pono) Their kimchee Tako is perfection. Their desserts (in the fridge with the sodas), specifically their Ube Haupia Pie MIGHT give Right Slice a run for best slice of pie on the island. Their Taro cream filled Malasadsas sell out fast, but if you can get one….get 3 or more. I am 100% loyal to Konohiki.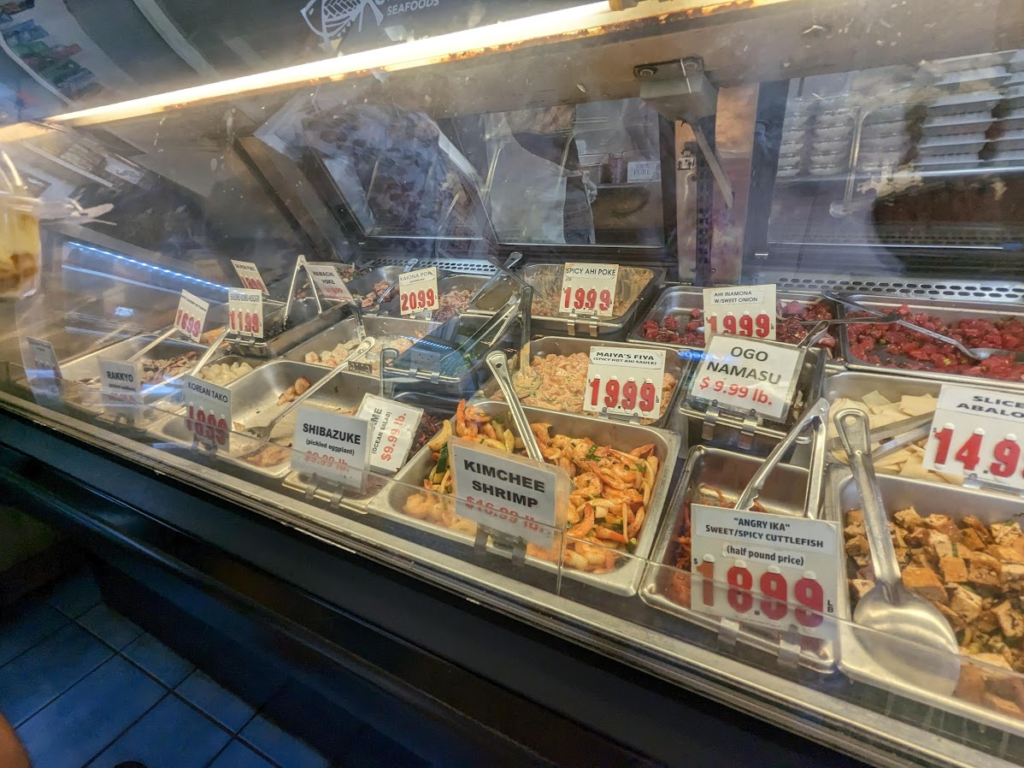 A single bento/plate lunch, a few extra pieces of ginger fried chicken, 3 small containers of Poke could feed 2-3 people for lunch. Keep coming back as their daily specials change, and the line moves fast. (Yelp)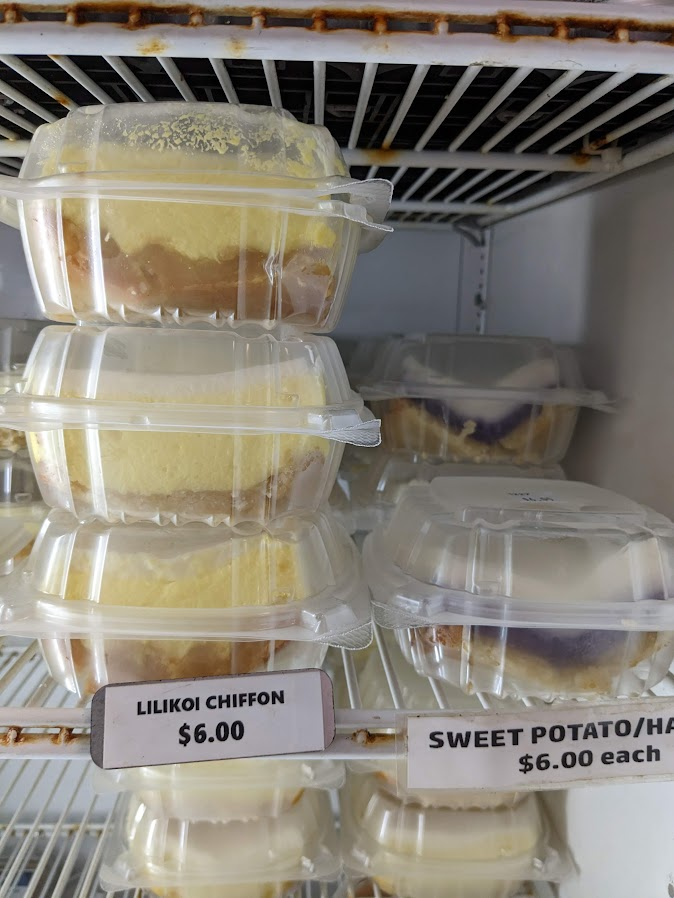 South Shore:
I spend as little time down on the south shore as possible–but most people spend the majority of their time there. That's good, because there are dozens or more reviews of where to eat down in Koloa and Poipu. The area is just too busy for me, so while I've eaten at a lot of the places in the area I just don't want to go back to any of them.
A note on food trucks: I'm not a huge fan of the food trucks on Kauai. When I hear Food trucks I think of two things: Impossible to figure operating hours and running out of food. There are good food trucks but I've had so many mediocre meals on the island from food trucks: Mexican, Thai, Sushi. All are were really nothing great. I've tried eating at Naruto Noodles at least a half dozen times and each time they're either closed or ran out of food.
The best thing to do if there's a specific truck you want to try is follow them on Instagram and keep an eye on when they're open. We lucked into trying Dim Sum Den Sum on this trip while once again missing Naruto Noodles and can say that Dim Sum Den Sum is good stuff. Their Tako salad might have been the best I had all trip. Small portions and shareable. Will I return? If I can figure out when they're open….
Coffee
With two kids coffee is sometimes the only thing keeping me going. And Kauai doesn't disappoint. Whenever you are on the island there's great coffee near you, including:
Java Kai: Breakfast options and good coffee. Smoothies and healthy choices on an island where you might over indulge. Java Kai is a mindset, and seating is limited. (Yelp)
Small Town Coffee, Kapaa. This is a coffee food truck, located on the west side of the highway. The beans and the brewing method results in a really great cup of coffee on the island. Really just fantastic stuff. Cup sizes are small, so size up a cup or expect a short for their small. The fact that it is central to almost everyone means you'll drive by it at least once while you're visiting. (Yelp)
Sunrise Cofee, Kapaia. Another coffee truck, this one is black, and parked in a large lot with some seating. Their regular coffee is good, but their star drink is a vanilla macadamia nut latte, which can be ordered with macadamia nut milk to make something really special.
Not too sweet, with a strong espresso flavor, their espresso drinks are crafted extremely well and they're never too busy. (Yelp)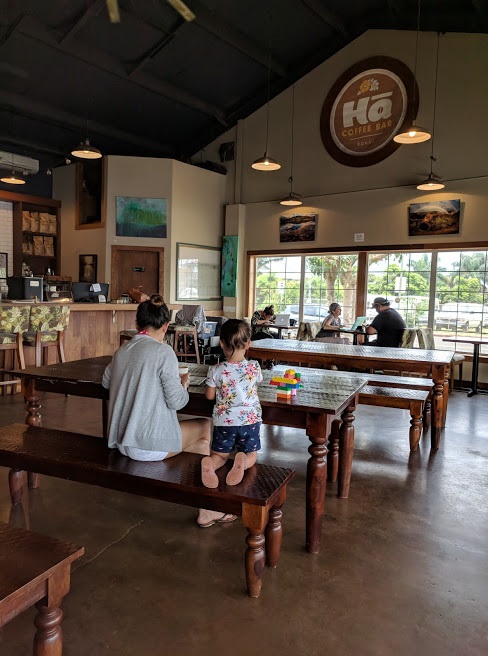 Best Coffe: Ha Coffee,
The story of Ha coffee is a long one, with sad twists and turns (and an eviction). They've been hosted inside Kauai Beer Company, they seem to be mobile now. While the location changes the coffee doesn't. Find them. Support them. Enjoy some truly great coffee.

There was a time when Ha Cofee had a Right Slice Pie vending machine in their coffee shop on Rice St. The best pie and the best coffee on the island in one location. That's a magic memory of a place and time in Kauai. Thank you Ha.
Closing Thoughts
This is not an exhaustive list whatsoever. The island is small. The options are not. Whatever you might be looking for you can find it. I've eaten at both Pho restaurants, and good fresh fish places. I haven't mentioned Sueoka Snack Shop in Koloa, or Hanalei Bread Company or Kenji Burger with 3(!) locations now. Is that because you should skip them? No! I just don't think of them as the kinds of places I must go to.
Don't judge a place by yelp reviews–this is a small town island, and people come here from all over the world. Some places are over-hyped, others have people complaining about the prices.
Kauai food is not standing still–there are new places to try popping up all the time, and Sadly old favorites closing down too. (Nom Kauai is still missed). Saimin Dojo is still not Wailua Drive in, and I keep hoping the Foodland in Kapaa will reopen. The problem with going to Kauai is even if you follow my style of eating you just can't possible hit every single great local place in just one trip.
So I guess that means I start planning my next trip back….
—
Special thanks to Tim Brooks, who's passion and knowledge of all things Hawaii and all things Kauai started me on this journey.