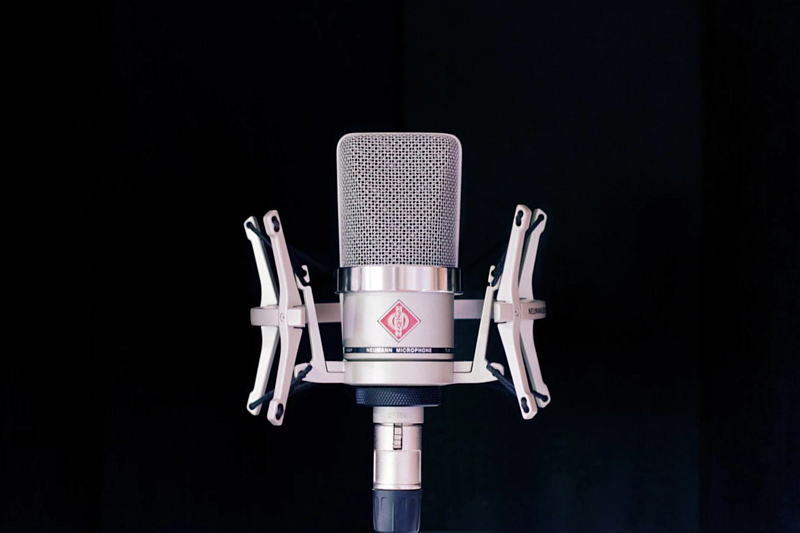 Welcome to another edition of Shop Talk where we discuss what's going on in our personal points & miles space and highlight what we think is interesting in the broader space as well. This is the kind of "Shop Talk" many of you are engaged in on a daily basis, so feel free to discuss with us in the comments section.
Sam: Today on the blog we're going to change the Shop Talk format up a bit. Instead of our usual format we're going to tackle a topic near and dear to many of you: Disneyland and Disney World.  
Robert and I had a chance to sit down for lunch while he was out here and we got to discussing the Disneyland park. I have to admit, Robert, I was a bit surprised by your take on Disneyland vs. Disney World, especially because your recent WDW trip seemed to be a pretty big success (start here for that).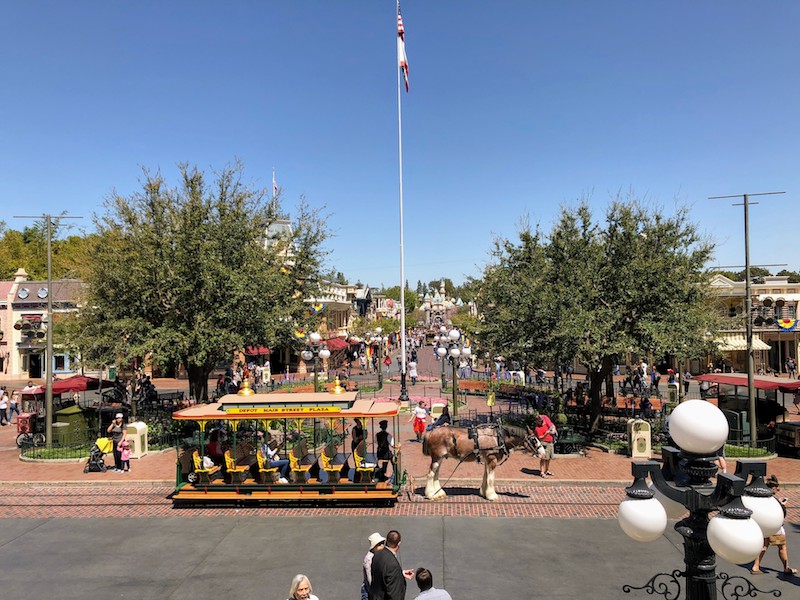 Robert: We had a great time at Disneyland and visiting there always feels like coming home, probably because I grew up in Arizona and spring break meant visits to Southern California.
Since we live in the Boston area now we've visited Disney World much more with our kids than Disneyland. I've come to appreciate what both parks have to offer.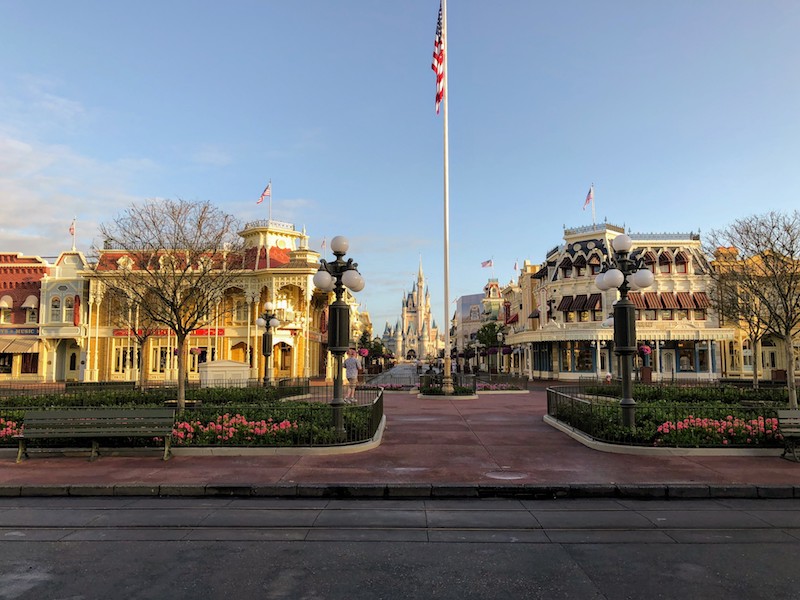 Sam: I grew up near Disney World, and now enjoy Disneyland more, but because I'm horrendously biased by living close to DL, I'm going to be an impartial referee for this edition of Shop talk.  
Rather than Robert and myself talking, instead we're welcoming a very special guest on Shop Talk, Dia Adams, who writes the Deal Mommy site. Dia's blog was one of the first I started to read regularly, and one which I respect an awful lot for the hard work and useful tips she puts out there for her readers.
Even if you don't have kids the tips and tricks Dia shares can be applied. She's practical with her tips but also likes to get a bit off the beaten path, and documents how she does it for you to follow along.  She's graciously agreed to join Robert and myself here on a very special edition of Shop Talk.
Dia, welcome, and thank you for agreeing to come on the blog today. Would you like to say a little about yourself, and maybe  highlight a few of your more popular Disney Park posts? 
Dia: Thanks for the lovely intro, Sam, and right back at you. I'm a huge fan of BYOE and reference it often. Robert, I've enjoyed your luxury spin on the concept.
I relish my role as community contrarian. Most of my advice rejects points and miles orthodoxy in favor of a more realistic worldview. In my world, travel is never free. Points and miles are a tool, not an asset. And if you use the term "Vendoming", you're welcome 🙂
As far as Disney World, the single best reference for all of my advice is Disney World Hacks, which is free on Amazon Unlimited. Prime members can also borrow a free book each month. My Disney World worldview covers maximum fun for minimum expense- of both time and money. For instance, I'm the one who will tell you which Disney World Resorts to avoid.
Sam:  I'm asking both Robert and Dia to list the Top 10 reasons one park is superior than the other. After we go over those lists I'll ask you each to pick your personal favorite between the two parks.  Dia would you care to go first sharing your list of the benefits one park has over the other? For this discussion we're comparing both Disneyland & CA Adventure along with the 4 parks that make up WDW.
Top 10 Benefits: Disneyland vs. Disney World
| | | | | |
| --- | --- | --- | --- | --- |
| | Robert's List | | | Dia's List |
| | --- | | | --- |
| | Disneyland |   |   | Disneyland |
| 1 | Weather | | 1 | Ease of planning |
| 2 | Pirates | | 2 | Compact Size |
| 3 | New Orleans Square | | 3 | Climate |
| 4 | Matterhorn | | 4 | Easier to stay offsite |
| 5 | Submarines | | 5 | Longer versions of Pirates, Small World, Toy Story Mania |
| 6 | Monorail into the park | | 6 | New Orleans Square > Liberty Square (Especially Blue Bayou inside Pirates) |
| 7 | The kinetic energy around Tomorrowland/Fantasyland | | 7 | Guardians of the Galaxy > Tower of Terror |
| 8 | Radiator Springs Racers | | 8 | Radiator Springs > Test Track |
| 9 | Every square inch is utilized | | 9 | DL Main Street > WDW Main Street (original cartoons, 5 cent movies) |
| 10 | It was Walt's Park | | 10 | World of Color |
| |   |   |   |   |
|   | Disney World | | | Disney World |
| 1 | Epcot World Showcase | | 1 | A complete vacation destination |
| 2 | Nomad Lounge | | 2 | Tons to do without a park ticket |
| 3 | The Poly | | 3 | Diffusion of crowds |
| 4 | Animal Kingdom is Adventureland on steroids | | 4 | FastPass+ |
| 5 | California Grill | | 5 | Themed Resorts (specifically AK Lodge, Poly) |
| 6 | Skipper's Canteen | | 6 | Lion King musical at AK > Frozen musical at DL |
| 7 | Be Our Guest | | 7 | Enormous variety of good food options that don't require reservations |
| 8 | Biergarten | | 8 | Animal Kingdom is completely unique- no aspects of it at DL |
| 9 | PeopleMover | | 9 | Epcot World Showcase |
| 10 | Pandora World of Avatar | | 10 | Character encounters better and more numerous at WDW |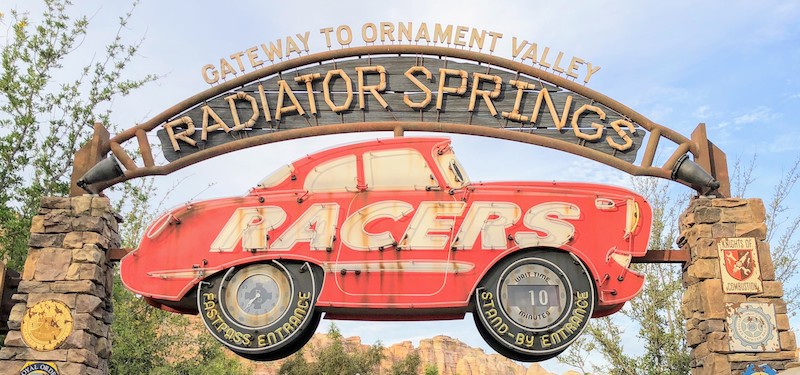 Sam: There's an awful lot to unpack in those lists, and while Shop Talk doesn't have a time limit, I'd like to try to keep some focus. Dia why don't you go first and cover a general overview of things?
Dia: The timing is great for this conversation as I'm just back from my first Disneyland trip since I was a kid.
Disneyland
We spent five days there which TBH was two days too many if you're a casual fan of the mouse. That's the biggest difference between the two: I wouldn't suggest anyone visit Disney World for less than a week. If distances are equal and time is short, go west. For the same reason, a trip to Disneyland requires less planning.
I'd pick Disneyland for families with toddlers. You'll appreciate both the parks' compact size and ability to get to your hotel for naptime more quickly.
Weather also plays a role for the average visitor: in summer and fall California has the advantage. However, that advantage comes at a price: crowds in summer can make Disneyland difficult.
MaxPass is a mess. MaxPass came along last year as a new profit center a way to reserve Fastpasses on your phone, but it's a pale comparison to Disney World's Fastpass system.   First, you have to purchase it for $10/ticket/day. Second, you can't actually buy it until you arrive at Disneyland and you have to repurchase each day. But the real downer is that wifi service in the parks is horrible and cell service not much better. Lack of connectivity makes the service entirely moot.
A Disneyland visit will probably cost less than one to Disney World. This is for two reasons: the visit will be shorter and it's much easier to stay in an offsite hotel.
Disney World
Disney World is a complete vacation destination. You could fill two weeks at Disney World and not repeat an activity. That's impossible in Disneyland. That said, you will need to have at least a basic framework of your day-by-day itinerary to maximize a Disney World trip. Spontaneity is not your friend in Florida.  
I'd pick Disney World (and specifically staying on-site) for families with older kids and trips without kids. Older kids will more appreciate the resort amenities and pools. Between drinking around the world at Epcot to late nights at Trader Sam's Tiki Bar, Disney World for adults can be a blast. While Robert's review of the Disneyland hotel looked lovely, the Disney World resorts are much more complete.
Disney World handles crowds much better than Disneyland. Because so many locals visit, Disneyland can get to capacity on summer weekends and holidays. If your only choice is to visit at a peak time, you'll have a better time at Disney World. Summer is miserable in Florida, but at least you know the park won't get to capacity. In the same vein, Disney World's FastPass+ system is both free and user-friendly. Used correctly, it will save you hours in line.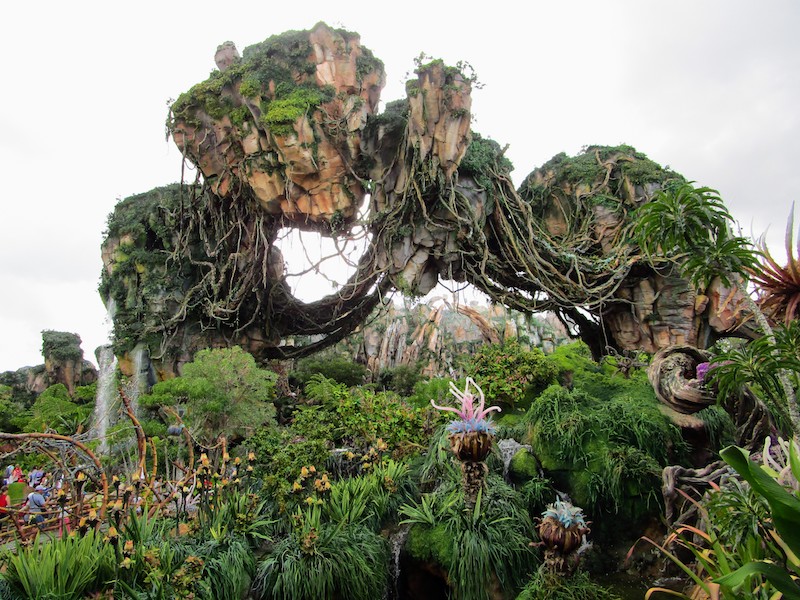 Robert: Wow, Dia. Great information you've provided for those equally open to visiting either Disneyland -or- Walt Disney World.
It occurs to me in looking at our lists that we should differentiate between casual tourists and Disney enthusiasts. For example, splitting hairs about which version of Pirates of the Caribbean is better is absurd for most families. For Disney enthusiasts the difference is striking though. I happen to enjoy appreciating the little details that make big differences at Disney Parks.
And viewed through this lens, Disneyland is an absolute masterpiece of a theme park.
I mean, step back and look at Disney Hollywood Studios. Even after they add Toy Story Land and Star Wars Galaxy's Edge it's going to be a mess of a park compared to the original concept for a park that Walt Disney brilliantly implemented at Disneyland.
Sam Gennawey's books on Disney are some of my favorites because they capture what's unique about a Disney Park vs Universal for example.
With the original hub and spoke design of Disneyland, Walt and the Imagineers created this perfect environment where you could "change the channel" and switch through timeless themes.
This approach to theme park design is perfectly envisioned at Disneyland and that's why I think it's the best Disney vacation destination in the US.
Dia: Great point about casual visitors vs. Disney nuts enthusiasts. There's a huge difference between the folks who view a Disney trip as once in a decade/lifetime and those who go at least yearly.
I'll concede that as an individual park Disneyland is my single favorite besides Disney Sea in Tokyo. Epcot Future World is one huge missed opportunity and Hollywood Studios will be a mish-mosh even when complete.
However, taken as a whole Disney World far outstrips Disneyland. Downtown Disney in California is a pale imitation of Florida's Disney Springs. The Disney World resorts are destinations in themselves while I can't imagine anyone staying at a Disneyland hotel just for the hotel.  Add in the sheer variety of dining and entertainment options and the two just don't compare.
Robert: In talking to friends who are casual visitors I've definitely heard them say that visiting other Disney Parks after Disney World was a waste of time. I can appreciate that viewpoint even if I don't agree with it personally.
So let's talk a little bit more about what makes Disney World a complete vacation, because I've got friends and family that feel like Disneyland has everything they need and Disney World doesn't add much to the experience. That it's just bigger without being better.
If you look at Disney's propaganda materials they talk about things like golfing, fishing, parasailing. All of which I've never done. I just don't make the time for it because I'm content with what the parks offer.
That said, one thing we like to do at Disney World that's harder to replicate at Disneyland is enjoy "dinner and a show" in a unique environment that reminds us of past or future vacations elsewhere in the real world.
Examples of this are plentiful in World Showcase. Pair dinner at a table service restaurant in pretty much any country followed by Illuminations fireworks and it makes for a great evening. Biergarten is a great example of this in itself. And dinner at 'Ohana with coconut races, listening to a little live ukulele music and walking around the Poly feels every bit as authentically Hawaiian as a luau at the Hyatt Regency Maui – which is to say "not very authentic but still a ton of fun".
So that aspect of a day at Disney World is something I'll concede is hard to replicate at Disneyland. They just don't have as many options, and the options they do have aren't as immersive.
What else do you think Disneyland loyalists are missing if they just don't see the upside in Disney World?
Dia:I've actually done a number of the extra activities and liked them very much. Bass fishing in the shadow of the Magic Kingdom is impossible to replicate. Disney mini-golf is on an entirely different level.
The biggest mistake I think novice Disney World visitors make is thinking about it as just the parks.  Half my trips these days- including with the kids- don't require a park ticket. People don't realize that most activities, including free ones, are open to all.
For instance: Last year Deal Girl and I spent a day at Animal Kingdom Lodge. We decorated cookies, played "match the feces to the species", took selfies with Baloo and Goofy in the lobby, traded pins with "King Pin", and played Disney trivia. And I'm not even mentioning spotting zebras, giraffes, and other wildlife. Total cost? Zero.
Bottom line: Disney World to me is not so much a place as a state of mind. If you look for long lines, cold chicken nuggets, and unbearable heat that's what you'll find. However, once you surrender to the magic you won't want to let it go.
Robert: The resort hotels at Disney World are tremendous and varied, I agree. On our last visit we had lunch at Sanaa and poked around both Animal Kingdom Lodge hotels and that was an afternoon of entertainment in itself. This is a great way to reduce the days you'll need park tickets to save money and reduce park exhaustion.
Speaking of spending time at hotels, the Four Seasons Orlando is technically within Walt Disney World and is my favorite family friendly resort in the country. There's something for everyone. The lazy river is awesome and they've got a couple legitimate waterslides. A complimentary Kids for All Seasons program for kids 5-12. A semi-supervised tween/teen "Hideout" with a game room. Plus an adults-only pool and high end spa. In summer months it can be cheaper than Disney Deluxe Hotels with 4th night free promos you can stack with Citi Prestige 4th night free. Full review here.
I dunno, Dia. You're starting to make me come back around to Walt Disney World. It might be time for me to book another visit.
To sum it: Disneyland and Disney World are different experiences. If your idea of Disney is the classic Disneyland Park in Anaheim and you want to enjoy Disney World in Orlando more you should push yourself to explore all Disney World has to offer. If you're more of a Disney World person and want to appreciate the Anaheim Parks more you'll want to push yourself to appreciate the nostalgia and timeless design that make Walt's original Park such a treasure.
Join the Conversation
Which do you prefer, and why? Disneyland or Disney World? Leave a comment below or ping us on Twitter @milenomics  and @RobertDwyer with your thoughts. We'd love to hear from you.