A few days ago I wrote a lot about Milenomics and hotel bookings.  Included in that post were how hotel best rate guarantees, and booking site best rate guarantees are both competing for the lowest hotel prices. Tips like the one below are why I rarely collect Hotel points. 
Today I share a very specific tip for hotel bookings, which only works in one city on the entire planet: Las Vegas, NV.
Vegas.com best Rate Guarantee.
Vegas.com is a website that does one thing: Las Vegas bookings. Like Many booking sites they offer a low price guarantee. The twist is that if you find a lower price they'll match it, and refund you double the difference.  (up to $150).  We can use this to our advantage.
Let's go to Vegas: I picked random weekend dates: November 2-4.  I pull up Vegas.com and searched. The Hard Rock Hotel and Casino caught my eye. On Vegas.com it is pulling up for $139.50.
Pulling up the trusty site: www.hotelscombined.com I find the same room  on www.getaroom.com for $115.60 per night average.  What this means is that after I book the room at $139.65 with Vegas.com I can file a BRG claim against my $115.60 finding at www.getaroom.com.  The difference: $24.05 per night.  Double the Difference: $48.10 off per night.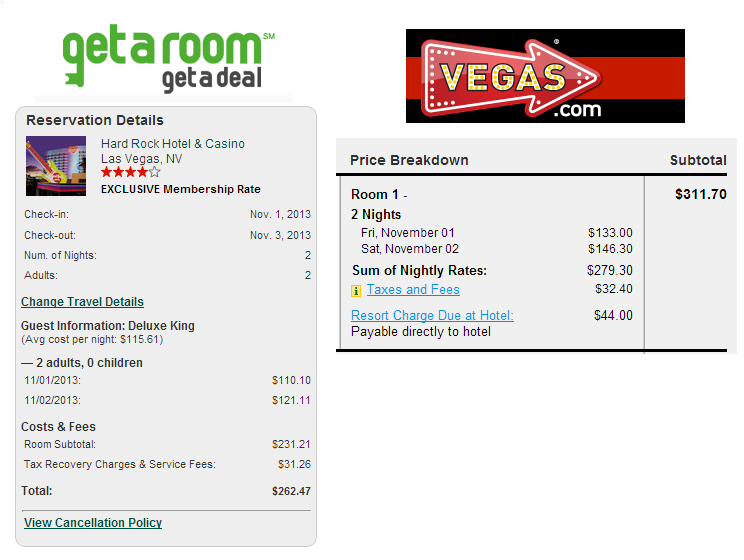 What this means: We'll end up booking at $91.56 per night, unfortunately the taxes stay the same, eating into our savings a bit.
Tips to Maximize Savings with Vegas.com BRG
To maximize the savings you'll want to do the following:
-Limit your maximum Room rate to <$200 or so.
-Find the largest difference between room prices possible.
-The larger the difference, and the lower Vegas.com has the room for the better the deal gets.
Extreme Example: October 16th– Red Rock Casino For Free
Note:I spent about 15 minutes finding this deal, I'd plan on at least 30 minutes worth of your time to find something similar. It is a real, so if you'd like to use it feel free. Vegas.com will likely pull it pretty soon after the first few of you take advantage of it.
Vegas.com has a Deluxe King for $150 for the one night.

Getaroom again has them beat, this time by a ton: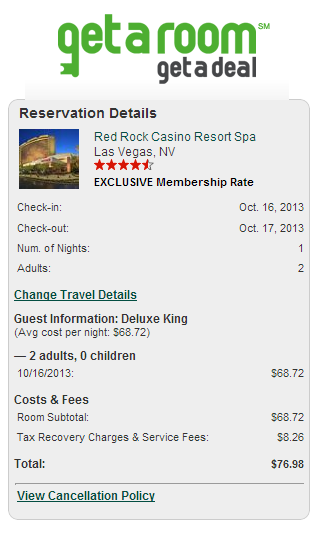 As you can see the difference now is huge: $150 on Vegas.com, and $68.72 on Getaroom.com.
This is a difference of $81.28, which doubles to $162.56. Since the maximum discount is $150, and the room price is $150, this room would be free for the night. You would only pay the Vegas.com taxes and resort fee. (I hate those)
To maximize this discount you should book the Vegas.com room for the one night, get it for free, and then book another night at getaroom.com. Booking more than one night at Vegas.com would actually cost you more than booking the same nights elsewhere, because you've used up your maximum discount on the first night alone.
Alternately you could do an Expedia BRG against this for a second night, pulling a $50 coupon for a future booking, and still pricing at the getaroom.com price.
Hotel bookings are complicated, and it is important to make sure you're paying the least, and getting the most.  As you can see above Vegas.com's Best Rate Guarantee is useful for finding very discounted, or even nearly free rooms.
[rule]