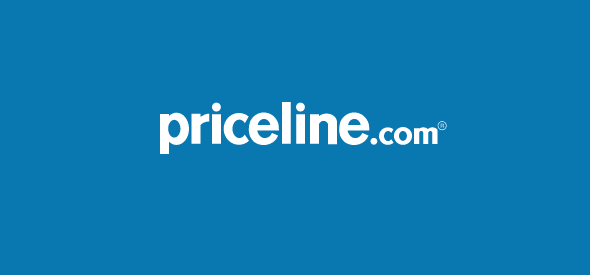 I'm late in looking for a hotel for my upcoming trip to Orlando, so I thought I'd share some of my searches with you, and in doing so give you some Priceline tips/tricks.
The Basics of Priceline
The basics of Priceline (PL) have been around so long we're all familiar with them; you "bid" for your hotel/flight/car, and if the bid is accepted you're committed to the purchase. In reality PL is an opaque booking site, similar to Hotewire, and others.
Lets peel back the "bidding" idea and see it for what it really is; PL uses the lack of transparent pricing to try to get you to overpay for opaque bookings.  You don't know the hotels, and don't know the prices–so you put what you "think" is a good price, and if it is accepted on the first go around, you feel good. What it really means if your first bid is accepted is you likely overpaid.
They lock you into this thinking by only allowing one unique bid per day. We'll talk today how to get around that, and make sure we pay the absolute minimum while being able to also see the hotel we're bidding on.
If you love a brand, and want to focus on that brand, Priceline might not be for you.  If you like saving money, and still staying at very nice places Priceline could be for you. Let's see how this works by stepping into a PL booking:
Starting Out with Pricline
Picking an area of the city you want to be in is the first step in any PL booking. Priceline carves up the city into sections, such as these for Orlando: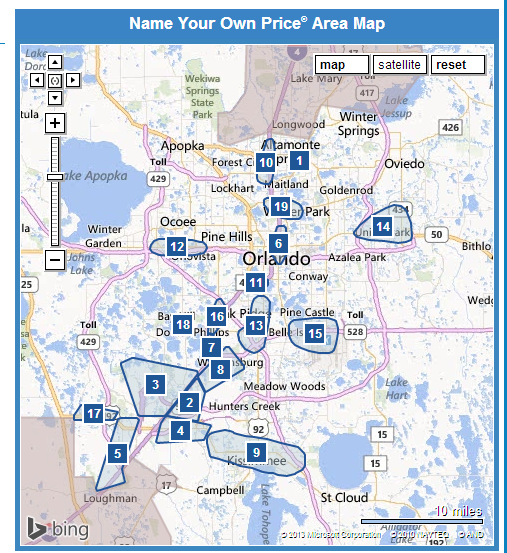 For an idea which hotels are in each zone, the excellent betterbidding.com has a list, which is sometimes a bit out of date, but can help.  I'm looking at Zone 7, which is International Drive East/Convention Center.  Better Bidding reports the following hotel options: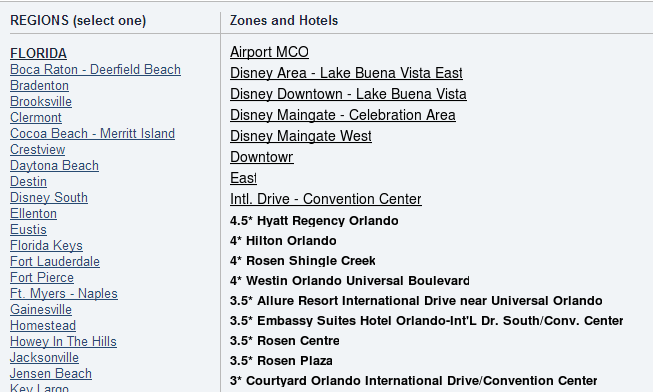 If I do a hotwire post I'll show you how you can pick a specific hotel with Hotwire–with Priceline I have to be ok with any of the Hotels in my Star Range. Fortunately the Hyatt Regency is the only 4.5 star hotel in this zone–so as long as I keep bidding for 4.5 in the Convention Center zone I can be pretty sure of getting the Hyatt Regency. There is always a risk this list is wrong–so be ready for a small curveball.
What I like to do is search on either LMTclub.com and see what I'm looking at for certain areas of the city I'll be visiting.  LMTclub has the Hyatt Regency for $160+tax, which is a good deal, but we can do much better with Priceline
Starting a Priceline Search
Starting out is easy, pick a Zone, pick a Star rating, and enter what you're willing to pay. If the bid is accepted you're committed (you enter your CC number before finding out if you "won"). If your bid is rejected you can't just rebid–you need to wait 24 hours, or change your bid somehow–add a zone, change the star rating, etc.
We'll use those basics to rebid and keep rebidding until we find the absolute floor for our chosen hotel. I'll explain that last sentence more as we go along with this process.
My Opening bid: $55 per night.
This is never going to be accepted–but I have to start somewhere. I think we can get this hotel for $90 a night or so… Hyatt wants $200+. My starting bid is far, far too low; and I receive the message:

Notice the wording: "Select different areas or star levels, and resubmit your offer." This is the exploit we will use with Priceline.  Prior to booking I went through each zone and took down which star levels exist in which zones: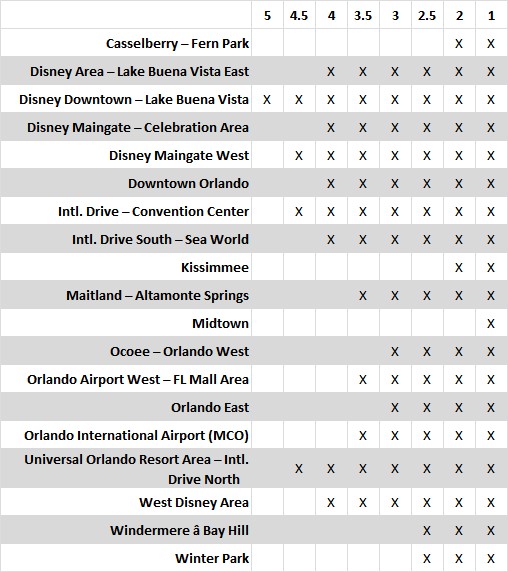 As you can see above, out of 19 zones only 4 have a 4.5 star property. This is good news–and means that we can add any of the other 14 zones for a free re-bid. You cannot duplicate an exact bid with Priceline, so you must either add a zone, or change your star levels–we'll be adding a zone. In this case I'll add zone 1–Casselberry which only has a 2 star and 1 star option.  Keeping 4.5 stars selected for my bid means I'm re-bidding in the same zone. This time I'll try $60 per night (I have 14 more re-bids so I can go $5 at a time. I'll then continue adding zones which do not have a property in my star level, forcing the bid against my zone only.
We'll continue as we go–adding zones which do not have a 4.5 star hotel, and re-bidding up to the lowest possible price. I'll spare you from the details of each bid, but $60, $65, $70, $75, $80, $85 were all rejected. At $95 I knew I was close; Priceline offered me a "One time deal":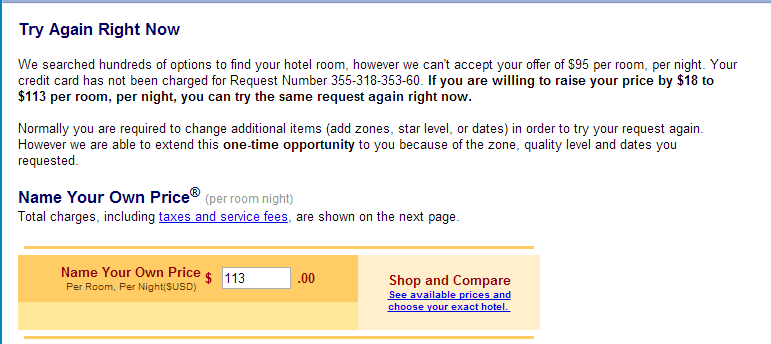 At $99 I finally get the message that my bid was accepted! Knowing I had 14 free rebids and getting the $113 rebid message meant I could slowly get up to $99 and know I paid rock bottom for this hotel.
Priceline Express:Useful for Bidding
Priceline has a hotwire-esque booking site; Priceline Express. You see the star level, the zone, and a price. You can almost always beat this price. As you can see they wanted to charge $111 for the same category 4.5 on PL Express: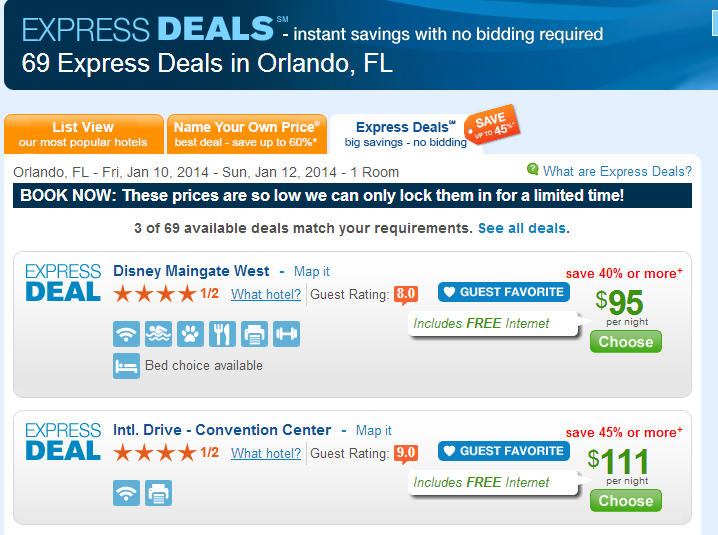 So PL Express lets us know around where we should be bidding. Did my $55 opening bids stand a chance? No, not likely–but with 14 free rebids, why not start low? Did we best this $111, yes–not by nearly as much as I would have liked to, but still a great deal.
A second piece of information PL Express can give us is further confirmation of our hotel choice. When you click "choose" and get to the booking screen on Priceline Express you're presented with an actual breakdown (but still no hotel name):
We'll see this same $45.40 when we do a comparison booking on Hyatt.com, and can use this to feel pretty confident of our chosen "mystery" hotel.
Comparing Priceline and Hyatt.com
This Hyatt property is a category 4 hotel–so it costs 15,000 Hyatt Points per night. For 2 weekend nights the paid breakdown is:

All told we're looking at $278.68 vs. $519.83. At $520 30k Hyatt (Plus $45.40 in resort fees) look like a good deal–at $278.68 they start to look much worse. This is why Milenomics' view on hotel points is rather low–there are just so many ways to get into good hotels for less than hotel points cost. I also see these Priceline bids as instant upgrades–from lower end hotels I'd have paid cash or points for to a higher end hotel.
Milenomics Loves Hotels, Not Hotel Brands.
I love hotels. Love them.  I lived in one for 3 months, and even that didn't cause me to rethink my love of hotels.  However, it should come as no surprise that I do not like hotel brands very much. Sure I appreciate certain brands in the micro sense of the word "brand". When looking at a hotel brand in the macro sense of the word I have very little confidence that the Sheraton in Location B is going to be a great experience because the Sheraton in Location A was. For a good example of this, follow Stacey @VeryGoodPoints as she's been outlining her SPG stays on the different Hawaiian Islands.
My view is that ultimately if a hotel is part of a brand or not management decides how good/bad your experience is at the hotel.  Staff who are taken care of and empowered to solve problems care for patrons. The more I travel the more I've realized that "innkeeper" is a highly skilled trade.  Thinking you can manage a hotel, and managing a hotel are two very different things.</rant>
Results Not Guaranteed
Is Priceline always the right tool for the job? No. If you're looking at all zones with very similar star ratings the above tricks won't help you much. When it works best is in dense, urban areas with lots of zones, and a variety of star levels. It also helps to try to book the top end of the star levels. Regardlenss, today's post is imporant; to show you that the price is not always the price, and that Priceline can be a great way to save big money.
Had I been looking for an even lower end property I could still have used Priceline successfully–look at the above chart showing the breakdown in each zone– 7 zones don't have a single 3.5 star hotel–which means you could bid at least 8 times on a 3.5 star hotel–these are usually able to be booked for $40 or so. I would have started a 3.5 star booking with 7 rebids at $25/night. I'm pretty confident I'd end up somewhere between $25 and $60 per night for one of these.
When in doubt–check the list of Priceline and hotwire hotels linked above. When the hotel you're interested in staying at is on that list, and is the only property in a star level you can be much more sure of your results. Otherwise the above tips still work–you just won't know which specific hotel you'll end up in until your bid is accepted. The Higher the star level the more free re-bids, but also the more expensive the hotel.
If you'd like to discuss more follow me on twitter, @Milenomics or on like Milenomics on facebook. And as always you can email me; Samsimontravel@gmail.com
Update: Be Sure to check the comments section for this post, readers Joe and Brandon have included excellent tips (and I added one of mine as well). Thanks to all who comment and make the posts stronger!
---
Everything below this line is automatically inserted into this post and is not necessarily endorsed by Milenomics: