Note:Today's post was written for #201 and above Milenomics–because it includes discussion of international travel.  
At it's core Milenomics is about finding balance. Balance between Mileage supply and mileage demand.  Between travel needs and travel budgets.  Today we talk about the balance between your domestic flights and your international flights.
Differentiate between domestic and International travel.
If you wrote out a demand schedule as part of the post "Supply and Demand" Take a look at it.  See which cities you're looking at flying to domestically and internationally.
My schedule looks like this:
-Domestic travel: SFO, SEA, MCO, BUF, DEN, DFW, OGG.
-International travel: JNB, Back to DPS for an anniversary,  Around the world flight, Almafi Coast…and on and on and on 🙂
Today we will learn a new law in Milenomics: The Principle of Mileage Conservation.  We briefly touched on this when discussing "When Less is More…." Today we'll get more formally into it.
The Principle of Mileage Conservation states that: For any trip you take domestically, try to ensure the miles used do not negatively impact your international travel plans.
Put simply: Have miles for travel domestically, and larger pools of more valuable miles for international travel.  Conserve your most valuable miles for your most difficult/costly trips.
For Milenomics that means just enough diversity in our mileage balances.  It also means we need a CHEAP mileage program for domestic US Travel.  Just as important as the miles we use are the cost of those miles.  Three programs that can be excellent for US domestic flights are BA Avios, Southwest (WN) RR points, and Delta Skymiles. Let's look at each of them
BA Avios: I know it seems odd that a foreign program would be the best choice for domestic flights. BA is unmatched if you have a short-medium trip to an expensive destination served by either AA, AS or any other oneworld carrier outside the US.  We've discussed this program a few times here already, most notably, "Why are frequent flyer miles so hard to use." BA is also a transfer partner from both UR and MR (although those UR points should probably be best used for your international flights).
WN RR points: Some of you will swear off WN.  You'll say that they don't have First Class, assigned seats, or a robust network.  I'll argue back that swearing off of anything is dangerous when it comes to miles.  The facts are that WN is a perfectly good domestic carrier.  Domestic First Class doesn't factor into many short-mid range, and no assigned seats could just as easily swing in your favor as against you.
Southwest is also the only nonstop in  town for some destinations.  Remember your T-Rate, and the fact that a connection eats up valuable time. Milenomics sees a definite place for WN RR points in a robust supply strategy.  Earning a Companion pass will also greatly extend your RR miles, and mean that you don't have to cannibalize your International travel miles for flights either, should your supply of WN points run low. We'll cover the companion pass later this year.
Delta Skymiles: Delta skymiles are incredibly cheap to earn.  Most people see them as having a weak international presence, and low availability to EU.  There are some international areas where you can use Skymiles, and I'll be chronicling my use of them to get to South Africa. For the most part, however, they're best used to fly domestically on Alaska Airlines and Delta at low mileage levels.  When you're able to tame Delta award searches (again something I'll cover) you have a very cheap, very flexible domestic Mileage currency.
Find At least One that Works For you
These three are by no means the only programs out there that work for domestic travelers. Based on where you live and where you fly and how cheaply you can earn miles these might not work for you.  Evaluate programs that work with your travel needs, you'll want to find the ones that fit your needs.  Use these domestic mileage pools to conserve miles in your other, more valuable programs.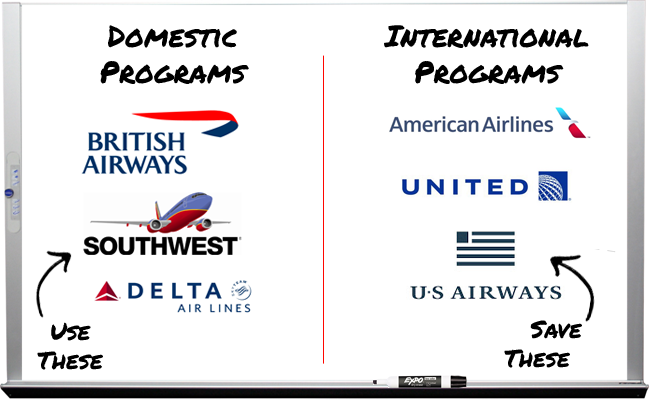 An active US domestic traveler who wants to fly internationally would want to focus on programs like AA/US/UA/MR/UR for international travel. Simultaneously you'll need to keep a stash of miles for those US domestic flights in whichever of the above three programs makes sense based on where you are and where you want to go.  Remember to check airline routes so you're not earning in a Mileage program that doesn't service the cities you need to get to/from.
It would be ideal to need just 1 program for all your domestic travel.  If you can fit all your domestic needs into that one program, and earn miles for it at a low enough cost you then can focus all other earning on your international programs.   For most of us we'll need a few programs to make it to the different domestic cities we travel to.  I hope you've seen the importance in a program (or two) for these flights, thanks to the Principle of Mileage Conservation.
[rule]
Yesterday's Milenomics giveaway asked you to post where you want to go with your miles.  The responses have been amazing so far!  If you haven't entered yet today, head over to the contest page and enter to win 2 American Admirals club lounge passes.  The passes expire March 31, 2014, something I neglected to mention yesterday.