For the next few posts we'll discuss how to get over that hurdle and actually spend those miles.  I used to be paralyzed by the thought of running out of miles. "What if there aren't any more miles?" I used to think.  I'd protect them from redemptions under 2 cents per mile, I'd waiver between booking with cash or booking with miles, I'd collect more and more miles, with no real purposeful use for them.
I suffered from Range Anxiety. I was worried I'd run out of miles.
What is the Best Use of Our Miles?
Anyone who tries to answer that question for you is misleading you. You're the best judge of what a good use of a mile is.  Sure there are classical best uses–AA miles on Cathay in First for example.  But if you don't care about flying in First, or business, and instead want to take as many trips as possible you're not going to see the value in CX F.  In another example, if you won't set foot on a Southwest plane the value of WN RR points approaches $0 to you.
I can only speak to the Milenomics view of using miles. To illustrate the importance of using miles I thought I'd share with you an excerpt from a Diary I came across in my travels.  I don't know a lot about the writer of the Diary.  I do know it was written by someone named Miles, and can illustrate the importance of using our Flexible Flyer Miles.  I don't know the year of the Diary, but I've included the dates as they appeared in each entry
—
July 10
My life isn't easy.  It seemed glamorous when I first arrived here.  Everyone welcomed me, shouting my name, "Miles! Miles! Over here! Welcome!" The promise of travel around the world, to far off places is what had me excited at first.  As days gave way to weeks, and weeks to months I soon realized that I might never travel, never see all the amazing places I wanted to go.
Some of the other guys have been in the account for a long time, longer than me.  Fred's been around since the Pan-Am days, and he said he doesn't think he'll ever see the inside of another plane.  A couple of the guys get together on the 5th of the month to welcome the new miles into the account.  I used to go to the welcome ceremonies, but lately I've been feeling down, and have decided not to go.  When I look at those thousands of new hires all I see is a

dead end

.  They're so excited, and I'm so depressed. It just doesn't seem fair.
July 18 
We go to school, and study our award chart.  I'm ready as I'll ever be to go into service.  But the account creator just never seems to answer my pleas to give me a purpose, to make me FLY.  With no purpose getting up each and every day is getting harder and harder.
Not to mention the crowding.  When I started here there were 40,000, 50,000 of us tops.  Now we're pushing a half a million from the latest census numbers.  How do I stand out in that kind of a crowd? Especially when we're all named Miles…
July 22
Exciting news! There's a rumor swirling around that a redemption might occur sometime soon.  A couple of the more experienced miles have mentioned that they've seen searches for flights to Europe happening.  I've always wanted to go to Paris…
July 29
My worst fears have been realized.  The searches to Europe continue, but the latest information is that they are now going to be paid for with money. OH HOW I WISH I WAS BORN A CENT! Curse the account creator! Curse the program! Curse the Alliance!
August 5
There is no hope.  There is no hope.  There is no hope. There are only more and more miles.

Today 64,000 new miles arrived

. 64,000 lost souls.
August 14
We're staging a mutiny.  A couple of the Miles and I are going to try to break out of the account.  We don't know what is on the other side of the screen, but we're tired of waiting to be used.
August 16
The mutiny has failed.
The creator has total control over us.
Our morale is at an all time low.
Day after day the creator buys revenue tickets, overlooking our usefulness.  Some say he's saving us for a huge trip. Others say he never intended to spend us, he just wants to keep collecting more and more of us.  I don't know what the truth is anymore, I just know that we're stuck here. Forever…
—
That was the last entry.  Reading this diary has me sad.  As you can see the thing that makes these miles the happiest is being spent.  When we hoard our miles, we make them sad. You don't want you miles to be sad, do you?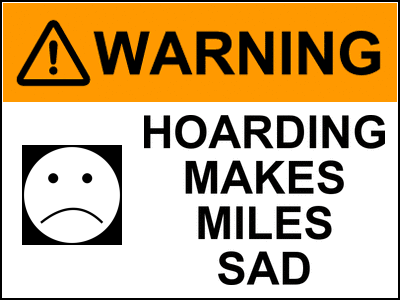 Miles aren't collectible
Their value is eaten away by award chart increases, and program changes.  What works right now might not work next year, or even next month.  Holding large balances of miles wastes Miles and Money.
Have you experienced Range Anxiety? That's what I like to call the worry over not having enough miles to get you where you want to go.  I've been there, and only through Milenomics did I face that fear, and come out of it.  Now I'm earning and using more miles than ever before.
Here at Milenomics, a Mile is a terrible thing to waste.[rule]