To me nothing is worse than miles that expire after a certain amount of inactivity. You work hard, putting time, energy, and effort into earning your miles.  And then a program comes along and says that after 18 months of inactivity your miles, *poof* disappear. 
For the overwhelming majority of us this won't be an issue.  However, I know many among us have friends and family who don't earn miles with credit cards.  There are people who aren't ever going to apply for an airline card, and jump through all the hoops we jump through.  For them they might fly once a year, or even less.  These people really earn their miles, and count on them to be there when they need  them.  However programs such as United, and even AA have expiration rules stuck in decades past.
Miles Expiring In a Few Days, What to Do?
I received a call from an older friend of mine, Louis.  Louis doesn't fly much, in fact he hasn't flown in almost 18 months.  He doesn't hold a Credit card, and doesn't really use a computer. Louis might remind you a lot of a parent, or a relative. These are the little guys, the people holding 6,000-30,000 miles that they spent 5 years earning.
Louis was a little upset because a few years ago 20,000 miles he earned by flying expired. Now he was looking at losing his other 10,000.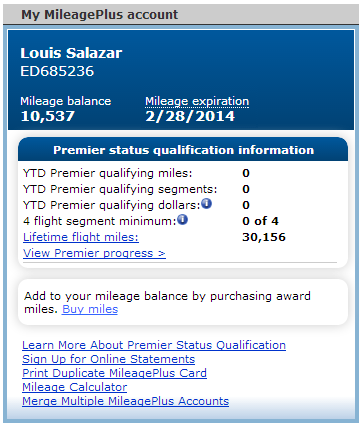 I've discussed saving miles from expiring by buying a $1 item from drugstore.com in the past. This case was different, Louis had just three days to save his miles. This really wasn't enough time for a purchase to post.
Does an airline as big as United need to shake down elderly folks for 10,000 MP miles? I guess they do.  Fortunately today we'll look at a quick, easy, and free way to extend the Expiration date of United Miles.
Using 24 hour Cancellation Policies to Save Miles from Expiring.
I'd love to see United drop their 18 month deadline and embrace a more pro-consumer angle.  As you'll see, anyone with 10,000 or more miles can stop the expiration of their miles for free, in about an hour. Today we'll be using the free 24 hour cancellation policy to extend Louis' miles.
Update (3/14): Reader Rich commented that you only need 6,000 United miles to book an intra-Hawaiian Island flight.  It seems like that would make the threshold for using this trick 6,000 miles, not 10,000. Thanks Rich!
United allows flights booked more than 7 days from departure to be cancelled within 24 hours of booking for no cost. This also applies to award flights.  This book/cancel action resets your 18 month inactivity period for your miles with United.
Since Louis only has 10,500 miles, I looked for a flight which can be booked for just 10,000 United miles.  Anything under 700 miles would do.  The booking I went with was from Denver, CO (DEN) to Sioux Falls, SD (FSD).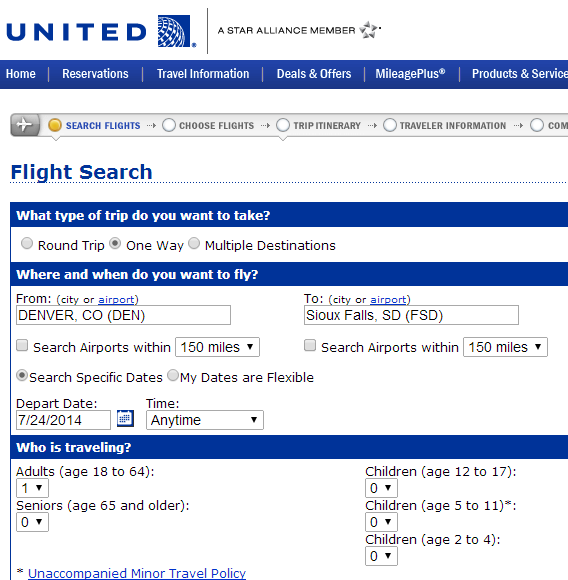 The ruling on 24 hour cancellations exempts tickets booked within 7 days of departure. Because of this I needed to pick a date at least 7 days out. I chose a flight in late July. The particulars of the flight aren't important since we'll be refunding it shortly after ticketing.

I completed the booking for Louis, which cost him 10,000 miles and $2.50 for the one flight segment.  We waited for the miles to be deducted from Louis' account, and the flight to be ticketed.
Flight ticketing shouldn't take more than 20 minutes for an easy booking like this.  Once ticketed  Louis' mileage balance was deducted the 10,000 miles, but most importantly this activity extended his Mileage expiration date ahead 18 months: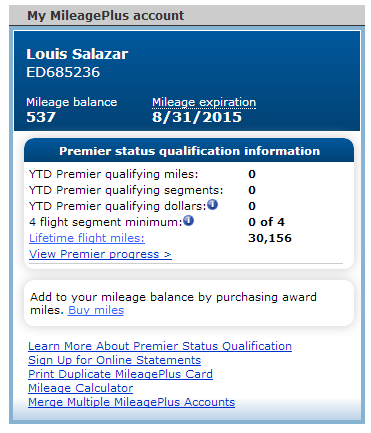 From here we just need to click on "Change/View Existing Reservation," and select the option to "Cancel/Refund" the ticket.  Thankfully United allows us to do all of this online, which is the least they could do since they did try to take 10,000 miles from an kind, elderly customer of theirs.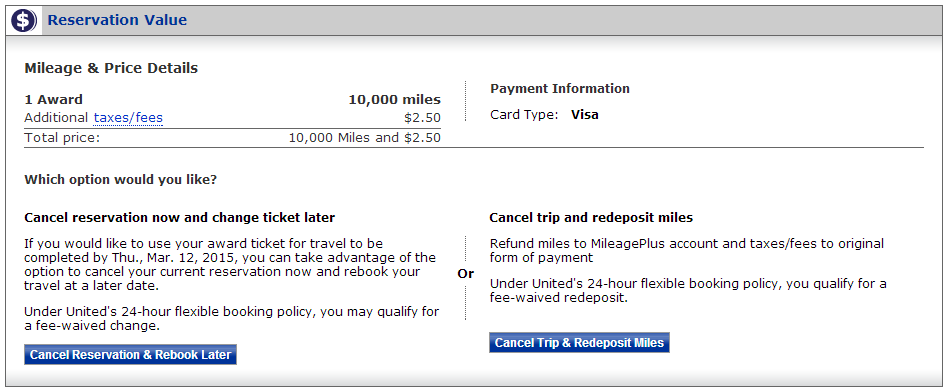 I went ahead and chose "Cancel Trip & Redeposit Miles. You'll notice the wording on the right that, "Under United's 24-hour flexible booking policy, you qualify for a fee-waived redeposit."  This is great news for Louis, and sure enough after his trip was cancelled the miles were quickly redeposited in his account: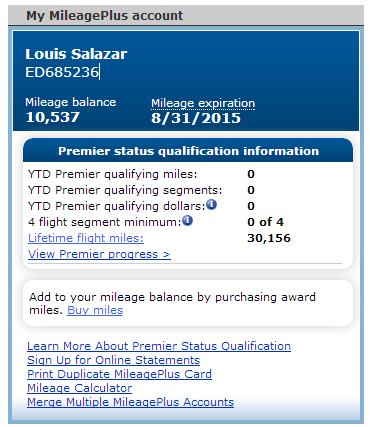 Louis now has 18 months to earn more miles, or use these 10,000 for a booking he really wants to take.  He was so glad that his 10,000 miles were safe for another year and a half.  I let him know not to wait until the last minute next time, and when he's 90 days away from expiration we'll buy something at a shopping mall to extend them instead of using this loophole.
Obviously this is not the intended purpose of the 24 hour cancellation policy–but it is a nice way to help someone who's just days away from losing their miles.  This is probably against the terms of the program, and I'm sure United doesn't enjoy the thought of people booking and cancelling to extend their activity date. However, all of this begs the question, Should airlines still have miles that expire?
United, if you read Milenomics, consider getting rid of the antiquated 18 month policy. As you can see above your 24 hour cancellation pretty much renders it useless anyway.