I've foiled robberies before, and wrote about it here on Milenomics.  Today I wasn't so lucky.  By the time I arrived on scene the crime had already been committed, and I was only able to take down statements after the fact.  I'll explain the robbery blow by blow, and then I'll use it as an example why we need to educate ourselves about the ins and outs of Frequent Flyer Miles.
Today's Thief: British Airways
As I've mentioned, my wife and I are in the Seattle Area this coming weekend. It turns out a friend of mine was going to be in Seattle this weekend as well. He mentioned he hadn't bought a ticket home yet, and wanted help using Miles to do so.  Never having used miles before he asked me for help booking a return with some of his BA Avios.  I did a quick search for him on www.alaskaair.com and found a great flight coming back: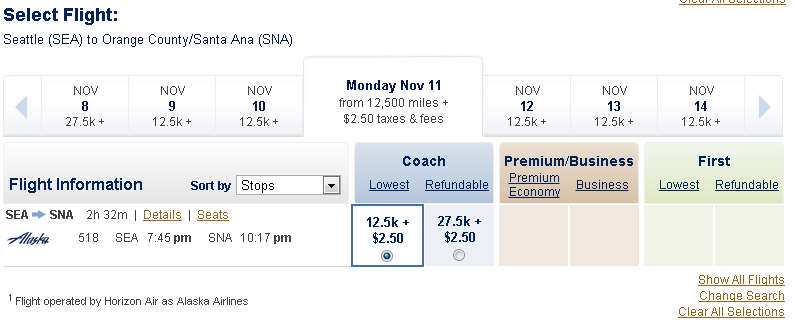 A situation like this is perfect for Avios–no close in booking fees, 7,500 avios per person instead of the 12,500 it would cost for most other programs.  A Slam dunk use of British Airways miles.
Never Underestimate the Incompetence of Phone Agents
I informed my friend to call British airways, giving him their 800 number.  I said for him to tell the agent he wanted to book a flight with his Avios on Alaska Airlines.  Say "I would like to book a flight on your partner Alaska Airlines/Horizon Air." be sure to say "AS Flight 5-1-8 leaving SEA arriving SNA."
This was Tuesday.  I got busy with the blog, packing, getting things done at work and then checked in with my friend today.
I asked him if he had handled the booking yet, and his response brought with it a terrible, sick-to-my stomach feeling:
Phil:  I called and they said they didn't have avios seats available
Phil:  I used aa miles instead and booked it online
The seats were very much available. As of writing this they're still available. By BA telling Phil there weren't any "Avios seats" available (whatever that means) Phil did the only thing he knew to do–he logged into his AA account instead and booked a flight there. Because of this action two things happened:
1. Phil paid 25,000 AA miles instead of 15,000 BA miles for his two one way tickets.
2. Because the flight is this weekend AA charged Phil $75 per person for each award ticket.  BA would have charged $5 per person.
By Calling BA, being fed misinformation, and believing it, $150 of Phil's hard earned money and 10,000 extra (and more valuable AA) miles were stolen from him.
Shame on the Airlines for Bad Phone Agents
It is only natural to assume the information you receive from a phone agent at a company is truthful, after all they're the "professionals." That's what Phil did, he believed what he was told. My ability to know right from wrong when I talk to a phone agent has come from years of experience. But most people who are very new to miles will probably assume the agent knows best. Rest assured–almost always the airlines' phone agents do not know best.
In addition, this is Phil's very first experience with his miles. Congratulations British Airways–you've probably just turned him off from ever using miles again. I've talked about how hard miles are to use, but in that talk I neglected the fact that not every phone agent is a competent employee.  Today's lesson, when in doubt Hang up, call back. 
Lessons for All of Us
Phil has agreed to let me share his story, in the hopes that someone else will be saved from the type of robbery he was a victim of. This is also why we need to spend the time and learn about the programs we're using.  Using miles the right way represent significant savings–once you get over the steep learning curve.
That's what Milenomics is here for–the mistake Phil made today is the kind of trap a lot of rookie Milenomics might fall for as well.  My rule is: When an agent tells me something I approach it as them being wrong until they show me proof otherwise. Most of the time when I get a really bad phone agent (like one who swears Alaska isn't an airline that BA Avios can book with) I just hang up.  Make sure you do the same if you're confronted with misinformation, no matter the airline.
I'm still getting over the sting of this one, and it wasn't even my booking. The loss of those extra miles and extra money are exactly why Milenoimcs exists.  Our Goal is always to use the least miles and the least money.  As you can see from today's example–the Airlines are happy to misinform us, and take more than their fair share.  Together lets make sure they don't.
---