How do I decide which miles I should use for a redemption?
Is this a question you've often asked yourself? I know I hear it a lot from people I help book award  tickets.
The first step is to figure out which miles you have that can get you where you want to go. Certain programs are better for certain places.  For example, I'm planning a South Africa trip sometime next year.  Which miles should I use for it?
Step 1 is to assess the programs you have enough miles in and see which can get you to your destination. For me I have enough miles in AA, UA, US, and DL.
AA: Only BA flies to JNB from Europe.  CX does have a flight from HKG, and QF also has a flight but AA routing rules won't allow them without pricing as two awards.  Flying BA would mean high fuel surcharges.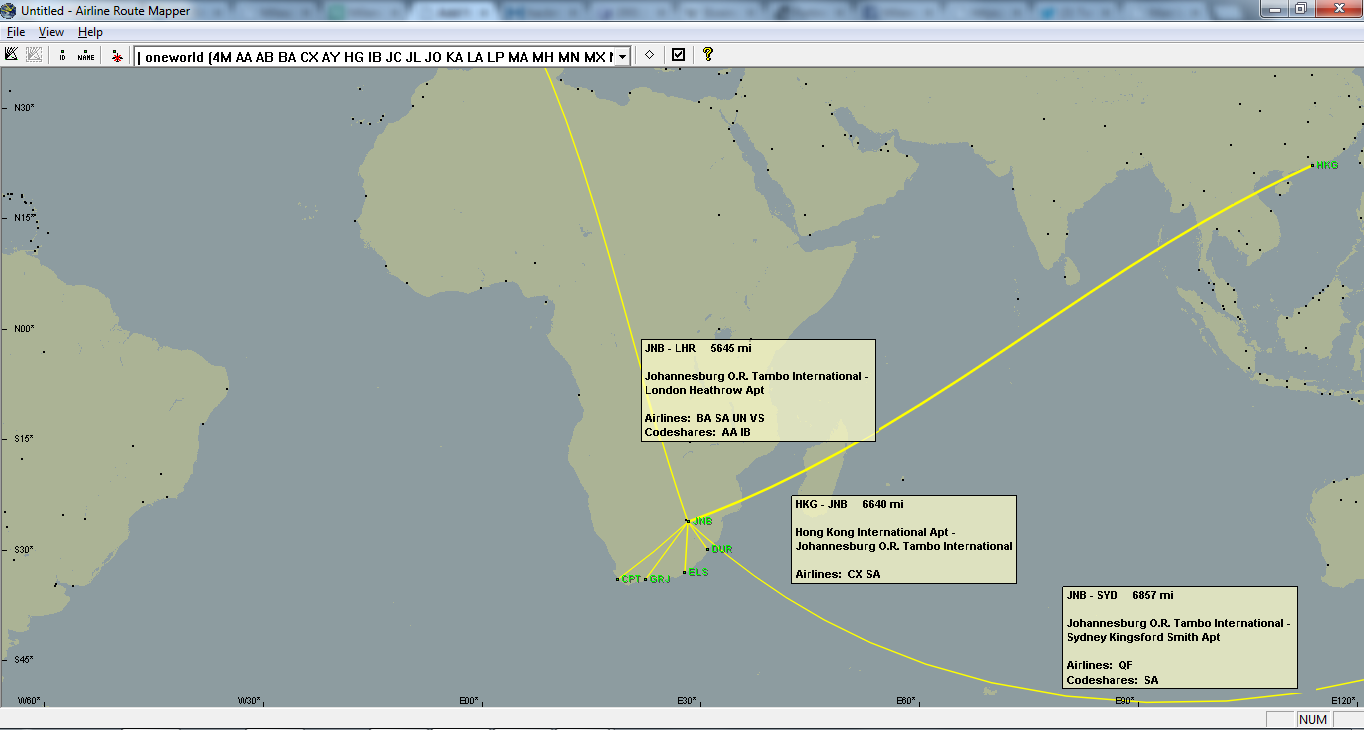 UA: Star Alliance has much better options to get from the US to JNB.  In fact, South African Airways(SA) is a Star Alliance partner. Star alliance partners LH and LX also fly to JNB from European cities. It looks like UA miles will work for my flights.
US: For now, US is still in Star Alliance as well.  The fact that two major US carriers are in the same alliance has come in handy for me many times.  Technically I could consider US miles for bookings on SA as well.  However if the merger goes through and US leaves Star Alliance my ability to change my flights may become limited.
DL: Delta flies the only US-JNB nonstop on its own metal of any US carrier.  It also has skyteam partners that fly to JNB.  Air France (AF) flies CDG-JNB, and KLM flies AMS-JNB. Delta also has a partnership outside of the alliance with Virgin Atlantic, who flies LHR-JNB.
Of the four programs I have enough miles for the flights two don't make much sense.  US because my flight is going to be next year, and the merger issue may mean limited change options.  AA because the only easy way to get to JNB is via BA, and unfortunately AA charges fuel surcharges on BA award flights.
Think back to my post on why miles are hard to use. This is another example where the right miles make all the difference.  If getting to JNB is your goal, and you only have AA miles, you're looking at very high ($1,000 or more) Fuel surcharges.
I've now isolated the two programs I'll be looking at using my miles in, UA and DL.
Remember yesterday I wrote about mileage cost tracking? Well this is why it is so important.  If you look at my cost tracking spreadsheet you'll see that the two programs UA and DL have very different costs associated with the miles.
When you're traveling on award tickets use your cheapest miles first.
In this case DL miles are costing me an average of .3 CPM to generate, and UA miles are costing me 1.3 CPM.  That is 4 times more for those UA miles.  Because of this I'll be focusing on using my DL miles to get my wife and I to JNB next year.
That might come as a surprise to some of you. What about First class you might be asking? DL doesn't allow booking into first class on any of its partners, and doesn't have a F of its own. For UA miles, SA doesn't offer First class either but LH does, and if we somehow found seats wouldn't it be better to fly First with UA miles than Business with DL miles? Let's look at the numbers:
DL miles: I'll need 320,000 Skymiles for the two of us in business. Assuming my .3 CPM that's $960 worth of Skymiles.
UA miles: I'll only need 300,000 miles for first class travel for my wife and I. Assuming my 1.3 CPM that's $3900 worth of UA miles.  You're booking with less miles, but less is sometimes more.
Last month points summary blogger Jameson wrote a great piece on why International First class doesn't seem to make sense for him.  Today's Milenomics illustration backs up his assessment with hard numbers.  The only way I was able to do this is by tracking my costs to pick the least expensive way to travel.
My wife and I will still be sipping Champagne, we'll be sleeping on our way to JNB, and enjoying lounges.  We'll also be doing so while saving $3,000 worth of miles.
Miles aren't free, and they aren't unlimited.  I'll need those UA miles for a redemption that DL is not going to be great for.  It also may become more expensive in the future to manufacture DL miles, and if so the comparison will change.
I hope today's post has shown you two things: It isn't always the quantity of miles needed that is most important.  And tracking your costs is key to saving big.