Today's post is the first in a series–where we will set the stage for our mile usage in 2014.  The end of the year is a great time to take inventory of all parts of our lines, miles included.  Today we'll focus primarily on United Mileage Plus miles.
Proving a Point: Devaluations and Decay
A few weeks ago I wrote about Time Decay and Depreciation of miles. Feb 1, 2014 will be an example of time decay for United miles.  Part of why I'm writing this post now is to ask you to take an inventory–of your supply and demand for United miles. If you see flights on your demand schedule that are going to go up in price (and for premium cabin travel that could be a significant jump), now is the time to start planning and booking a trip with those miles.
Worth Less, Not Worthless

A second point to be made is that While these miles are going to be worth less (as in, the same flights may cost more miles on 2/1 than they do today), they will by no means be worthless.  If you feel your United miles are now worthless; I'll gladly take them off your hands for free, as it seems you and I value them differently.
To show how miles can seem worthless, but still be valuable lets look at Delta Skymiles.  One thing I'm sure you've noticed if you read online is that many people think Delta miles are worthless.  That's a pretty common misconception; and one I've tried to combat here on Milenomics.  Whether it is using the hybrid system to allow for free one ways on domestic tickets (Only DL miles can do that), or burning 320,000 of them for International travel in business class to South Africa, I use Delta miles quite often.
United miles will still serve a purpose, and continue to be in my Award Tool Belt.  Today we'll see where they fit in mine, and I'll ask you to think about where they fit in yours as well.
Conservation of Miles
An important part of Milenomics is identifying the programs you should collect your miles in for larger, international trips, and which programs you can earn and use miles as you go for Domestic flights.  This is the one of the basics of the "Principle of Mileage Conservation." You'll remember from that post the Milenomics divides our programs like this: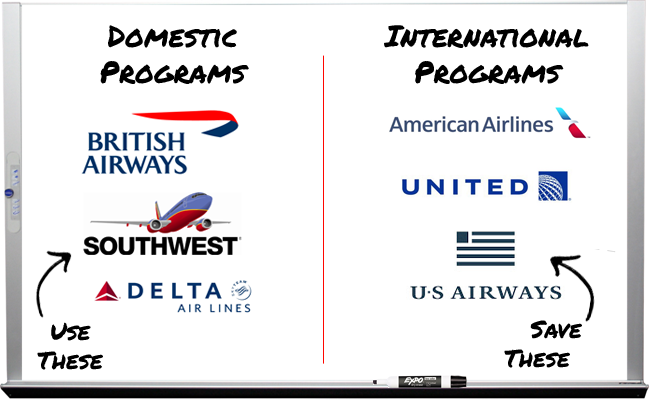 Something I mentioned right after the devaluation announcement hit was that I was thinking about moving United to the Domestic side. I'm not ready to move United to the Domestic side just yet.
There are still some great values in United flights; even international ones. Bookmark Jason's page outlining the changes to the program, and use it while you re-evaluate United for 2014.  I'm re-evaluating my entire system for next year, and will do a redux post to outline the changes.  But I'm not removing United from International travel just yet.
For a good example why look to my post about flying to Costa Rica and Hawaii with United and BA Miles. Under the current chart I booked the United portion for 85,000 miles for the two of us. This was 17,500 outbound and 20,000 + 5,000 for an intra-hawaii flight on the return. Under the new award chart this would be 17,500 outbound and 25,000 + 6,000 on the return.  Just 6,000 more miles total which would drop my value from 2.4 cents down to 2.2 cents.  Still much higher than my average cost for those miles of 1.1 cents each.
Find where United Fits Your Needs
Today I'm asking you to take inventory of your demand schedule, and see where United miles can fit a need.  Are they going to fly you around the world in First Class anymore? No…they aren't. But are you going to be able to use them to travel and see the world? Yes, for the most part.
I'll go back to some of what I wrote when claiming that Milenomics might be the worst blog for you; We're travelers, not flyers.  If you want to experience amazing moments, and see things that will broaden your world United miles will continue to do that.  If you want to see the inside of every a380 first class cabin–you might want to look elsewhere for that.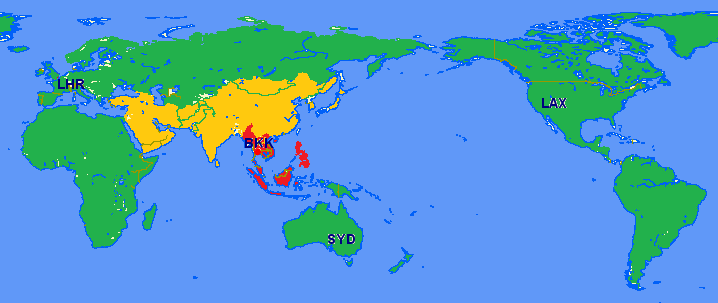 We're Milenomics; we decide where we want to go, we look at which miles can get us there, and book with the ones that cost us the least. Doing so will continue to weed out our cheapest miles, and focus our most expensive miles on our more expensive flights.
Will the cost to acquire United miles increase next year? I don't think so, which is really the thing we need to keep the closest eye on.  Even if you relegate United to domestic flights only–earning those miles for 1.0-1.3 cents per means you'll can book any domestic flight over $250-$325 with United miles and still recoup your costs of time, travel and fees.
Only you know your travel patterns; this is why we're all working together here at Milenomics.  We want to be the best we can be, and for some of us United will work. Let's look at a situation where someone might want to drop United.
Those Who Might Really Want to Drop United
Milenomics is about addressing your needs first, and your wants second.  If you want to fly Business or First class on all your international flights you might need to adjust that want downward to continue to use United miles.  If you need to fly International First and Business Class awards on Star Alliance partners you really may need to drop United completely.  I used United miles earlier this year to book my wife and I a trip around Thailand.  In total I booked with 240,000 miles, with all segments in business. Had I done that next year I'd have to choose between 280,000 miles with United/Partners in Coach, or 320,000 miles for all flights in Business. First class becomes even worse–with one segment in first on a partner you're looking at 520,000 Miles per person.
Again this is not me–but it might be you.  If it is craft your plan for 2014 without United in it–and book whatever you can before 2/1/14.
Wrap Up
A lot has been written about the changes coming to the program for the next year–and believe me I am not a United Fan. There are plenty of reasons I put them at #1 on the Naughty list for 2013. But they do have:
1) Lots of airplanes, which can fly you where you may/may not want to go
2) Easy to use miles, which can be earned rather cheaply through Milenomics Mileage Runs (MMRs)
3) No Fuel Surcharges.
This combination will keep them in the international program list for me.  For flights over 8-10 hours I'll definitely want to fly in a premium cabin–which I still can do, but I'll need to be cautious about doing this with United miles from now on.  Also I'll have to really weigh UA's versus AA/US bookings, but that is something I already do while calculating which miles give me the cheapest total cost for award flights.
Giving up on United Miles right now is not wise.  You've got a whole lot of travel to do–and United can be an important piece of that puzzle still.  Make sure you limit your exposure by earning miles up to the amount of miles you need, and then switching to cash back.
If we've learned nothing else from this, we've learned that our miles depreciate, and that's why we always say:
Bulls make miles, Bears make miles, and Pigs get slaughtered. 
Limiting the number of miles you earn to those you need helps make sure you don't end up on the wrong end of a devaluation. I feel for those of you sitting on 500k+ United miles and with plans to use them for premium cabin travel–but you can still do that, just make sure to book before 2/1/14.
---
Don't forget to subscribe via email (link on the right) to be notified of new posts. Or follow me on Twitter: @Milenomics, or like Milenomics on facebook.
---
Everything below this line is automatically inserted into this post and is not necessarily endorsed by Milenomics: