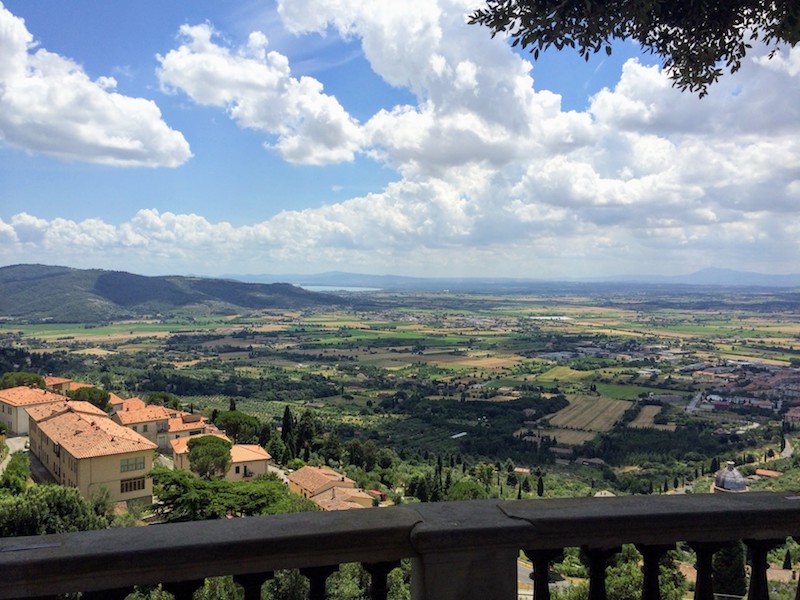 A trip to Europe in April is on our Family Demand Schedule for 2019. I haven't been able to find award availability until just recently. Here's how I booked it, using Delta SkyMiles to Italy.
Parameters
Departing out of Boston
Fly into/out of "somewhere" in Italy (Rome, Florence, Venice, Milan, Bologna)
Want to go during April school break, Saturday to Saturday
Family of 4 (not willing to split up on different flights)
No more than 1 connection
Prefer Business Class or better
My go-to option for Europe is typically United or Aeroplan miles to fly a Star Alliance carrier like Lufthansa or SWISS. TAP Portugal, Turkish and Aer Lingus (a United partner) are also options. But none of those showed award space that accomodated my constraints.
I always take a brief look at AA miles but especially out of Boston they're not a good option to Europe.
However, things clicked using Delta SkyMiles – in an unexpected way.
For a while there, Delta was pretty great about opening up low-level award availability in Business Class on their own metal. But lately things have really dried up, leaving me to wonder whether I had more SkyMiles than I'd be able to effectively use in the near term.
Establishing a Baseline
I like to start my research with Google Flights to get a baseline for the ideal flights and their costs.
The only direct flight from Boston to Italy is BOS-FCO on Alitalia. For my dates these ideal flights cost $1,300 in Economy, and $5,000 in Business (pp roundtrip). Alitalia award space should show on Delta.com if it's there, but for my dates there was nothing available. I'll use $1,300/$5,000 as targets to keep in mind as I consider one-connection options.
Simple Searches on Delta.com
If I search award availability from Boston to Rome roundtrip on Delta.com I find they want a scorching 390,000 pp roundtrip. That's a whopping 1.56M miles for a family of four. It's stuff like this that gives SkyMiles a bad name.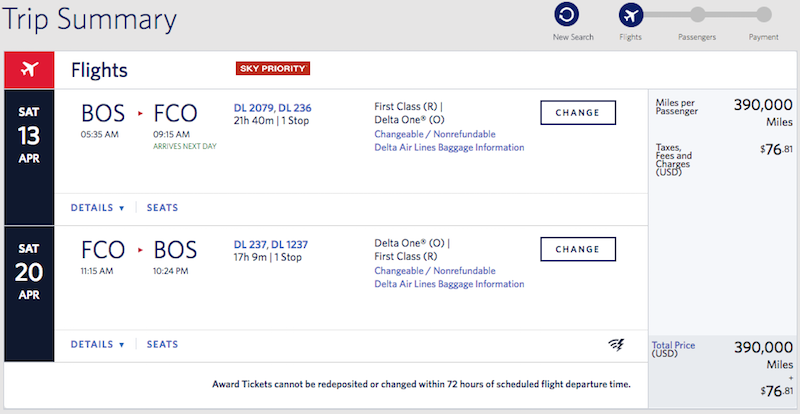 I tried searching one-way Boston to Rome. That was even more bleak: 280,000 pp one-way in Delta One (their Business Class).
When searching one-way Rome to Boston I found something useful though: 75,000 pp one-way in a combination of Alitalia FCO-LHR and Virgin Atlantic Upper Class LHR-BOS.

The only problem with this option was the taxes & fees: 468 euros pp one-way on top of 75,000 SkyMiles. Yikes.
Don't mind the "1 left at this price" – this screen shot was after I booked 4 seats.
What is going on here?
Delta passes along fuel surcharges (in addition to taxes and fees) for one-way flights that originate outside the US. We can avoid this if we book roundtrip, but like I mentioned previously I couldn't find low-level availability on the outbound.
Seeing the award availability on Virgin Atlantic gave me an idea though…
Make use of an Open Jaw
I did a search for just Boston to LHR. That showed space available for four on Virgin Atlantic Upper Class.

With this information in mind, I could book BOS-LHR//FCO-LHR-BOS. That way I'd avoid the nasty fuel surcharges seen when booking FCO-BOS as a one-way. This costs 75,000 miles pp each way so 150,000 miles + $103.21 in taxes & fees all-in.
I'll have to self-fund LHR to our starting point in Italy, but those flights are cheap and I actually like the flexibility of deciding later where to start our journey. We could even spend some time in London on the leading end of our trip if we wanted.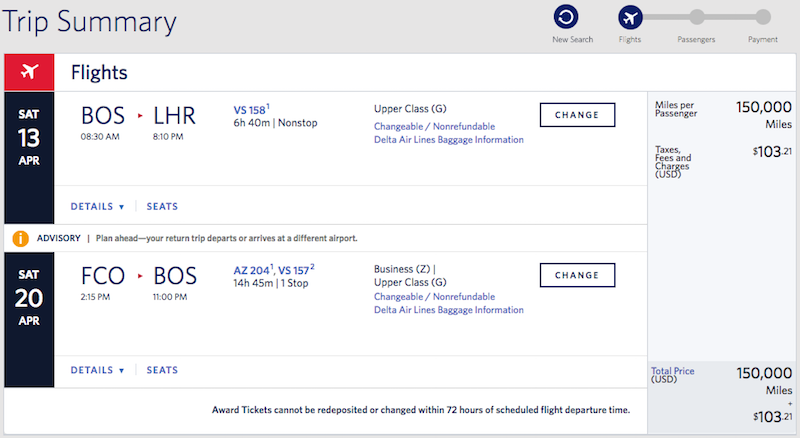 [Don't] Just Get Over the Pond
This beats the alternative of just booking BOS-LHR//LHR-BOS because London Heathrow charges higher departure fees than when originating elsewhere in Europe.
For example if I just booked Boston to Heathrow and back then self-funded the rest of the journey from there, taxes and fees would be $311 per person – even on Delta metal as a roundtrip.
So definitely avoid return flights originating out of LHR if possible.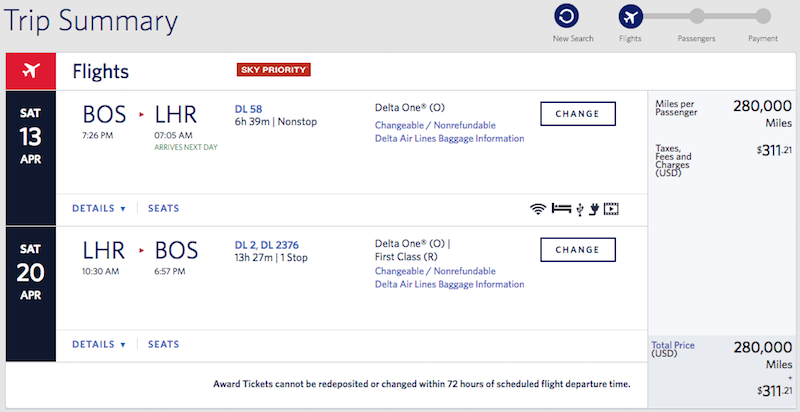 It gets even worse if you use Virgin Atlantic miles to/from LHR. Although the award availability is good, fully loaded taxes & fees spike to $1,348 pp roundtrip. Ouch.

The upshot of it is this: If you can, use Delta miles for Virgin Atlantic and Virgin Atlantic miles for Delta domestically. That way you can minimize fuel surcharges and while maximizing the value of miles.
Putting it all together: Delta SkyMiles to Italy
I needed a total of 600,000 Delta miles + ~$400 for taxes & fees to book it for the four of us.
I've been burning through Amex Membership Rewards at a rapid clip lately, stacking 1.5 cpp uplift through the Amex Business Platinum card and Insider Fares while earning miles for flights. But I had enough Delta miles + Membership Rewards (an instant 1:1 Delta transfer partner) to book the trip.
It was nice to be able to pull this somewhat-complicated partner award booking off without having to call in.
I'm looking forward to checking out Virgin Atlantic Upper Class, and a day-time flight over the Atlantic sounds nice too.
Summing it up
Award availability on Delta metal to Europe has become more difficult to find
Delta shows partner award space for Virgin Atlantic and Alitalia online
You can piece together an award ticket that mixes partners
One-way awards originating outside the US incur fuel surcharges
You can avoid fuel surcharges by booking a roundtrip award
You can book an open jaw which is especially useful if it helps piece together a roundtrip award
Include a starting leg on the return other than Heathrow to avoid high departure fees
Any tips and tricks in this space you'd like to share?