Yesterday I wrote a post in which I used 34,000 of our hypothetical avios, 40,000 AA miles, and 60,000 UA Miles for a couple to tavel to Maui and Germany.  Because of reader feedback today's post imagines the same situation but sends us to Asia Instead.
Our Hypothetical Miles from September and December
To Quickly recap: We applied for 4 credit cards in September, and then doubled up on those same 4 applications for the CCC in 2 player mode in December.  In doing so our hypothetical balances are now the following:
-106,000 AAdvantage Miles
-112,000 United Miles
-52,000-190,000 Avios
-70,002 US Airways Dividend Miles
Today I'll cover a trip to Mexico and Asia with these miles–and just for fun I'll see what else we can do along the way. 😉
Moving Travel Further East
Yesterday's post assumed travel through Los Angeles.  By doing that I was able to take advantage of the stopover on AA Awards and really stretch our miles.  Today I'll move our travel to the other side of the country–and hopefully help some Right Coasters along the way.
DFW, ORD, or JFK–the below works the same from any of these, the difference is that shorter flights from DFW which would require 7,500 Avios per person from instead take 10,000 per person from ORD or JFK.  I'll choose ORD today, and assume we're starting out from there.
ORD-CUN–Fun in the Sun
– Average High Temperature in February in Chicago: 38 Degrees.
– Average High Temperature in February in Cancun: 82 Degrees. 
I don't live in Chicago–but I've been there, and can say that I'm giving it a generous 38 degree average.  38 in Chicago can feel like 10 elsewhere when you factor in the wind.  Regardless, we're getting out of town, escaping to the Gulf Coast of Mexico and the beaches in Cancun.  A trip in February will start with a search on…you guessed it, www.alaskaair.com:

I found the following flights, both low level, and both bookable with Avios on BA.com.  The dates are Feb 5, returning Feb 12: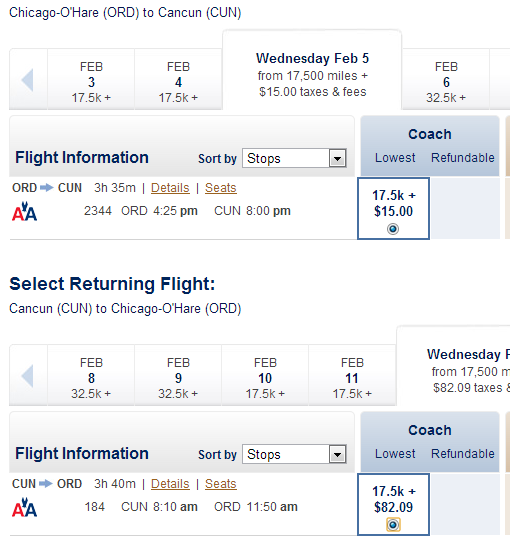 Disregard the 17.5k, this is how many miles it will cost to book this with Alaska Miles. We're using Avios, so we look at the distance flown, 1449 Miles, and compare it to the Avios chart: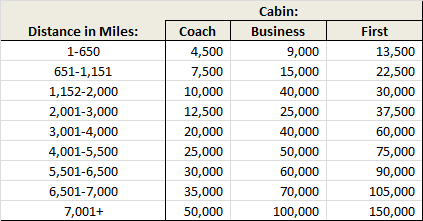 As you can see, for a 1449 mile flight we'll pay just 10,000 Avios. These types of flights, which span more than one country but are relatively short are usually great uses of Avios. Booking this is straightforward and can be done on Britishairways.com.
Total Miles used: 20,000 Avios
For the Return; AA.com, or Call for More Options
I chose for our trip to Asia to fly to Tokyo NRT.  Any number of countries could have been chosen. Both Korea and Japan have AA offpeak awards (coach only).  Because of this, and again because our CUN trip started during offpeak times, we're able to take advantage of this even though we're flying to Japan during a peak part of the year.
You could instead fly ORD-NRT-ICN and spend the same number of miles. I did not choose ICN for this example because the NRT-ICN flight is not bookable on AA.com, you'd have to call in.  To show you pricing and for ease of use I stuck with NRT. The search is straightforward, and mirrors our search from yesterday: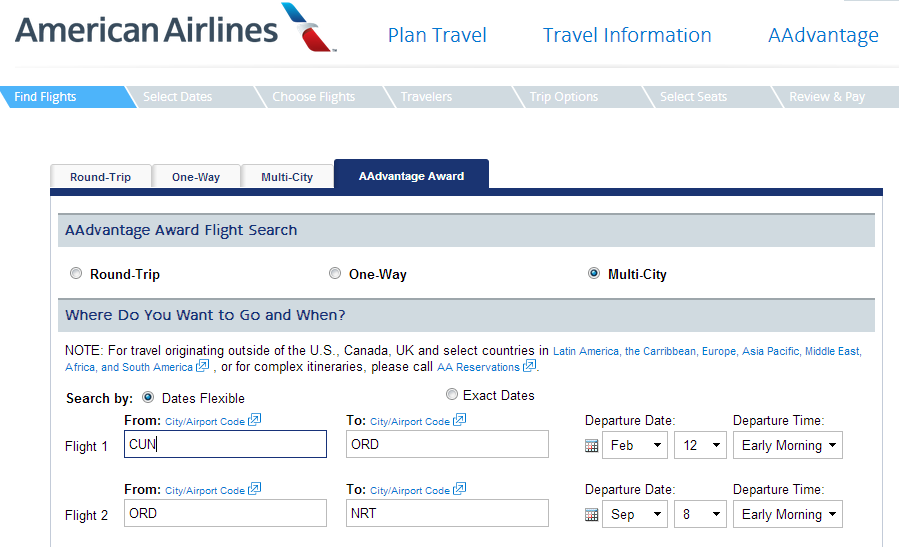 I had no trouble finding plenty of nonstop options ORD-NRT, Sept 8, 9, 10, 11, 12 were all available.  As you can see, I settled on Sept 9: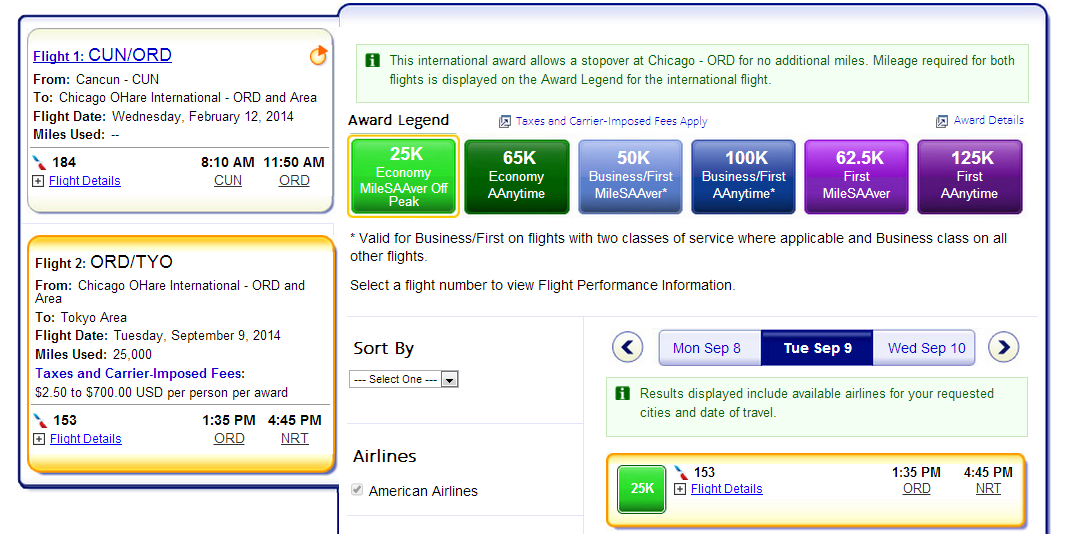 The disclaimer in green lets us know our CUN-ORD flight will price out for free, it states, "This international award allows a stopover at Chicago – ORD for no additional miles. Mileage required for both flights is displayed on the Award Legent for the international flight."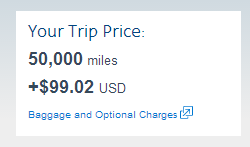 All this means is we're paying 25,000 miles for CUN-ORD stopping there until September and then flying ORD-NRT. 
Note: Because we hold the AAdvantage Credit card we're technically going to be credited back 10% of these miles used, meaning we'll end up paying just 45,000 miles for these two flights. I won't include that in our calculations but wanted to mention it.
Total Miles used: 20,000 Avios and 50,000 AA Miles
Returning Home: AA or US
We could fly from NRT to any number of other countries in Asia, and then travel home from there. Because of the geography of Japan we're looking at having to use 7,500-10,000 Avios per person to travel to another country as part of this trip. Remember the trick we used yesterday to generate Avios maps:
As you can see we're into Tier 2 and 3–but plenty of options exist in those tiers.  Whichever city you choose in those tiers you'd spend either 7,500 or 10,000 avios to get there.  Your return home would be from that city-ORD with United miles.  In today's example I've chosen to stay in NRT, and the flight back is simple, and bookable on United.com:

Nonstop flights to ORD, and ANA's legendary service too.  All for just 32,500 miles each.
Total Miles Used: 20,000 Avios, 50,000 AA miles, 65,000 UA Miles.
But We Want to Visit Hawaii Too!
We don't exactly have enough miles for this, but I thought I'd include it to increase our learning.  If we chose to fly NRT-HNL-ORD back with AA miles, we could stop in Hawaii for as long as we'd like, and then go home to ORD.  One last weekend on the beach before October and the crisp nights come to Chicago.  Booking is easy on AA.com: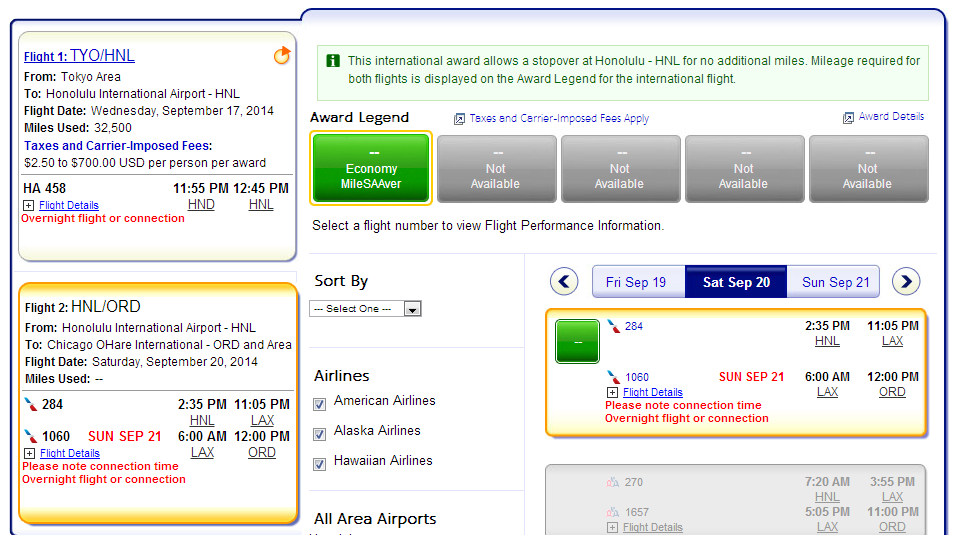 Final routing of this would look like:
Wrap-Up
We almost have enough miles from just 2 sets of applications for both yesterday and today's trips! That's a lot of flying off of just 1 set of applications per person, per CCC season. I was really glad to see lots of questions in the comments from yesterday's post, and if you have similar questions let me know today.  As always, planning makes the difference between wasting miles, and money–two of our most precious resources.
---
Everything below this line is Automatically inserted into this post and is not necessarily endorsed by Milenomics: