Note: None of the links in this post benefit me. I do have two offers that benefit me which you can take me up on. To keep the post clean I'm asking you to email me: samsimontravel@gmail.com if you'd like to do so. 
—
Today's the day! If you're like me, you ran downstairs, into the living room, and unwrapped all those credit card application letters you've been collecting in the mail for the last month or so.  I went through them like an 8 year old on Christmas Morning. Now that I think about it… I may have had too much coffee this morning.
If you didn't have such a morning—this is the digital equivalent, the Winter Credit Card Calendar.  Once a quarter we discuss credit cards, in depth here on Milenomics. Then we go back to regularly scheduled programming, meet out minimum spending, collect our miles, and travel.
With So Many Choices, What's a Milenomic to do?
What should you apply for this Season?  If you were with Milenomics in September you'll remember the 4 cards we applied for were:
-AA Visa
-UA MP Explorer Card
-BA Visa
-US Airways Mastercard
If you're playing in two player mode you could have player 2 apply for those very same cards:
-AA Visa- 50,000 AA miles (see below)
-UA MP Explorer Card- 55,000 UA Miles (See below)
-BA Visa- now either 50,000 or 100,000 with high spending requirements, but also with a $95 annual fee
-US Airways Mastercard– 35,000 miles. (See Below) should always be in our applications until we either stop getting approved or the card disappears.
I'd suggest against applying for the Avios card, just based on the $95 annual fee…but some of you might see a value in those Avios, and so we'll discuss it here today.
If you mirrored those September applications, after the bonuses all hit you'll have between the two of you:
-106,000 AAdvantage Miles
-112,000 United Miles
-52,000-190,000 Avios depending on if you skip the Avios or go for one of the two offers.
-70,002 US Airways Dividend Miles
This is now starting to look like a good setup for booking award tickets. Tomorrow I'll go over what we could do with these miles if we had hypothetically applied for these cards in September and then again in December in 2 player mode.
Most of Us Are Starting From Scratch
From this point on I'll be posting these quarterly CCC posts more like the following part of this post.  It is silly for me to keep a running total of an imaginary person's applications and points, and unless there are comments supporting the continued use of a running total I'll stop it in the next CCC post (March).
For broader appeal I'll be covering many card options today—most of which I would apply for.  That doesn't mean I did apply for them, or that I eventually will; or that you should.  I do want to show you that there is no "Perfect Fit" card.  Where you want to go next year, how many miles you already have, how bearish or bullish you are, will all factor into the cards you apply for.  After I go over these cards I'll share what cards I applied for today for my Wife's Winter Applications.
Current offers I considered (All offers have no annual fee unless otherwise noted):

BA Visa- There is a standard 50,000 Avios offer after $2,000 in spending.
This is the offer we applied for in September.  However there is now a $95 non-waived annual fee for this card.
There is also Also this 100,000 total Avios card offer—also with a $95 annual fee, but with very high spending requirements.  Because of the time of year if you are interested in getting the Companion pass, this offer may make sense for you.
Avios are great for: Flying AA/AS in the US; short hops in Asia, and Latin America.  Their usefulness as part of the Hybrid system is legendary here on Milenomics. And with household accounts if you do decide to apply again for this card
Avios are TERRIBLE for: Do Not apply for this card to travel on British Airways flights, or to Britain or England unless you know and expect to pay $500-$1000 in fees for each ticket on top of the avios.  Avios are great—possibly the best Miles to start out with, but they have serious negatives as well.
—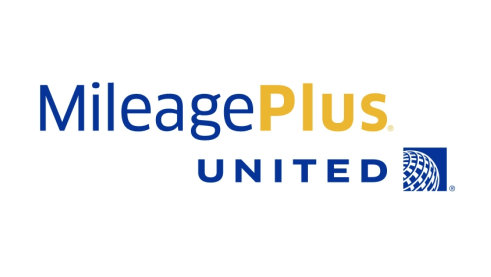 United: Mileage Plus Explorer Card–Personal 55k offer: Follow the instructions here http://www.flyertalk.com/forum/20577373-post1913.htmlfor a chance at the 50k offer plus 5k for adding an authorized user.
United Mileage Plus Explorer–Business Card: If you've already been approved for the above personal card, you can still apply for the Business version of the card.
MP Explorere  50K offer after spending $2k – Included in my wife's applications
Found by: Logging into your United account, Clicking business products: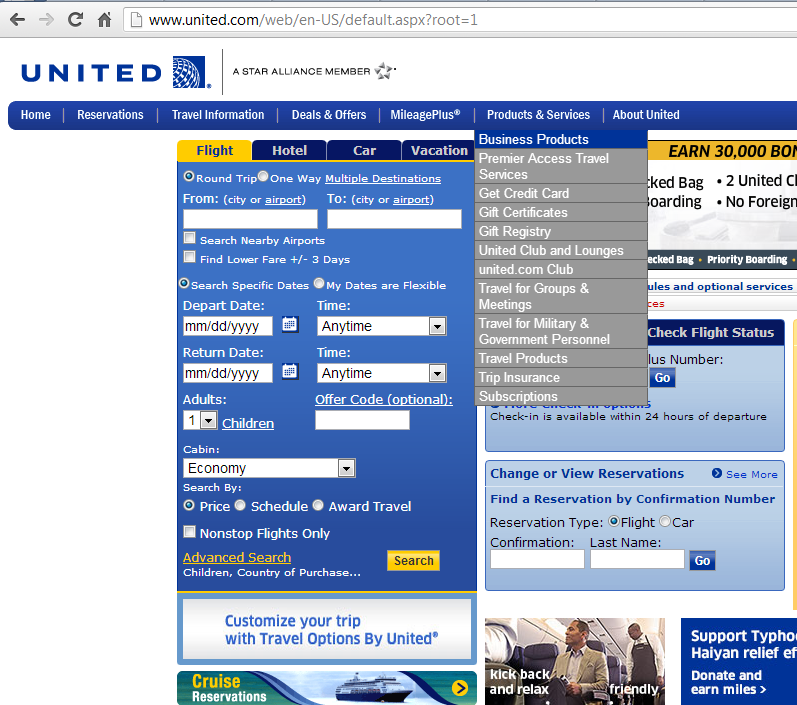 Clicking the Mileage Plus Club Business Card (not the explorer card):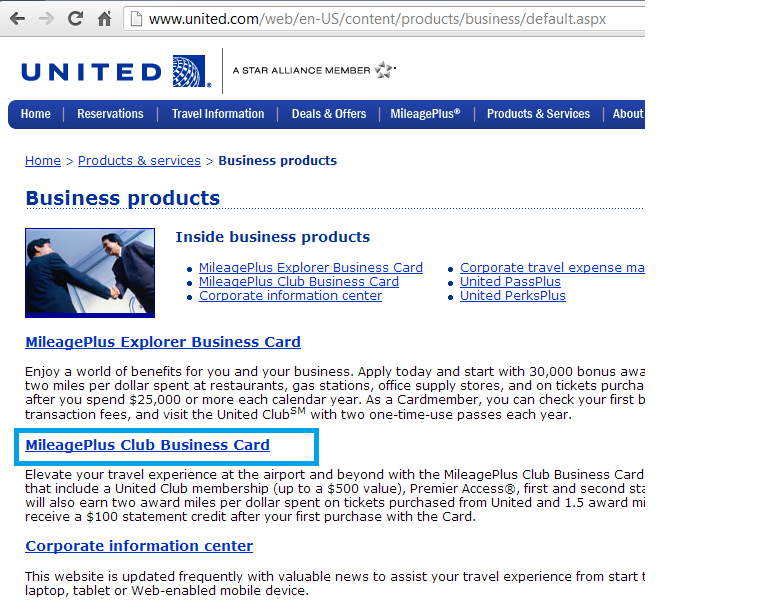 Then click over to the tab titled "MileagePlus Explorer Business card":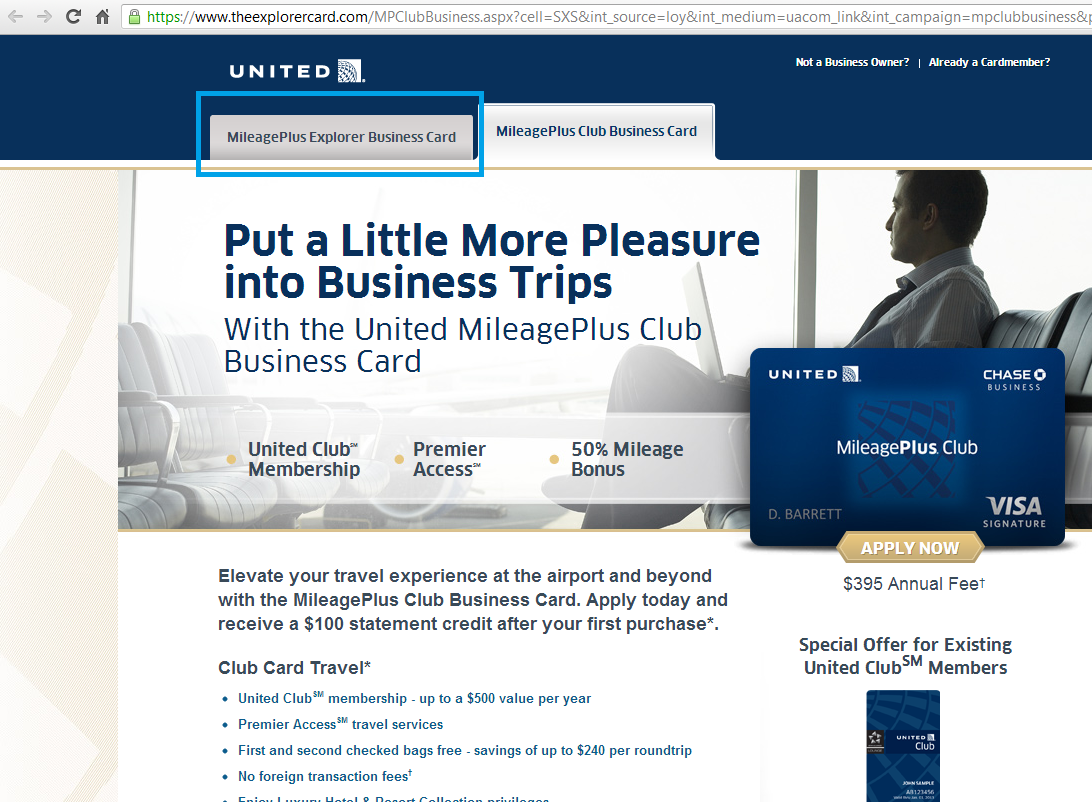 The process is simple, and should result in the 50,000 mile offer instead of the 30,000 mile offer. Make sure you're logged in before you start and this should be the final screen you see: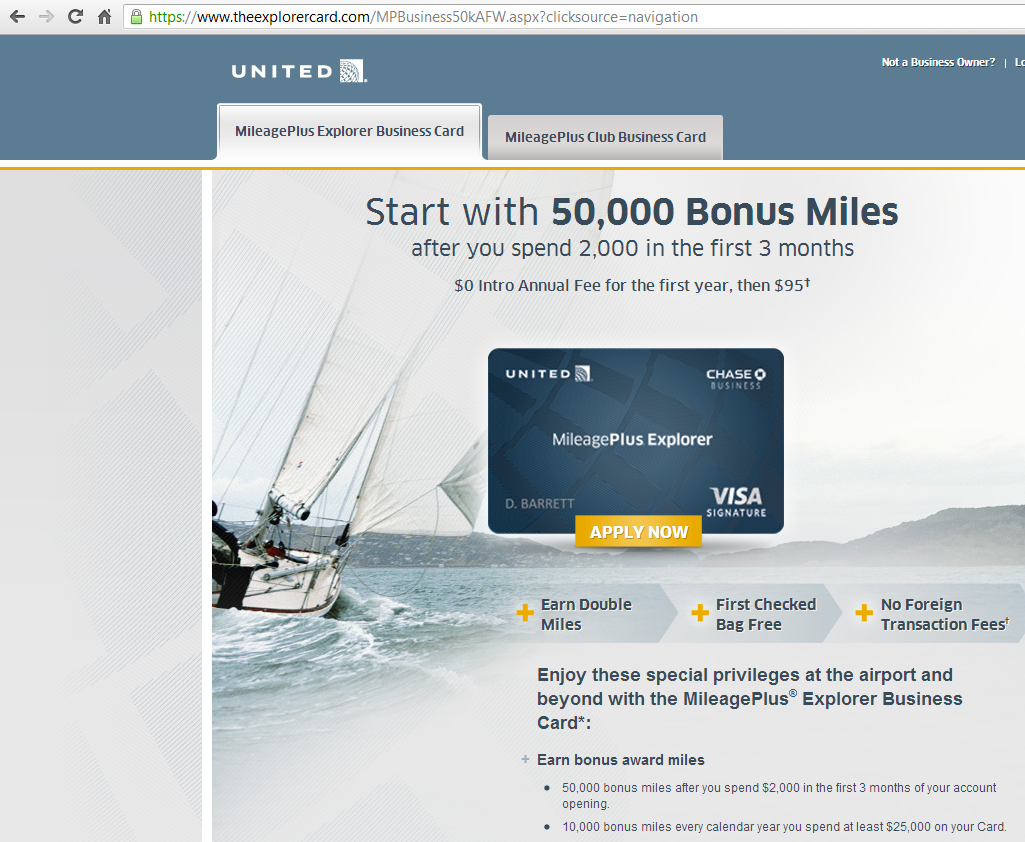 Thanks to Flyertalk for this one.
United Miles are Great for: Coach and Business Class tickets booked before 2/1/14.  After 2/1/14 these can be used for Domestic tickets and not feel guilty about spending valuable international miles. Also great for Latin America.
United Miles are Bad for: Not much, after 2.1.14 parter awards in Business/First will become very expensive. But there will still be value to these, just not as much value as prior years have seen.
US Airways: 35,000 miles after first use (No annual fee first year, then $89). Spend $1 to get 35,000 US Miles?  Yes please.  I mentioned yesterday that bearish or bullish this card should be at the end of everyone's application list.  I applied last year for one for me, and again this past May for a second.  My wife has applied for 2 now this year, and was approved for another one.
US Miles are great for: Cheap rates to Asia and Europe (with a stopover allowed).  In addition the current buy miles promotion allows for quickly re-upping for 1.135 cents per mile.  If you know you'll use them this is as cheap as it gets.
US Miles are Bad for: One way travel (does not work), there is also some level of uncertainty in these as the US/AA merger will mean things will change.  A plan of using these miles needs to either be firm in the short term or flexible in the long term.
Souce: This post on FT.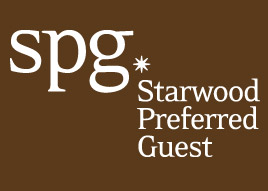 Starwood Preferred Guest: 25K Starpoints after $5k Included in my wife's Applications
Very straightforward, 25,000 SPG starpoints; 10,000 after first use, then 15,000 after spending $5,000 within 6 months. Many people keep this card and pay the $65 annual fee. I do not. I will use it as a vehicle to downgrade to an American Express Blue Cash Everyday after the year is up.
The application is straightforward, and the offer is a bit high for some of our spending, but should be considered, especially if you're interested in a Blue Cash Card eventually.
The business version of this card offers you access to the OPEN network, which some might say makes it an even better deal than the personal card. I have a link to the business version of the card which is the same as this public link, but does help me out.  Email me: Samsimontravel@gmail.com if you're interested in using my link.
I also have the ability to refer you for the personal card and I receive 5,000 SPG points for doing so, to do so I would need to email you a link to apply with as well.
SPG points are good for: Can be for very lucrative hotel stays, and may result in extracting values of 2+ Cents per Starpoint.  I'm a little less a fan of these—but for certain high rent areas like Hawaii this card and the points I can generate with it will help me out of a jam.  I like to keep 50,000 or so SPG points on hand and I burned up those 50k this year booking suites, so it is time to re-up.  I also mentioned that I'll be going for the $30k spend on this card next year for SPG gold, so this is the time of year for it.
SPG Points aren't great for: Transfers to Airlines.  These can take a long time, and put your award seats at risk.  They can also give you far less value for your miles than using them at the above high price hotels.  Of course using them is better than not using them–but be careful converting them.  Also some hotels make no sense– 10,000 starpoints for a room that goes for $109 is a terrible use of SPG points.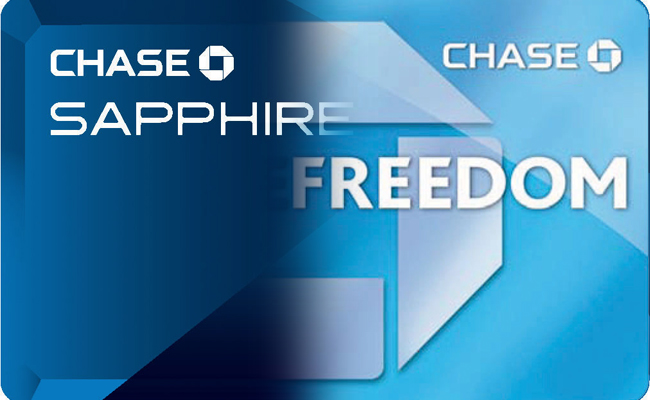 Chase Sapphire Preferred: Current 55k offer is still alive  We discussed this card in depth the other day in preparing for our applications.  Whether this is the time for you to apply for it depends on many factors.  I'm not applying for it, but I included it here because it is a great offer, and the best way to get a Chase Freedom card, by eventually downgrading the CSP to the Freedom.  Next year I'll earn more UR with my Freedom than I will with my CSP, and you can too.
CSP is Great For: Signup bonuses. Also allows transfers to United, BA, Hyatt, Southwest, and others.  Travel insurance is very good on this card.
CSP is Bad For: Bonus spending. With 2x on Travel and no 5x categories it loses out consistently to either Chase Freedom or Ink Bold in long term earning.  I like the card, but don't see the value in keeping it, as it does not earn enough UR for me to justify keeping it instead of turning it into a Chase Freedom.

American Airlines: There are still great offers for these Citibank cards. AA 50K Offers exist in both Visa and Mastercard-  See the flyertalk thread here for links to three such offers.
If you have a Visa or Amex , apply for the Mastercard.  If you have both and it has been over 18 months you should be ok to reapply for one of them, and still get the bonus.  See the FAQ in the above thread.
AA Miles are Good for: Asia, Europe, Latin America.  With Oneworld Stopover tricks you can extend each award flight into a free oneway if you live in a gateway city.
AA miles are Bad for: They're too valuable for me to use them for domestic travel–plus Avios work better, and cost less for most such flights.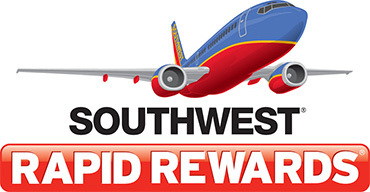 Southwest:  While many of the Southwest bonuses are back down below 50k, there is still a 50k business card  with a $99 annual fee—not waived for the first year.
The 50k Offer for business cards is available at www.southwest.com/park
If you're in the airport grab you may be able to grab a 50k personal application as well.  If you apply for both cards you'll be 94.5% of the way to a Companion pass—and the rest should be very easy to reach.  If you do attempt this, don't use this card until Jan 1. This is an ideal time to try to do this, as you have the whole of next year to earn the pass, and then the rest of 2014 and 2015 to use it.  This is one example of timing applications to season.
Southwest Miles are Good For: Southwest is a cornerstone of Milenomics' Award Tool belt and a Domestic Airline I often use. Southwest also can be the first flight as part of a Hybrid system booking–saving miles and money over booking 2 full round trip flights.  No change fees, no cancellation fees mean using Southwest points for flights you're unsure about is a great idea. And the companion pass (if you achieve one) doubles all of the benefits.
Southwest Miles are Bad For: Flights you want to select specific seats on, international travel. Travel Close in can be very expensive with Southwest Points once "Wanna get away" fares are sold out.  It seems you either like southwest, or hate them. If you're not a "fan" of how they do things you may have sworn off them forever.  For me, they're a great tool to have around.
Fidelity 2% Cash back card
This is a really great card—I applied for one for my wife to double up on the cash back we can earn with these.  With $0 annual fee for the life of the card it is truly in a world of its own.  Why more blogs don't talk about it (except Matt from www.saverocity.com, and Leana from www.milesforfamily.com) I don't know.  Think about it hard–there is no bonus for signing up, but you could easily make out great with this card, for as long as they continue to offer it.  2% on Dining, Amazon purchases, anything really.  And using it for MMRs means you make money, which you can always use. 😉
Good for: Making money.  $100-$200 a month can be made with this card without even trying.
Bad For: Does not generate miles, but Money can be better than Miles.
Runners up:
US Bank Cash +:I wrote about this a bit on Twitter—and Frequent Miler had a great, concise piece about it here. What categories you'll use it for, and how much spending you do in those categories will determine how close to the maximum $400 + a year you get from this card.  Think about using it for one specific category you spend a lot in, like restaurants.
Discover Cards–you really need to have one. 5% each quarter = $300 a year if you max it out.  On top of that ShopDiscover offers serious Cash back. I used it just yesterday for 10% Cash back from Living Social.
Don't forget Cardmatch
Visiting www.creditcards.com and using their cardmatch service can show you offers tailored just for you.  In addition, I was serious about collecting credit card offers from the mail and going through them.  I found a great offer Club Carlson sent to me–far better than the public offer.  In addition some good Amex Gold offers have come in the mail to my wife, but I passed on them this go around as well.
What about Hotel Cards?
Sorry, Milenomics isn't a huge hotel points fan—see why here, "Milenomics: What about hotels."  You can still browse great hotel card offers in the Flyertalk thread listed above.  Some of you love hotel points—I'd rather use my cash back cards and hotel booking tricks to book hotels at rates that don't often make sense for using points.  Someday maybe we'll start a Hotelnomics blog here on First2board. 😉
My Winter Applications are Done: The Results
My wife's CCC applications are complete.  I only applied for 4 cards for her—the UA MP Explorer Business card, the SPG Amex, the Fidelity 2% reward card (no bonus), and the US Airways Mastercard (her second).
She holds the MP Explorer personal, as do I, she just received it in March.  Mine is very old—was at one point a Continental card.  We Applied for the 50K offer and she was told a "decision would be made in 30 days." Calling today they had just a few questions for her, and the card was approved.  She holds 3 personal Chase cards right now, 2 Freedoms and a UA MP Explorer.
The SPG Amex was an instant approval, the Fidelity was deferred, but I'm sure that is because I didn't put my SSN in as an Authorized user, and a phone call today should sort that out.  The US Airways was also instantly approved, and means she now holds 2 US Airways cards, which we pool out miles into one account.
The Rest is Up to You
I can help answer questions, and I'm always here to give advice–but the cards you choose will probably look very different from those I choose. In the meantime, I hope you've done your research, and enjoy applying for your cards.  I like to fill out my applications based on which cards I want the most. This always leaves US Airways last—but not least by any measure. 
Until March, happy appy-ing 😉 – Sam
---
Everything below this line is Automatically inserted into this post and is not necessarily endorsed by Milenomics: