I logged into my wife's account to redeem cashback on her Old Blue Cash card and noticed a pre-approved Amex Personal Platinum 60,000 offer listed in her Amex Offers & Benefits:

AmEx Personal Platinum 60,000 Offer
60,000 Membership Rewards signup bonus
$5,000 minimum spend requirement within 3 months
$550 annual fee [not waived the first year]
No lifetime language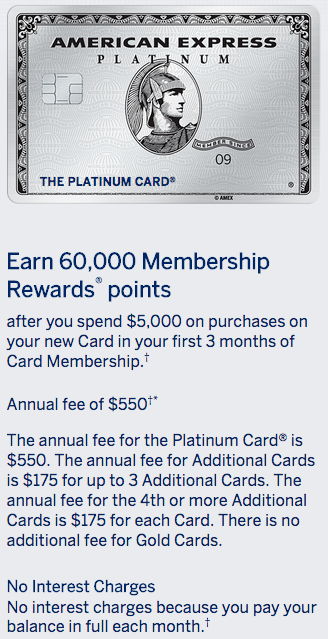 I looked back and noticed The Credit Doctor mention some people received this offer via email recently. I went back and checked emails and didn't see the offer. So it might be worth checking the Amex Offers section on your cards to see if you've been targeted.
She first had the Personal Platinum card from 2014-2015, and was just recently targeted for a Premier Rewards Gold card. So although Amex has a "once per person per product lifetime" rule it's great to see they're continuing to offer signup bonuses for cards customers have already had.
She was instantly approved, and we got the account number right away [for online shopping before the card arrives]. We set up online account access and AutoPay in like 5 minutes from beginning to end. Say what you will about Amex customer service going to the dogs, but this was a far better experience than the first touch on a new BofA card.
Analysis
This is a good deal if you've had the card before and want to get the signup bonus again. If you've never had the card I'd aim for a 100,000 for the Personal Platinum offer. Or 100,000+ for the Business Platinum. And if you've had the Personal Platinum before and aren't targeted for this 60,000 offer, I'd venture out into the other flavors of Amex Platinum cards like the Schwab Platinum.
The Personal Platinum has a steep $550 annual fee. But it can be whittled down with the $200 per calendar year air travel incidental credits. Plus the $200 Uber credit. Plus the $100 Saks credit.
I personally value Amex Membership Rewards at around 1.5 cents per point, so the 60,000 points are worth around $900 to me. Here are some ideas on the best way to redeem them.
One of my favorite ways to redeem Membership Rewards is by also having the Amex Business Platinum card so you can easily redeem them for flights at 1.5 cents a piece of value. In this post I describe how that can be pushed closer to 1.9 cents a piece towards airfare under the right circumstances.
I only wish Amex allowed spousal Membership Reward transfers. That way I could I carry just one Business Platinum and redeem all of our points with 1.5 cents of uplift towards flights.
Were you targeted? If so, on which cards did you find the offer?