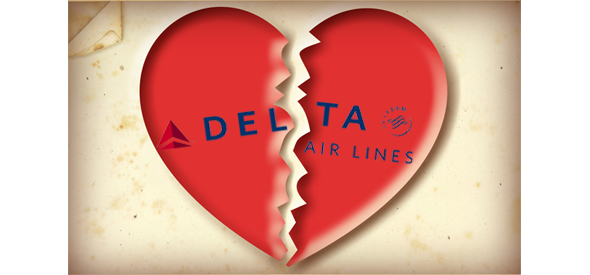 If you missed the breaking news last night, I'm sure you couldn't go far this morning without coming across it.  Travel-Summary has a good writeup about the changes coming to Delta.  Instead of just a recap I'm going to review how Delta is slowly embracing Milenomics' core beleifs, most notably' the BYOE program, and the idea of EQM-Zero.
The (first) Big Change
Delta's Big change is to move from earning miles based on the distance flown to earning them based on a multiple of the fare price.  The higher priced the ticket the more miles you earn. For those of you buying average to below average cost tickets you will earn fewer miles:
• General SkyMiles members – earn 5 miles per dollar spent
• Silver Medallion members – earn 7 miles per dollar spent
• Gold Medallion members – earn 8 miles per dollar spent
• Platinum Medallion members – earn 9 miles per dollar spent
• Diamond Medallion members – earn 11 miles per dollar spent
• Delta SkyMiles Credit Card members – will continue to earn up to an additional 2 miles per dollar on Delta purchases with the Card  Source:Delta.
Who this hurts:Anyone paying under 20 cents per mile for their paid tickets. Who might spend 20 cents per Mile? The highest paying (and most profitable) Delta flyers. I may not agree with the changes, but Until flyers start to vote with their feet Delta is free to get away with whatever the market will bear.
If you're a Delta loyalist this very well could be the last straw. Maybe you should dust off that Dear John Letter to Delta, and break up with them. Instead of putting your faith in a program which returns your loyalty with these "surprises" why not come over to the Milenomics BYOE Program? In fact I have to thank Delta, their actions seem to almost asking you to leave them for Milenomics BYOE. 
This Isn't an Upgrade for Delta Elites
If DL wanted to upgrade elite's earning they could have just bumped up the multiplier for elites to 300% or 400%. Instead they've gone ahead and cut the miles given out to all but the highest spending flyers. For a comparison of old and new earning levels try out the Calculator Delta put up on this page.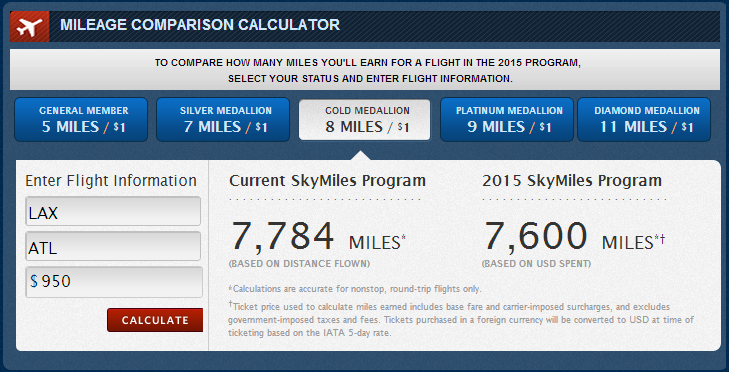 It seems Delta is trying to position themselves as a "superior good" of sorts.  I'm not sure if this will work, but the ability of Delta to generate profits, and run a successful airline can't be argued with. We might not like it, but we're not running the show at Delta.
The good news is that not much has changed for Milenomics and Delta. I don't recommend you ever buy tickets if you can. Today's announcement doesn't change that, and actually reinforces the importance of reaching EQM-Zero with Milenomics. Again, Delta, I thank you for validating another core Milenomics principle.
What About Our Miles?
Since we shouldn't be buying revenue tickets anyway the revenue side of the announcement is a non-issue for Milenomics. On the redemption side there hasn't been a full announcement, only some small details (one way awards, 5 tiers).
I do find it interesting that they didn't just come out and say "Skymiles can be used for any flight at $.XX per Skymile." This would be similar to the way Southwest works.  In fact, they didn't get into too many details about the new redemption system they'll be putting in place.
Certainly there's a chance for our Delta Miles to become easier to use. Also, fewer miles being handed out might just mean more value from our Skymiles. Unfortunately Delta's track record has been that of removing value, so things could turn out awful.  With 5 tiers the sky is literally the limit for redemption options with Delta in 2015.
Details such as what those levels look like, how many low leval awards are available, and how revamped the (broken) award search engine are will be the ones I'm most interested in. How partner redemptions will be handled will also be an area where I'm expecting great Wailing And Gnashing Of Teeth as the announcements trickle out.
What to Expect in 2015?
I told another reader last week that my crystal ball is in the shop for repairs, so I won't know what's going to shake out in 2015 for a few more months,  Should we burn our DL miles? Yes, but we should be doing that anyway since they're so cheap to earn.  In fact we should be burning all our miles as our travel needs demand.
Full Disclosure: I'm holding 190k DL, and will continue to earn more as the year goes on.  Sure it is possible that they'll become worth less, but they'll by no means become worthless.
-Sam