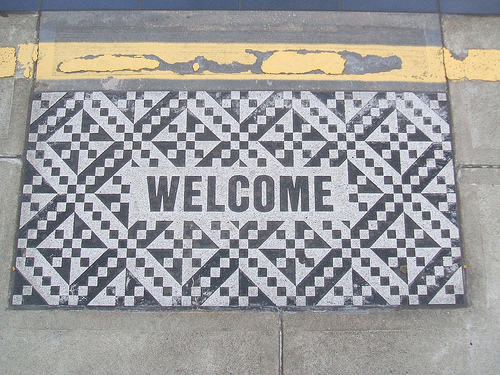 Welcome, Welcome…. If you've come here from the old site address, or happened to just come across the new address, Come on in!
The blog has that "new-blog" smell right now, and I'm not 100% sure everything works. I'd appreciate you leeting me know if you find something missing–images in a post, or a door that just leads to nowhere.
Don't forget to sign up for emails alerts notifying you of new posts.  This is the one thing I have not been able to transfer over from the old to the new site.
Two changes
Look across the top and you'll see a new logo. The design hasn't changed much, but the "mission statement" of Milenomics has. The logo now reads, "Milenomics, How to Save Money & Use fewer Miles." This change was made to better reflect the core ideas that Milenomics supports:
We should save money whenever possible. This might mean we seek out the lowest fee products, or keep an eye on our costs while we go on Milenomics Mileage Runs (MMR). Give yourself a value for your time, your T-Rate, and use that in your cost tracking.
We should save miles whenever possible. Not save as in hoard them, but save as in relative savings. When we go to book a trip we should be strategic in our booking. Milenomiccs will continue to outline great tips and tricks for using your miles to their fullest potential.
I'm working on a forum, and some other new features, and am open to ideas you may have as well.  I'm always here to lend an ear, either on Facebook, Twitter, or email.
As always, thank you for continuing to support Milenomics-
Take a look, and you'll see
Into a world of pure imagination
We'll begin with a spin
Traveling in the world of my creation
What we'll see will defy
Explanation
If you want to view paradise
Simply look around and view it
Anything you want to, do it
Want to change the world? there's nothing to it…
  
-Sam