We've talked a little bit about American express here on Milenomics before.  We've called Membership rewards, Shadow Currency, Orphan Saviors and Risky Business.  American Express is well known for their customer service, and that extends into the deals they offer cardholders, sometimes referred to as "American Express Offers" or sometimes they are called Sync Deals. Using Amex Deals effectively can easily result in hundreds of dollars in profit for you each year.
Today we'll talk about how to increase the amount of cash and miles you can earn by adding Authorized User cards, and also go over tips to allow adding American express offers to multiple Authorized User Cards.
Authorized Users; In Need of a SSN
American Express (Unlike Citi and Chase) want you to only add Authorized users who have a SSN.  I've heard of very few exceptions to this rule. You may be able to add one or two people without SSN's by calling American Express and telling them you don't have the Social Securit Numbers but would like to add AU cards. I wouldn't make a habit of this–and if you're successful keep it to yourself. 😉
That said, be creative in your AU accounts.  Does your wife have a maiden name? Apply for a card in that name as well as in her married name.  Adding a family member who is trying to build new credit (and keeping the AU card for yourself) can be a win-win situation. You receive another Amex card, and he/she gets the benefit of your credit history/utilization.
One great thing about American Express Authorized users is that they receive not just a personalized card, but a unique card number. This means that any deal American express is extending as "One per card" can be leveraged using Authorized User cards.  Chase and Citi usually just send a card with the same card number and a different name, which is less useful for one time only deals.
An Offer By Any Other Name Would Smell As Sweet
To me the largest hurdle to navigating the Amex Offers programs are that there isn't one single way to handle offers.  Sometimes an offer can be added via Social media; by Tweeting to Sync or by Syncing a deal on your Facebook Page.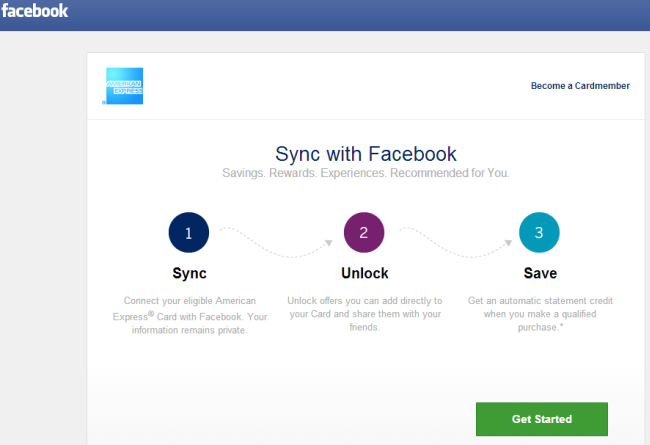 Other times there is a signup page where you can input your card numbers and add a deal to your card (like Small Business Saturday).  The last form of offers are those extended to you in your account page on Americanexpress.com. These are usually at the bottom of the page: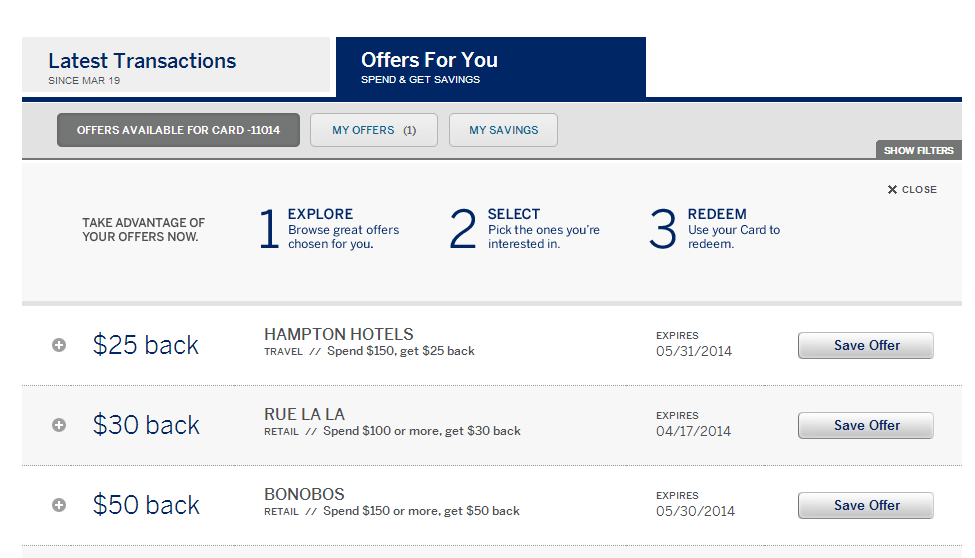 Adding Multiple Offers
Adding offers Via Twitter and Facebook can be tedious for multiple cards–only one one card can be added to each Facebook/Twitter account.  You'll need to create multiple Amex-Specific Facebook and Twitter accounts if you want to access deals on all of your cards.  A good trick to doing so is the Gmail Dot Trick. You can add a dot to your email addres (or many dots), and all the mail will be delivered to your main address.
Unfortunately for someone like me with 10 or so Amex cards Syncing Via twitter and Facebook is a bit of a pain. Whenever possible I like to add an offer right from the American Express page.  The main problem with this strategy is that when you add an offer to one card it usually disappears from all other cards the offer can be added to. I don't know if this is intended or a glitch.  The solution to this problem is easy, you need to open multiple tabs, one for each card in your Account Profile: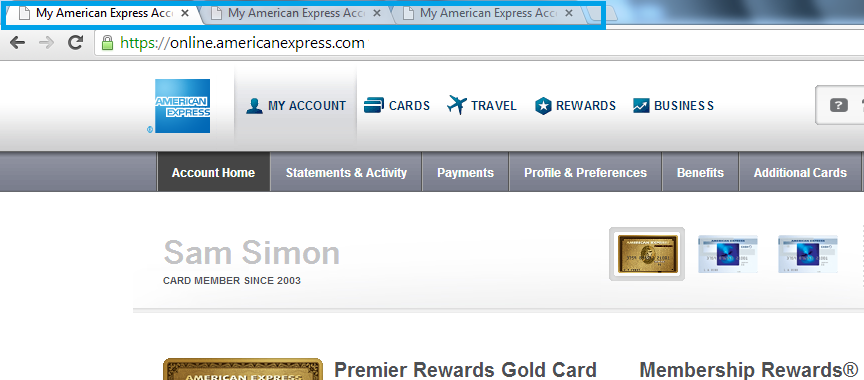 As long as you open these tabs before you add an offer you'll be able to add the same offer to all your cards. Some offers are card specific, so if you don't see the offer on one card it probably hasn't been extended to you.
Using the above multiple tab technique you'll be able to load 3x-4x the offers and take a great deal and make even more money off of it.  But what about our Authorized user cards? Are those cards left out in the cold?
Adding Offers to Authorized Users' Cards
This might not be the only way to add deals to AU cards, but it is the way I handle it, and I think it is the least amount of work.  Since each AU card has a unique American Express card number you can register each card to an online account. Do so just like you would set up any account for the first time on www.americanexpress.com
From here you'll register just like you are creating a new account.  One specific AU card will be registered to each account you create.  Once you've registered take note of the new account login, as you'll use it for the AU card to add future offers.
Tip: Create a base login for each person, say SSimon, and then add the last 4 digits of the card number. SSimon1013 would be my Amex ending in 1013 NSimon1004 would be my wife's card ending in 1004, etc. You don't have to use names and initials, anything you can easily remember will work.
As you can see below, I've created a login for my SPG card, of which I'm an AU from my Wife's main SPG Amex.  Any Offer which shows up for her will show up here for me. What's great about this setup is that even if she clicks on an offer it will not disappear from my card, since I'm a totally separate login.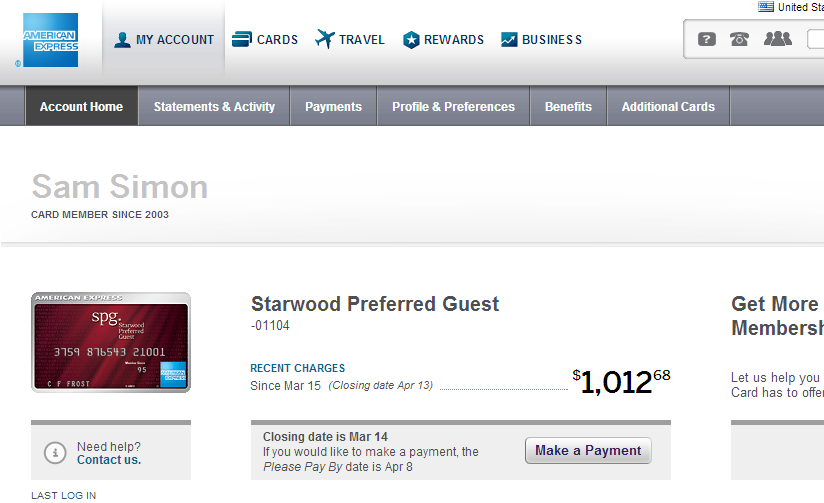 I don't recommend using these AU accounts for making payments, checking statement,s or anything besides adding offers.  The functionality of them just seems a little off to me.  They often show you an incomplete picture of your card usage, and don't reflect the main account's balance.  I'm not sure what Amex's end goal is for these AU accounts, but for now take the Money and Run. 
Best use of Amex Offers
There are probably some deals you could use to compliment your daily spending habits. For me Amex Offers are all about the gift cards.  Any high dollar offer, like the $50 off $250 at Bloomingdale's offer Michelle wrote about is a great way to earn some cash and miles. Whenever there's a high dollar offer at a retailer I check the resale value of gift cards, buy a high dollar Gift card and then sell it to a gift card resale site.   I was lucky enough to find the Bloomingdale's offer on 5 of my cards, and bought and sold the gift cards at a nice profit. Last Winter's $50 off of $250 at Best Buy was an easy $25+ moneymaker on each card you could load the deal to.
Keep an eye on these Amex deals, and use them as an introduction to gift card sales.  Think of the Amex Discount as a safety net–you can learn the mechanics of gift card sales without worrying about losing money on a bad deal. Check the math before you do these purchases–but most of the bigger 20%+ off deals can turn into money makers. When you add AU cards and Sync to all of the cards using the above tricks you can increase the money made by 5x-10x. The Miles/Cash Back you earn for the initial purchase are the gravy on top!