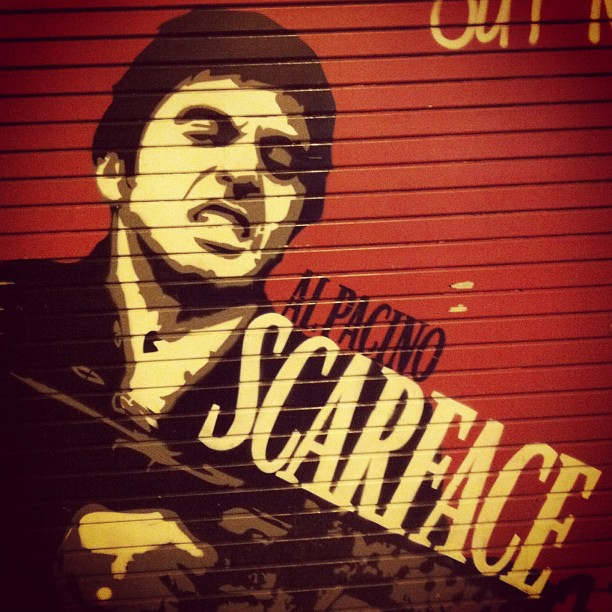 Today's post is best expereienced while listening to this song. Press play, and then start reading. 😉
—
A quick post today, but one which could save you a some money nonetheless.  Here at Milenomics we focus on avoiding annual fees whenever possible.  This means either calling in and pressing for a fee waiver, downgrading to a fee free card, or merging our credit limit into a new card.
Most cards come with the first year annual fee waived (*ahem* new Chase 70k Ink Plus not withstanding).  Which, combined with a spouse who can apply for the same card, allows you to churn cards over and over every other year. We call this "two player mode" here on Milenomics, and it can be a fantastic way to avoid annual fees while retaining card benefits.
Today we'll cover a little known loophole which allows you to extract an exta 25% more annual fee free months.  Benefits like additional "elite only" award space, or transferring your Membership rewards to airlines are great–but you might only use them a few times a year.  If you know you'll need a benefit, such as primary rental car insurance, and your annual fee is due today go ahead and pay the annual fee.
THE SKY IS FALLING
Did I just advocate paying an annual fee?
Yes.
But knowing how much I love my money and hate giving it away there's always a catch when I advocate something that seems to go against the very core of Milenomics. 
Today's Catch–The 90 Day Grace Period
Card issuers give you a grace period on annual fees.  Knowing when your grace period ends and paying the annual fee can extend your benefits another 3 months. Just make sure to get in writing the last day you'll be able to cancel and still refund your annual fee.  I've been pushing some of my cards to the limit, into this 90 day grace period, and then earning back the annual fee when I cancel. I make sure to Secure message the card issuer and find out the final day I can cancel and be refunded my annual fee. Take the following card for example: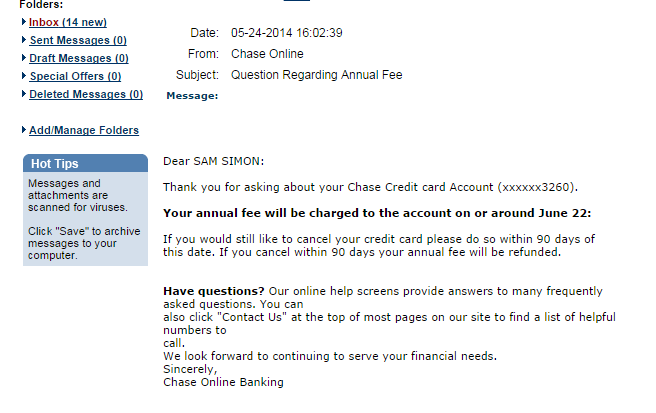 For benefits which are useful now, like transferring UR, or United additional Award seats, once you've booked you're done using that benefit.  Even if your flight is months from now there's no reason to keep the card all that time if you're not going to use it again.
Update: Reader Al reports that he was quoted 60 days for a BA Visa from Chase. Al's experience is different than mine. Such different grace periods further reinforce the importance of getting in writing the grace period before trying to extract the extra months.   Al also was told of a 60 day grace period on his United Club card.
Other Banks:
I have personal experience with Barclay's, with a 90 day grace period as well. Reader Cindy reports Barclays informed her of a 60 day grace period.  Always verify in writing.
I've also used Citi's 90 day grace period personally.
American express should give you 90 60 days for their products and then pro rate the remaining fee if you cancel after that.
When in doubt, message the card issuer and ask how long your grace period is.
One Small [$95] Negative
Quite litereally there is one small negative to this plan. Your account will  be closed and a negative balance will be issued. This means the bank will have to cut you a check for the annual fee you've already paid.  Citi has been quick about cutting AF refund checks, and no surprise Barclay's has been the slowest in my expereience. Chase is middle of the road.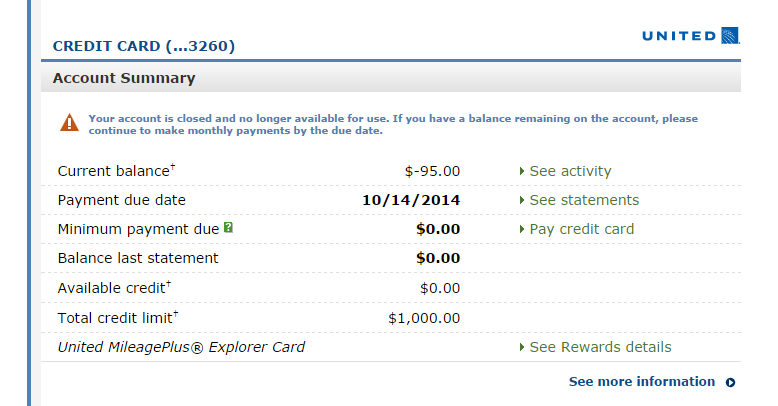 Make a note to yourself to follow up in a few weeks if you don't see a check.  It isn't a huge inconvenience, but it is something to keep in mind.
Leveraging this into an Annual Fee Waiver
Cancelling after the Annual Fee comes due and has been paid could put a phone agent on alert that you're serious about cancelling, and could indeed end up getting you the annual fee refunded.  Even if it doesn't you've extracted another 3 months of fee-free benefits, and you're likely onto the next card anyway.
If I timed this post length correctly our song should be fading out right about…now.