Today we're introducing a new category here on Milenomics: Family Travel. Those of you who aren't concerned with Miles, Cashback, Banks, or any other of the editorial type rants here on the blog can just bookmark the FT subpage and read that.
Right on the heels of Robert's excellent post on how to map out a Demand Schedule for family travel is a post born from my family travel these past few years. We've made it a point to continue to travel, and have done our best to not let our newborn (now toddler) stop us from that goal. Today's post is a bit of an overview: on how I introduced my child to travel, on things I've learned (and mistakes I've made) and one of the few purchases I actually recommend for travel. If you're lost where to start but you want to Travel with a Baby consider this a primer of sorts.
Introduction to Travel — Start EARLY
My advice for flying is nearly identical to the advice you often hear for swim lessons: If you start early you'll see better results.
Easier said than done, right? Planes are loud, constrictive and hard enough for adults to get comfortable in. When you book a trip there are a ton of things that need to happen, you have to make your flight, you have hotels booked, non refundable transportation, tours, etc. There's a level of stress and anxiety attached to a complex trip, especially your first one with a baby. The first trip I had planned with my baby was all the way to Thailand. I know one of the tips is not to travel far, but you will have to do this eventually. So, I do believe, whether you're travelling to the other side of the world of just to a different city, you'll have to deal with your baby's behaviour. Before I went abroad, I had to make sure I had everything prepared. The main thing I had to consider was the transport, which is why I did look into a transport service like Penafrancia Bus Online Booking to book the transport that took me from the airport to my destination. This was a lifesaver, as it allowed me and the bay to relax comfortably on the road without any problems. I would recommend this to anyone who is travelling with a baby- to find transport beforehand, just so you are not having to deal with an extra level of stress.
Asking a baby to adjust air travel while you're stressed and pressed for time as part of a real trip is a mistake. Instead of just booking a trip and winging it I suggest a test trip. When you're not in a rush to get somewhere you can take the time you and your baby need to really adjust to flying.
Babies are feedback loops that poop, and your stress and anxiety can quickly turn into their stress and anxiety. If you want to go home for Thanksgiving take a test flight before to get everything figured out in a non-stressful setting.
I had booked a long a haul (Italy) itinerary when my daughter was just a few months old, but wanted to do a dry run before that trip so I could cancel it if things were bad. I had read the horror stores, I had heard from friends that their kids screamed and cried the entire flight across the country to see Grandma. And I may or may not have woke up a few times in cold sweats from a nightmare in which my 6 month old daughter kept an entire plane awake for the 12 hours from LAX to FCO.
(I'm totally kidding about the nightmare. You have to sleep to have nightmares).
Planning the Test Trip
I recommend you start small and non-stop. A connection can become tight and that can introduce stress into this test situation.
I also recommend Southwest(WN) for this first flight. They're known as a family friendly airline and with no fixed dates they likely have a lot of low price nonstop flights which you can book with points. In my opinion WN is perfect for this because this first flight with your Little One (LO) is less about WHERE you go and more about everything else.
Don't go during nap time. You'll be falsely fooled into thinking "My kid sleeps the entire flight." You need real world experience here. Your kid's nap is not longer than the longest flight you'll ever take together.
Don't fly early in the morning I make this same recommendation for adults, but can you imagine waking up at 3 or 4am to catch a 6:55am flight?
Don't fly far This isn't a test of stamina.
Don't fly with an agenda It is ok to visit relatives, but avoid holiday travel.
Ensure you have everything you need for your baby If you're unprepared, its no use. Make sure you have everything from, diapers, food, distractions, oxygen concentrator spares (if needed), just write a list before your travels to be sure you don't miss anything out.
The basic reason behind this test flight is two-fold: You want to practice the worst part of air travel for a baby: take off and landing, and the worst part of air travel for parents: Changing a diaper in a space one person doesn't even really fit.
With that in mind I loaded up flightconnections.com and searched for nonstop flights on Southwest form my home airport: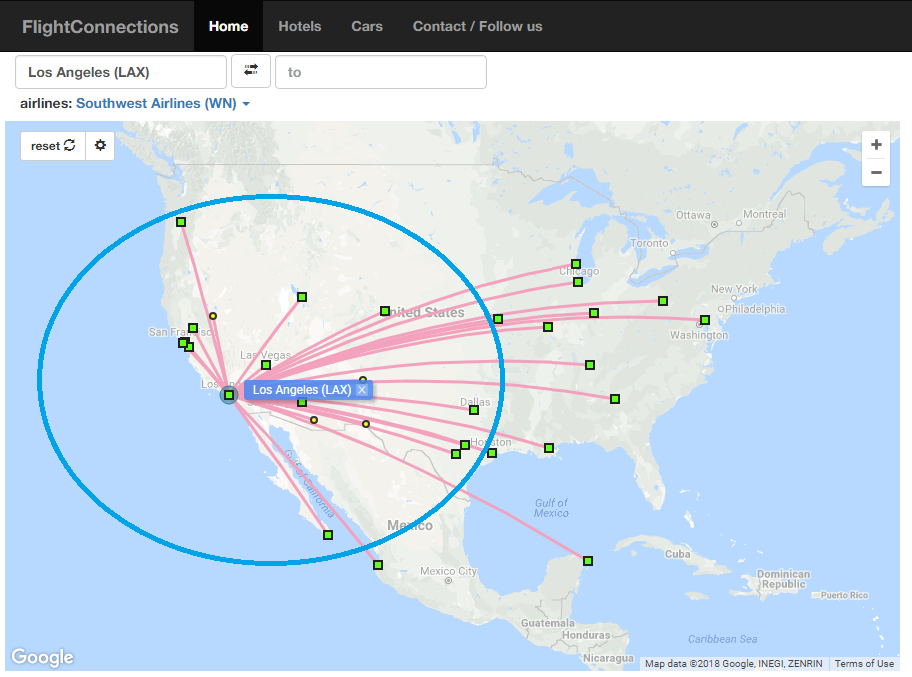 As I outline above no more than 2-3 hours and no connections, because that means possibly getting stuck somewhere other than home/destination. I was choosing between SFO, SLC, DEN, PDX or DAL from LAX. Ultaimtely DAL won out, family was there.
Takeoff and Landing
I got the following tip from a helpful Soutwest FA, who told me to save a bottle for takeoff/landing. Alternatively, use a pacifier during takeoff/landing. The sucking will help the baby's ears to adjust to the pressure change, and greatly help with the discomfort a child unable to 'pop' their own ears would be feeling. Sure enough on takeoff our daughter started to cry. A quick bottle and she was a happy camper, and seemed to actually be enjoying the flight. We brought some of her books and read a bit to her. We also loaded a tablet with shows just in case we needed it. All in all, with the exception of takeoff and landing, she was a trooper. We used a pacifier during landing instead of a bottle, but the result was the same, no tears, no crying, and happy parents.
Indeed this worked like a charm for us. It diffused our anxiety when we did take our next flight, and helped us to feel more comfortable with our plans to fly long-haul.
We continue to be ready during takeoff and landing; We quit the pacifier early, and moved to a sippy cup of water. Now we have a regular water bottle for takeoff/landing. The biggest issue now is that my daughter wants the plan to FLY and so when we're on board and not in the air she starts getting upset.
This issue is usually a temporary one, except a Delta flight we took that landed and then had us wait 2 hours for a gate. At 10pm. A tired, cranky and soon to be wet little girl was not at all excited about that. But then again, neither was I.
Diapers
There won't always be a changing table in every lav, so be proactive and ask the FA when you get on-board where they are located. On one flight (Delta actually), a FA saw me coming with the diaper and baby and had a plastic trash bag waiting, and put the changing table down. Don't expect such service. In all cases I take exactly four items for a diaper change: Changing Mat, Diaper, Diaper rash stick, and a small plastic baggie filled with wipes. All of this fits into my pockets. No diaper bag should ever go into the lav, because you'll end up putting it on the floor, and every surface of the bathroom in a plane is disgusting.
If you've ever changed a baby in the backseat of a car with a carset in the center I think that's a pretty good example of the kind of space constraints you're dealing with on a plane. Except the plane is moving, and your baby is 4 feet off the ground.
Pack Light
Here I fear I'll lose some of you. When I travel I don't bring much. My wife and I can do 10 day trips with just carry-ons. We're light packers, and tend to bring the essentials and leave the rest up to chance. I left home on that Italy trip with a bottle or two of puffs, some rice cereal and 2 jars of food. I took with me only enough diapers for 4-5 days of the 2+week trip. I didn't even bring a carseat, no pack n play, and only a small stroller.
I said this years ago in person at FT4R: Wherever you go on your travels there are these magic places, called stores, which will sell you pretty much whatever you need. The idea that I was going to pack up everything an American baby would need and transport it to Europe was just something I thought silly. In the process I've learned a lot about how people in other parts of the world raise a baby, and picked up some good tips from parents of all ages along the way.
Local stores are usually stocked with whatever you might need. And Amazon's overseas sites, while not as great as the US site, do let you use your main amazon account and saved payment cards to order. I've ordered from the French and Italian site and have had items shipped to my local hotel or AirBnB. When I left for Italy without a carseat, I bought a European one, and had it shipped to my hotel. I figured Why lug this thing around with me? Similarly, on a trip to Orlando I shipped a new travel stroller to my hotel (More on that stroller later). I figured, Why should I schlep this thing around the airport, the shuttle, the Uber, etc if Amazon will ship it for me to my final destination.
Let your Philosophy guide you
In showing up "under-prepared" I was forced to have some great interactions with people. "Where can I buy diapers?" was met with an inquisitive look at the small hotel on the island of Sicily. "Pampers?" someone asked me, and I said "yes, pampers." A small huddle formed, and I wasn't sure what to make of it. Soon the owner of the hotel came to me and said "It is much too dangerous for you to drive and get the Pampers yourself. I will go, just tell me what you need and when I make my morning trip to town I'll get you the pampers and anything else." The reception in another country was nearly identical, "We found a small shop run by a friend who has Pampers and will stay open during their lunch for you. I will take you in my car."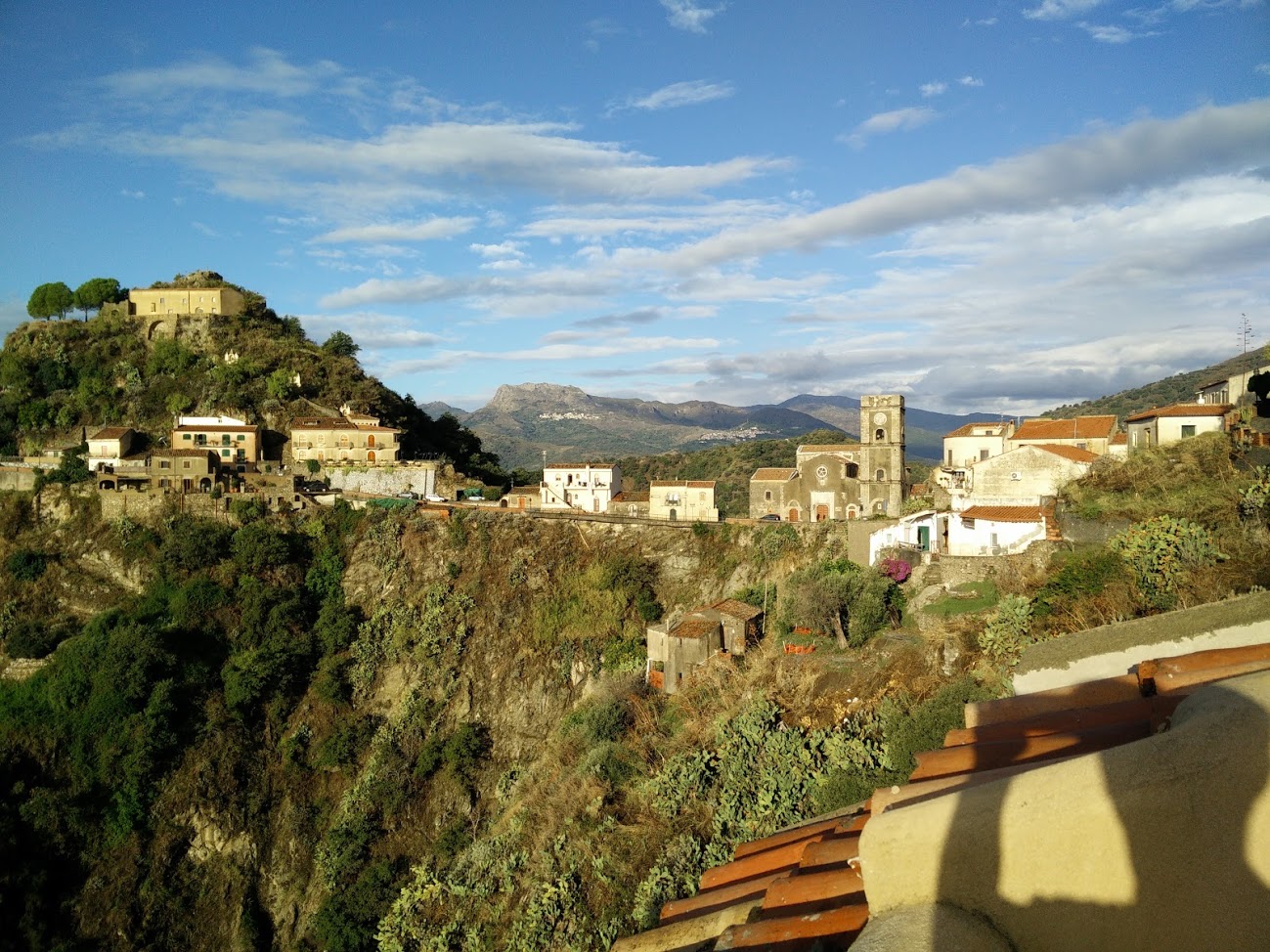 My overall philosophy is that most people are kind, and doubly so to a family with kids. I've yet to find someone, from high end hotels to AirBnB hosts, who hasn't gone the extra mile when they saw a real need. From the AirBnB host who picked up all our bags, put them in her 4×4 and drove all of us up a huge snow covered hill to the high end hotel driver who gave me his personal cell and told me to call him anytime and if he couldn't drive us he would find a cab he trusts to do so for free. Memories of times like that have been some of my favorite, and help to reinforce my feelings about humanity.
The Single Best Purchase you can make for Travel
I was talking to my wife about this, what's the one thing we couldn't travel without?
Both she and I agreed on this next piece of gear. Those of you who read this blog know I NEVER review products, and I never recommend them either. Today I'm breaking with that longstanding tradition to recommend a stroller for travel. I receive no compensation if you buy this type of stroller, and the one I like (Baby Jogger VUE 2014) isn't even being made anymore. You can find that stroller in mint condition on ebay for $75 or so.
I'm not specifically recommending a brand. What I am suggesting you buy is what is called a "reversible umbrella stroller." You can purchase these from your favorite baby store or online retailer and they all do the same thing:
They fold down and Reverse
Why is that a killer feature for a travel stroller? Well first of all they weigh almost nothing (12-15lbs). Secondly they have a forward facing seat and a rear facing seat. Here's an example of what I mean: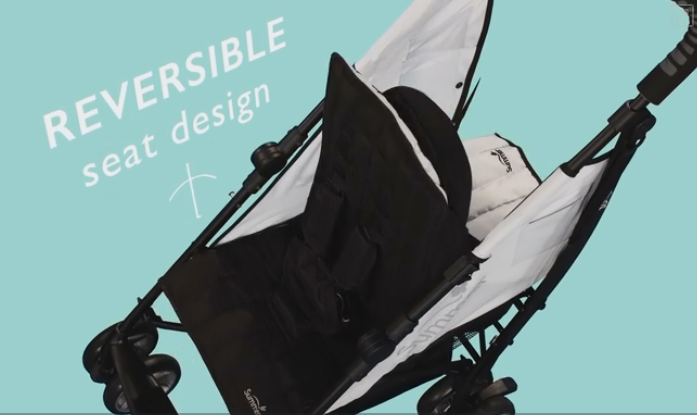 The best ones allow different angles of recline. At the most upright, like you see above there is a nearly equal size seat forward facing and rear facing. That entire back seat becomes your shopping cart, water bottle holder, wet beach clothes ledge, etc. The amount you can hold in one of these is roughly equivalent to the size of a small kid, so imagine how useful that rear facing seat is when you're traveling. Your hands stay free and the stroller holds everything.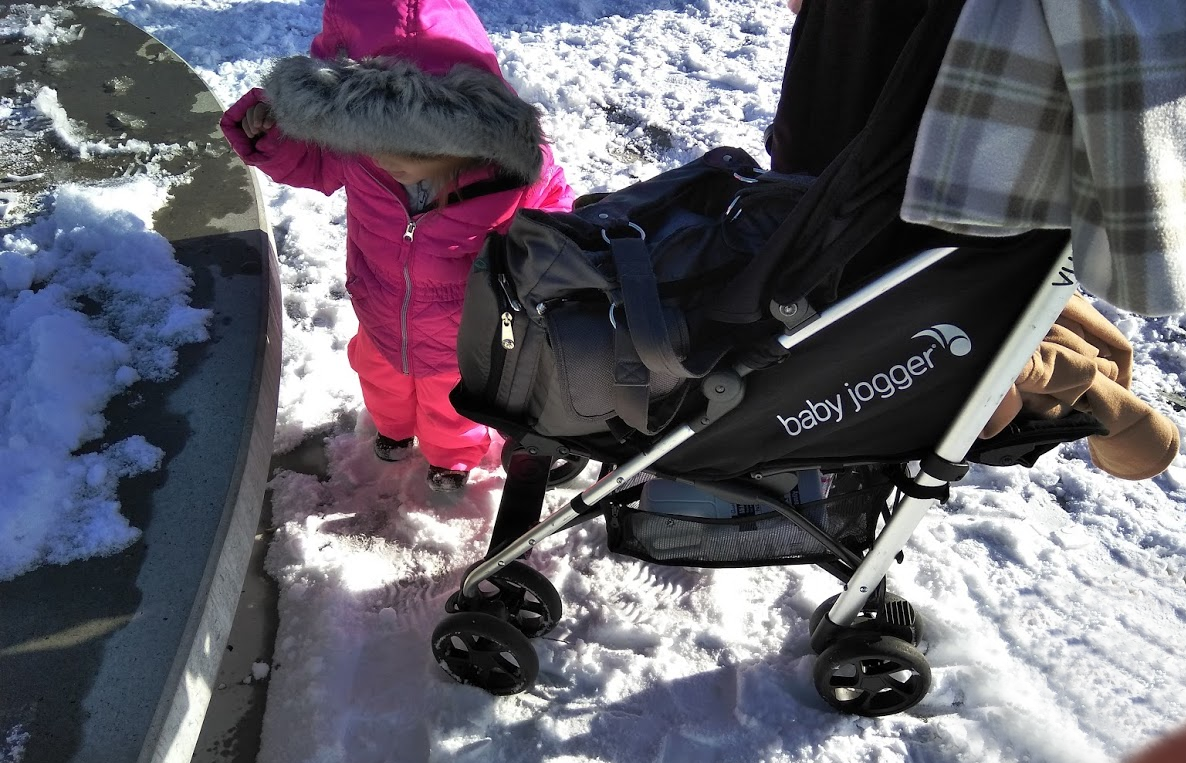 These strollers will never tell you that you can put 2 kids in them at once (safely), but when your arms are dead tired and two kids are telling you they're both too tired to walk up a big hill you'll consider it, I know I would.
And the rear-facing seat makes snow and cold much more bearable on your LO. Those plastic protective bubbles you see parents in cold weather wrap their strollers in aren't even necessary with this stroller because if there is wind in your baby's face just flip the seat and have your LO sit rear-facing. Rear-facing (also known as mom-facing) can make you and your child feel more at ease in a stressful situation as well because you can keep eye contact with each other.
I've put so many miles on my stroller the wheels have flat spots. It has gone through Pompeii, up the Swiss Alps, to the top of Haleakala, up the Eiffel tower, on trains, planes, boats, buses, and has been gate checked dozens of times and just keeps on going. If you don't already have a stroller seriously consider getting one of these. It became the only stroller we use and even replaced our giant full-size stroller because it is so handy. I know that getting the right stroller is very important, especially if you want to take your child all over the place so they can see and experience so much that the world has to offer. There are strollers for even the pickiest parents out there, every parent can find the right stroller for their child, all they have to do is look at the research and look at the parent reviews, they are the ones who have tried them out and given them a whirl, so take notes parents of the world!
It is also important to make sure you have the correct legal representation, a friend was telling me that they were looking for a service similar to Cain Law Norman car accident lawyers because she recently been in a car accident and ended up finding the right lawyer for her. Sometimes you have to battle for the good of your little ones after an incident and having a great lawyer is paramount. Make sure to get a lawyer that understands the laws for the local area though, because they change state to state.
Update: I forgot to mention, if you recline the forward facing seat all the way back an infant carseat fits perfectly onto the forward facing ledge. A bungee keeps it secure. Not exactly a travel system but it makes for one less thing to carry through the airport!
Dipping My Toe in The Family Travel World
This historically has not been a family travel blog. But Times change, and I've changed. As I find good tips and tricks I'll continue to share them here under the Family Travel Category.
Share your tips here too, PLEASE! I'm currently looking for the best way to handle larger, convertible car seats (The kind without a handle), as I'm no longer able to use an infant carseat and have some flights coming up.