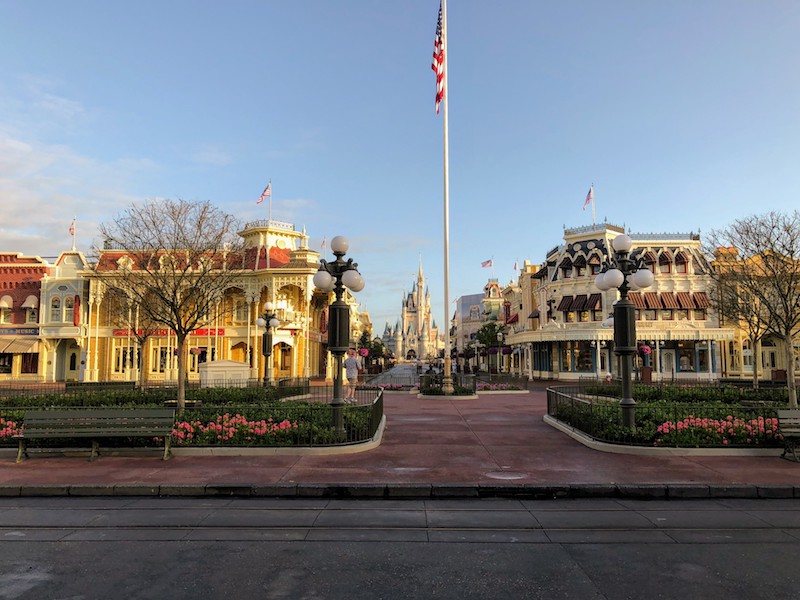 We're just back from a trip to Walt Disney World during the week Massachusetts schools have off for President's Day each February. The weather was perfect and we had a great time.
I'm going to write this up as a series:
Hotel
Let's get right into it, discussing the Hotel today.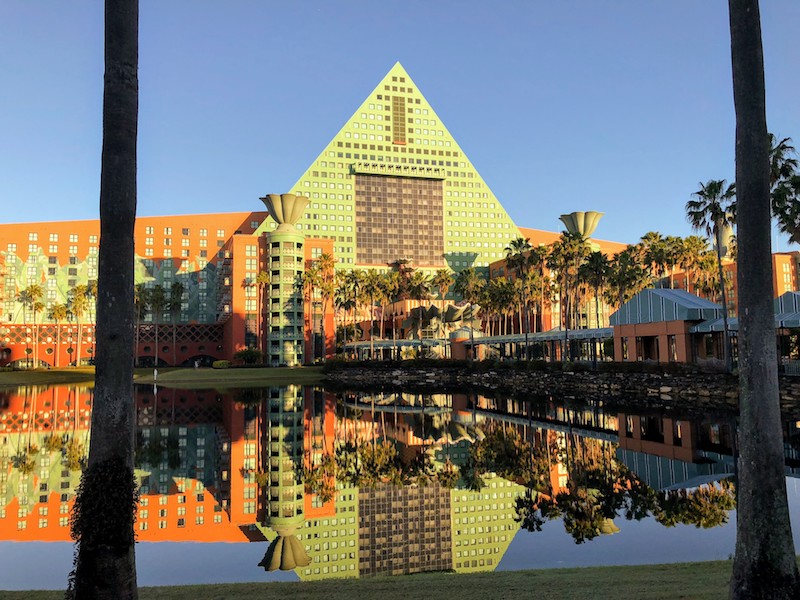 Tradeoffs
There is no perfect hotel at Walt Disney World.
There are a lot of expensive options for sure, and every hotel has its pros and cons.
At this point we've stayed at a lot of different properties on-site (more recently Bay Lake Tower which is walking distance from the Magic Kingdom) and around Walt Disney World (Four Seasons Orlando is terrific). It's always a set of trade-offs between cost, location, quality, and theming.
For this stay we needed 2 rooms since my mother in law was joining us. I wanted to stay close to the Disney Parks since we'd be doing a lot of park hopping.
The Disney hotels closest to the parks were going for $450+ per night for standard rooms. Even with Citi Prestige 4th night free (which works at Disney hotels) that's a ton of money for 2 rooms. The Four Seasons was $1,000+ per night for a standard room. I also considered a single room large enough to comfortably fit us (like a Disney Deluxe Villa perhaps) but any of these options would have cost a fortune.
I've considered renting a Disney Vacation Club timeshare but I'm always spooked by the cancellation terms.
So I went with the Walt Disney World Dolphin (a Starwood hotel nicely situated within Disney World). And I regret it.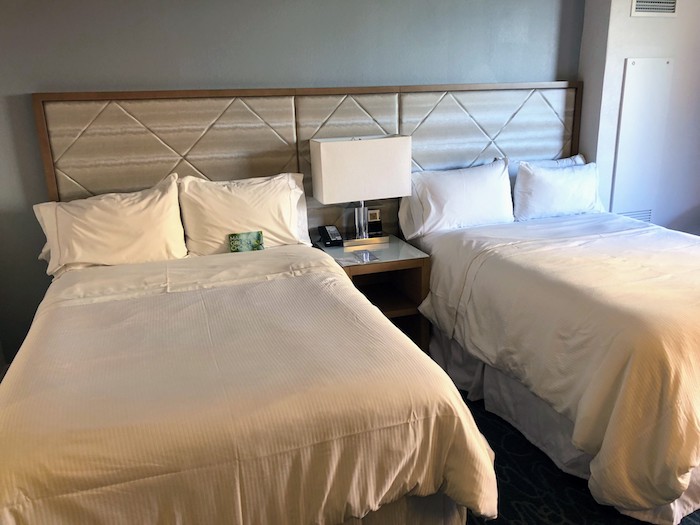 It was going for $400+/nt for the dates we were going. Since we were staying 5 nights I could get it for 8,000 Starpoints per night, times two for the 2nd room, for a total of 80,000 Starpoints. Since the cash price would have been $4,000 for 2 rooms for 5 nights I thought it was a solid $0.05 per point redemption.
I knew going in that the hotel has a lot of conventions. We've stayed at the Dolphin's sister property the Swan a few years back without incident. But for us the Dolphin was significantly worse.
I thought this would be a good time to stay at the Dolphin because:
I've got Starwood Platinum status (and likely won't have it in the future)
It's currently a SPG Category 4 (10,000 Starpoints per night) but bumping up to a Category 5 soon (12,000 to 16,000 Starpoints per night)
SPG Platinum Recognition at the Walt Disney World Dolphin
We talk here at Milenomics a lot about Being Our Own Elites but status can sometimes be easy to attain. So it's always good to do the math and figure out whether status might be worthwhile for your situation.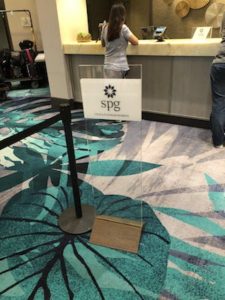 Here is a link to the benefits page for SPG Platinum status. The benefits I was most interested in for this stay were:
Your choice of welcome gift upon arrival — choose from bonus Starpoints, continental breakfast or local amenity.
An upgrade to best available room at check-in — including a Standard Suite.
Complimentary in-room, premium Internet access.
I joked on Twitter after checking in that it would be a very short blog post if I enumerated how my Platinum status was recognized upon arrival. Because there was no recognition. Check-in recognition was worse than I was expecting.
Prior to arrival I received a nice email welcoming me as a valued Platinum guest. They asked if there was anything they could do to make my stay as comfortable as possible. I specifically said that what I wanted was the largest room possible and that the view wasn't so important to me.
At check-in the Gold/Platinum line desk agent didn't recognize my status verbally. He knew I had Platinum status because he told me that although I booked 2 rooms, I would only receive 2 continental breakfast vouchers per night across both rooms. The second room booked under the same profile would receive Starpoints (500 for the entire stay) instead of breakfast vouchers. This was disappointing since we effectively had 5 adults in the group since my kids are now older than their 3-9 year old cutoff for children at breakfast.
You can upgrade the breakfast buffet from continental to full for $7 per person but it's not fun to tell people you're traveling with that "I thought we all had free breakfast, but not really".
And it's no fun explaining to your kids that they can only have "the cold stuff". The first morning me and my boys went down and the bill ended up being $45 for the 3 of us. We became more proficient as the week went on.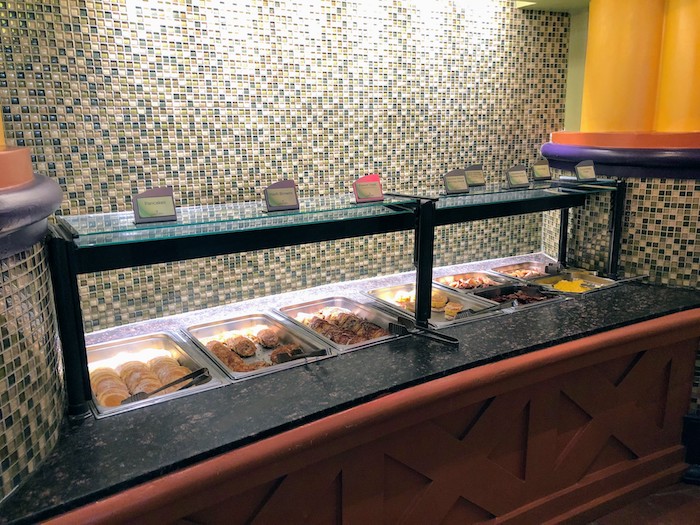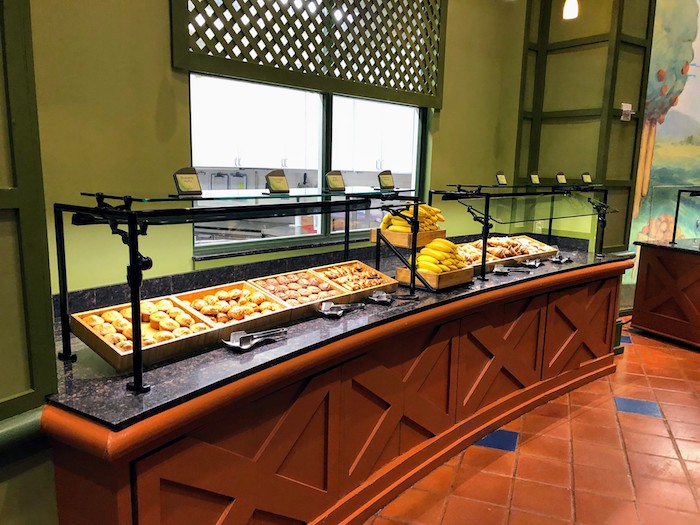 There were a bunch of other Gold and Platinum elites clamoring for better rooms. I can understand where a Platinum elite (SPG grants Platinum status at 25 stays or 50 nights per year) might be disappointed with what they're getting but I don't get into tussles like this. When I was handed my room keys without being told what kind of rooms we were being assigned I asked him if they had any slightly larger rooms.
He said there were no suites available and that he was getting us a room with a view instead of a room with a view of the car park. I recalled expressing the exact opposite preference in response to their pre-arrival email (I said I preferred room size over view) so I asked if he had any larger views even if they had poor views. He said they did not.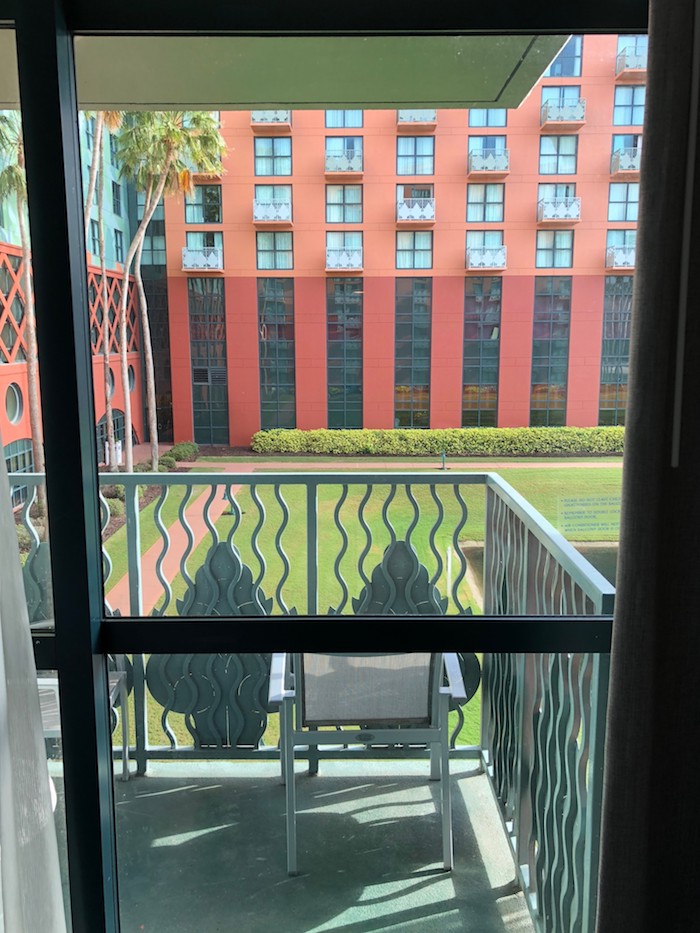 In checking room availability online prior to arrival I could see what was happening. For the first couple nights of our stay the hotel did have occupancy. But mid-way through our trip the conventions arrived and the hotel was truly 100% sold out. I probably could have finagled a nicer room for the first couple nights if I was willing to change rooms. But that wasn't offered, and we don't like moving rooms once we've arrived somewhere so we went with what they gave us.
Additional Fees
The hotel charges $20 + tax per day for self parking. And $30 + tax per day for valet parking. No elite discount is offered for parking.
Platinum elites do get a $5 discount on the $28 + tax daily resort fee. This fee is charged per room so it's contradictory in my mind that they charge the resort fee on a per-room basis but offer the complimentary breakfast benefit on a per-booking basis.
The Room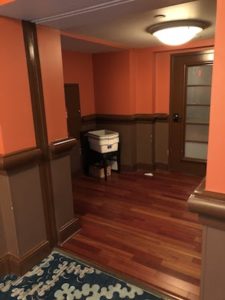 We had a little trouble finding our room on the 3rd floor not realizing the hotel's front entrance is itself on the 3rd floor. We wrongly assumed we'd need to get on an elevator but our room was down a long series of hallways past the backside of Shula's Steakhouse.
This ground floor location would come in handy the first morning of our stay when the fire alarm went off at 7:00a and forced evacuation of all guests and staff. Then again at 7:30a.
The room itself was as basic as can be. If you go for a room with 2 beds you get double beds (whereas the Swan gets queen beds).
The WiFi was weak in our room and definitely not the premium WiFi you're supposed to get as a Platinum guest. What was double-annoying about this was how the signal would come and go so if the kids were watching YouTube videos they wouldn't realize until later that they dropped off WiFi and were blowing through our data plan for the month.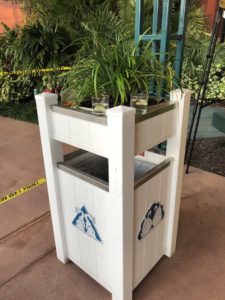 On the 2nd afternoon we were there, my mother in law wanted to go to the pool while our boys were playing basketball nearby. After finagling a chair for herself she was ambiguously shooed away from the area by a pool attendant who was setting the area up for a convention event later that evening.
The attendant didn't offer much of an explanation so she asked one of the 3 bartenders who were huddling nearby and they said she could go over to the Swan's pool across the way. That didn't work for her since the primary reason she wanted to be there was to be near our kids shooting hoops. The way they handled it rattled her and made her feel unwelcome at the hotel. And it made me feel like I booked a junky hotel for our vacation.
Like Maya Angelou said: "I've learned that people will forget what you said, people will forget what you did, but people will never forget how you made them feel."
I fully expected convention goers to be out in force during our stay. And I can accept that parts of the hotel might be closed for events. But the way they handled the closure of the pool area was really subpar.
That night when we returned to our room after a long day at the parks our room hadn't been serviced for the day. This meant we needed clean towels and coffee replenishment and the last thing I want to be doing at 10p is calling the front desk, waiting on hold, and asking for these things.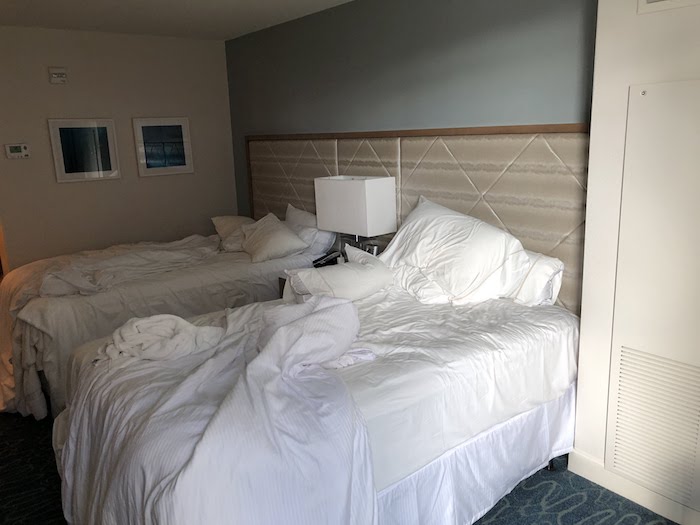 So I sent @SPGAssist a Direct Message on Twitter enumerating my complaints. I told them I didn't want to have a long drawn-out conversation with hotel management while on vacation. I just wanted some compensation in the form of Starpoints.
The next day I received a thorough email from local hotel management responding to each of my complaints and 20,000 Starpoints as a good will gesture. I thought this was fair compensation and I appreciated the way they didn't make me haggle with the front desk about the situation.
On the Bright Side
The hotel really is well positioned for enjoyment of the parks. We loved being able to walk -or- take a boat to and from Epcot World Showcase and Hollywood Studios. Once Star Wars Land comes to Hollywood Studios this location is going to be even more coveted.
Disney transportation to and from the Dolphin was great for our entire trip. Busses, boats, monorail – all seemed to come more regularly and were less loaded than previous trips. Off-property hotels that have bus service to the Parks drop off further away than Disney busses. The Swan and Dolphin are served by proper Disney busses and that makes a big difference.
I thought the servers at breakfast were delightful. Whether you're staying at the Dolphin or Swan you can visit either hotel's breakfast buffet. We preferred the Swan's Garden Grove to the Dolphin's Fresh Mediterranean Market. I hear Garden Grove has characters at breakfast on weekends and for dinner in the evening. I'm going to go out on a limb and suggest there's an upcharge when using vouchers for the breakfast on the weekend when characters are present, though I hear it's considered one of the better values in character breakfasts at Walt Disney World.
Bottom Line
So, moment of truth: Would I stay here again? Would I recommend it to a friend? No, I would not.
Although it was inexpensive relative to similar options and provided a considerable amount of point leverage compared to a paid stay, the overall experience was marred by too many issues. Many of these issues would be present for future stays. The breakfast benefit for elites is weak. The resort fee is a bogus money grab they should eliminate for guests with elite status. The parking fee is high (parking is complimentary at Disney resort hotels). The hotel prioritizes convention goers over leisure travelers. The beds are small. Their hospitality standards are low.
But I did enjoy paying "only" 80,000 Starpoints for 2 rooms for 5 nights (60,000 after the 20,000 they kicked back for our subpar experience). Even when considering resort and parking fees compared to the $4,000+ I would have spent for nearby Disney accommodations it was a pretty good deal. It just wasn't a very good hotel stay.
How can a hotel provide a bad stay but still be a good deal? Well, they did provide lodging and hot showers in close proximity to the Parks. And I could have had similar issues at a Disney resort hotel.
All in all I felt like we got a square deal especially after the compensation. But I wouldn't stay at the Dolphin expecting leverage from Platinum status. And I wouldn't choose to stay at the hotel again.
Where would I stay if I had to do it again? I'd look into a villa or two standard rooms at Disney's Beach or Yacht Club and pay with bank points and/or Citi Prestige 4th night free. Or perhaps a couple rooms at a Disney moderate. Or perhaps a nearby but slightly off-property hotel like the Hilton Bonnet Creek.
But I'm not so sure about Hilton either. Last year we stayed at the Waldorf Astoria on a Diamond Force stay and felt like they put us in the worst room in the hotel. So one takeaway is that hotel status doesn't do much for you when hotels are full, even if they have award availability.
Regardless – I'd be sure to book the room type I wanted rather than hoping for leverage from status. Because there's no such thing as a space available upgrade when there's no space available.
I'd love it if you subscribed to the site for the next installment in this series where I'll look forward to discussing Discounted Disney Parks Tickets. It gets better from here – I promise!
Subscribe to Blog via Email