United and American Airlines are the two major U.S. carriers still clinging to archaic mileage expiration policies.  4 years ago I covered a way to stop United miles from expiring. Today we'll extend those same ideas to American Airlines and keep your AA miles from expiring.
Leveraging Airline 24 Hour Cancellation Policies
I'm a big fan of the 24 hour cancellation rule the DOT imposed years ago. This pro-consumer rule either lets you hold or cancel airfare booked at least 7 days ahead of time with no fee. Think of it as a 'cooling off' period of sorts, a brief period of time where mistakes won't cost you a cancellation/change fee.  American Airlines was one of the notable few airlines favoring a hold vs. cancel policy. That finally changed last year and AA allows a 24 hour cancellation of tickets booked more than 2 days prior to travel. (more on their policy here).
This rule makes sense–after all, humans make mistakes. I once booked airfare to a wedding in TX the first weekend in June.  I called my friend to tell him I'd booked everything.  "That's great," he said, "But the wedding is the first weekend in July." Whoops.  24 hour cancellation to the rescue. A legitimate mistake on my part and a good use for the rule.  But the rule has other uses for travelers. For example, if you want to make partner seat assignments you need to book a ticket first. If you can't get the seats you need then you can use your 24 hour cancellation policy to back out of a ticket you don't want to fly. (h/t Milenomic Michael H.).
Today I'll show you how to use this 24 hour cancellation policy to keep AA miles from expiring. This is a direct copy of the process I outlined for United Miles years ago. This is probably against the spirit of the 24 hour cancellation policy, but this also goes to show how archaic still having a mileage expiration policy is.
Book, Cancel, Redeposit
The process is simple but you'll need at least 12,500 miles for this to work.  I'll step through a real life example. As you can see, my miles were due to expire relatively soon: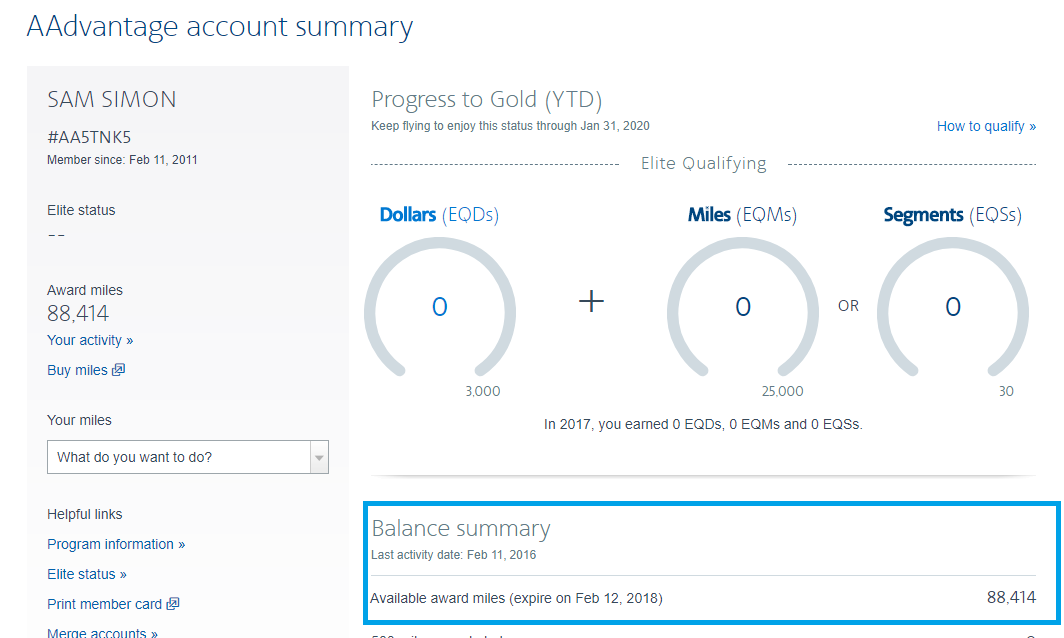 To stop the travesty of 88,414 beautiful miles from being blasted into nothingness I booked a  simple one way ticket with 12,500 miles and $5.60.  Find a flight, any flight, a few weeks from now. This doesn't need to be a booking you're going to take, or even from your home airport. It should originate in the US:
My mileage balance was deducted the 12,500 miles, and more importantly my expiration date was incremented by 18 months:
Now all I need to do is log into my trips online and cancel it.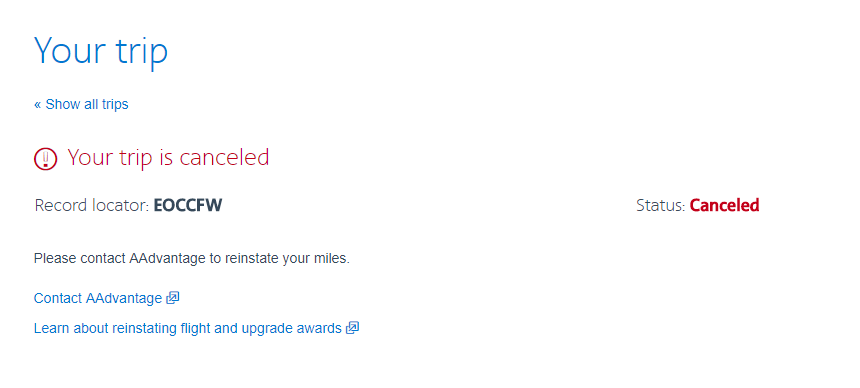 Cancelling the ticket can be done online, and provided you follow the rules of AA's 24 hour cancellation policy you'll be rewarded with your 12,500 miles and $5.60 back.  Or rather, you'll be rewarded with them as soon as you call AA and ask them to refund you the miles.  A quick 20 minute phone call later and the miles were back in my account with the now August 2019 expiration date: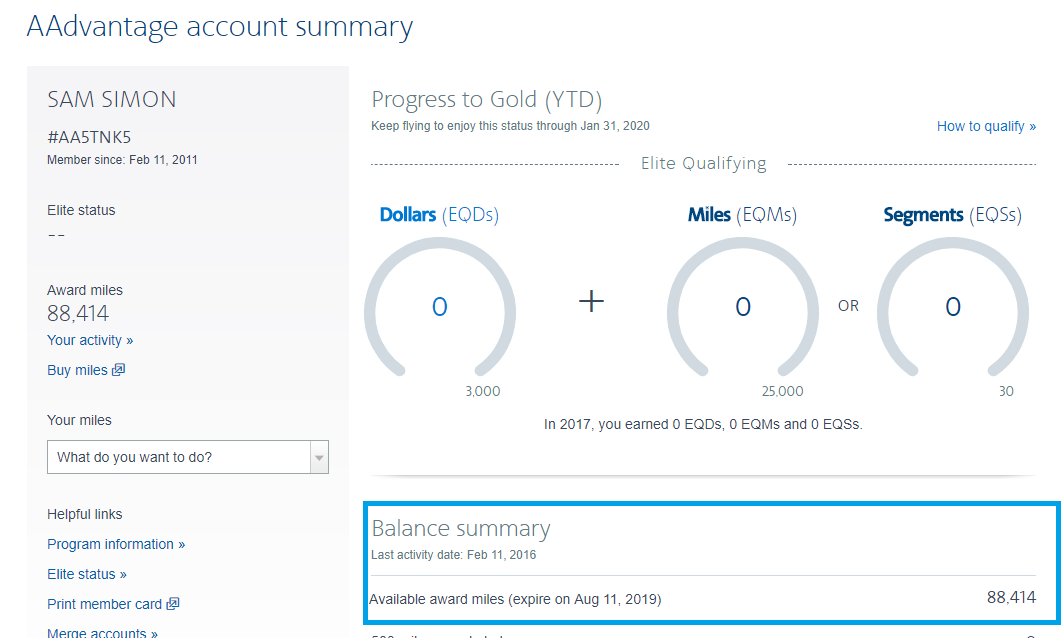 Should You Do This?
The above tactic certainly wouldn't need to be used if AA didn't expire our hard earned miles.  With that said the question remains: Should anyone do this?
Of course the answer is no. No one should do this.  Booking a ticket you have no intention of flying is probably against AA ticketing policy. There's also the 20 minute phone call to reinstate the miles, not an insignificant amount of time.($20 at my T-Rate)  And finally, don't do this because there are easy ways to earn a few miles for cheap and keep extending your expiration. My current favorite is to buy something like soap for ~$2 from WalMart via the AA shopping portal. Make sure you select pickup in store to avoid the shipping cost.
When those 2 miles post to your AA account they'll extend the expiration date by 18 months. Net cost for something like this is about $.08 in lost cashback from another portal plus a few minutes of your time. If your miles are close to expiring one huge drawback of a shopping portal is that it can take weeks for these miles to post. For some of you that might be too late to keep your miles from disappearing into nothingness. When you're stuck with miles expiring in days the above book and cancel trick might be your best hope.
And American Airlines, if you're reading, please consider scrapping your antiquated mileage expiration policy all together.
Edit: Be sure to read the comments below. Lots of fantastic ways to keep AA miles from expiring.  Thanks to everyone for the ideas.  Readers Matt and Howie have mentioned the following as a way to earn 5 miles in about a week: https://awardwallet.com/blog/earn-bonus-miles-for-commenting/