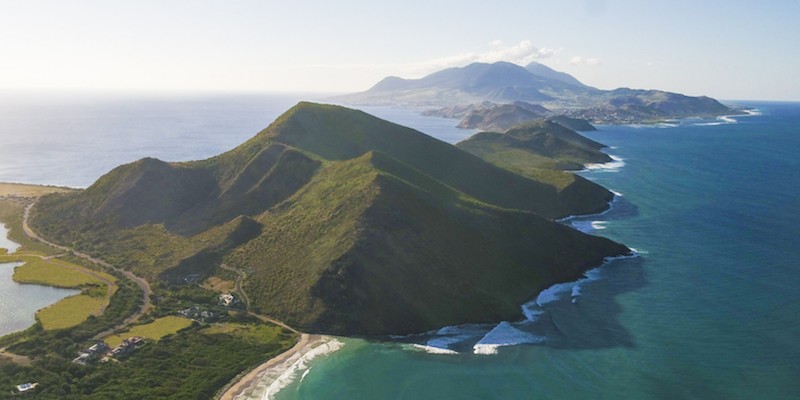 Quick Summary: Flexible bank points (Chase Ultimate Rewards, AmEx Membership Rewards, Citi ThankYou Points) are often a better way to pay for flights than traditional airline miles. With bank points you don't have to contend with award availability and you earn miles since they are considered paid tickets. In this post I'll stack AmEx Insider Fares and "pay" with an AmEx Personal Platinum for a good overall redemption.
Once I had reservations in place for Park Hyatt St. Kitts and Four Seasons Nevis it was time to get serious about airfare.
When booking travel to the Caribbean I think it's important to consider the flights while deciding which island(s) you want to visit. When visiting certain islands the connections can get painful, and the prices can be prohibitively high.
For this trip we're flying out of JFK instead of our usual home airport in Boston, which factored into our decision to visit St. Kitts and Nevis as opposed to other islands. This time of year there are direct flights (Saturdays only) from JFK to SKB on Delta and American.
Best Available Flight Options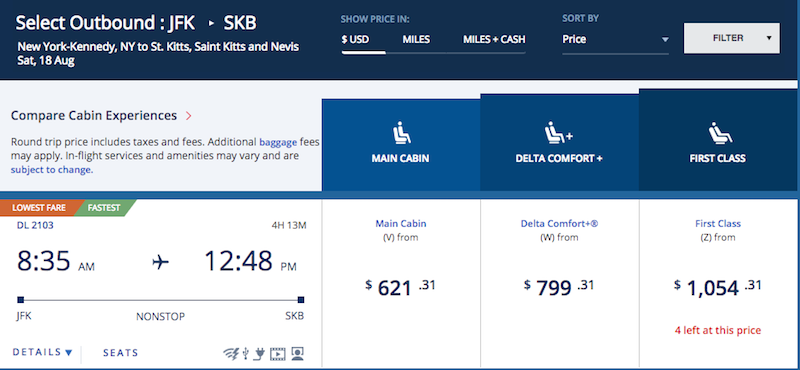 I always like to start with the best option available then work my way backwards to see what the best way to pay for the flights is.
Both AA and Delta were at around $600 pp roundtrip in Economy.
Delta was asking $1,054 pp roundtrip in First while AA wanted ~$2,300.
Since it was just the two of us and I wanted to make this a nice trip I checked out my options booking First with miles.
Paying with Airline Miles (not a good option in this case)
AA wanted 120,000 miles pp roundtrip in First and Delta wanted 84,000 miles. At those prices that would make Delta a 1.25 cent per point redemption.
Paying with Bank Points (AmEx "Insider Fares", 35% rebate, a good option in this case)
With the Chase Sapphire Reserve -or- AmEx Business Platinum you can get ~1.5 cents per point of value towards airfare booked through their portals so this would be a good use of bank points.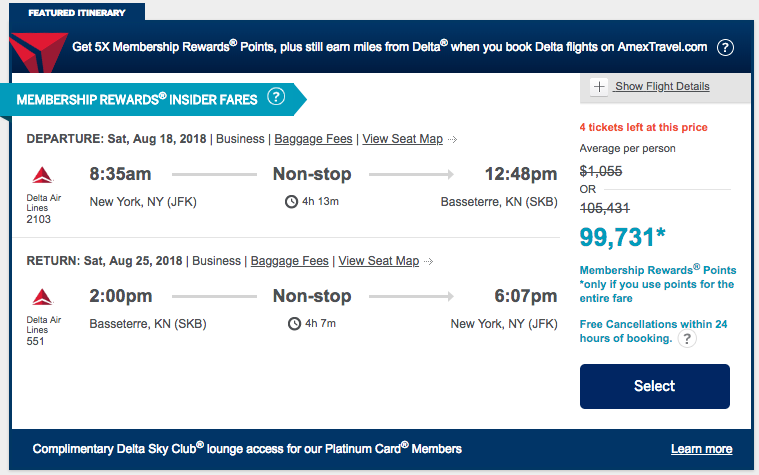 Bank point portals don't always have the same prices as the airlines, but in this case AmEx's price is about 5% better than booking direct thanks to their Insider Fares.
Further, by paying with Membership Rewards I'll get a 35% rebate on points 6-8 weeks after booking.
A $1,055 flight for 64,825 points is a 1.62 cent per point redemption which is quite nice.
More on AmEx Insider Fares in this post on Saverocity.
Earn Miles on Flights paid with Bank Points
When booking with bank points, you earn miles on the flights since it's a paid ticket. In this case since it's Delta it's 5 miles per dollar for general members (more for those with status). For the sake of simplicity, let's call a Delta mile worth roughly equivalent to a Membership Reward. That reduces my net point & mile outlay to 64,825 – 5,275 = 59,550 points & miles.
$1,055 / 59,550 = 1.77 cents per point which is quite good.
Summing it up
I've been using "1.5 cents per point" as my measuring stick when assessing the quality of bank point redemptions.
Perhaps I should aim a bit higher with non-airfare redemptions based on this experience.
In this case I was able to:
Pay entirely with AmEx Membership Rewards
Find an AmEx "Insider Fare" for the flight I wanted
Get a 35% Membership Reward rebate with the AmEx Business Platinum
Earn Delta miles for the flight
This can yield a impressive uplift. This is especially nice considering you don't have to contend with award availability, the many AmEx Membership Rewards credit cards you can sign up for, and how many of their cards reward ongoing spend.
Flexibility like this is a big part of why I think AmEx Membership Rewards are the #2 flexible bank point program.