Today I'll go over an excellent targeted 75k Offer for the American Express Business Gold Card that's starting to show online on some American Express account login pages. This offer was not on my page yesterday so this is a relatively new targeted offer (to me).
Even if you don't see this offer you might try calling Amex and asking for it. That's worked in the past for certain offers.
The Offer
Upon login, possibly on other MR earning cards, you might be greeted with the following:

If you don't see it on one card, try clicking into all the cards in your account. This was not showing in the "Amex offers section" but rather at the very top of the page, below the main toolbar and above the "Statement Balance," etc.
Bonus: 75,000 Membership Rewards points
Spending Requirement: $5,000 in the first three months
Upside potential: In the past I've been given offers for upgrading these Gold Business Cards to Platinum Business cards with healthy bonuses as well. Those upgrades have not had lifetime restriction language in them either.
Worth Applying For?
If you've had this card in the past be sure to check if your offer has any "lifetime language restrictions." The phrase "Welcome bonus offer not available to applicants who have or have had this product," is usually used to denote this.
While Amex apparently has a Welcome Bonus Checker today that popup did not appear. Other Data Points also make it seem this checker is not working for Business cards yet.
Much like the Gold PRG offer a few months back, I couldn't resist this and ended up applying for it. $0 annual fee, access to the new "Do More Business" offers, which could easily add another $100-$400 of Cash back to this deal, and Amex Offers were too much for me to pass up.
One additional employee card is free for year 1 and Green Amex Business cards are free for unlimited numbers of employees. Obviously don't abuse this, but you can add cards for employees for free and take further advantage of the "Do More Business" offers.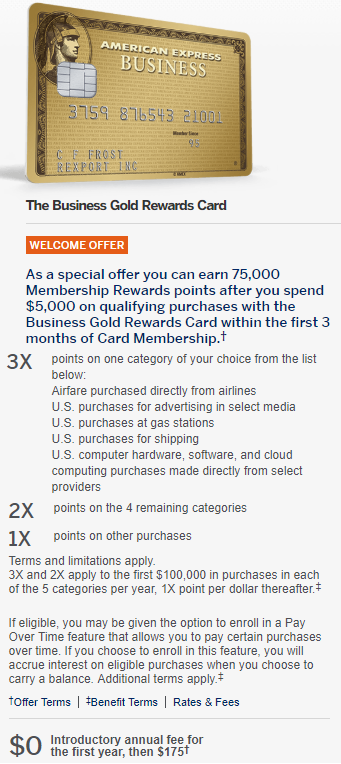 Long Term Planning
The American Express Business Gold Card doesn't get a ton of play. It does have some interesting earning potential in the 3x categories, qualifies for the "Do More Business" program and will enable more sets of Amex offers. That's checking off an awful lot of boxes for a card that also doesn't count towards 5/24 and has no annual fee in year 1.
Hopefully I get a targeted upgrade offer in the next few months as well to the Business Platinum Card as well.
Does anyone else see this offer in their account? If so please leave a comment in this post.