This should probably be a #veryshortblogpost. Posting here pushes it directly to anyone who subscribes by email but doesn't check twitter 24/7. The time sensitive nature of this post is mainly why I'm breaking with Milenomics' #veryshortblogpost tradition. 
Update  9/21: They fixed this, and stuck to the deadline of 9/30.  Was fun while it lasted wasn't it?
---
Arguably the deal of the summer, the Plastiq/Masterpass fee free liquidation method is drawing near to a close.  We've batted the 9/30 end date around here on this blog, and I've seen it elsewhere.  Today's quick post is to analyze just when the promo actually ends.
Plastiq's Words and Actions Don't Align
This page has the most recent terms and conditions I can find for this promo, they are as follows: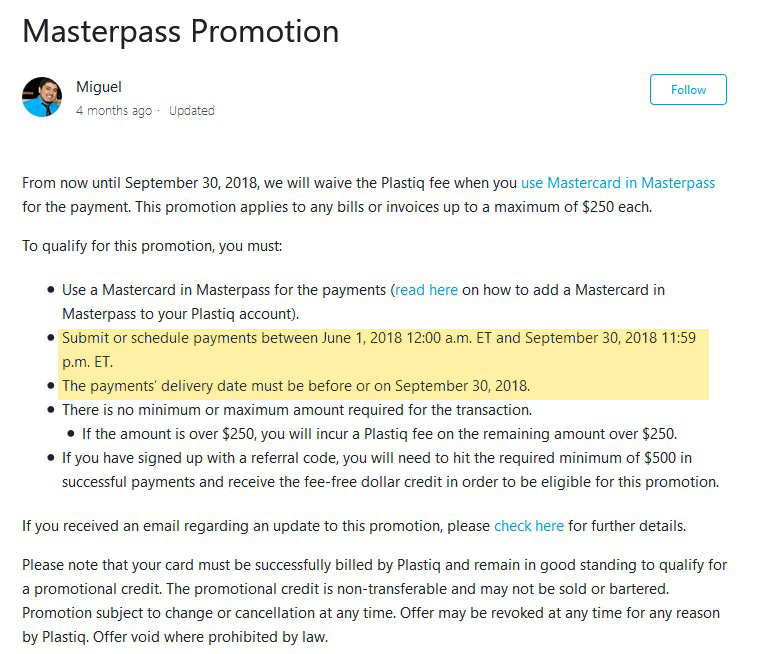 This seems clear cut enough–Schedule the payment between June 1 and September 30th, and make sure it is delivered by September 30th.  The delivery of a check payment takes 9 days on Plastiq.  Nine, excruciatingly long, and nowhere near necessary days.  What this means is that if the terms and Conditions above are to be believed the last day to schedule a payment and make sure it lands by 9/30 would be 9/21.   This would mean the promo actually 'ends' for check payments in a week and a half, and electronic payments would be the only way to pay past 9/21. (H/T Joe)
I've read the above 9/21 date from some blogs recently, stating the 9/30 delivery date which the Terms and Conditions above seem to say. I tested this out and found this deadline not to be true. (at least for now)
Testing This Out
To test this out I made some scheduled payments, first on 10/1, which showed no fee. I then jumped around a bit, finally landing on 10/9 as the last zero fee day:
Just to be sure here's a payment landing 10/10, and the fee being added:

So it seems like the promo has been coded to end on 9/30 with the buffer of 9 days for payments sent 9/30 for delivery on 10/9.  That's good news if true.
Who Cares?
Probably not many people, but I know I do. Because of the lead time in buying MCGC from giftcards.com if the last day really was 9/23 I'd be coming close to the end of this promo in the next few days. Adding an extra 9 days means I can get a few more orders in right under the wire.  I can also schedule some CC payments up to the last day of the month (Helpful, as Robert says for hitting Minimum spend on new Mastercard credit cards).
I can't say for sure that Plastiq won't fix this in the next few weeks and stick to the deadline of delivery by 9/30. But given the above, for now at least, I'm confident enough to continue purchasing cards through the end of the month.
Update  9/21: They fixed this, and stuck to the deadline of 9/30. Electronic payments should still work at this point.