Quick Summary: You can pay federal taxes online with a credit card for free through bill pay service Plastiq as part of the Masterpass/Mastercard promo they're running through September 30, 2018. 
Why use Plastiq to Pay Federal Taxes
If you have federal taxes to pay, you can earn credit card rewards and/or liquidate Mastercard gift cards through Plastiq. Plastiq usually charges 2.5% so it's generally better to go with one of these Payment Processors. However during this fee-free promo it's advantageous to use Plastiq.
How to Pay Federal Taxes Online with Plastiq
Paying bills with Plastiq is mostly straight forward, but paying US Taxes is a little different than other bills.
Step 1: Log in -or- create an account with Plastiq
If you're new to Plastiq you can use our referral link: https://try.plastiq.com/milenomics
Terms: Earn $500 in Fee Free Payments after you pay your first $500 in payments with a fee of 2.5%.  You'll also need to make that first $500 payment to unlock the current Masterpass promo for no-fee $250 Masterpass payments.
Note: This is a different procedure than adding a payee manually.
This approach allows you to enter your SSN and notate the type of tax you're paying.
If you're paying quarterly personal estimated taxes, enter Federal, your state, and U.S. Individual Tax.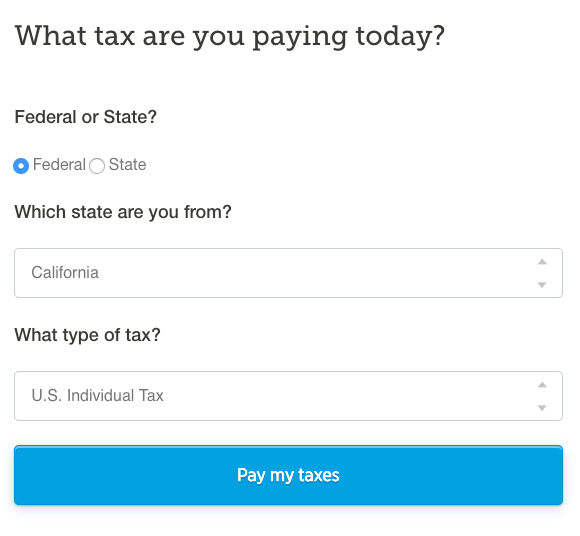 Step 3: Enter the amount
For the payments to be fee-free they need to be $250 or less. If your taxes due are greater than $250, submit multiple payments.
Then select the arrival date, and decline repeat payments.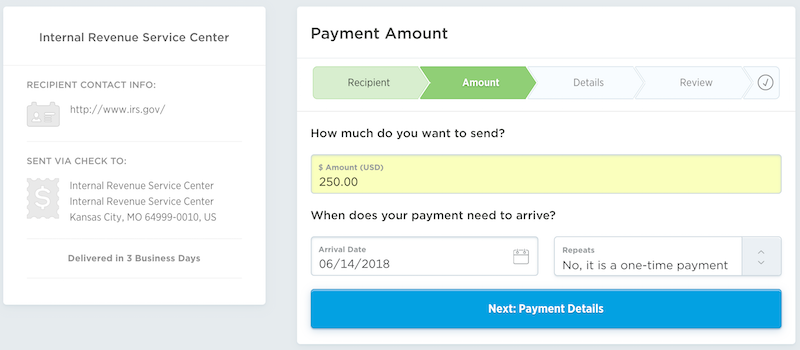 Step 4: Select Your Payment Method
If you're going for the fee-free Masterpass/Mastercard promo select Add New Card -> More Ways to Pay -> Masterpass then select a Mastercard credit card or GC associated with your Masterpass account. Other payment methods will incur a 2.5% fee.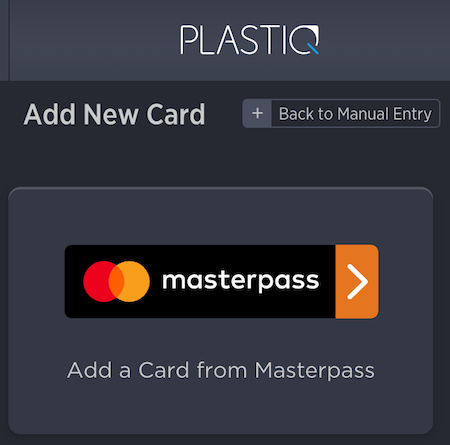 Step 5: Enter your SSN and the Tax Type you're paying
For example, 2018 1040-ES.
This is where it's important to submit the payment this way rather than creating a new payee by scratch.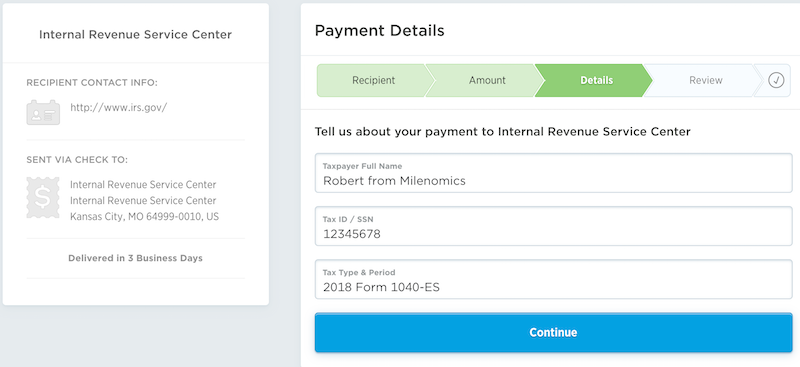 Step 5: Review and Submit payment
Once you have the Internal Revenue Service as a payee and one Mastercard credit card in place, subsequent payments are a lot quicker.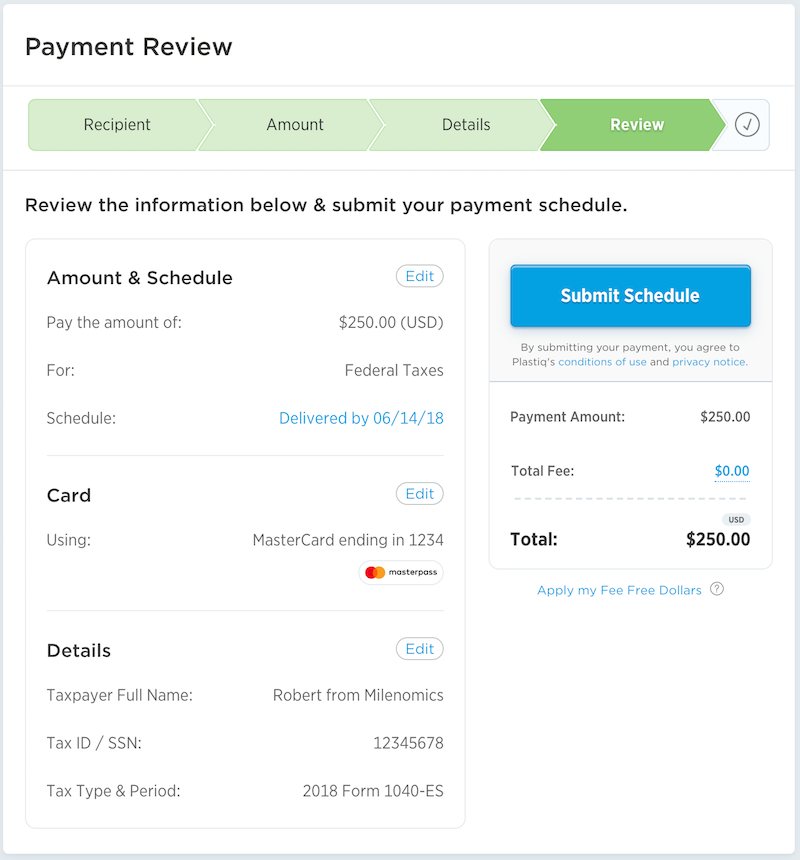 Questions and Answers
What is the advantage of using Plastiq instead of Pay1040/PayUSATax/OfficialPayments?
At the moment, payments of $250 or less are fee-free through Plastiq with Masterpass/Mastercard
Those other services are limited to 2 payments per processor
Do you have to give Plastiq your SSN?
Yes you do, so the IRS knows what to do with the payment.
My tax return/1040-ES has a different address than where Plastiq wants to send it. Will the IRS get it?
It worked fine for me. My 1040-ES says to send it to Connecticut, Plastiq sends it to Missouri. The payment posted without incident.
How can I tell if the IRS received the payment and it posted to my account?
Create an account at IRS.gov. It will show when the IRS has received these payments.
Note: EFTPS.gov does not show these types of payments.
How long does it take?
They say the payment will "be sent in 3 business days". I initiated payment on a Wednesday. It arrived Tuesday.
If one of the checks gets lost in transit how can I tell which is which?
Some suggest making payments a bit "self-documenting" by paying $250.01, $250.02, $250.03 etc with a credit card. Or $249.97, $249.98, $249.99 with a gift card.
Related Reading