Welcome to another edition of Shop Talk where we discuss what's going on in our personal points & miles space and highlight what we think is interesting in the broader space as well. This is the kind of "Shop Talk" many of you are engaged in on a daily basis, so feel free to discuss with us in the comments section.
---
Robert: Amex recently revamped their Amex Personal Gold Card. The card now offers:
4x Membership Rewards at US supermarkets (capped at $25,000 in spend per year)

4x at US restaurants

3x on flights booked directly with airlines or through Amex Travel.
The card also has a $100 per calendar year air incidental credit. And a $10 per month statement credit for spend at Grubhub, Seamless, The Cheesecake Factory, Ruth's Chris Steak House and participating Shake Shack locations.
New cardmembers pay a $250 annual fee (not waived the first year). But they get 20% back on their first $500 in US restaurant spend for a statement credit up to $100.
Existing cardmembers get the 4x rewards on spend and retain their existing annual fee structure until their card renews. If that dates falls on April 1st 2019 or later, the fee bumps up to $250. More here in the Amex Gold transition FAQ.
Authorized users get the 4x, but the $100 air travel credit and $10 per month dining credit is once per cardmember regardless of who does the spending.
Head over to TravelCodex for a full summary of the card.
The card's value proposition, and how to play it, varies depending on whether you (or your spouse) have the card already. If you don't, it might be worth having your spouse or a friend refer you. Or, you may be just as well adding yourself as an authorized user.
Omar Zaman (formerly Travel Summary) was the author of that post and has been one of my favorite writers in the space. I even wrote some guests posts for him back in the day. Omar, welcome to Shop Talk.
Would you tell us a little bit about where your focus has been in the points & miles game the past couple years and what caught your attention about this revamped card?
Omar: The last few years have been interesting. Getting married gave me access to another SSN to get credit cards and earn points, but it's also now twice the cost to travel. That gets pricey when flying premium cabins! Between that and a busy new work schedule, I've found less time for manufacturing spend (except for the one-off opportunities that come suddenly and die quickly and never get written about). I find myself looking for more opportunities to make real spend count and always learning how to redeem more efficiently, so new credit card offerings are always of interest.
Sam:  Hey Omar, really glad to have you on here as a guest.  Your writing was always something I looked up to when I was first starting out blogging, and is still something I continue to appreciate and aspire to emulate.  
As far as the discussion topic today, the New American Express Gold Card, I need to preface my entire writing with the following public apology:
American Express Gold Card: I'm sorry for all the negative things I said. I hope none of that hurt your feelings.  When I said the following:

I didn't mean you were useless, that was me lashing out at you for things you had no control over.  If I'm being honest, I hoped my words would push you to change for the better. I'm not trying to take credit for this change you've made, I'm just happy to see that you've made yourself a better person. Can you forgive me for the hurt I might have caused you? </s>
Sorry, that probably was a conversation that would have been better between the card and myself.
Since I've sidetracked us already, Robert, can you get us back on track?
Robert: Ha! Maybe we can start by sharing whether we have this card already, or our spouses do. If our collective situations don't cover common cases that exist out there we can share some thoughts on what we'd suggest for those considering the card.
First off, I think this is a great card.
My wife now has the Amex Gold Card card. Although she had and cancelled the Premier Rewards Gold card previously, she got the signup bonus for the PRG a second time through a targeted offer. The offer successfully skirted Amex's "lifetime language".
That being the case, I added myself as an authorized user to take advantage of the 4x on groceries and dining.
The $25,000 cap on groceries isn't so bad for my use model, and better than even the vaunted "Old Blue Cash" card. The OBC earns 5% cashback, and is capped at $50,000 in spend per cardmember year. But you have to spend $6,500 each year at 1% to "unlock" the 5% cashback which makes it effectively a 4.48% cashback card.
The OBC earns "5%" at broader categories (gas and drugstores, in addition to groceries) but it's become harder to liquidate the products they sell at drugstores. Gas stations have been tough for while.
The Amex Gold Card earns Membership Rewards which I value at around 1.5 cents per point (maybe more). I say this because if you also have the Amex Business Platinum card you can redeem all your Membership Rewards towards flights on your airline of choice (or on any airline in Business/First) and get a 35% point rebate. If you prefer cash, an Schwab Amex Platinum unlocks a 1.25 cent per point cashout. And this doesn't include 1:1 air transfer partners which can be even more lucrative. So I'm loving the generous rewards on a valuable currency.
That the AmEx Gold Card is better than OBC at grocery stores, and even better than the Chase Sapphire Reserve for dining make this instantly one of my favorite cards.
What do you think, Omar? What's your personal opinion of the card?
Omar: I touched on this a bit in the summary post on it, but I'm really torn on this card. I really want to love it. It has a very clear value proposition with the 4x categories on restaurants and groceries, and those are significant expenses in my household and I'm sure many others'.
At the same time, I find myself wanting more. The only other bonus points category it offers is on airfare at 3x. This card will never be used for "other" purchases. I have the free Ameriprise version of the Amex Platinum and earn 5x on airfare already with that card, so the 3x category already goes to waste for me personally. And the lack of any bonus points on other travel like hotels, car rentals, Uber/Lyft, parking, gas, etc. just really bothers me given the $250 annual fee.
And speaking of that annual fee – I just hate that Amex makes you jump through hoops to get statement credits. The $100 airline fee credit should be a straight airfare/travel credit like the CSR offers. The $10 monthly food credits are just extremely annoying. Ultimately I understand that Amex is making a bet that people won't use these, but that speaks to how customer-unfriendly those "benefits" are.
So with all that being said…I already did sign up for the card and made my wife authorized user. At the original 25,000 point bonus and $100 restaurant credit I was on the fence. Once that bonus was pushed to 50,000, however, it made it worth it for me. The question now becomes…is it a card worth keeping beyond one year? And again, that would be much less of a question if those damn statement credits were easier to earn!
And yes, I did get the Rose Gold color. I'm convinced it will be the prettiest card in my wallet, and I just know the wife will appreciate it too.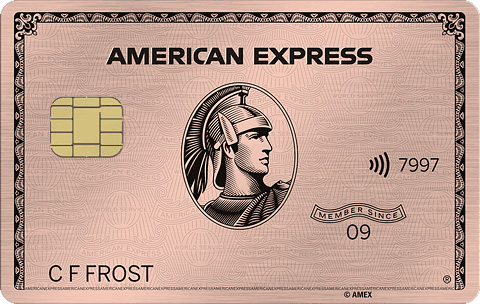 Sam:  I like the fact that there's not total agreement here. Robert thinks the card is great, and Omar wants to love it but is torn.  I find myself making two judgments of the card: a personal assessment(micro), and then an assessment of the card across all cardholders(macro).
Micro: This card went from cancel next March to keep, possibly forever.  I agree with Omar's dislike of the travel credit structure (Even the fee free FNBO Travel Elite has a flat $100 any US Airline, get with 2018 here Amex!).  I also think $10 in restaurant credits is odd. But the earning at Grocery stores, as Robert pointed to above with his comparison to an OBC, is just so fantastic I can't pass it up.  
At my current cost structure the $25k in grocery store earnings equal 100k MR for $297.50 in card  fees + $18 to liqudate + $150 net AF, for a total of $465.50 plus my time.  The floor I set MR at is 1.25 cents per, so I'm easily below that, time included.   That's also not taking into consideration that I can likely chip away at that $297.50 in fees as grocery promotions come and go.
This card is fantastic for someone like myself who sees the value in the new 4x categories and will use the card pretty much only for those categories. That's obviously not an 'average' use case–but it is how I'll be using the card.
Macro: I have to imagine this card was just bleeding cardholders for Amex.  You can only keep people earning low rates, with no real bonus (Gas at 2x?) for so long before they start leaving.  The CC landscape being what it is Amex either needed to either 'Fish or Cut Bait." I'm glad to see they've decided to fish.
The question then becomes: Is this card improved enough to stem losses? I think so, again looking at the cardholder population as a whole.  There certainly seems to be plenty of value here to the average cardholder. Amex is smart to give the $120 in restaurant credits, I can imagine the breakage rate of this benefit is somewhere above 95%. And with the list of places the credit works at being so narrow maybe Amex isn't even footing the entire bill on the <5% of people who do take advantage of them.
The 4x grocery and restaurant category position this card high enough in two psychological categories that it likely will jump to TOW (Top of Wallet) for many, many people.  That's really Amex's play here, they want this card to be the one you grab first, and spend everything on. If the card does make it to TOW, it will definately be a cash cow, earning $250 per cardholder and grabbing all the 1x spending these "pure transactors" can put on it.
Using some data I had lying around on average household expenditures here's a quick analysis comparing the new Gold card and the CSR for someone who's a Pure, single card spender: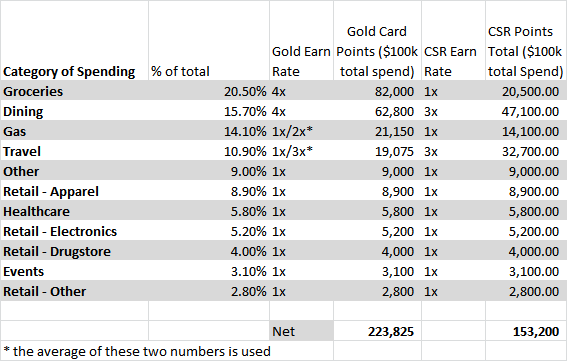 Some notes: I'm using some rather old data on the % of total each category is (2015 data), but this is probably close enough to be 'ok' for the purpose of a friendly discussion.
Second, if you take the points and multiply them each by a pretty 'average' cash out value (.7 cents for MR, 1Cent for UR) you're looking at $1566.78 for the Gold Card and $1532.00 for the CSR. That's a difference of just $34.78 on $100,000 in spending.
Is that what we should be earning on this card? No way. But the above is a macro look at the card.  When you subtract the $250 annual fee from the above the numbers get even better for Amex: $1566.78-$250=$1316.78. That's an effective rate of 1.31% on $100k in normal spend.  Far inferior to a straight 2% cashback card.  And proof that this card can be a big money maker for Amex on transactions alone.
Of course if you're reading Milenomics you're not likely doing any of the above. You're using this card judiciously, for the 4x categories, and possible spending on gift cards as well.  You'll cash out or hold your points for >1.25cpp redemptions.(The paragraph Robert wrote above outlines ways this card turns into a 6%+ cash back grocery card for travel). But I'm talking in the cardholders as a whole right now, not individual cardholders.
One other interesting fact about this updated card is that American Express is doing the opposite of what it did with the recent Hilton bonus revamp, and pushing best offers out to referrals first.  As Omar mentioned above the public/affiliate links are vastly inferior to the referral/incognito links for this card. Rare is the day when a card can simultaneously revamp and shed light on who has their own best interest in mind (over their readers') at the same time.
I think Robert and myself are in a better situation than most–We're in year 1 with an annual fee waived, grandfathered into a lower AF and other benefits.  Removing all of that and speaking of the card as is today, to new cardholders–what's your take Robert?
Robert: I think the card is a slam dunk for new cardholders, provided they can get the 50,000 point signup bonus. Here's how I'd play it…
First, I'd have my spouse or a friend (or a spouse who's a friend!) refer me for the card for a 10,000 point bonus. Even if they don't have the Gold card, they can still earn a referral bonus so long as they hold an Amex card that earns cashback or Membership Rewards. More on that here.
Then, I'd do the math on knocking down that $250 annual fee. There's always a chance that Amex will waive the annual fee, perhaps in a targeted manner. But even if they don't I can still see my way to justifying the annual fee.
I'd wait until late in the year to sign up so that I could potentially triple-dip the $100 air incidental credit. That's $300 if you can effectively leverage those credits. The 20% back on restaurant spend in the first 3 months kicks back another $100. These benefits alone put you profitable in the first cardmember year.
I agree that the benefits are set up to encourage breakage through non-use. There's no doubt about that. But if you're a conscientious optimizer this works to your advantage. Amex couldn't afford these benefits if everyone utilized them at a 100% rate. They know exactly what they're doing and it's our job to decide if the tedium is worth the rewards.
This is an example of a card that won't be considered by people who only sign up for cards with $0 annual fee. That was me before I got into points & miles. I think the reason people go for "free" cards is because they're afraid they're going to get bamboozled by a complex rewards scheme, get the rug pulled out from beneath them, or miss some nuance of the offer.
But if we only go for fee-free cards we're missing out on the better option: The lucrative rewards associated with cards like this one. More on this phenomenon in this post:
Is The Power Of FREE! Leading You To Predictably Irrational Behavior?
Travel isn't free. It never has been. But if we play this game effectively is can lead to some seriously deep discounts.
If we take on the complexity associated with bank point programs and navigate them effectively they can be far more lucrative than fee-free cashback cards.
What do you think, Omar? You signed up for the card – have you ever had the Premier Rewards Gold version before? I understand that's supposed to make us ineligible for the signup bonus on this new Amex Gold Card. I had a look at my credit card signup sheet and see that I applied for the Premier Rewards Gold in January 2013…through your link actually!
Omar: Ah yes, the infamous 100K Amex Plat offer that was the highest sign-up bonus of it's kind at the time. I had almost forgotten that there was also a bonus on the PRG at the time as well…those were indeed good times!
I don't remember exactly when I canceled my PRG card, but I imagine it's been about 4 years now. So yes, I did have the product before. Does that mean I'm ineligible for this new incarnation of the American Express Gold card? Here's my thought process:
First off, while I know Amex is calling this more along the lines of a "product refresh," I know that doesn't always mean what they want it to mean. What I'm trying to say is that IT can be hard, and just because they want to call this the same product doesn't always mean they'll be able to restrict bonuses the way they want. But this alone isn't much to go off of, so…
Second, Amex recently launched a new "tool" or, more accurately, notification during the application process. If you're ineligible for a welcome bonus because you've had the card before, Amex is supposed to let you know about it by displaying a pop-up that explains exactly that. You can then choose to either proceed with the application or cancel it. Similarly, Amex can deny you the welcome bonus based on your account history (which basically just means arbitrarily), and will display a similar pop-up.
I did not receive such a pop-up. Does that guarantee me the 50,000 point bonus? Hardly. But I think that's the best indication I could get on this question.
But look, I've done my fair share of "hacks" that I know are skirting rules or making use of glitches. Examples include the old Lifemiles hacks to fly to Asia or Europe at domestic pricing, most manufactured spending techniques, anything that comes to mind when I say "multiple browser trick," and booking mistake airfares or hotel rates. In every one of those situations I knew I could get called out on it by the airline/hotel/company and I was ready with a contingency plan. I never do anything I can't afford to not get away with.
If I don't earn the 50,000 point bonus, I will be bummed. It will change the value proposition for me dramatically. But I won't be left in a position where I'm struggling for the money, so call this a calculated risk. Oh the things we do for points!
Sam: Fantastic stuff Omar.  You're walking back 5+ years of history as well as covering the card's utility and your own personal ability to self-insure.   I hope readers take all of what Omar, Robert and myself are saying here today and synthesize their own best practice for this card.
If anything we mentioned above needs more clarity, drop a comment below, or tweet any of us (@milenomics, @RobertDwyer and @TravelSummary).  Even if you don't need more clarity, leave a comment with your take on the refreshed card, your disagreement with our take, or anything else.
Let's talk shop.