AutoSlash is a service that aims to make it easy to find the best price on rental cars. Most notably they:
Find the best promo codes
Monitor your reservation for price drops
I've used them in the past with varying degrees of success. Their model has changed a bit over the years so I thought to check in to see how things work with them these days with an eye towards realizing car rental status benefits while booking through AutoSlash.
What I'm Looking for from AutoSlash
Everyone has priorities on what's important in a rental car. That is why some people go for e-mietwagenkreta when they are in specific locations like Crete. I'm partial to Hertz from overall good experience over the years and status I have with them. I'd also be open to renting from National. The car rental status benefits that are important to me are not having to go to the counter, automatic upgrades, and rewards on paid rentals. The way AutoSlash tracks a rental for price drops is nice, but mostly: I'm looking for Autoslash to find the best promo codes for Hertz rentals. Car rentals are particularly sensitive to what I'd call "partial malfunction" when booked through a third-party. If your Hertz loyalty number doesn't get associated with your reservation your name won't be on the board and you'll have to go to the counter. In some cases you won't realize status benefits, and you won't earn points for the reservation. I wouldn't say these things are necessarily deal-breakers if the price is right. But it's important to know what you're getting into when booking through a third-party. And with AutoSlash you're booking through a third-party. I'll go into more detail on these nuances but first let's see what the savings look like…
Price Comparison
I priced out an Intermediate Hertz car across a number of channels for a rental out of Ft. Myers RSW airport for 4 nights around Thanksgiving. Here's what I found. AutoSlash's price was $225 when booking through Priceline or $193 when prepaying and booking "directly" with AutoSlash:

I'll get into the Pros and Cons of the two AutoSlash booking channels later. Let's look at other booking options first… My baseline for pricing with Hertz is to just go to their site and see what the AAA pricing is. The comes in at $375 for a "pay later" reservation. That's a very nice savings for AutoSlash so far. Let's see what we find elsewhere.

Next, I checked with the Chase Ultimate Rewards portal because it's always nice to be able to use bank points with 1.5 cents per point of uplift through the Sapphire Reserve. Unfortunately, their price was sky high at $415. That totally kills the value in using Ultimate Rewards for this particular car rental. It seems to me that Ultimate Rewards rental car prices went south with the move to the Expedia portal. They used to have pretty good pricing quite frequently in my searches. When paying with Ultimate Rewards, I've been unable to get Hertz points for the rental and my name wasn't on the board (had to go to the counter) which really kills the deal further.

Finally I checked Costco. $280 was the best price and they didn't (don't ever?) have Hertz as an option. Not a bad price, but I'm partial to Hertz (or National).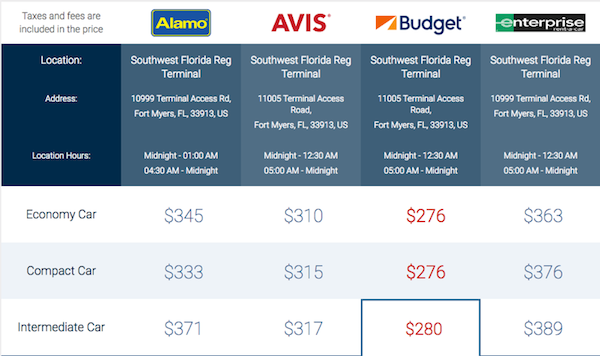 So, AutoSlash is looking really good at $225 or $193. Summing it up:
Autoslash: $225
Costco: $280 (but through Budget not Hertz)
Hertz AAA: $375
Chase Ultimate Rewards: $415
Car Rental Status Benefits with AutoSlash: Priceline vs "Direct"
I was initially drawn to the $193 option because:
It's the cheapest
I was booking this just a few days before our trip and had high certainty the trip would occur
I'd like to stay as close as possible to booking directly with Hertz
The Priceline option says "pay at counter" which sounds to me like a terrible way to start a rental (more on this in a moment)

I proceeded with booking the $193 prepaid rate, but stopped just short of completing the reservation. I noticed they never asked for my Hertz number which would seem to indicate that my name wouldn't be on the board, I'd need to go to the counter, and I wouldn't realize Hertz status benefits. That's a deal breaker on the busiest travel day of the year. I was going to email them asking for clarity on the matter but was redirected to this article: How do I add my frequent renter program (Hertz Gold, National Emerald, Avis Preferred, etc.) number? It says:
When booking one of our special discounted, prepaid Slash Deals rates, there isn't a way to add your frequent renter program to your reservation. You may be able to add it at the rental counter (and if there's a long line, feel free to go right to the special bypass line or designated kiosk for loyalty program members). With most companies, loyalty benefits generally won't apply, however, and you may not earn points or credit for the rental.
The parts in bold (emphasis mine) are even more troubling to me than the prepayment and cancellation terms. So I backed off the Pay Now AutoSlash direct booking and went with the Pay Later Priceline option. I wish AutoSlash would make it clear what the tradeoffs of booking through them are at the time booking. Even with the Priceline option it's suggested that you pay at the counter, which isn't actually the case. Moments after making my booking through Priceline, the reservation appeared in my Hertz profile with Gold Canopy service included. I got an email a couple hours before pickup telling me to go to the President's Club area and pick a car. While booking I was kind of concerned that I'd have to go to the counter and present a credit card. But when booking through Priceline they just use the credit card on file with Hertz. I had no trouble getting our car without going to the counter. My Hertz status benefits were recognized. And I hear Priceline reservations earn Hertz rewards. I don't know why I've had trouble with car rentals paid for with Chase Ultimate Rewards in the past. It seems like it should be just like a Priceline reservation, but paid for with Ultimate Rewards. But that hasn't been my experience, and maybe it doesn't matter now that Chase/Expedia prices have gone to the dogs.
Bottom Line
Everyone has a slightly different idea of what they're looking for from AutoSlash. Like I said at the beginning of this post, I'm looking for them sleuth out the best promo codes for Hertz Intermediate rentals. The bit about tracking the reservation is a nice additional benefit, but I'm brand sensitive with car rentals and just want AutoSlash to get me the best deal then get out of the way. That said, I understand they need to make money to survive. And if that means realizing a commission by referring rentals to Priceline I'm fine with that – so long as I realize the same benefits I would if booking with Hertz directly. I think AutoSlash could do a [lot] better job clearly describing the Pros and Cons of booking through the channels they refer to. I think I've got it figured out now (Priceline Pay Later behaves just like booking direct, AutoSlash direct Pay Now not so much). But invariably AutoSlash will rework their booking channels six months from now and I'll once again be unsure of what I'm giving up to get their best pricing. For now, I've found my happy place with AutoSlash/Priceline.