Most people realize that you can use US frequent flyer miles (United, American, Delta) for award travel on Star Alliance, OneWorld, and SkyTeam partners. The hard part about this is finding partner award availability.
Today, I'd like to talk about transferring bank points to international frequent flyer programs. Many international airlines release award space far out when using miles associated with their own frequent flyer program that's not available to partner airlines. We can take advantage of this expanded award availability to secure award bookings for international flights sooner than possible with US frequent flyer miles.
Here are four examples of programs that offer better award availability when using their own miles for travel on their metal.
Lufthansa | Miles & More
Lufthansa famously doesn't open First Class award space to partners until two weeks prior to departure. But they do open up First Class award space for booking with their miles far out. And they open Business Class further out when using their miles than they release to partners.
Their award chart is relatively friendly in terms of miles required, but fuel surcharges can be painful. Take for example this flight from JFK to Munich. You can book First Class now for 85,000 miles (which is better than the 110,000 miles United charges for this First Class partner award) but taxes & fees are $777. Ouch.
If you continue on to another destination, taxes and fees can reduce significantly. If we continued onward to Bangkok on Thai Airways First Class the total cost would be 145,000 miles + $256. That's a lot of hard to earn miles, but you'd get to experience Lufthansa First Class, the First Class Terminal in Frankfurt, and Thai Airways First Class. You'd have it all buttoned up far in advance with no stress over close-in award availability.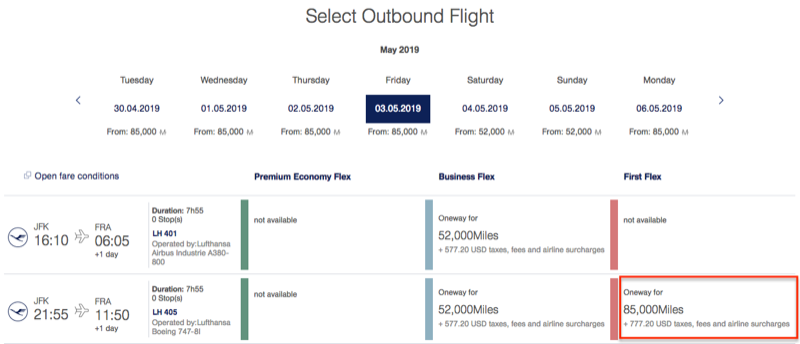 Where to perform award searches:
Call for itineraries with Lufthansa and partners
Earning the miles:
Co-branded Barclays card
Marriott 60,000:25,000 transfer
Turkish | Miles & Smiles
Turkish Airlines has a well-regarded Business Class product. And as a Citi ThankYou transfer partner it's not so difficult to gin up some Turkish miles.
For an award from Boston to Phuket Turkish charges 67,500 miles + $323 in taxes/fees. Click "Select this flight" to see the taxes/fees for an award, even if you don't have any miles in the program.
That's fewer miles than the 90,000 miles United wants, but taxes/fees are only $12 with United.
An even better way to book Turkish is with Aeroplan if they see the availability. It's just 77,550 for these same flights + $17 CAD.
Still, if you've got Citi ThankYou points and using Turkish miles unlocks availability, booking with Turkish miles can be a good way to book the award far out.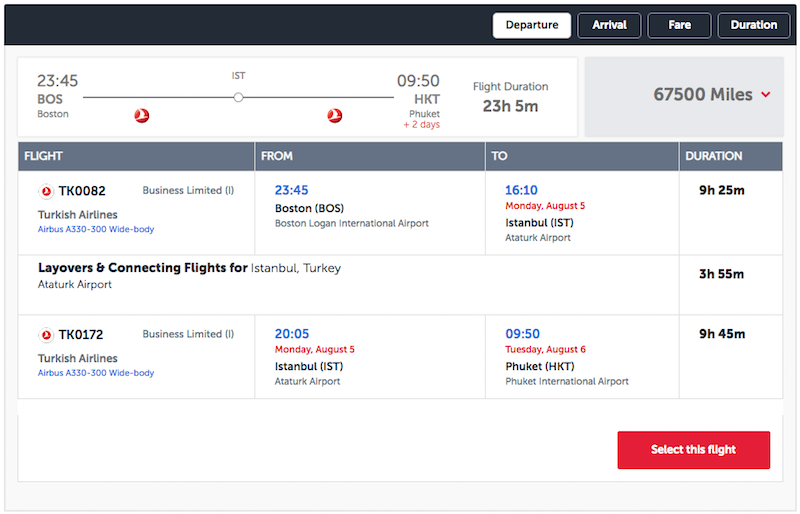 Where to perform award searches:
Earning the miles:
1:1 Citi transfers (currently running a 1,000:1,200 bonus)
Marriott 60,000:25,000 transfer
Cathay Pacific | Asia Miles
The best way to book flights from the US to Hong Kong on Cathay Pacific metal is with American or Alaska miles. But if you don't see award partner award availability try searching using Asia Miles.
It costs 85,000 per person one-way from JFK to Hong Kong in Business Class or 125,000 in First. This is more miles than AA (70,000/110,000) or Alaska (50,000/70,000) partner awards, but there is better award availability when using their Asia Miles than they release to partners. And since Amex and Citi are both 1:1 transfer partners you've got a couple different ways to earn the miles through transfers.
They don't show fuel surcharges online unless you have enough miles to proceed with ticketing, but you can estimate them with a search on ITA Matrix. They're not that bad though.
Connecting onward flights are priced as a separate award, which can be annoying if HKG isn't your final destination. Consider using British Airways Avios for those flights if served by Cathay Pacific or Cathay Dragon. Note that you can't book Cathay Dragon with Alaska miles.
Change fees (date and cabin if space opens in First) are reasonable at $25 USD or 1,000 Asia Miles
They also have a Waitlist scheme, but you need to have 70% of the miles in your account.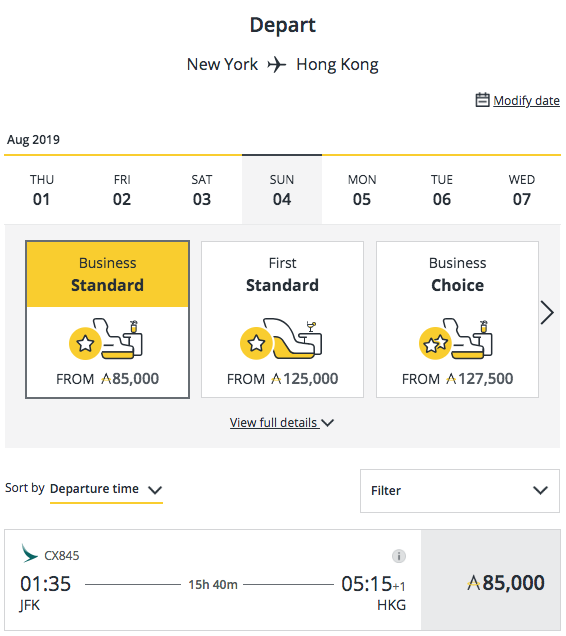 Where to perform award searches:
Earning the miles:
1:1 Amex and Citi tranfers
Co-branded card issued by Synchrony Bank
Marriott 60,000:25,000
Singapore | Kris Flyer
Singapore Suites can only be booked with Singapore miles. Saver level space can be scarce, but I tend to see good availability far out in their Advantage category. Although it costs quite a few miles at this level (140,000 JFK to Frankfurt or 237,000 JFK to Singapore) you can transfer in 1:1 from Amex, Chase and Citi.
Business Class award availability is better on Singapore metal when using their miles than with partners. JFK to Frankfurt is 85,000 miles pp one-way in Business Class at the Advantage level. JFK to Sinagpore is 140,000 miles pp one-way in Business Class at the Advantage level. That's not terrible if it opens up award availability far out that you don't see with partners.
Award space, even at the Advantage level, on their new suites product is challenging to find.
Fuel surcharges are minimal at around $30 pp one-way JFK to Singapore.
Strangely, Singapore has better access to awards on Turkish metal than Aeroplan and United. I noticed this while performing searches on Juicy Miles, and the space reliably showed for booking on Singapore's site.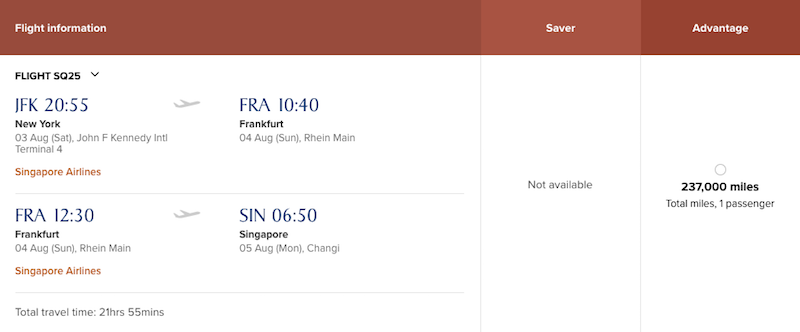 Where to perform award searches:
Earning the miles:
1:1 Amex, Chase, and Citi transfers
Marriott 60,000:25,000 transfer
Bottom Line: Better Award Availability
If you like securing international award travel far out and you're having a hard time finding partner award availability, try searching on the partner airline's site.
In some cases you'll pay fuel surcharges, but not always. The number of miles required may be less than a partner award. The expanded award availability may make it worth it.
Thanks to generous signup bonuses and other opportunities in the US, it's easier to earn points here than it is in foreign countries. Since you can transfer bank points 1:1 you're effectively "points & miles rich" when redeeming miles in frequent flyer program.
The programs can be a bit complicated to navigate compared to more familiar domestic options. Getting through to call centers can be tricky. And if you end up not being able to book an award or you cancel a ticket you may end up with miles "stranded" in an obscure program subject to expiration.
If you can piece it together, transferring bank points to international frequent flyer programs can unlock award availability not seen to partners. And that unlocks value in your bank points.
What other programs do you find useful for expanded award availability far out?