We leave today for 2 weeks in Japan. I can hardly believe this is really going to happen. I've talked SO much about this trip. I planned it 2, or maybe even 3 years in a row now. And today I stand on the edge of actually getting to take it, leaving in just a few hours for this adventure with my family. The excitement of travel is always there, but this is different–this trip feels like catching a unicorn at this point.

Today's post is to share the itinerary and some of my general travel philosophy. Along with that I'd love to solicit any quick tips from readers who've spent time in these areas of the country as well.
Overview: 4 Locations: Kyoto, Hiroshima, Ishigaki, Tokyo
We're a family of 4, with an 8 and 4 year old now and we're getting a stronger feel for our kids and what they're up for. We've done 2 week vacations in the past without issue and so we decided to really go for a long trip (for us) here to Japan with a lot of moving pieces.
The actual booking of the longhaul flights is probably the least interesting part of this trip–not only because we've covered Japan booking tips already on previous podcasts, but because the entire process of doing it has changed so much. Pent up demand and changing program costs have made it near impossible to find 4 award seats for a family to/from Japan right now. If anyone reading it still thinking about going this summer I would search daily, be flexible on either cabin, dates or destinations and hope for some luck for this summer.
For next summer Alaska/AA still represent good values but they're so far back in line at seeing the award seats that you'll want to use something else like BA or Asia miles (before they devalue) or else you run the risk of missing out on the few award seats that are being released.
That said, our trip is going to focus on 4 major locations
Kyoto: We fly LAX-KIX nonstop on JAL and land in Kyoto on a Sunday evening. Our hotel in Kyoto is about 1.5 hours away from the airport. I've made the decision to hire a car (on Klook) from the airport ahead of time. If I was alone, or without kids I might try to figure out the rail situation. But coming in on a 12 hour flight–with kids, into a place I've never been I want as little friction as possible. The driver waiting for us is only incrementally more expensive than train tickets–and exponentially more relaxing than trying to move around multiple train stations while figuring out how to buy tickets with tired kids in tow. We spend 5 nights in Kyoto with a day at Universal studios.
Hiroshima: We'll take the train from Kyoto to Hiroshima for 2 nights. I haven't bought any train tickets yet–but I did book a tour in Kyoto on our first day there with a local. The tour uses public transportation so I plan on asking the tour guide to explain to me how to buy tickets and help me make sense of the entire system. I have gotten mixed reviews of the JR pass, and don't think it makes sense for our use case. We will be staying only 2 nights in Hiroshima, but this was chosen instead of a long day of back and forth on the train.
Ishigaki Island: Originally we looked at Okinawa and then Miyako-jima while finally settling on Ishigaki island. We'll fly there from Hiroshima (through OKA) and have 5 nights planned on the island. I have a rental car booked here and we booked at an airbnb near the beach. This hopefully splits out our trip and turns it into a short, relaxing beach vacation. We'll be there for the new moon and hope to do some stargazing and beach days.
Tokyo: ISG-HND is our last domestic leg and we end with 2 nights in a pokemon room in Toyko. Will we be exhausted by this point of criss-crossing the country? I'm really not sure. Nothing is planned in Tokyo. We'll be near the zoo, near some other sights. We leave from HND to LAX nonstop again on JAL. I'm a big fan of nonstop options to limit misconnect issues.
Here's an overview of the above from gcmap:
This ends up being over 2,000 miles of flying domestically. We're doing all of the domestic legs on ANA/ANA Wings (booked either with United or ANA miles) and the international flights to/from LAX on JAL.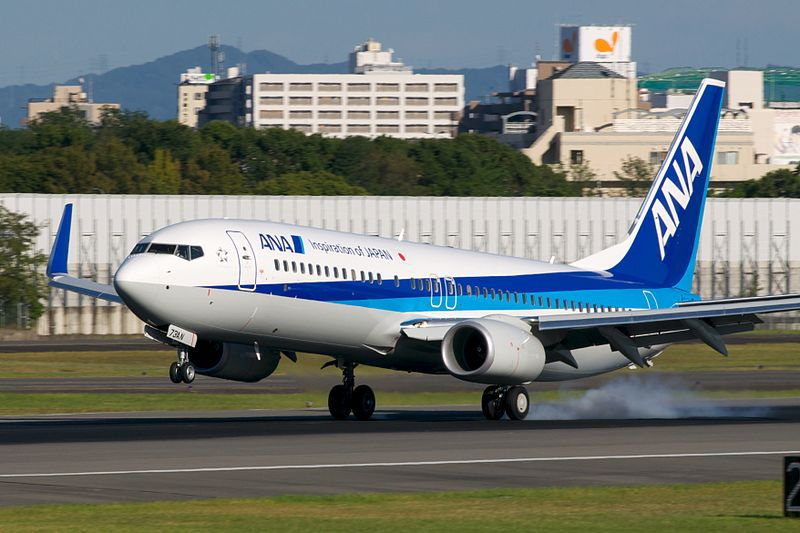 Miles for Domestic Travel Saved This Trip
The domestic flights we're taking in Japan really do represent an exceptional value in miles. Each was 8,800 UA miles + $3. These flights in some cases are hard to even buy with cash, or exceptionally expensive. The HIJ-OKA-ISG flight was difficult to price online, but if we had to pay for these flights I dont' think this trip would have taken the form it did.
The flexibility of booking with US partner airlines is another example where miles are exceptional. I was previously booked ITM (Osaka)-OKA-ISG, meaning we'd need to take a train back from Hiroshima to Osaka and catch a flight. With 2 kids that felt like a lot of friction. So I kept monitoring things. It seems like about 3 months out JAL started releasing their Okinawa island flights–so I cancelled the ITM-OKA-ISG flight and booked with Alaska miles, HIJ-HND-ISG.
But then about a month out I noticed that ANA loaded award space for the HIJ-OKA-ISG flight we're ultimately booked on. So I cancelled the Alaska JAL booking and moved to this more direct routing (with less flying time).
The big takeaway? Like everything right now keep improving your position–book something that's acceptable, but don't stop looking! The protections that were put in place years ago that allow us to cancel without penalty have been a great multi-use tool.
What to Bring? Packing Light
We're going for 14 days but we'll never be more than 2 days without washer/dryer access. Our hotel in Kyoto, our Airbnb and even our hotel in Tokyo have washer/dryer access. That means we'll pack light, very light. One checked suitcase and a single carry-on are all I want to bring. My kids seem to be able to carry their own luggage–until they suddenly can't and then announce that and drop the bag.
The other reason is: there's just no need to bring more than that. I am 100% confident I can buy anything I might need in Japan, and if I can't–well then I probably don't need it anyway.
One exciting part of this trip for me is that we won't need a carseat! I can take boosters only because of the age of my kids. This is living!
I'll update with how the trip shakes out. There are so many moving pieces for us here–hotels, transit, rental cars. I'm a little worried I missed a detail, or got a day/time mixed up. But then again, that's part of the adventure of travel!