"Why are Frequent Flyer miles so hard to use?"
This is probably the #1 question I'm asked when people find out my hobby is collecting (and using) frequent Flyer miles.  It is true that miles can be hard to use.
A cornerstone of Milenomics is being flexible to really get some good use out of your miles.  As you learn more about Milenomics you'll learn that Miles aren't hard to use when you use the right miles for the right trip.  To illustrate this fact today I'll talk about one of the more popular uses of miles; travel to Hawaii.  If you live on the west coast of the US and have read even one article about travel to Hawaii with miles you've heard that the absolute best way to get to Hawaii is to use British Airways Avios.
25,000 Avios can become 1 r/t ticket from a West coast city to Hawaii (nonstop). So for two people 50,000 Avios can get you from the west coast to Hawaii and back (in coach). For example booking an AS flight from the west coast to Hawaii will cost 40,000 Alaska Milage Plan Miles, or just 25,000 Avios.  You're sitting on the same flight, but spent 15,000 less miles to do so.  I'm fine with Coach for this trip because it is nonstop, and also because US-Hawaii service in premium cabins isn't really much to write home about, especially on Alaska Airlines(AS).
When 50,000 miles are worth either $0, $750, or $1100. 
Today we'll learn about 50,000 miles being either worthless, worth $750 or worth $1100. We're going to use the public offer of 50,000 Avios from Chase and British Airways.  (note: I gain nothing from your approval of this card). Complete the minimum spend of $2000 in the first 90 days after approval and 50,000 shiny new Avios are yours.
In our example let's assume you want to surprise your SO with a trip to Hawaii for Christmas and New Years. I'll be using PDX for our origin, a randomly selected and pretty all around great town to live in.  It doesn't really matter if we use HNL or OGG for our example destination, but  today I'm going to pick Maui. For PDX-OGG you'll want to use the 50,000 avios on AS and book at the lowest level for the awards to allow you to use BA Avios.  The image here shows the available flights from PDX-OGG in December/Jan of this year: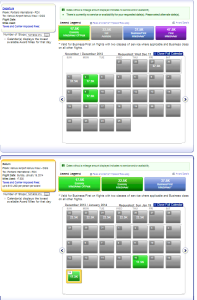 Pretty awful availability. 🙁  I'm not really surprised, Hawaii is popular, and Christmas/New Years is when everyone is on vacation. Flying from PDX we need the nonstop PDX-OGG flight to fit within our 50,000 Avios budget.   This is a good example of how Miles frustrate people. If Hawaii for Christmas is your goal, your Avios are worth $0 towards that goal.
At this point you have a few main options: Change  your Dates, or Change your Destination.
Change your Dates: If you really want/need to go to OGG with your miles, then you'll need to change your travel dates. I did a quick search and did find a few options, one example being Nov 13-21. Changing dates only works if you have the ability to take time off at will.  If you and your wife can't leave for Hawaii on Nov 13th, then the trip just isn't going to happen then with those Avios.   But lets say you're flexible, as any good Milenomics traveler should be, and are willing to move the trip to Nov 13-21. What would it cost to buy those flights on Nov 13-21?

$547 per person.  So in this example you're extracting almost $1100 worth of flights from your Avios. Of course this assumes you are flexible enough to leave on the dates listed above.  If you aren't able to do so your next option is to pick a different destination.
Change your Destination.  Lets say you have no flexibility in your travel dates.  You have those 50,000 Avios, and you're surprising your SO with a trip for Christmas! The first step is to pick a destination.  I always look up to see what routes are flown nonstop as the first part of my searching for a trip. See my posts on award routes here and here, but in the meantime I've generated a map which gives an overview of our options with 50,000 Avios.
What you see here are almost all possible nonstop destinations from PDX and a circle drawn @ 3000 miles from PDX. 3,000 miles is the cutoff for a 12,500 Avios ticket, one way.  Now you can see a large number of cold weather cities, but you can also see some nice southern California cities.  Let's pick one, SAN and see what we can do.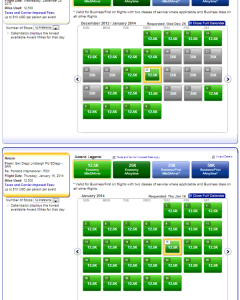 Availabilty is good, and we could fly Dec 24-Jan 4 nonstop.  The distance each way is actually <1000 miles, and so we're only going to use 7,500 Avios each way, for a total of 30,000 Avios for the 2 tickets.  With 50,000 avios you could even do this trip for 3 people.  Not bad.  Flights are cheap, under $250 per person, but you're still getting $750+ out of your 50,000 Avios this way.
One credit card sign up bonus, $1100 worth of travel.  Or, one Signup bonus, and $750 worth of travel (to SAN). Or, one sign up bonus, $0 worth of travel, and a frustrating experience along the way.
All of this is great, but I haven't answered the question: "Why are freqent flyer miles so hard to use?"
The above example is to show you that Miles aren't a replacement for cash–cash can buy you just about any seat on just about any flight anywhere on Earth.  Miles are not cash, and miles do not have a set value like cash does.  Miles are hard to use because of a limited number of award seats.  To make miles easier to use you need to either stick to the same destination and change dates of travel, or keep the same dates and change the destination.
Notes: If you had more Avios, or mileage in other programs you'd have added flexibilty and could maybe make that Chirstmas/New Year's trip work.  But for today's example we're assuming you have no miles other than the 50k Avios.
Award availability is constantly changing, and it is possible for seats to open up around the holidays, but you'll need to be a hawk, watching for them whenever possible. If any of this is too confusing, you might want to consider an award booking service, like www.awardseat.com.  They can do all the heavy lifting, and allow you to sit back and enjoy the beach.
Stick with Milenomics, and follow me on twitter @milenomics.  As you continue to read you'll understand better the ways  to get where you want, with as little out of pocket as possible.
 Happy travels.
---
Everything below this line is Automatically inserted into this post and not necessarily endorsed by Milenomics: