How the Hybrid System Works Part 2: Leveraging BA and WN with DL to Save Money & Miles
Yesterday I spent time talking about our choice of Domestic travel partners in Milenomics.  I've gone over them a few times now, but the basics are that BA, DL, and WN are the go to programs for Domestic Travel with Milenomics.  The reasons are many;
1. Easy, cheap miles that aren't that great for international travel.
2. Flexible booking, with flights on AA, AS, DL and WN available to us.
3. No Close-in ticketing fees–$75 savings for those last minute trips.
4. Flexibility to change if our plans change (WN)
5. Ability to overlap flights and save miles. (The Hybrid System)
Today I'll expand more on that last point.  You've heard of the "free one-way" flight.  It is usually a flight tacked onto the start, or end of an award trip.  You use your stopover in your home airport, and then fly the rest of the trip days/weeks/moths later.
Almost all major programs have some form of this in their international award tickets.  Fortunately for us DL has it on their domestic awards as well.  This allows us to unlock the power of the Hybrid System to create flexible trips that use two different types of miles and create 2 trips for the cost of 1.5.
More Examples and How to Search for These Flights
This trip, MEM-TPA-MEM-SEA-MEM, can be booked with 6,700 WN RR points and 25,000 DL miles per person. Total of 31,700 and $20 or so in fees.  The tickets MEM-TPA-MEM and MEM-SEA-MEM would be somwhere around $500-$600 in total depending on dates.
MEM is longer a  DL hub, and this trick still works. It is unknown how long it will continue to be that way, but while it is, enjoy. As long as you're ticketed you'll be fine. You can also see in the above that a little bit of backtracking happens, flying SEA-ATL-MEM.  This is legal, and in the rules (more on that later).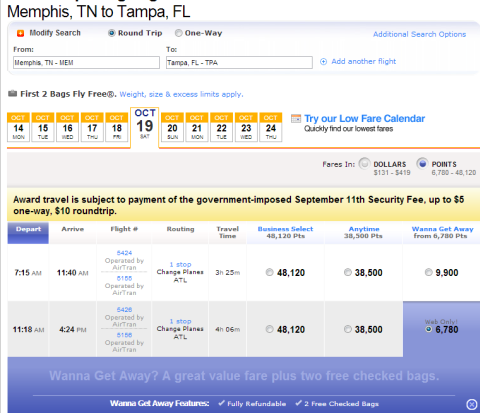 Remember the WN RR points would be cut in half with a Compaion pass. The DL confirmation page confirms, 25,000 and 12.50 per person: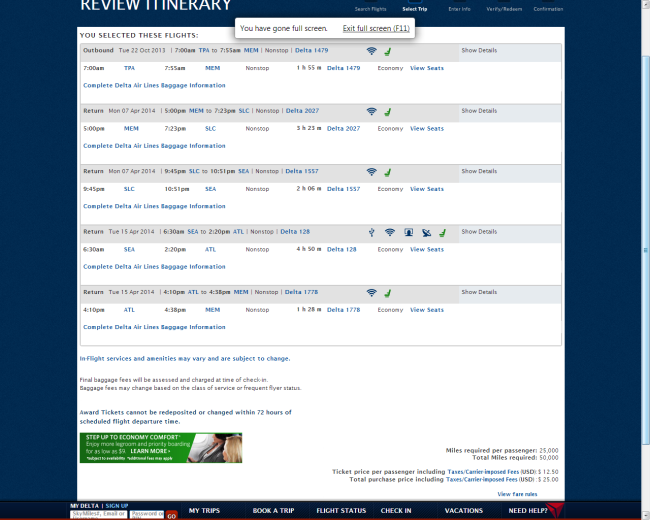 How to find these types of flights:
We went over how to do this in learning about the Low Level Hedge. The tools are the same we use for finding low level awards on DL and AA.
Our trusty www.alaskaair.com has all the information we need.  I'll step through the MSP-LGA-MSP-LAX-MSP example to show you exactly how I did this. It is a lot of photos so I've done a quick video of it instead:
http://www.youtube.com/watch?v=A7Z-qmVdeF0
The key is finding DL availability first, as WN has no blackout dates.  I did this example in reverse, looking up Southwest flights first, but I did get lucky and guessed close to a DL availability date. Our trip is Oct 11-14th in NYC, and then back home to MSP, and then Feb 18-26 in LAX.  10,680 WN RR points and 25,000 DL Skymiles, total of 35,680 miles/points for the two trips.
I use two windows for www.alaskaair.com, so I can keep flight numbers up and refer back to them when I go on delta.com to book.  Remember to use Multi-City search on DL.com.
What are the rules for Delta Free one way domestic tickets?
Rules (Yes, there are some)
The technical rule is that the route has to be legal, which means you really need to be in a major DL city to stop there. The way I look this up is on Expert Flyer.  In the above TPA-MEM-SEA-MEM example I put TPA-SEA and DL and EF gives back this string:
TPA-MEM-SLC/SEA/PDX/MSP/LAX/DTT/CVG/ATL-SEA
Which tells me that you can fly TPA-MEM-SLC(or PDX, or MSP, or LAX, or DTT or CVG or ATL)-SEA and back on a legal routing. This is why the backtracking was allowed, as SEA-ATL-MEM is a valid route in DL's eyes.
Because Expert Flyer is not a free service to use, I don't recommend Milenomics users pay for it just to look up Delta routes. Instead, a Milenomics cheat sheet on when you'll be able to use this system is as follows:
– Stopover needs to be in DL hub, or city with valid through service on DL. LAX is an example of a non DL Hub that still allows this to work.
– 3 segment maximum in one direction on domestic awards.  4 segments breaks the award into two flights (4 segment max is for international DL awards)
– Fly Nonstop to your stopover city. (gives more flexiblity for connections later)
– Can connect onto your final destination, but only <4 hrs.
– Can backtrack a bit, as long as the route is legal.
– You'll need a city that is serviced by either AA, AS or WN, and if it is an AA/AS city you'll likely want it to be a nonstop flight due to Avios pricing each leg as a separate flight.
These are not a replacement for the real fare rules, as listed above.  I'm sure you could find examples which break my rules, but work via DL fare rules. For the most part you'll start to get to the point where you can look at a route and know it will work.  In fact the routes I've been doing today are all made up from just studying DL and WN/AA route maps.
Retrain your brain:
I mentioned this in my earlier post, but as #Milenomics we need to rethink things.  An example of doing this is to use the Hybrid System, along with the Delta Low Level Hedge to book medium level one way, and still save miles.
DL Likes to price their nonstop flights higher than low level connections.  With this system you can take some of that gouging out by saving miles on another trip.  This  opens up new routes that aren't available at low level.
The DL hedge allows you to "earn back" some of the miles used on a medium/low level DL booking.  For a booking at Medium/Low DL charges 32,500.  You'd be using the stopover and booking with Avios/Rapid Reward points to put together 2 trips for 32,500 + 7500 or so, 40,000 points/miles for two trips.
Example:
SEA-LAX 7500 Avios
SEA-LAX- DL miles and a stopover
LAX-MCO Medium level, 20,000 DL miles. Opens up more dates and flights that might not be available otherwise.
MCO-LAX low Level return, 12,500.
Total 40,000 miles and $20. Pick more dates, be flexible, and still save money and miles.
A further twist is that you can put together two of these Delta routings, and cut out the Avios or WN RR points entirely. You could book:
LAX-ATL Destination
ATL-LAX Stop
LAX-SEA Destination.
Then tag another booking:
SEA-LAX stop
LAX-MCO Destination
MCO-LAX
Three trips, 2×25,000 DL bookings.  This won't always work, because you need the second trip to be legal from the final destination of the first, but if you have a good demand schedule laid out, or take lots of the same trips which work with DL's stopover rules you could cut even more miles out of the equation.
If you have questions drop me a line: samsimontravel@gmail.com or follow me on Twitter: @Milenomics.
[rule]