Sam here: Today's post is guest written by the pointster, who writes the Canadian Blog www.creditwalk.ca.  (Formerly thepointster.ca).  Creditwalk.ca is a resource for Canadian credit cards and travel perks.  The pointster has graciously offered to outline a solid booking technique here on Milenomics for both American and Canadian Readers, a little something I like to call the Double Down.
—

This is the first article in a 2 part series on combining multiple trips into a single ANA Award ticket.
The first part will focus on the basics of the concept.
The second part will focus on how to fully exploit this and whether it makes sense for you
The Skinny
This 2 part series outlines how to exploit the distance based ANA Award Flights to combine many short trips into a single award redemption, by taking the stopovers 'at home'. Because ANA award pricing is based on total miles flown for a trip, the flight routings will always matter.
Key Rules of ANA Award Flights:
Awards must start and end in the same country
Up to 4 stopovers on any award
Only one stopover in any given city
Travelers living in cities that have alternate airports close to them (not in the same city) can thus combine multiple trips into a single award ticket.
Washington provides the ideal example, where one could take 1 stopover in "Washington" (IAD or DCA airports interchangeably) and 1 stopover in "Baltimore" (BWI Airport), since all of these airports serve the Washington area well, even though BWI is considered a different city
An example reward ticket could be:
DCA-EWR // EWR-BWI // BWI-ORD // ORD-DCA
For 20K ANA miles and very few taxes / fees.
This can work in many markets in the US, but much tougher to do if your home airport is in Canada due to the distance between airport cities in Canada. Canadians should use alternate US airports (BUF / YYZ or SEA / YVR).
The best cities to exploit this from are:
Washington DC
San Francisco
Philadelphia
Miami
Los Angeles
Chicago
Boston
Toronto
Vancouver
ANA miles can be achieved as follows:
Amex Membership Rewards USA (1K MR = 1K ANA)
Starwood Preferred Guest (1k SPG = 1K ANA or 20K SPG = 25K ANA)
Note that ANA miles cannot be achieved by transferring Canadian Amex Membership Rewards.
Introduction
The current ANA award chart is distance based, and has some great rules that will allow us to combine multiple trips into a single itinerary. For people who live in cities where there are multiple nearby airports (not co-terminal airports), it is possible to get two or two and a half round trips for the price of one.
We will exploit these rules for combining many short trips into a single itinerary by taking the stopovers at airports near our home.
ANA is a Star Alliance partner, so this deal would work for redeeming points for flights operated by United, Air Canada and for the first quarter of 2014, US Airways.
Key Characteristics to exploit this deal
The ideal candidate to exploit this deal would have the following:
Access to two distinct (not co-terminal according to ANA) airports

Co-terminal airports are those that serve the same city. For example, EWR, LGA and JFK are co-terminal since they all serve "New York"
Airports that are not co-terminal are those that serve different cities, even if they are close by to each other, such as Washington and Baltimore airports

The ability to plan and book two future trips as a single itinerary
Ideally, some short trips since the rewards are distance based
Access to enough Star Alliance flights (Air Canada, United or US Airways)
The best cities to exploit this from are:
Washington DC
San Francisco
Philadelphia
Miami
Los Angeles
Chicago
Boston
Simple Example: DCA-ORD and EWR
The best way to explain this concept is through an example. Let`s say you live in the city of Washington, where you have three nearby airports to choose from when flying:
Washington Dulles (IAD)
Ronald Reagan Washington (DCA)
Baltimore-Washington Thurgood Marshall (BWI)
According to the Star Alliance, and ANA`s rules, IAD and DCA are co-terminal and represent the city of "Washington", while BWI is a separate airport and represents the city of "Baltimore".
Let's say that you know that you have to go to New York in February and then to Chicago in April (Milenomics readers can pick these off a "Demand Schedule"). That means that you will need the following 4 flights: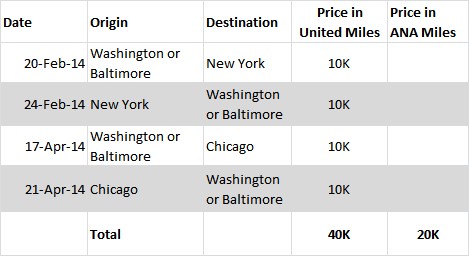 Using ANA miles, we can do the entire itinerary for only 20K miles, provided we operate within their rules. Here is how: Normally, using miles, this would be considered 2 distinct roundtrips. Using United miles, this would price out at 10K United miles each leg (since they are short hauls) for a total of 40K miles.
Leg 1: Washington to New York
This flight would have to start in any one of the "Washington" airports (DCA or IAD) and fly into any one of the New York airports (LGA, JFK or EWR). We will be calling "Washington" our home.
Leg 2: New York to Baltimore
We would fly any one of New York's airports and make sure we are flying into "Baltimore" (BWI). We are going to convince ANA that "Baltimore" is just a stopover in our journey.
Leg 3: Baltimore to Chicago
ANA thinks we were visiting Baltimore for the past month. To continue our journey we are going to have to fly out of Baltimore.
Leg 4: Chicago to Washington
We can now go back to a Washington airport. According to ANA, once we come back to "Washington" our journey will end.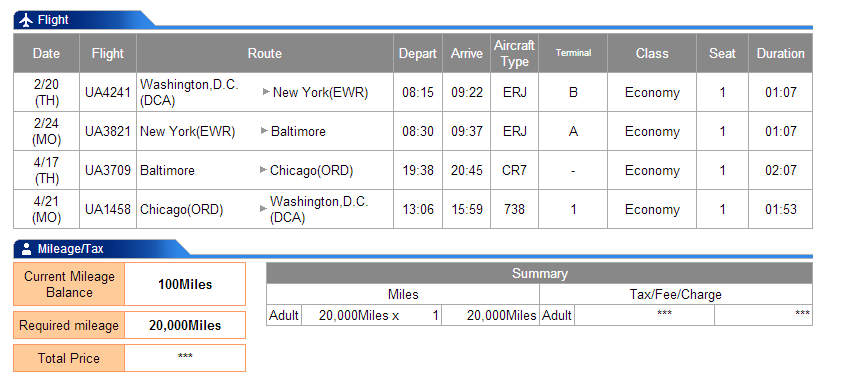 By routing this flight so that one of our stopovers is an airport that is easily accessible on the ground, we are essentially able to combine multiple trips into a single itinerary and significantly reduce the mileage costs for the total travel.
In this example, I have put "Washington" on the outside and put Baltimore on the "inside". We could easily flip it, depending on availability.
The ANA program
The ANA Award Chart
The ANA Award chart is distance based, so you are charged based on the actual miles you fly: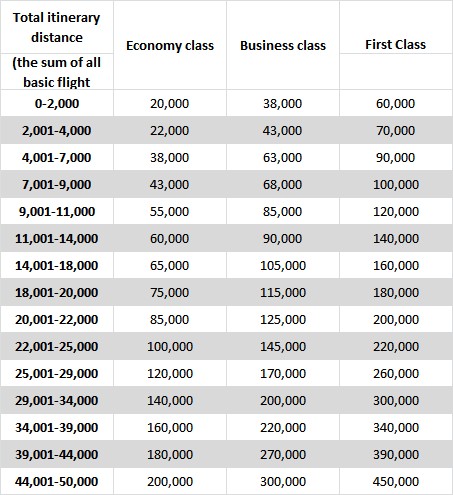 Source: ANA.co.jp
To maximize value, you will want to use the first four distance classes of the reward chart if you are staying within North America. If you are going to be doing two very long roundtrips (coast-to-coast) that push you into the fifth class of the distance chart, you are likely going to be better off buying two distinct roundtrip awards from United / Aeroplan etc,  which are priced based on the zone you fly in.
There are four key rules of the ANA program, which enable the ideal itinerary when combined.
Key Rules:
Up to four stopovers on any award
Only one stopover in any given city
Awards must start and end in the same country

For international itineraries, no stopovers in the country of origin
For purely domestic itineraries, all 5 stopovers will be in the same country
"No stopovers or ground transportation within the country of origin are permitted on international routes

Limit of 12 sectors for each itinerary
Travel is free talks about this here
Deal Potential
If you are based in the US, then you should use this only for flights within the US, while taking your stopover in your home city area.  There are many cities in the US where the airport locations cater to this.
If you are based in Canada, then a purely domestic itinerary is much tougher. Most of the airports in Canada are quite far from each other. You are going to have a tough time putting together a purely domestic Canada itinerary that actually makes sense to pursue.
Combining flights in Canada and the US is very achievable, but the cross border rule has to be respected. There are two ways to do this efficiently, depending on where you are based:
1. US Based Flyers
If you are based in the US, you can start your journey in Canada, take your 2 stopovers in your home area, and tack on a flight to Canada on the back end.
Example: San Francisco based flyer, currently visiting Vancouver
 Starting in Vancouver, get back to San Francisco
 Weekend trip to Los Angeles in February
 Return to Vancouver in April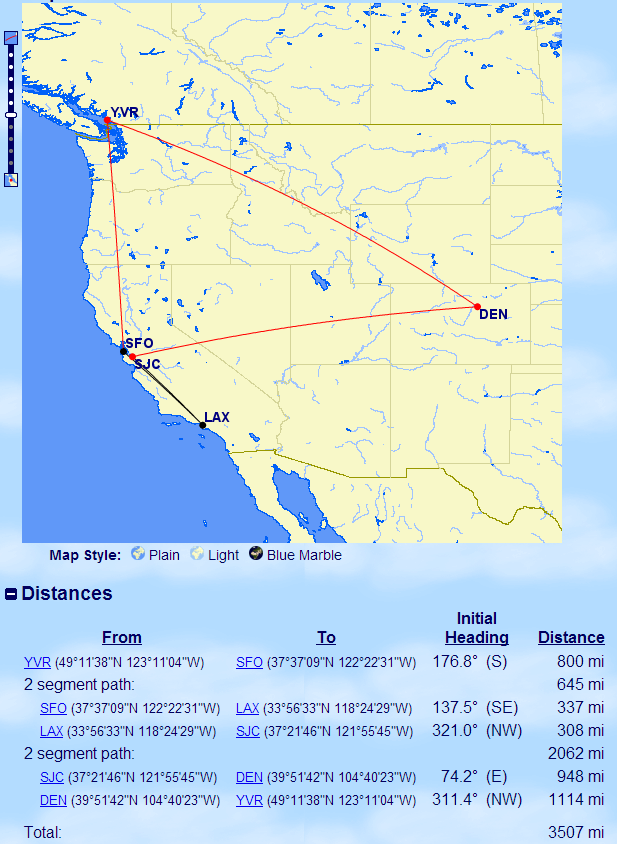 In this situation, a roundtrip flight from Vancouver to San Francisco would cost you 25K of pretty much every type of zone-based program miles. This way we have spent only 22K miles (from Membership Rewards) on 4 one-ways.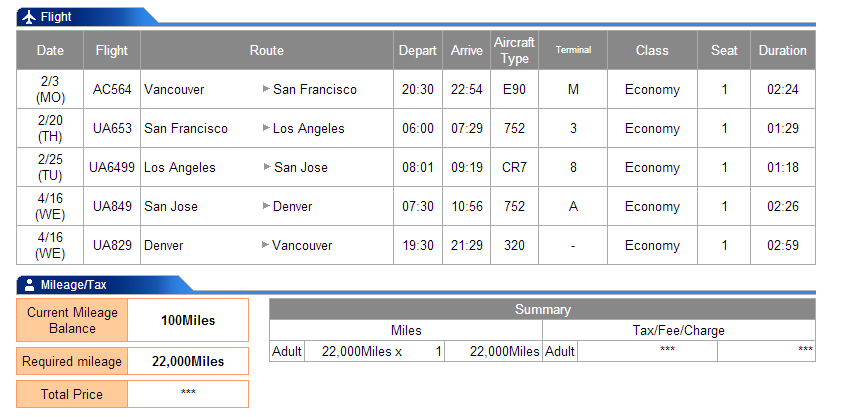 It is important that this journey MUST end in Canada (Vancouver) since it started in Canada.
2. Canada based flyers
Within Canada, there aren't any non co-terminal airports that are easily accessible by public transit on the ground. Therefore, Canadians can only really exploit this for trips to the US, using your "alternate US airport" as the secondary airport. If you are in Toronto, you are going to have to use Buffalo as your second airport and limit your journeys to US destinations.
I discuss how to use these alternate US airports in my Alternate Airport series here.
Example: Toronto based flyer, combining trips to the US
2 weeks to Miami area in February
1 week trip to Boston in June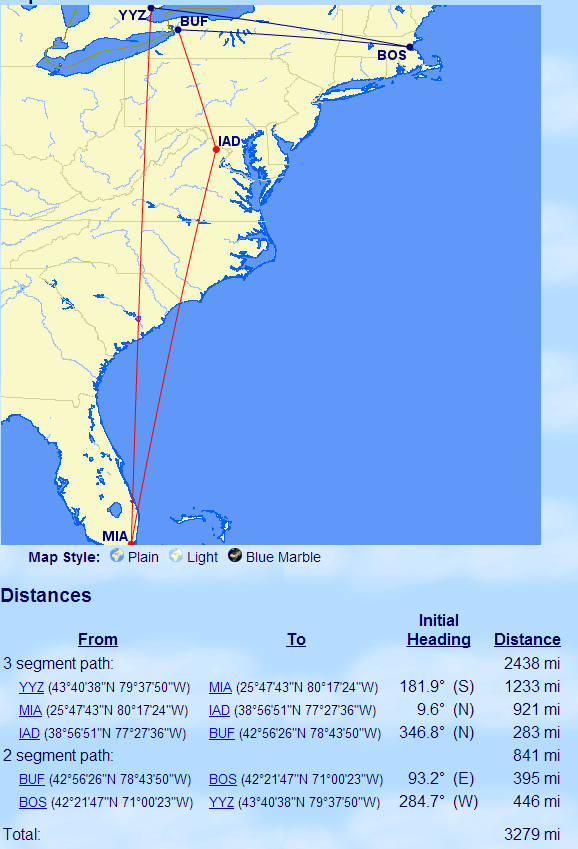 Using a regular reward ticket, a Toronto-Miami flight roundtrip would run you 25K Aeroplan miles (or 25K Membership Rewards). In our example, not only are we are getting a free roundtrip to Boston, but we're also saving 3K Membership Rewards.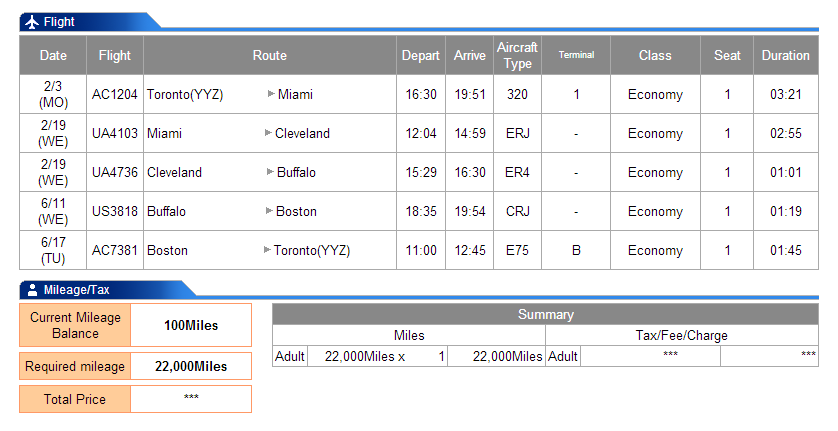 Recap
The distance-based nature of the ANA award chart, combined with the liberal stopover rules allow some people to combine multiple trips into a single itinerary for very cheap if some ideal conditions exist:
Access to multiple Star Alliance served airports that are not co-terminal
Multiple short trips and a planned demand schedule
The best cities  for exploiting the Double Down are Washington DC, San Francisco, Chicago, Philadelphia, Miami, Los Angeles, Boston, Toronto and Vancouver.
Getting ANA miles in North America is best achieved as a transfer partner of American Express Membership Rewards (USA). Canadians who want to take advantage of this deal can transfer miles from Starwood Preferred Guest to ANA.
Check back tomorrow, for the 2nd part in this series, where I'll focus on how to further exploit this deal and whether it makes sense for you.