The Capital One Venture card had a brief place in my wallet. In 2011 Capital One offered to "match your miles," a lame attempt at switching big spenders from their co-branded cards to Capital ones' 2% cash back card. Capital One calls its cards "miles earning" cards, but they're really just fixed cash back cards. I gladly took the $1,100 bonus Capital One offered me, and then happily downgraded the card to the no-fee VentureOne (1.25% CB) 10 months later after I got the 11 month itch.
The sole benefit of Capital One cards remains their travel portal. If you have a Capital One VentureOne (sidenote: how terrible is the naming of this card?) or any other card that gives you access to it the savings can sometimes be significant. You've probably heard more about the Ultimate Reward Travel booking; which "offers" to let you use very valuable UR points for 1.25 cents per. I have yet to find an example of when this is a good use of UR. You can use the site and pay cash instead of points, and if you find a good deal it might make sense to do so.
Capital One's travel booking engine is similar to UR and other sites like lmtclub that I discussed in the Milenomics Hotel post. It is not possible to use these sites for BRG's since you have to log in. Capital One and Chase UR Travel booking can sometimes offer you savings over other booking sites. One example of which is car rentals. It isn't always the cheapest, but it pays to check it when you have a need for a car. Car rental services are great for anyone who is interested in driving while overseas, rental cars are often preferred in countries like Iceland. Cars Iceland is one of many rental services available to tourists, while they visit. However if you are looking for cheap car rentals, look into this cheap Car Hire that offer a variety of cars and trucks available for rental.
Real World Example:
I'll be renting in Nov for Thanksgiving, and have found $45-$50 being the average right now on the main car rental booking sites. Using promo and corporate codes I'm able to get that lower. As part of my comparison I loaded up Chase UR and checked there, as sometimes it offers deals as well. For some reason UR mall is showing me higher priced options than main sites; UR is starting at around $60 per day with all the taxes and fees included.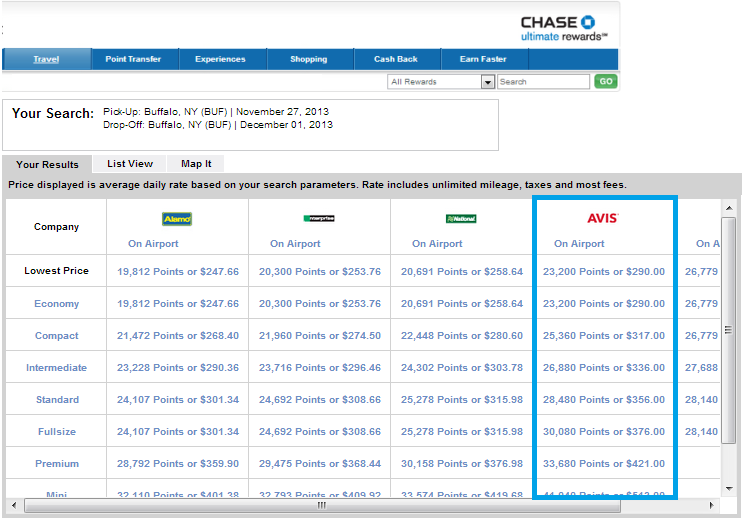 Loading Capital One's site shows an amazing rate: $24 a day, or $122.40 total for the same car that UR Mall wants $317.00 ($79 per day). I can't recall ever seeing such a large difference in pricing. But I thought I'd share it here as some of you might also have a Capital One card collecting sock dust.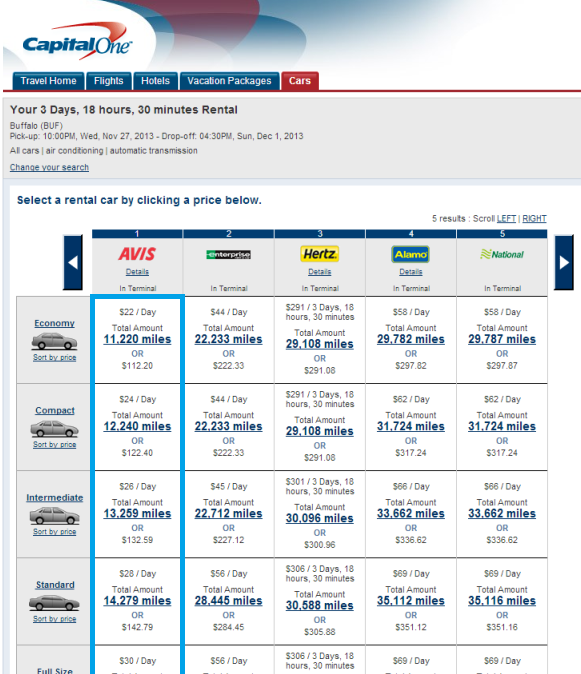 Like Chase UR Mall you can pay with points, or Cash. I'll be using my Chase MP Explorer card to pay for this one, as it includes primary rental car insurance.
I like saving $100+ and I'll add it to the amount of cash Capital One has given me over the years. I'll also keep an eye out for something lower priced…but $24 a day will be pretty hard to beat during the holiday week and picking up from the airport. If you know of any other good tips, feel free to leave a comment here.
Now back to our regularly scheduled programming.
[rule]