Today's the day of the First Milenomics Giveaway! Before I announce the giveaway, I want to take a moment to remind you of the basics of Milenomics:
Milenomics Blog Giveaway-
In celebration of the first week of Milenomics (has it only been a week?) I'm giving away a pair of American Airlines Admirals club passes.  The way to win these passes is to do one of the following:
Post a comment on this thread answering the question: "Where do you want to go with your Miles?" I'll use some of the more popular answers in a future post showing tips/tricks to get there and back with Miles.
You can also Follow me on Twitter: @Milenomics, and tweet your answer to the same question "Where do you want to go with your miles?" Use the hashtag #MilenomicsGiveaway to be entered.  Again you must be a follower of Milenomics and tweet using the #MilenomicsGiveaway.  I'll allow you one entrance per day on both this page and the Twitter entries.  All entries will be put together, and a random winner will be chosen.
If you post more than once per day, or tweet more than once per day I'll have to disqualify you for ballot stuffing.  The contest ends on Tuesday at Midnight, I'll announce the winner Wednesday Morning.  That means you can enter 6 times,  3 by posting here, and 3 by tweeting Today, Tomrorow, and Tuesday.
There's some fine print on the passes you'll want to review.  Most notably that you need to be flying on an AA Ticket the day you plan to use the pass.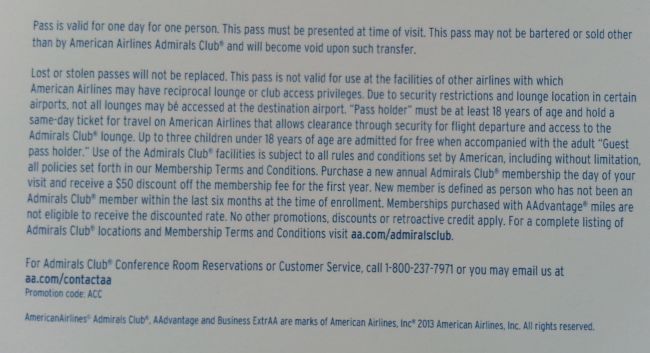 Two Admirals club passes can get you and a guest (plus 3 kids!) into any Admirals club that AA runs.  I like using the lounges for their shower facilities when I'm traveling on long international flights. But Domestic lounges are also usually great for plane spotting and a little more comfortable for a long layover.
Good luck, and remember to enter Today, Tomorrow and Tuesday.