Thank you to all who entered the contest.  There were so many great ideas where to go with your miles.  Hopefully through Milenomics we can all get to those places we dream of heading to.
The winner–chosen at random by random.org, was post #14: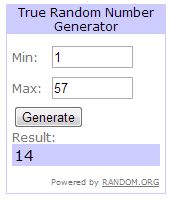 Eddy  |  September 8, 2013 at 10:11 pm
I'd love to use my miles to do a tour through Italy with my wife!
Eddy I'll be contacting you shortly for your shipping information.  Thank you to all who entered.
Now Back to our regularly scheduled postings. 🙂