You've likely come to this page after choosing AA and Oneworld for your award travel.  Welcome! I too enjoy traveling on AA awards using Oneworld carriers. I'll divide this post into two sections: Earning AA miles, and Redeeming AA miles.
Earning AA Miles:
The landscape for earning AA miles has three inputs: Flown miles, Credit Card Spending & Bonuses.
I personally rarely if ever pay for a flight outright, but I know a lot of you do. This is a good time to take a look at the flights you are taking, and whether Milenomics' Hybrid System can help you save money and miles.
My AA Miles mostly come from CC spending.  Myself and my wife hold 4 AA Cards between the two of us.  What that means is we're able to spread out our MMRs and keep from hitting any one card too hard. It also means 4 times the opportunities to hit up Citi for bonus miles.
Bonus Miles: We all know bonus miles come from CC applications.  Citi also has given them out for bank accounts.  Finally, call up asking if there are any promotions you're eligible for.  Say you'd love to use the card more, but your XYZ card earns more miles per dollar and you've been using that a lot.  Since you're not so into the Citi AA card you might even cancel it.  Citi has been aggressive with offers in the past, some as much as 2 miles per $1 spent. Doing this on our 4 cards could net us an additional 24,000 miles in a year.
Aside from bonus miles the best way to earn is through MMRs, like the current Safeway promotion.
Award Travel Tools and Tricks:
By Far the hardest part of using miles is finding flights that are available.  With AA Miles you're allowed to book any of the oneworld carriers, as well as AA's Partner Airlines.  The most useful partners are Alaska Airlines, Hawaiian Airlines, Fiji Airways, and Air Tahiti Nui. You can mix and match flights, so you could fly to Hawaii on Hawaiian airlines, and then to Tokyo on Japan Airlines. There is a restriction that there must be a published fare from A-B, more on that in the future.
Because of this patchwork of Alliance members and Partners searching for award travel with AA miles is never just as easy as visiting one website.
In today's example we'll be traveling from JFK to BKK and our ideal dates are Feb 4- Feb 23.  We're looking for two seats but our dates are flexible a bit.
Because AA doesn't fly to our final destination (BKK) we're not able to use their site for the complete search. Searching for International awards is always more complicated than just typing the origin and destination city into a search engine.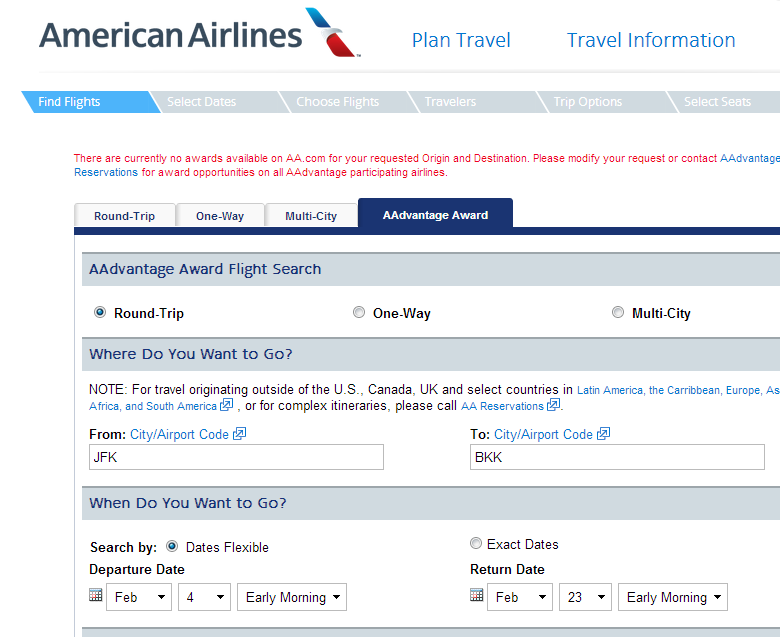 Without exception the hardest flights to find, especially when you're looking to fly business or first, is the longest, over-water flight.  This is especially true when leaving on flights that also crossover the United States.  Our above example has us looking for JFK-NRT or JFK-HKG.  The same flights from the west cost are easier to find, as you have options up and down the coast including LAX, SFO, SAN and SEA.  The opposite is also true; when traveling to Europe from the west coast, there are many more options on the East coast.
Because of this you should break down your trip as follows:
1) Longest, over water flight first.
2) Any connection from there directly to final destination
3) Positioning flight to flight #1 above.
To search for this award we should leave the AA site, and instead search on www.britishairways.com.  After a few searches on AA.com you'll likely just stop using it.  While it shows a lot of partners, it pales in comparison to BA.com for complex searches.  The negatives of using British Airways to search is that it is time consuming.  Often it will include terrible routing schemes, like the following: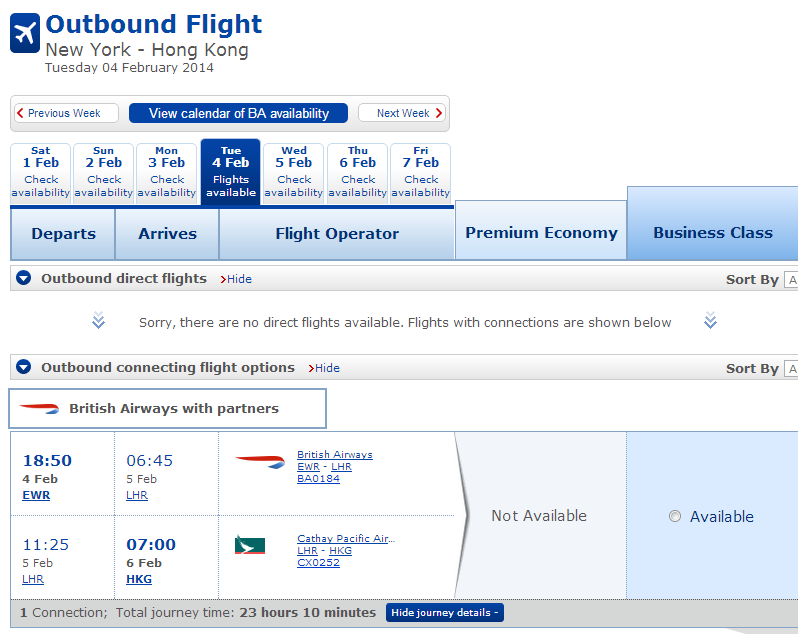 I've exhausted a search for JFK-HKG, without finding anything on our preferred date, Feb 4, and +/- 4 days either side. I'll stop searching for HKG flights, and move to NRT instead. To save time remember to use city codes instead of airport codes.  Instead of JFK-NRT do NYC-TYO as those will show all local airports in New York and Tokyo area.
Using our exact departure date BA.com was able to give us this option: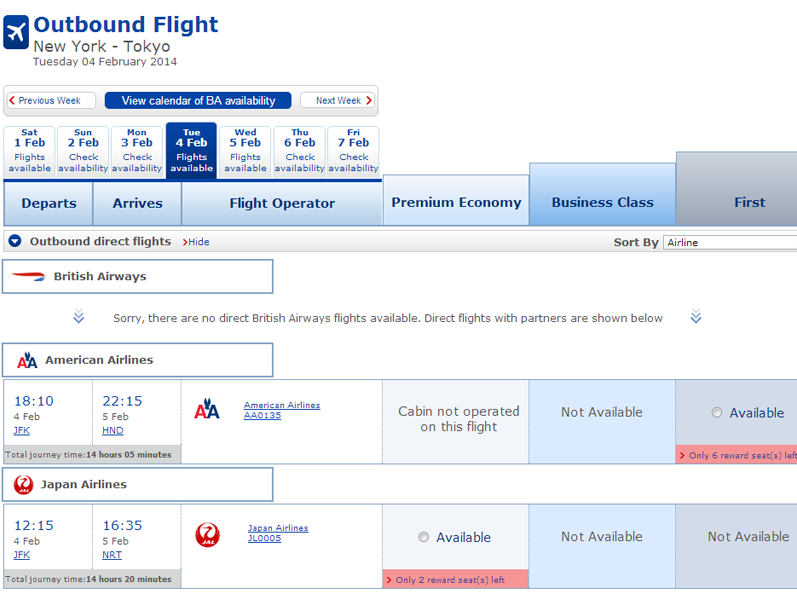 JFK to HND in AA First, or Feb 5th the same AA flight is available in Business.  For some they'd really want to change dates and be able to fly CX Business or First.  It really is up to you, how flexible you are with your dates.  We're going to assume we're not much more flexible than the +/- 4 days I already searched, so we'll continue on from here.
If you're ok with the flight option you'll write down AA135 18:10-22:15 +1, for Business it is AA 135 on 2/5 and for First AA135 on either 2/4 or 2/5.
The 24 Hour Shot clock
Most airlines count a stop of 24 hours or more as no longer being a connection.  In AA's case you're not allowed a stopover in Tokyo, so our next flight (hopefully to BKK) must leave within 24 hours of our first one's schedule arrival. Our flight arrives late–10:15 PM. Finding a connecting flight the same night is going to be difficult.  We can search on 2/6 and 2/7 as well, and adjust accordingly.
Searching TYO-BKK on 2/6 brings up a ton of availability. 2/7 has no flights.  What this means is we have to take the AA Flight on 2/4 (in First) because we're not going to be able to connect within 24 hours if we take the 2/5 flight unless we get crazy with the routing.
The good news is we can fly CX Business on these two flights. The bad news is there is an airport change (From HND to NRT) and you'll have an overnight in Tokyo.

The return flight is actually great:

We've got our preferred date, only one stop, and a super short connection. Total cost for this flight would be 67.5k + 55K on the return, for a total per person of 122.5K AA Miles. Additional costs would probably be below $200 per person.
Remember Milenomics says that you need to be flexible to use your miles: either in dates, class of service or destinaion.
The costs of being inflexible:
We've made it to BKK, and we left on our preferred date. We got pretty lucky I would say, but we're also going to be terribly inconvenienced by most of this trip.
First of all to get there we're looking at three flights, and an overnight in Japan.  We'll waste 12,500 extra miles because the first flight is in First class, but the second and third are sold out and only in Business. We'll spend 10 hours in Japan, which at my T-Rate would be $250 extra.  We'll also have to spend a night somewhere and transit from HND to NRT in the morning during morning traffic.
These are just some of the costs of being inflexible in dates.  Did we make the trip work? Sure.  Are we flying Business or better? Yes. Will we be exhausted when we get there, and have spent time, money and effort in doing so? You bet we did.
For me I'd move dates around.  Or if dates aren't flexible, change class of service and fly coach. In fact on our preferred date the following has seats: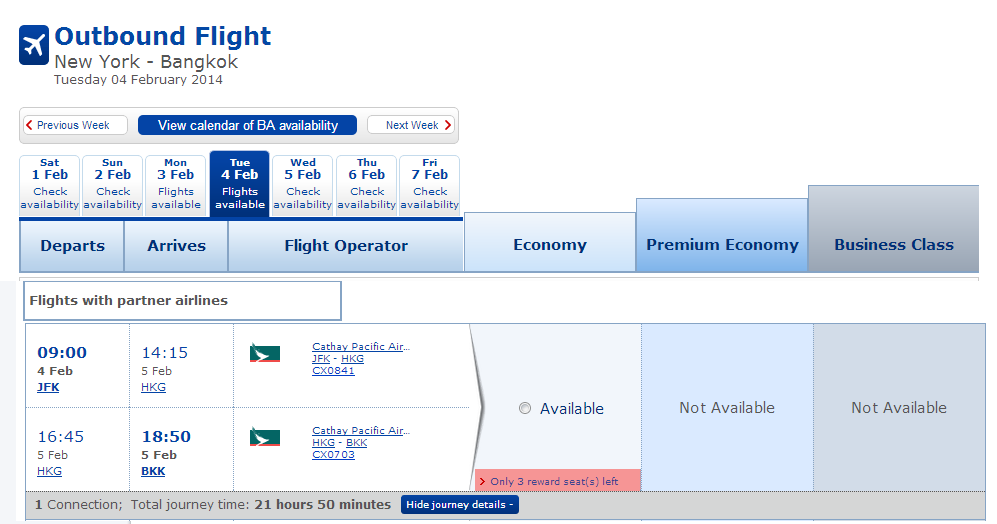 I like this flight for two reasons: First it is much easier for me to fly coach to my destination.  I'm excited to get there.  I'll keep the business class return flight so I get home rested. Secondly, it is on a carrier with a good coach product. And lastly, the only layover is a short 2 hours in NRT. Yes 21 hours in Coach is rough.  But people do it every day.  If you really can't change your dates of travel this is likely your best bet.
If you're not going to fly coach, and hate the idea of an overnight followed by 2 more flights you'll need to rethink the trip with miles. This is why early in our talk about international flights we talked about picking a destination or picking a program. If you have your heart set on BKK, then you'll likely want to change dates.  Or if you have miles in another program try searching with that program.  One of my favorites things to do is book United in one direction and AA on the way home.  The reason being AA has free stopovers in our North American gateway city. We've already found a flight direct to JFK, in Business with good connections.  We could continue the trip from JFK a few months later and go to Miami, and enjoy a weekend there.
For the most part searching on www.britishairways.com is the best way to find flights. Once you do find them call AA and put together the award.
Waiting it out: Hoping Seats Open Up
Seats do tend to open up, and if you're set on your dates and not seeing something right now you could set a seat alert at the Wandering Aramean's travel tools site: www.wandr.me.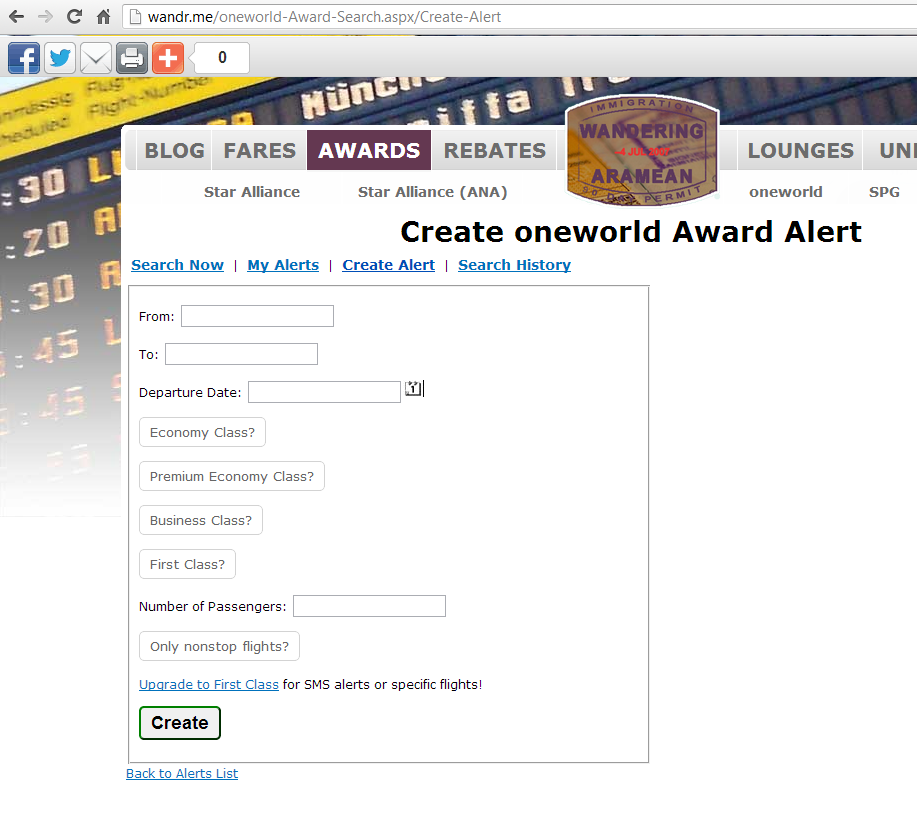 This is the same site we discussed using for award alerts for domestic trips using BA miles.  Now we're using it to find seats on international carriers using AA Miles.  The site emails you an alert letting you know seats opened up.  Just today I received an email that seats I had been waiting over a month for opened up, and it gave me a chance to book two seats with my miles before someone else snagged them.
Holds:
AA has a great holds policy. When you're on the phone ask for a hold and the agent will create a Record locator number and give you a date that the hold will expire.
Note: Do not automatically assume holds will be extended.  You may find yourself without any flights. Plan everything around the standard hold period, knowing that going beyond that timeframe might mean your seats are given up.
Holds can be great strategy for when you're transferring miles, buying miles, or waiting for miles to post.  They also allow you to see if any other options exist while holding seats as a "backup plan."
Don't forget your Free One Ways with AA:
As I mentioned above it really is important to get your return flight to stop in your home airport first with AA. If you can do that you can stop there, and continue on somewhere else, sometimes to Hawaii for free. [rule]
This concludes our Choose Your Own Adventure Style Post, just trying something fun as I get more used to blogging.  Thanks for sticking with me, and following me on Twitter: @Milenomics