This is a companion piece to the earlier piece on Using US Airways Miles on AA.  You may want to start there for basics on the merger and what is new as of today.
Day 1- You Have to Start Somewhere
Today's the first day that AA and US frequent flyer programs have had the ability to earn and use Miles on each other's flights.  We already discussed the tips and tricks for finding and booking AA flights with USDM, today we'll also discuss the opposite–using AA miles on US Airways Flights.
Some of this will overlap with the other post, but I'll do my best to keep that to a minimum.  I've mostly split them to keep the comments on each separate. That should help keep answers focused on each program and a little less confusing to those who have limited exposure to the other program.
(Almost)Nothing's changed on AA.com
Contrary to the small changes on USAirways.com, AA's site is identical to what it looked like yesterday.  This is likely because AA.com has always had the ability to search for (some) partner airline awards, while USDM's program only allowed only US searches until today.
In fact the only change I could detect was on this page: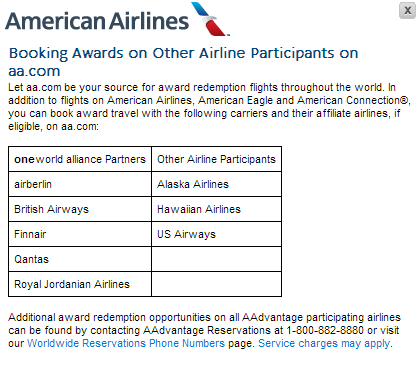 Where US Airways is now listed as a "Other Airline Participants" along with Alaska and Hawaii.  I'm surprised AA has relegated US into the "other" category–Are you not proud of US Airways? Do you not want the world to see that you're equals?  At least mention that you're hitched and are moving in together.  If I was US Airways I'd be a little upset about being last on the list like this 😉
Same Flights–Different Prices
I'll be using an identical search to my earlier US Airwas post so we can look at apples-apples comparisons.  The search for a flight from BUF to SFO on May 7th returns page after page of results, including the exact flight we booked with US Airways miles: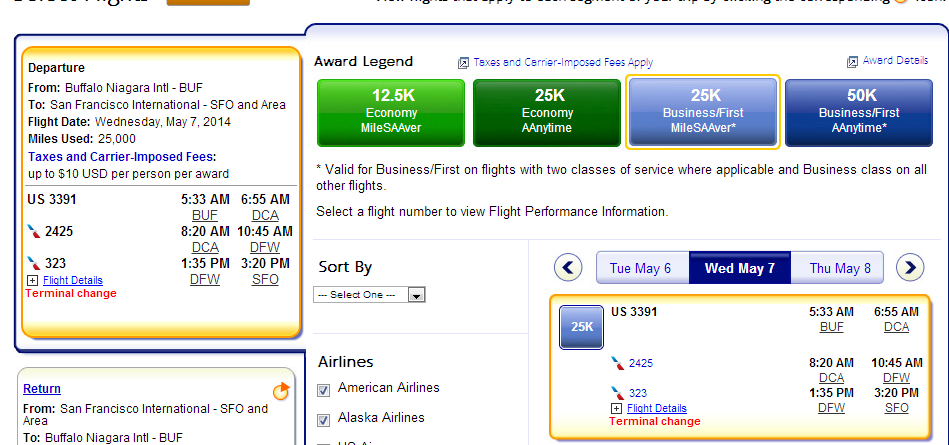 This prices at the same 25k each way, 50K round trip.  However unlike US pricing AA allows one way awards.  So you're able to book this BUF-SFO one way and pay just 25,000 AA Miles.  You also aren't hit with any "award processing fees" or that type of US Airways nonsense.
When are AA Miles right for these trips instead of US miles? That's really a topic for another post–but also something your personal Mileage Conservation plan should address.
WYSIWYG
With AA.com and US flights, What You See Is What You Get–No star alliance flights are bookable with AA miles and they never will be. Neither will United flights ever be bookable with AA miles, so the example we used earlier today of an AA/UA flight has to happen with US miles, and has to happen before March 30, 2014.
What you do get are all low level US awards, all AA awards, and all partner/alliance flights that were bookable on aa.com prior to this.  AA.com is still a much easier to use booking site–but that shouldn't mean you use it by default.  There will be times when a booking on AA.com will cost you more, such as a low level, all US Airways metal award if you hold the USDM CC.
Using AA.com for US Airways Searches
Doing searches on AA.com for US Airways flights is a nice way to cut through all the mid/high level US Airways flights that are shown on USairways.com.  I'm going to prefer using AA.com for US Airways low level searches from now on.  Perform such a search by inputting your preferred dates, and then on the flight selection screen un-checking all other airlines: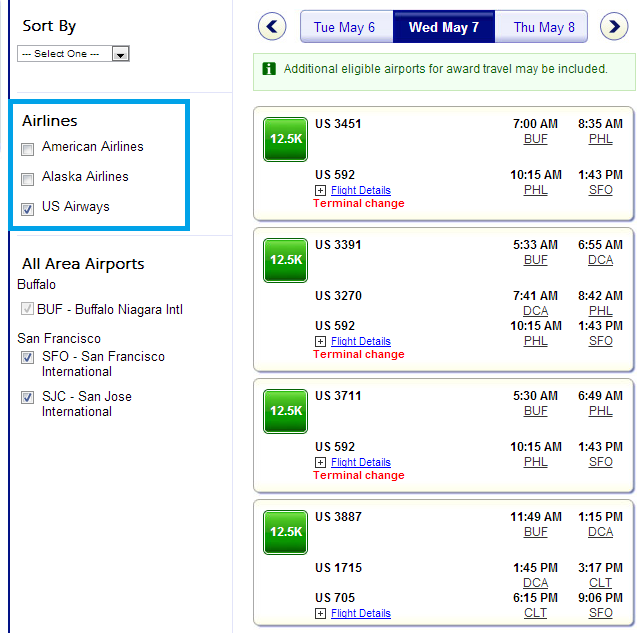 Don't forget your 10% AA Credit Card Rebate
If you're a holder of certain AA credit cards you can be refunded 10% of your spent AA miles per year, up to 10,000 miles per account. Robert at Awardbookingservice.com had a good write up about this just before the new year.
This refund would include the above US Airways flights–so that is something to consider.  In a mixed US/AA type award you'd save by booking with AA miles instead of US Miles. You'd wouldn't be eligible for your 5k US Airways CC award discount because of the AA metal.  Instead the 10% savings for holding an AA card would make the cost cheaper to book with AA miles.  Again we'll get into this in a future post on exploiting loopholes, but I wanted to include it today just as a brief overview
The Future is Now (With AA Miles)
Not a whole lot is going to change after today for bookings with AA miles.  Plenty of people are looking forward to booking US Airways flights with Avios–booking CX with US Airways Miles, and more options. Those types of bookings won't happen until USAirways is in oneworld. But for AA bookings, things won't change much more after today.
You're looking at the future of AA, love it or hate it–now is the time to take advantage of it where you can.
Update on Gateway Cities and off-peak awards: reader ff_lover asked about this one in the US airways post, so I'm posting a full answer here for completeness.  N.A. Gateway cities can include US Airways flights, allowing free one ways with US Airways.  I'll put some more of this together in another post, but for now here's a sample flight: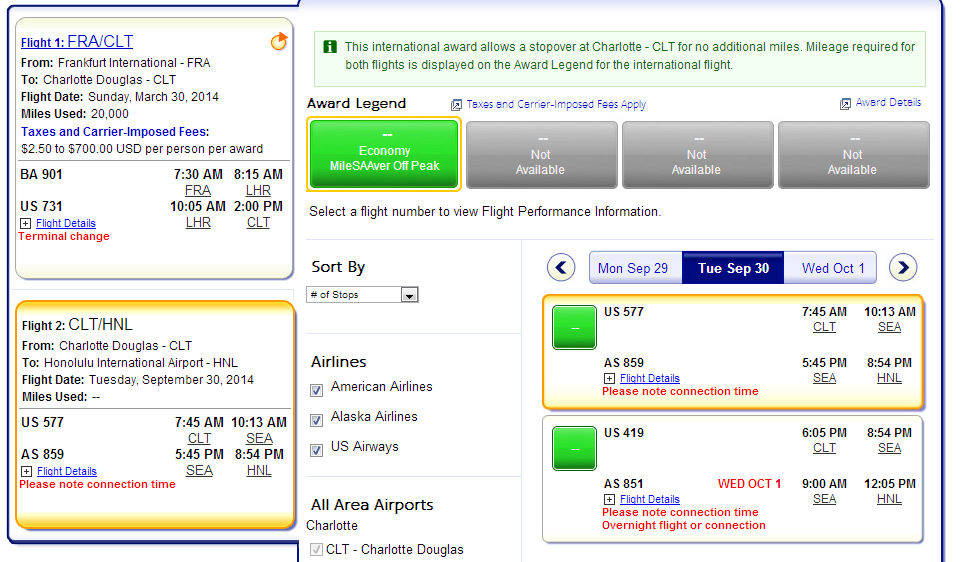 In the above LHR-FRA-CLT allows CLT as the N.A. Gateway, and a free stop, with a continuation to Hawaii.
And, as you can see above the award to Europe counted for Off-peak 20k pricing.  In fact Europe, South America, Hawaii, and Japan/Korea are all bookable with AA miles at off-peak pricing, even on US Airways flights. Unfortunately Central America, the Carribean and Mexico are not able to be booked with AA miles on US Metal for off peak pricing: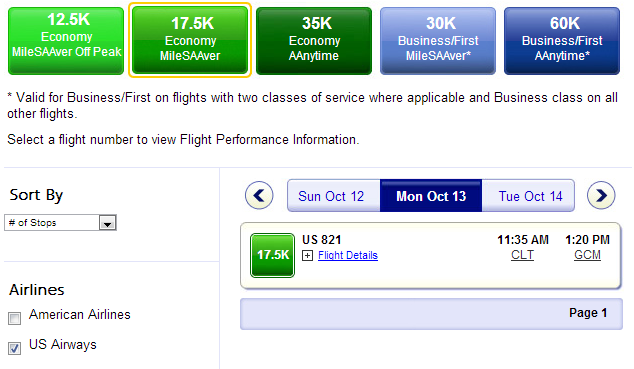 Update #2 on Holds: F2B's very own The Mr Pickles confirmed on Twitter that holds with AA miles on US Flights are limited to 24 hours:
Using @Americanair miles for @USAirways flights you can not place on a 5 day hold. Got a call from AA that it will only be 24 hour hold

— Joshua Pickles (@TheMrPickles) January 7, 2014
---
Everything below this line is automatically inserted into this post and is not necessarily endorsed by Milenomics:
– Written by Sam Simon. All ideas are my own, but I encourage you to see my point of view and I promise I'll try to do the same. Connect with me on Twitter @Milenomics.