We've all been there.  You want to go somewhere with all those miles you've earned. You head to the main site of the airline you have all your miles in and try to search for your origin and destination.  What comes back are some of the worst flight options known to mankind.
Today I'll discuss techniques for finding low level domestic awards.  If you read yesterday's post, "The Principle of Mileage Conservation." You'll recall that we should set up domestic mileage programs which serve our home city, and are easy and cheap to use.  Doing so preserves our more valuable international miles for complex international trips.
To show us how best to search, we'll be using the three programs from yesterday, British Airways Avios, Southwest Rapid Reward Points, and Delta Skymiles.  The city you live in is by far the #1 factor in which programs you'll want to use for domestic award tickets.  If you're in a hub of AA or AS then British Airways Avios are of great use to you, if you aren't you might want to look at Southwest (WN) and Delta (DL).  If none of these three are in your area, message me on twitter, I'd love to look further into your town and do a post on what the best strategy might be for you.
I've chosen completly at random two cities in the United States. I used the random city picker located at http://fis.name/misc/gen/addr.php and threw out any international locations until I had 2 US cities.  You'll more than likely use your home airport, and an airport on your demand schedule that you often need to fly to. I chose the random cities to make make things more difficult and hopefully more realistic than just the standard LAX-MIA, JFK-SEA type searches. The two cities are  Ankeny, IA which is a suburb of Des Moines, and Augusta, MI, whose closest airport is Kalamazoo, MI.
We'll be leaving December 16, need to be back in Ankeny December 19 and we need two seats. our dates are flexible but our cities are not–we really have important business in Augusta, MI!  If you remember back to the post on "Why are frequent Flyer miles so hard to use," flexible dates are a good way to ensure award ticket success.
Starting out I've pulled the route map between the two cities, using Airline route mapper: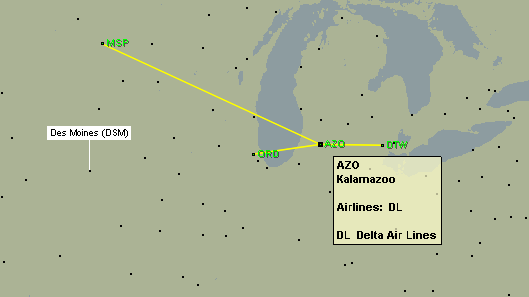 Connections look like either DTW, ORD or MSP.  Airlines are AA or DL, which is good.  Southwest does not service AZO. If you remember yesterday's post I mentioned that collecting British Airways Avios and DL miles (along with Southwest) can be a good domestic strategy.  In today's example we have two of those options, DL and AA(booked with BA avios).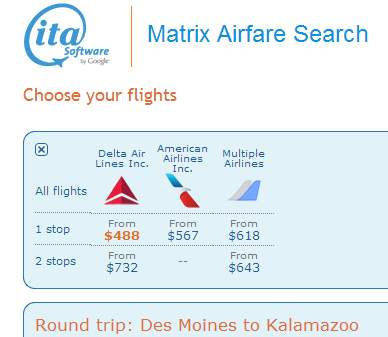 Cheating: I sometimes plug the city pairs into the ITA matrix and let it do the hard work.  If you're not using the ITA Matrix to search for paid flights, you should check it out http://matrix.itasoftware.com. The Matrix agrees with me, Delta and AA both have 1 stop flights from DSM to AZO.
How best do we search for these flights?
The answer in both cases is the same: The Alaska Airlines website.  Alaska happens to be a partner airline of DL, AA and BA.  Alaskaair.com represents a trifecta, one search engine that allows you to see what is bookable with DL, AS, and AA/BA miles.  The best part is that since Alaska is showing partner availability all the flights that are shown there are bookable at the lowest level!
Putting in our desired dates and cities we see a message that there are no flights from DSM-AZO on these dates using miles.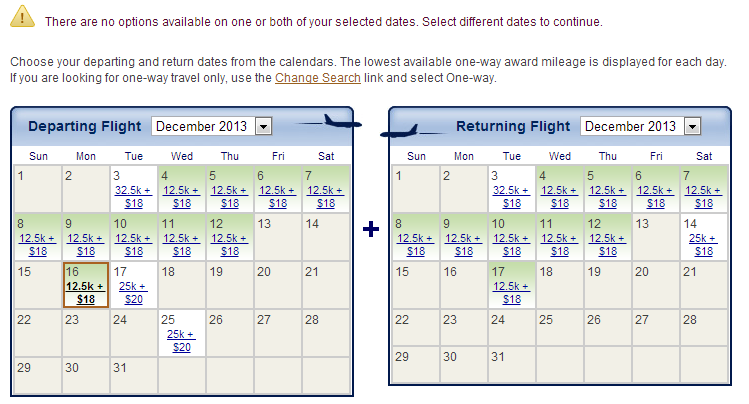 Alaska's search engine is robust enough to show us dates with other options.  Keep an eye out for 12.5k options, the minimum AS members would pay to book one of these flights.  We wanted to book a Monday-Thursday trip, and we're lucky, AS shows availability on Dec 9-12.
We can't instantly guarantee this is a bookable trip with either our BA or DL miles until we make sure that there is a flight in both directions with one carrier.  Because AS is a partner of both AA and DL an Alaska Mileage Plan member could book a trip using AS miles that is flown AA-DL.  Since we have either DL or BA miles to play with we need to insure that an AA-AA option or DL-DL option exists.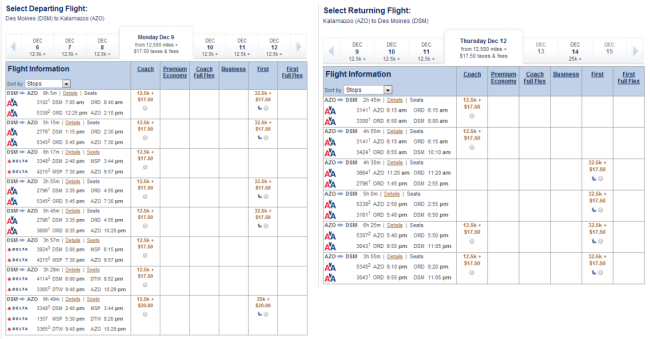 As you can see above there are both AA and DL flights to AZO, however only AA has a return flight on the 12th.  This means we cannot book the DL flight there.  As I said above Alaska mileage holders could mix/match and book AA-DL.
An important rule to remember is that just because you're flying on an airline, or using their search engine doesn't mean their rules for award tickets apply to us.  The rules of the program you have miles in are the ones you must follow.  Sometimes that is to your advantage, other times it is not.
An example of this being to our advantage is the above.  An AS member could book the any combination of the above flights, at a cost of 25,000 AS miles per person.  Now with ticket prices hovering over $500, that's still a good value.  We have an even better trick up our sleeve–British Airways Avios.
All we need to do is now enter our dates into the BA website, choose our AA flights, and price.  For two people we'd pay 36,000 Avios and $20. Compared to our cash price of $477 per person, a healthy 2.6 Cents per mile Avios redemption.
Applying this Strategy Elsewhere
This strategy can be used to search for low level awards for other programs.  If you're looking for US airways awards–use the United search engine.  Fortunately (or unfortunately sometimes) WN awards are based on the price of the ticket–and can only be booked directly from southwest.com.
The best way to search for Alaska low level awards is actually with the AA search engine: If you see them there you know they are bookable with BA, Delta, AA, or AS miles for low level.
Tomorrow we'll cover what to do if there is no low level availability between two cities, and free tricks to be alerted to available seats.   Remember Milenomics is about saving money, not spending it–so we'll always be trying to use free search services whenever possible.
Don't forget today is also the last day to enter the Milenomics Blog Giveaway.  Good luck to all who've entered.