Booking windows are just opening up for the Massachusetts school break in April 2020. And as usual, the opening salvo from carriers like Delta is a bit of a gut punch. But with a Delta partner award, I was able to find great award pricing on direct flights at perfect times.
Let's work through an example. On the first day of April break, Delta wants $728 per person one-way in Economy from Boston to Orlando: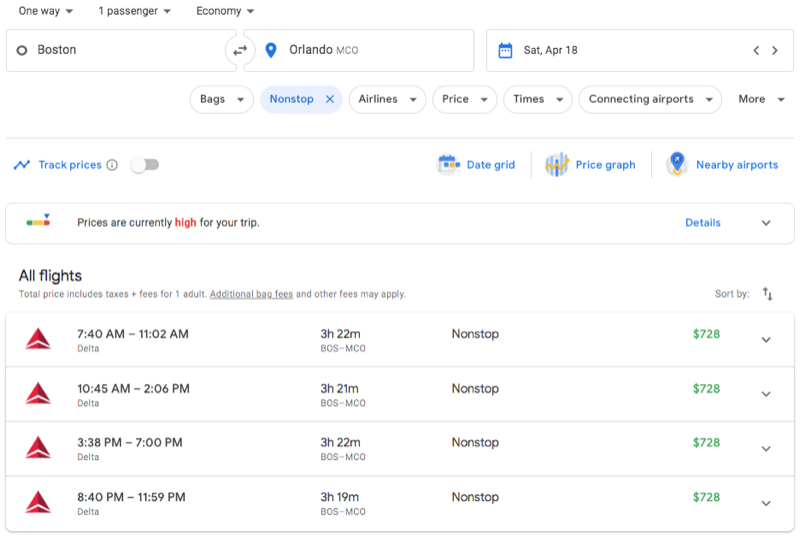 Fares like this tend to moderate closer in, but the anxiety associated with playing that lottery is not for the faint of heart. It feels like you should be rewarded for being able to predict your travel patterns 330 days out, but when prices are sky high like this it's more like the battle is just beginning.
Delta Variable Pricing
When Delta fares are so high I wonder if an award redemption will soften the blow. But thanks to Delta's variable pricing awards are priced quite high as well.
Delta wants 52,000 miles per person one-way in Economy for the $728 flight, a 1.4 cpp redemption.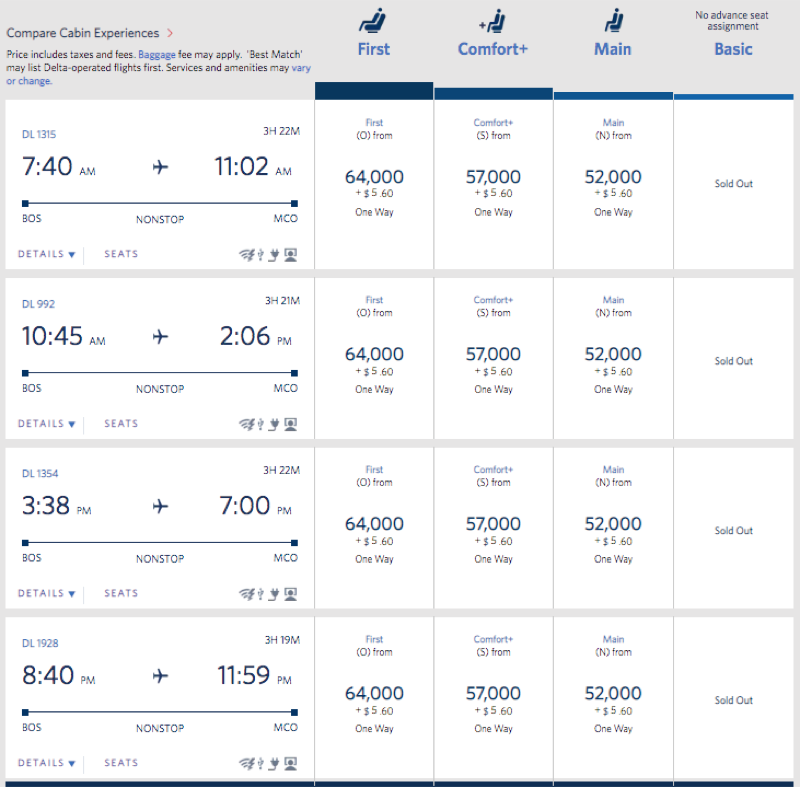 Compare Options with JuicyMiles
When I run into situations like this, I check in with JuicyMiles to see if I'm missing something. In this case, it surfaced up something that surprised me.
Although Delta wants 64,000 miles per person one-way, they've opened up the space as an award for partners like Virgin Atlantic.
And since Virgin Atlantic prices awards on a fixed chart, it's just 22,500 per person in First Class rather than the 64,000 miles Delta wants for the award.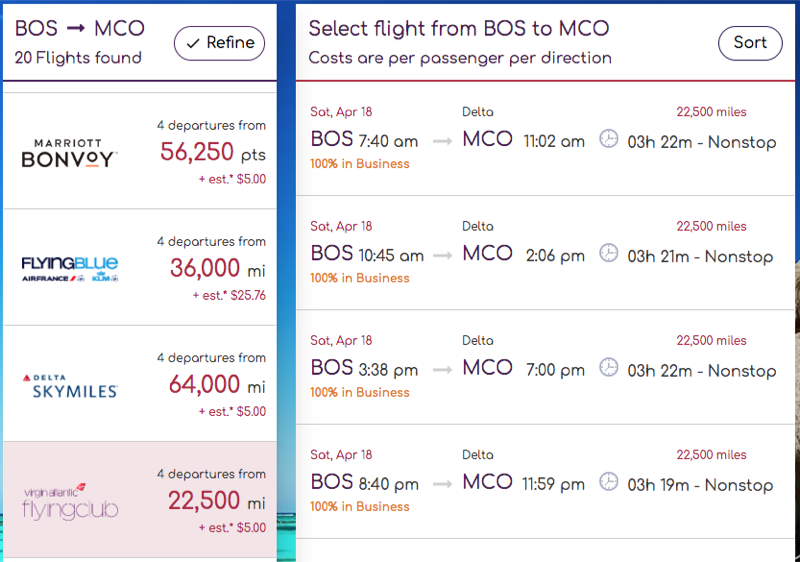 We discussed JuicyMiles on Episode 15 of our podcast.
Virgin Atlantic: Delta Partner Award
If I head over to Virgin Atlantic's site to price out the award, I indeed see the pricing JuicyMiles picked up on.
There's saver level space in First Class from Boston to Orlando for 4 for just 22,500 + $5.60 per person for every single direct flight on the first day of Massachusetts April break.
This is a tremendous redemption.
If we use the sky-high Economy price of $728 per person one-way in Economy, this is a 3.2 cent per mile redemption.
In reality, Delta wants $894 for First so it's a theoreticaly 3.9 cent per mile redemption.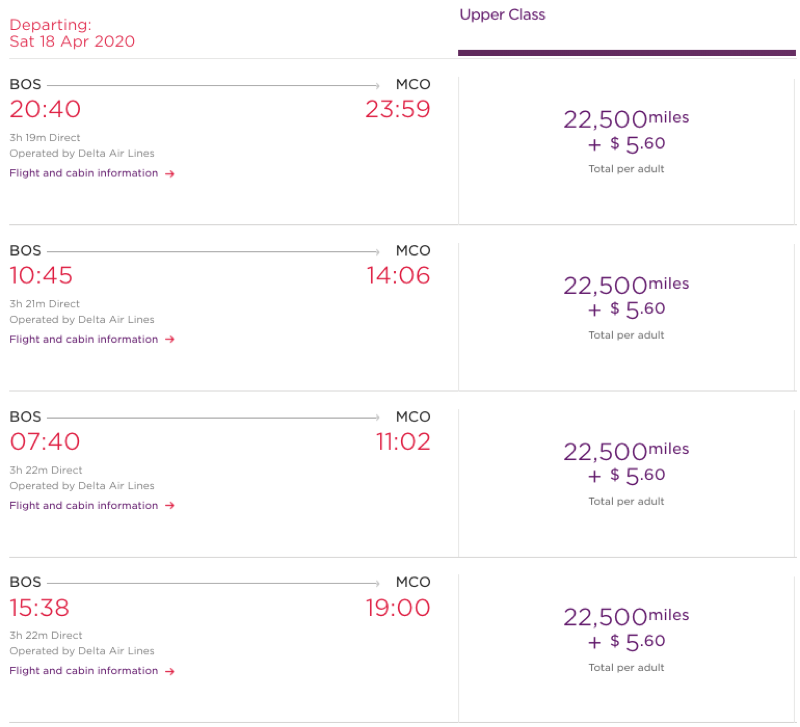 30% Virgin Atlantic Transfer Promo
But wait, there's more. Right now, two major flexible bank point programs are offering transfer bonuses to Virgin Atlantic.
That makes it cost only 17,308 Amex MRs or Citi TYP for the award which is even more spectacular.
Bottom Line: Compare Delta Partner Award Pricing
The big question I've had as domestic carriers have shifted to dynamic award pricing is what would happen with partner award availability and pricing?
The answer in this case is a compelling opportunity, at least in the case of Delta and their partner Virgin Atlantic.
By using Virgin Atlantic miles instead of Delta miles we're able to book a very expensive flight for standard award pricing, at a time when Delta is inflating the award price due to dynamic pricing.
The current 30% transfer bonus for Amex and Citi sweetens the deal further.
As we discussed on Episode 28 of the podcast, Virgin Atlantic miles are a unique mileage currency. They're either very difficult to find a use for -or- incredibly compelling depending on your location and travel patterns.
The utility in this specific approach is mostly right when the schedule opens at peak demand times. Since that scenario represents the majority of my travel I'm ingtriged by this pattern.
What do you think? Are you seeing cases where Delta partner space is available, yet Delta wants miles commensurate with the cash price? What about other programs?