I complain frequently about Capital One.  I've rarely used my Capital One Venture Card since downgrading it to a fee free VentureOne Card.  Not only are Capital One "Miles" not really miles, but they're a closed system card.  You have a cashback card masquerading as a miles earning card, holding your points hostage until you use them to "book travel."
Capital One tip: You can call in and tell them almost anything you bought was a travel expense to redeem for the full 1CPP.  Alternatively you can book a refundable hotel room on your card, and when the charge hits refund it with Capital one Miles, and then cancel the hotel with the booking site. You'll get the statement credit for the points, and a refund from the hotel.
A few weeks ago I booked a rental car using Capital one because it was about half as expensive as anyone else  I could find.  Today they strike again.  The discount this time isn't nearly as good–but I'm still impressed with how consistently low priced their car rental offerings are.
To really compare, this time I scoured the internet for some decent discount codes, and compared across multiple booking engines (including Chase UR again).
The results–Direct Booking
I'm looking to rent from Nov 9 – Nov 11 in lovely Seattle, WA.  We'll be driving around the Olympic Peninsula for a few days so we definitely need wheels.  The first searches I did were with Alamo and National.  Neither was very good, and even with discount codes I couldn't get the rental under $75.  I then went over to enterprise and thrifty and with the help of discount codes made some good headway.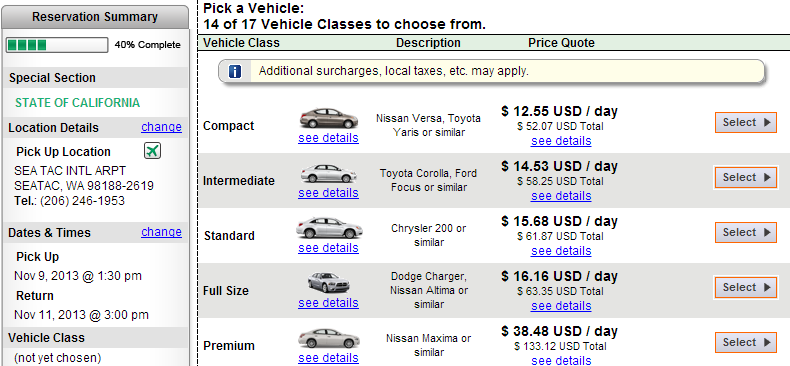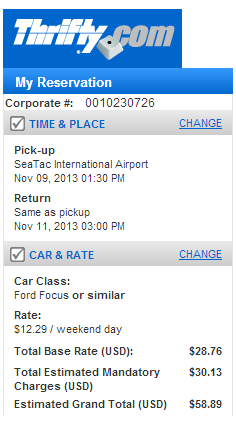 We're under $60, making some progress.  Very annoyingly many of these companies pass on a Concession Recovery Fee which eats up my precious dollars.  A CRF is basically a charge for the cost of doing business.  I find that incredibly disingenuious on the part of these companies.  The cost of doing business should be included in the rental price, not tacked on as a fee later. Note: some of the above discount codes I may not qualify for, I used them for comparison purposes, and wouldn't suggest booking with a code you can't rightly use.
Chase UR
I thought I'd check Chase UR, as it often has decent deals on travel as well.  Unfortunately this time it struck out, showing me much higher rates than I cared for: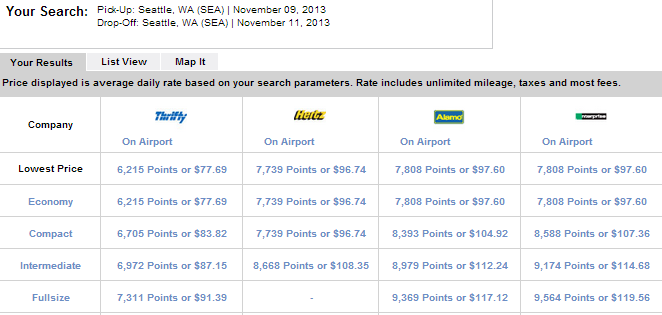 Capital One
Finally I decided to check Capital One again.  Inputting my dates and times (all of the above examples also included a partial day charge) returned the following: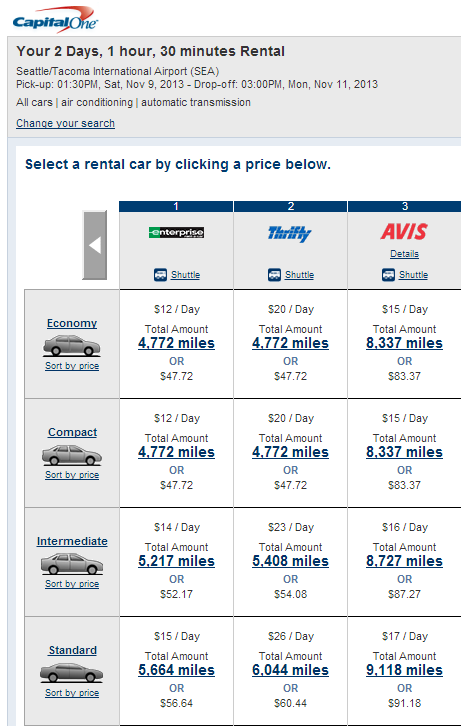 There seems to  be some strange calculating going on above.  I'm unsure why the per day amounts vary but the totals are identical between Thrifty and Enterprise. Also part of why Capital One is cheaper is that they seem to be charging tax differently than the rental companies own sites, often foregoing the Concession Recovery Fee I mentioned above.  I've prepaid so I don't think there will be much they can do to try to re-price with higher taxes later. I've verified my reservation does exist with Enterprise, and it shows up on their site.
A sub-$50 rental for 2+ days sounds good to me.  As always I'll continue to monitor the rates, but I can't see myself saving much more over this.  I also really appreciate not having to use car rental discount codes that I may or may not qualify for.  I'll of course be putting this car on my Chase MP Explorer–sorry Capital One–we can only go so far together.[rule]