Note: Today's post is aimed at #201 level travelers.
Miles are geographically specific.  If you live in Billings, MT for example you're going to need to craft a plan based on starting and ending your flights in Billings, MT. Do not underestimate this in planning your award trips.  Sometimes everything falls into place from JFK but you live in Billings, MT.  Getting from BIL-JFK can be impossible.
Along those lines, Today I'll explore the three best locations to live in the United States when you have AA miles and use them for international  travel.  The reason AA miles work so well from these three cities is that there are a lot of opportunities to use the free North American Stopover AA allows you.
#1 DFW-
Placing DFW at #1 might surprise some of you, but the reasons are simple. You're uniquely located in the center of North America and South America. You're roughly equal distance from Hawaii and Lima, Peru.  You're in a unique situation to take advantage of AA's liberal NA stopovers to visit multiple continents.  I've put together a map of oneworld routes that center around DFW:
Great examples of this are as follows:
CDG-DFW-OGG as low as 20k AA miles per person in Coach, and 50k AA miles per person in Business.
Start your trip in Paris, fly nonstop home to DFW, stop there for weeks/months/year Then continue to OGG for a week/month.
To return book: OGG-DFW-LIM, or OGG-LAX-DFW-LIM and if you're adventurous try to see if AA will add LIM-CUZ. This whole flight prices less than just flying OGG-DFW, as low as 15k AA miles per person in coach or 30k AA miles per person in business. It doesn't makes sense, but you actually save miles by booking this extra trip to South America.
Go home to DFW and stop for a few days/weeks/ months and continue onto Lima, or even as far as Cusco and onward to Macchu Picchu.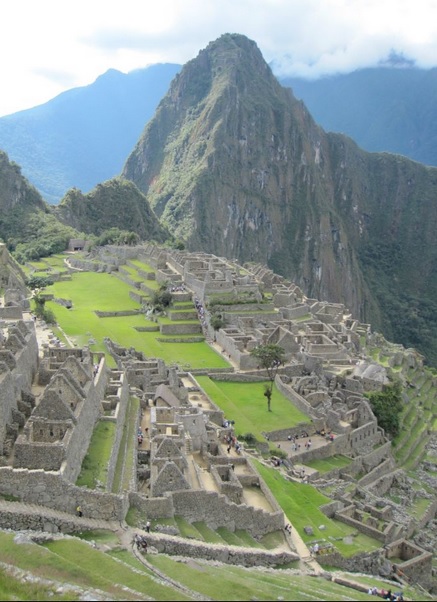 Free One ways can take you to the Caribbean, Hawaii, or anywhere in Mexico or Canada that connects from DFW.  The above example has you visiting Europe, South America, and Hawaii for 35,000 miles per person.  Even in coach, I'm confident this is at least a 7 cent per mile redemption.
DFW Strengths: everywhere; Asia, Australia, Europe, South America all reachable nonstop.  Allows for amazing N.A. one way opportunites.
DFW Weaknesses: I'm really struggling to come up with weaknesses.  Somewhat limited in routes to Asia?
#2 LAX
Sure I'm partial to my home airport, but it honestly is a great place to live and use AA miles.  LAX is an easy Gateway to Asia, and Europe but most importantly it is easy to get to/from Hawaii as well.
To Get To Hawaii living in LAX you could fly LAX-OGG using Avios @12,500 in coach.  Returning you could book avios, or fly OGG-LAX-LHR (20k AA) and visit London, or OGG-LAX-LIM-CUZ (17.5k AA) as the above DFW example included.
Making South America Happen is a lot harder from LAX; the only flight you're going to be able to use for a stopover in LAX is the LIM flight operated by LAN. DFW, by contrast, has an AA flight to LIM.  I've flown both, and LAN has a better everything, but the fact remains that seats are harder to get on the LAX-LIM route.
LAX Strengths: Many routes to Hawaii nonstop, great for stopovers. Can access Asia, Europe, Australia and a limited amount of South America. Incredibly well located for using the Hybrid system with these international flights.
LAX Weaknesses: Limited Options to S. America and long haul flights to Europe.
#3 NYC (JFK)
Absolutely a top 3 City to live in for Redeeming AA miles internationally is New York.  You're able to redeem deep into South America, the Caribbean and Europe, Asia and the middle east. Using JFK as your stopover point you'll be able to tack on Caribbean vacations, trips to Hawaii or flights anywhere else in North America.  Cancun would be a great use of the stopover, as would any west coast cities.
Examples of a great uses of Miles for JFK flyers can be found in the Oneworld tips, tricks, and tools post from last week.  We centered our flights around JFK in that post.
GRU-JFK-CUN
Fly from GRU to JFK for as little as 20k AA miles, stop there for days/weeks/months, then fly JFK-CUN and spend a week or two in Cancun for no additional miles.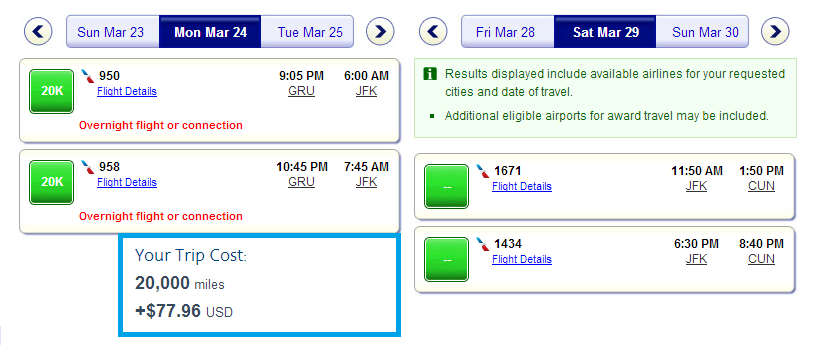 CUN-JFK-CDG for 20k AA miles. Fly to any Hawaii/Mexico/Caribbean location and then home to JFK stopping for weeks/months.   You could pair this with the above to make:
GRU-JFK Stop JFK-CUN Stop (20k AA Miles)
CUN-JFK Stop JFK-CDG (20k AA Miles)
Total for the trip would be 40k AA and about $125 per person.
JFK Strengths: Europe, South America, even Asia. The opportunities for stopovers in Hawaii, Mexico, and the Caribbean are endless.
JFK Weaknesses: Australia, Limited Long haul Asia Routes that come back through JFK–might make using stopovers tough to/from Asia.
Update @4:44PM: Wow, readers you guys are great.  Two readers, Joel via comments and Brad on twitter mentioned a JFK-LAX-SYD flight that is sold as continuing service.  I verified this works doing the following booking:
What if I don't live in one of these cities?
To be clear, you don't need to live in DFW, LAX or NYC to get great value from your AA miles.  AA miles are almost always great for some form of international travel, which is why Milenomics recommends collecting them for international travel, and not for domestic award flights. Honorable mention should go to MIA and ORD as two more cities with plenty of international routes and lots of free one way potential.
Part of why I included those circles in the above maps are that those areas are within 7500 Avios of DFW, LAX or JFK.  As you can see in the title image 7500 avios covers most of the Continental US. Tomorrow I'll go over more ideas how to get home when you don't live in a major hub like the ones we looked at today.
Am I missing another great city to use for AA award flights? If so leave a comment here, or tweet @Milenomics and let me know which city you think should make the list.
---
Everything below this line is Automatically inserted into this post and is not necessarily endorsed by Milenomics: