Today we'll learn a new booking trick: Operation Twist. Yesterday we discussed the Three best cities to live in for AA award travel.  Operation twist builds on this, and is a  strategy for those of you who aren't lucky enough to live in a major AA Hub city.
Before we start, if you haven't yet read the Hybrid System post from a few weeks ago you might want to take a look right now. The basics of Milenomics are that we have miles that are useful for Domestic Travel, and miles that are useful for International travel.  Using our domestic miles we want to be as smart as possible with them.  The hybrid system is a way of leveraging two or three programs (BA,WN and DL) to create free one ways and save miles and money.
The Austin Dilemma
Yesterday's post brought with it some excellent comments. Among them was jethro who wrote:
"I am missing part of the logic and feel dense to ask this but in your sample DFW itineraries I don't see round trip plans. I live in Austin and suppose I could drive the 2.5 hours to DFW for a lucrative redemption trip."
I answered the first part in my comment here, if you missed it please do read it. For the second part, I'll construct this post around jethro, as if I was him, living in AUS and traveling from DFW.
The Old Way of Thinking: AUS-CDG:
In the past, and especially with revenue tickets if you wanted to go to Paris you'd price a ticket AUS-DFW-CDG-DFW-AUS.  Picking totally random dates in Feb returns: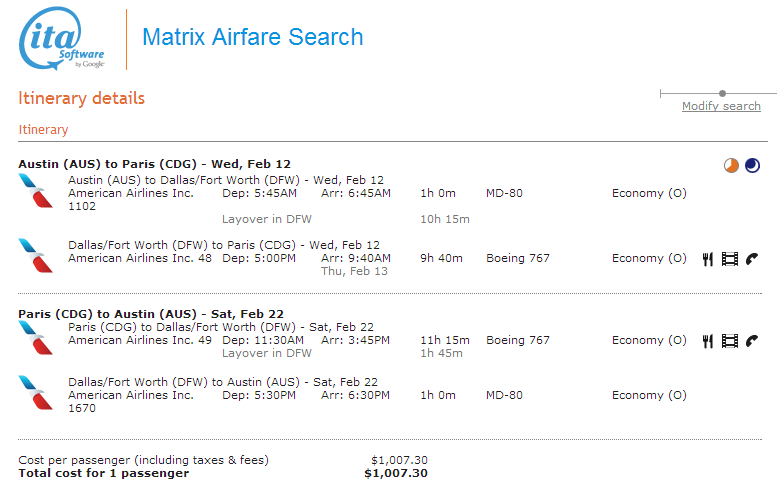 This is not a particularly great price, but we're not focused on pricing, we're looking at this from the routing standpoint.  Interestingly enough flying from DFW-CDG nonstop is slightly more expensive: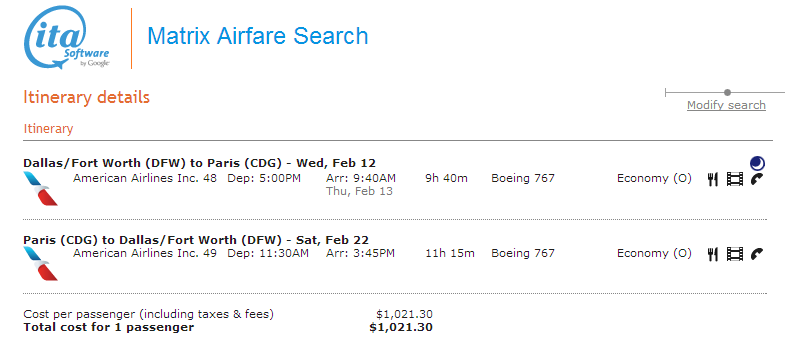 You'd obviously take the flight from AUS in this situation–since doing so would save you the drive, and also $14. Even if the ticket was more expensive you'd probably rather fly AUS-DFW than drive it.  Milenomics places a value on your time and also the cost of driving.
The New Way of Thinking: AUS-DFW-CDG-DFW-OGG
With an award ticket booked the same way AUS-DFW-CDG-DFW-AUS you're sacrificing something else: Your free one way in North America. Booking the award flight to/from DFW and driving home to AUS means you've earned yourself a free flight to Hawaii. The routing would look like this:
To recap the cost of the "free" 1 way to Hawaii would then be:
– 0 miles and $5 or so
– Time to find a working flight to OGG (minimal, but important)
– 3 hours plus approx. 400 miles r/t.  (I subtracted the amount of time you'd spend on the DFW-AUS flight). At my T-rate and mileage this is $75 + $220.  If a second person is flying with you add another 3 hrs x your boss coefficient but leave the mileage cost at $220.
You can then book a flight back from Hawaii to AUS, or keep the party going with something like this:
The above routing, OGG-DFW stop, DFW-LIM has an added benefit, it saves you mileage on the return flight home, and you're on your way to a trip to Peru.  Of course this again means you'd have to drive DFW-AUS and AUS-DFW again.
For most of you you'll likely come out ahead just by driving if you live somewhat close to the major airport.  But what about those of you who don't? Or for those of you who just don't want to drive the 3 hours+ to your closest hub airport?
Operation Twist: Trading 9000 Avios for free First class flights
Take a look at the following map:
This is a map with circles drawn at 650 miles around each AA hub city. As you can see, if you live anywhere in the north east, south, midwest, southwest and some of the mountain areas you're with 650 miles of one of these hubs. Yesterday I drew similar maps, but with the circles at 1150 miles, showing that the entire continental US is within 1150 miles of  LAX, DFW, or JFK.
What does this mean for you? It means no matter where you live you too can use the techniques listed yesterday and a few Avios to earn your free one ways.  You're trading Avios for free flights on AA.  The example above of AUS would be as follows:
– Book AUS-DFW-CDG with AA as an award  ticket
– Return CDG-DFW stop DFW-OGG.
– Book DFW-AUS with Avios on AA 4500 and $5.
– When you're ready to go to OGG, book AUS-DFW again with 4500 avios and $5
You'll spend 9,000 avios per person, but you gain a 1 way to Hawaii.  This doesn't save a ton of miles when flying coach DFW-OGG, since AUS-DFW-OGG would run you between 17,500 and 22,500 miles, but it does save you miles, and Milenomics is a big fan of saving miles and money.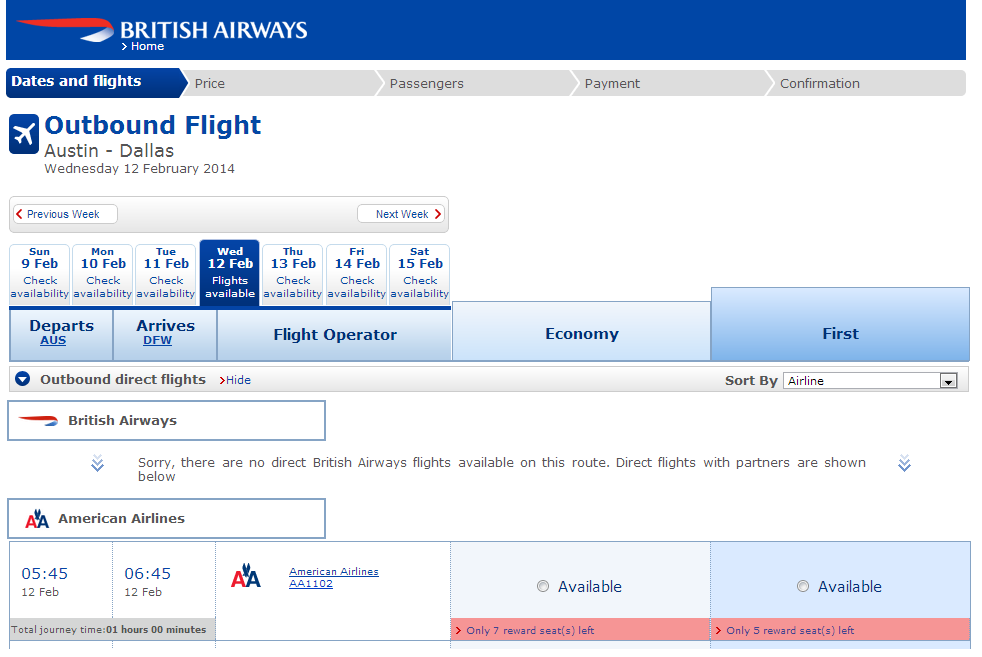 Where it really shines is when you're flying first or business.  You continue your trip DFW-OGG in the class you flew CDG-DFW.  Booking DFW-AUS in coach with avios means your free one way to Hawaii is in First, and would have cost you 37,500 or more miles.
In the return above, OGG-DFW stop DFW-LIM you're saving miles on the return flight due to the NA-S.America routing instead of Hawaii-US, and then continuing to save with Operation Twist, as your DFW-LIM flight will only cost you the 9,000 avios DFW-AUS and AUS-DFW.
That's Great, But What if I Don't Live in Austin?
For an example of which cities are within 650 miles of your hub load up airline route mapper software, and select any AA hub. In the options mention put a restriction of routes less than 650 miles, and show codeshares: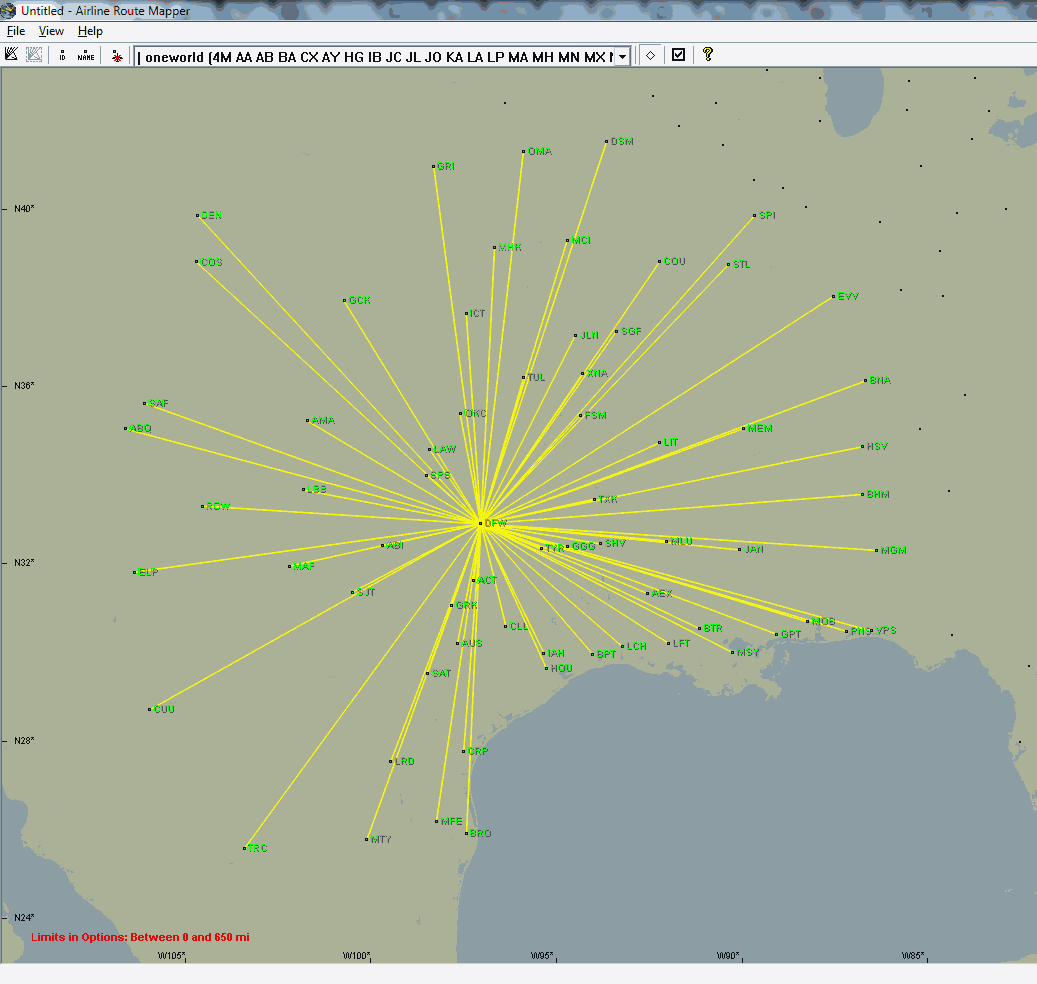 So if you live in Memphis, Texarkana, Denver, Des Moines, or any number of other cities, and can find an award seat on www.britishairways.com you can use Operation Twist. Similar maps for LAX, ORD, MIA, and JFK are easily created with the same software. Some cities are served by more than one hub–be sure to check for alternate hubs to give you more flexibility in your international tickets and free one ways.
You Might even make this work when you live outside the 650 Mile circle, but within the 1150 mile circle,  Then the flights would be 7500 miles each way–15,000 r/t.  If you end up saving yourself miles, go for it.
What about IRROPS?
You've technically got two tickets, one with BA AUS-DFW and another with AA DFW-OGG.  What if your AUS-DFW is delayed and you miss your DFW-OGG.  AA would protect you, per AA's site here:
AA to/from AA or a one

world

® Carrier 
If a customer is holding separate tickets on AA or another oneworld carrier, customers holding separate tickets where travel is on oneworld airlines should be treated as through ticketed passengers. In the event of a disruption on the originating ticket, the carrier responsible for the disruption will be required to reroute the customer to their final destination. The ticket stock of the second ticket must be of a oneworld carrier, eligible under the Endorsement Waiver Agreement. You may contact AA Reservations 1-800-433-7300 (U.S. and Canada) or outside the U.S. and Canada, reference Worldwide Reservations Numbers for additional information if the separate ticket is for travel on a oneworld carrier.
Is this Hidden City Ticketing? Is this Nested or Back to Back ticketing?  Not from the best of my knowledge.  I'm fortunate enough to live in a Hub city–so I'm not going to be using Operation Twist anytime soon.  It is nothing more than using Avios to "fill in the gaps" and take advantage of free one ways when you live close, but not in a hub city.
As always let me know what you think either via the comments, or on twitter @Milenomics.[rule]