Today we'll use some of the tools we've been covering in our back to basics series.  What follows is a real booking I've made, from LAX-CUN and back with Delta miles. I'll go over how I handled the search, and tips to book low level Delta awards and get them to price out correctly.
My wife and I are looking to leave in the next week, and want to fly to Cancun, ideally nonstop from LAX. Fortunately Delta flies a nonstop service from LAX, as does United, and Virgin America.
In this post I'll go over why I've chosen to use my Delta miles for this booking, how to search for the flights, and finally how to book them. Booking low level Delta awards can be a nightmare, and I'll show you some examples of the issues I came across in this relatively straightforward booking.
Know Your Pricing
With any program, before you book it is imperative that you know how much your award ticket should cost.  This is especially true with Delta, as Delta's current search engine is broken. Identical searches return different results, and wildly different prices. Seats which are there show as unavailable sometimes. Adding just one wrong segment can greatly increase the price of your award.  Know what the price of your award should be, and stick with that price until you receive it.
To figure out the price the award ticket should cost you'll want to consult your award chart, in this case Delta publishes their current charts here.  For flights to/from Mexico and the US the pricing in miles is: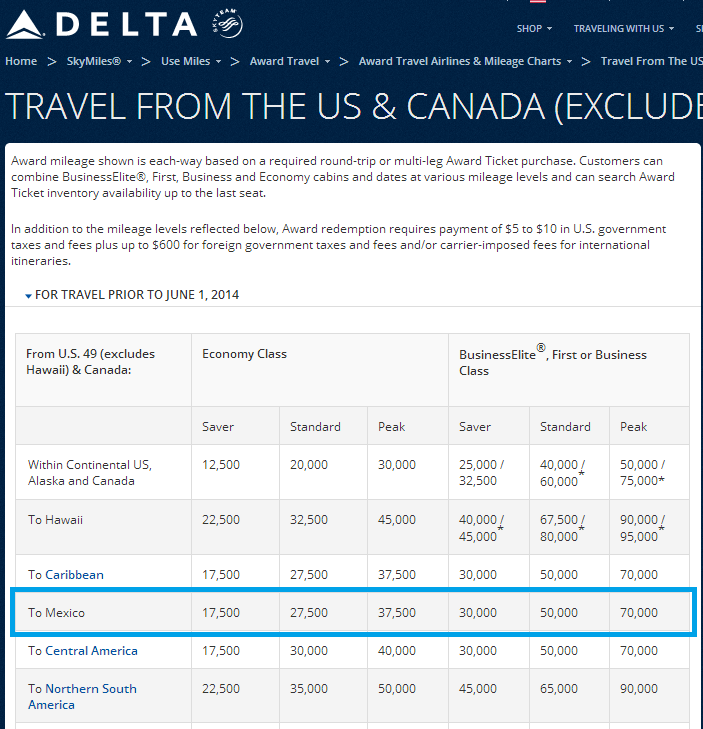 Remember that every booking costs miles and money. We discussed this a few weeks ago when we talked about how much awards cost.  Knowing the cash portion of any award ticket is important, because it plays into the total out of pocket, and the value you receive from each mile.
The best way to estimate the out of pocket for an award ticket with Delta is to price the exact ticket out on the ITAMatrix website. Doing so brings up a fare breakdown: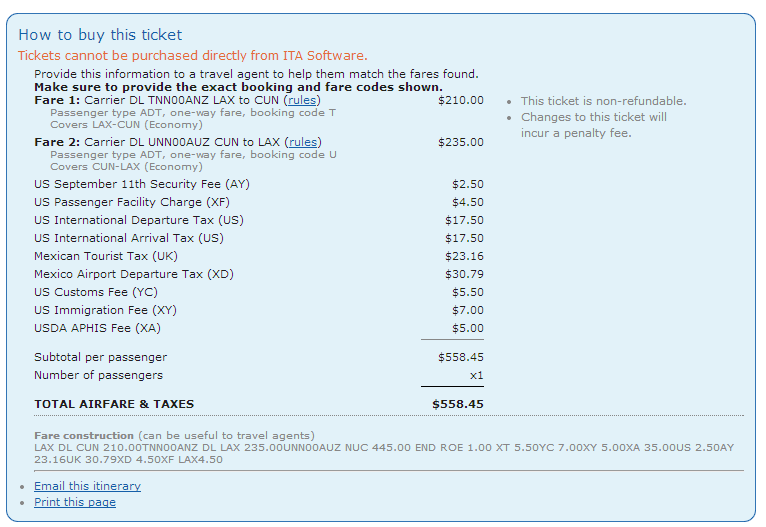 Most of these passenger fees will be passed along to you.  The above fees come out to around $114 per person. So we're now looking at:
35,000 miles & approximately $114 per person.
In certain circumstances the cost of a paid ticket (which automatically includes these fees) may make more sense than the cost of an award ticket. We should consult the paid cost of a ticket to ensure we're getting enough value out of our miles.
Ask and Answer:Is This a Good Use of Miles?
Your initial reaction to this question might be, "Are you kidding? this is a steal, $114 for a round trip ticket to Cancun!" But we need to stop and remember we're using miles we invested time, travel and money into. Comparing what we spend on our miles versus the cash price of a ticket is important to do.
In this case I've invested about $240 in my 37,500 miles ($.0064 per DL mile, most of this my time). Add to this the $114 in fees, and I'm looking at "spending" $354 on each round trip ticket. My cost for the ticket is less than the cash price–so I'm good to book and know I've extracted $25/hr for my time (At my T-Rate) and am getting a good value for my flight.
Using this same Milenomics techniques we can see why using UA miles would not be as good an idea. My cost for each UA mile is just over 1.1 cents right now. Again, this is largely my time, but also a factor of not being able to earn UA miles as cheaply as DL miles.
UA charges the same 35,000 miles for the trip, and only charges $74 or so in fees per person (UA is not charging the US departure/arrival tax). However, they're tacking on $75 for close in booking fees for this last minute trip. Out of pocket for the United flights would then be:
35,000 x $0.011 = $385 in miles + $74 in fees + $75 in UA Fees = $534
Compare this to buying the nonstop flights above for $554 and I'd pass on using UA miles in this situation.
For more on this key Milenomics strategy see the post, "When less is more." In addition, by using my Delta miles I'm able to avoid close in ticket fees.
Now that we've looked into what this flight should cost, lets find award seats.
Booking Delta Awards, Always start at AlaskAir.com
I've mentioned this here on Milenomics before, but using Delta's award search engine is a surefire way to drive yourself crazy. Instead of trying to search on Delta.com I always start out at www.alaskaair.com and do the initial award search there.  The reason this works is because Delta and Alaska are partners, even though Alaska is not a member of Skyteam. This was illustrated in our discussion last week on Alliance and partners with this image: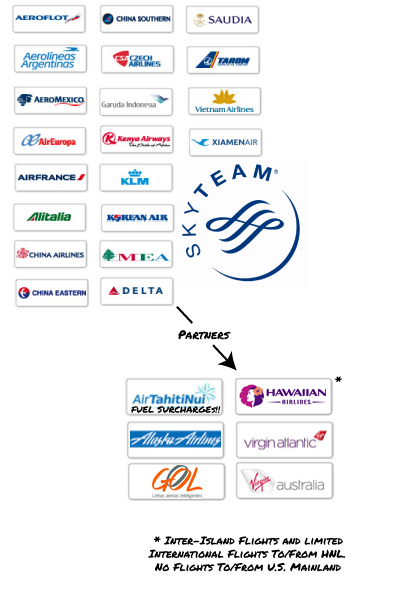 Knowing that partners have access to low level award inventory we'll use the Alaska Airlines search engine to only show us low level Delta awards. Sure enough a quick search from LAX-CUN and back show these flights: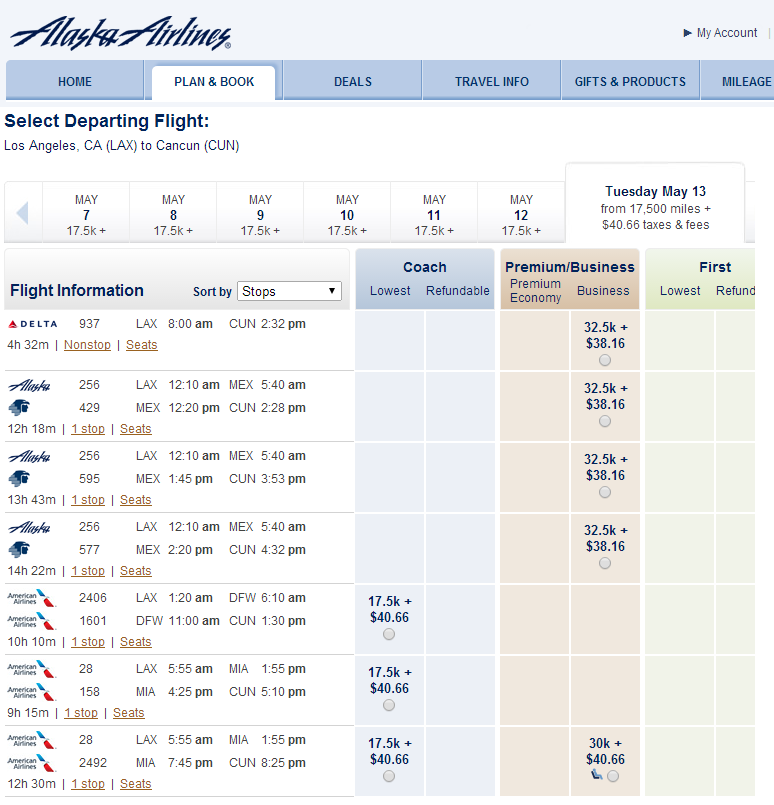 Consulting our Skyteam/Delta partner list above we see that Aeromexico is also a Delta partner, so those flights should be bookable with Delta Miles as well.
The 12th/13th to the 20th are the ideal dates for my wife and I, and the only options available are in Business/First.  Returns on Aeromexico are only available in Business/First as well: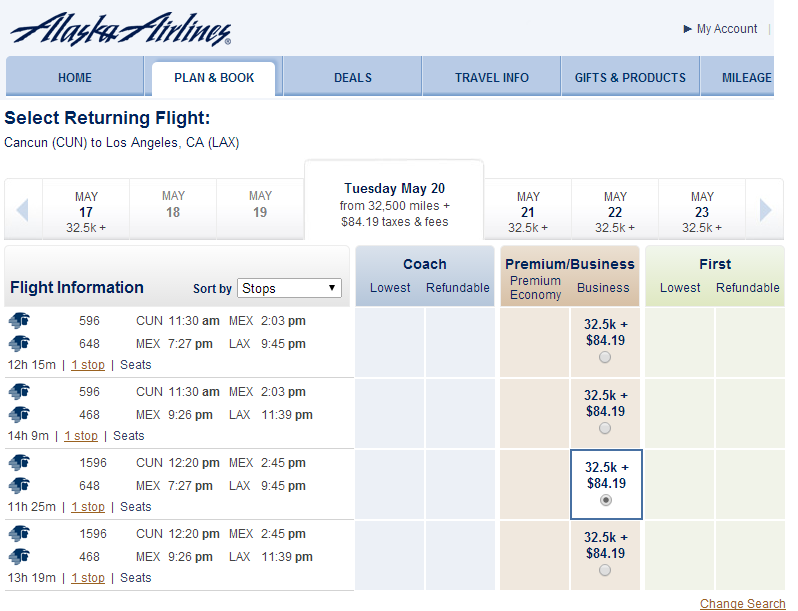 I decided to book Business/First there and back. International quality the flights surely won't be–but I have zero date flexibility, so I need to be flexible in destination, class, or carrier.
I've already verified that I'm not carrier flexible, and not destination or date flexible, so stepping up in Class is the only way to make this trip happen on my dates. Later in this post I'll analyize the value per mile of this First Class booking.
Next, let's book these flights:
Case Study in Delta's Broken Award Search Engine.
You would think that the following search would yield a successful booking: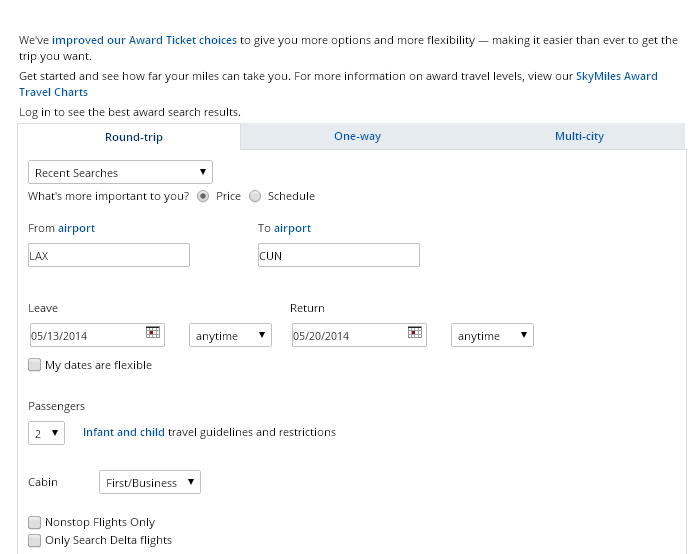 And it certainly should–all the correct information is there, to/from, dates, class of service, and no other restrictions. In theory we should be presented with flights, and those should price out at 60,000 + $114 in fees.  What Delta.com returned for the above search was much different: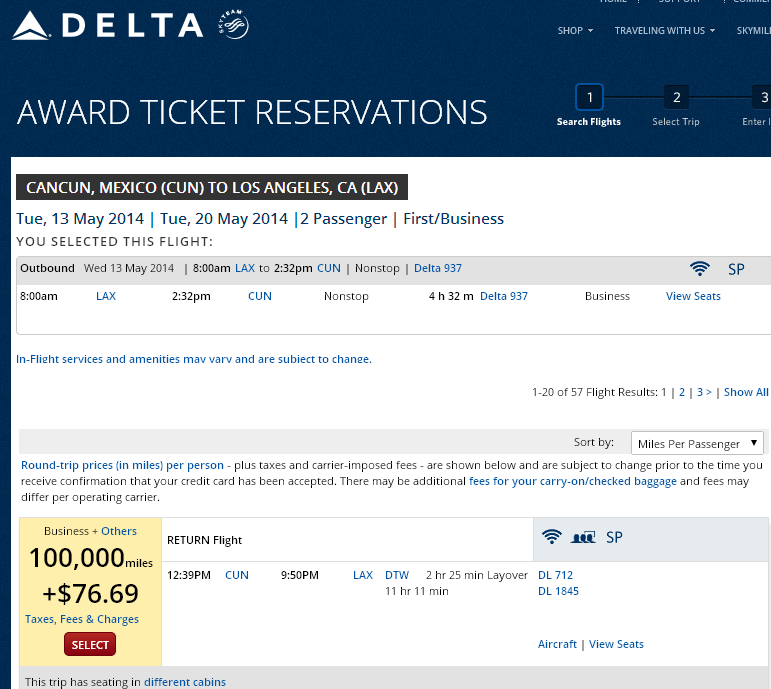 I'm sure if I proceed they'd gladly take my 100,000 miles for these flights. I've sorted these results by "Miles Per Passenger" which should give us the lowest cost flights first yet as you can see it is not doing so.  No flights on Aeromexico are showing in the above search results. Only Delta's flights, which are pricing out higher, and wanting to take me on a cross country tour of Airports all around America.
The solution is to feed the Delta search engine our preferred flights one at a time, leg by leg. This is super annoying, and we can only hope that next year's big changes to the program mean this no longer is an issue.
The correct search for these flights is: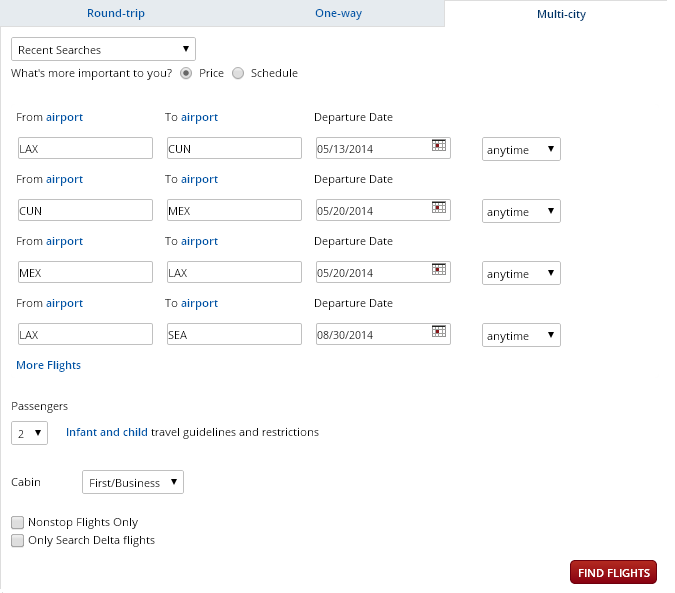 Clicking each flight as it appears will build the itinerary. Along the way glitches are likely to still arise. A combination of trying to search by Schedule instead of Price, another browser, incognito/in-private mode, and/or limiting your search to nonstop flights only might help.
Interesting to note, I wanted to book the 12:20 flight from CUN to MEX. About half of the time I did the above search it would show as bookable the other half of the time it wouldn't. And, to make things even more strange, when the 12:20 was bookable, the 11:30 flight was not available: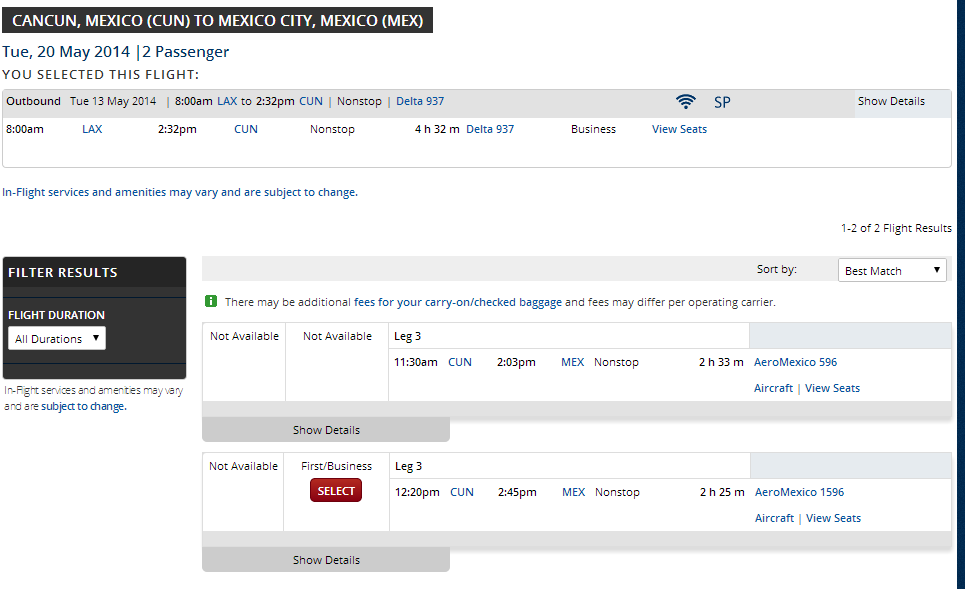 These types of issues are why trying to book low level Delta awards can be extremely frustrating.  A little patience, knowing the flight numbers and knowing what the award should price at are your best bet for finding and booking successfully. After a bit of trial and error the flights came out correctly, and my booking was complete: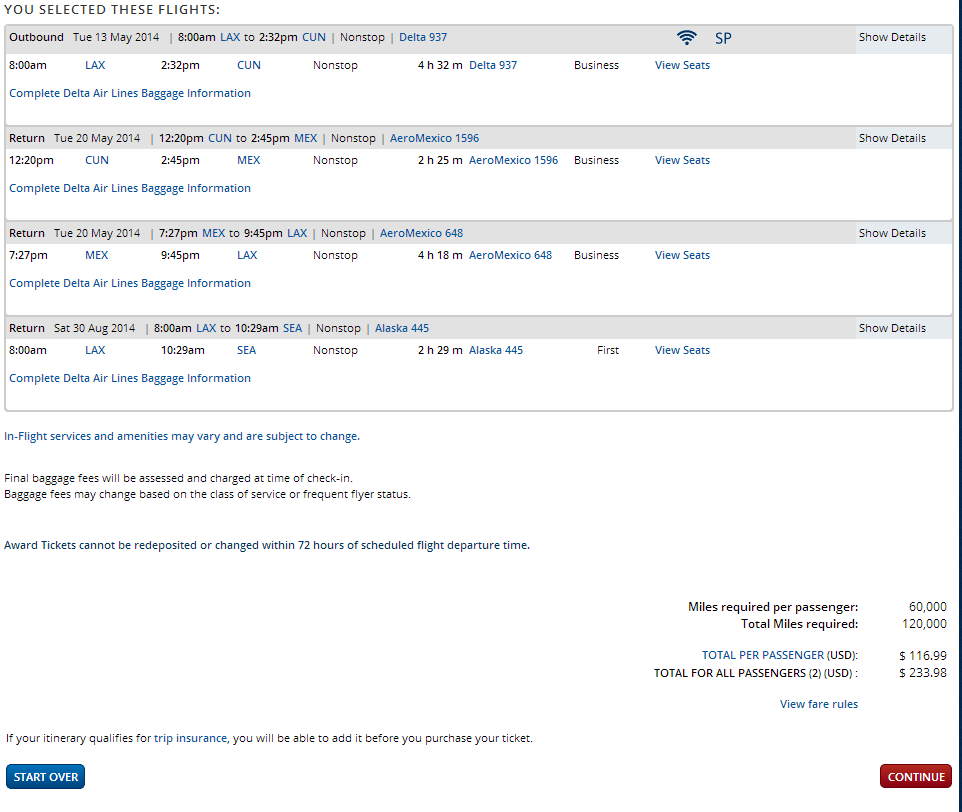 Calculating Value Per Mile
Because we initially priced the award as a coach ticket I want to verify that this is still a valid use of my miles at the Business/First class booking level. I've used significantly more miles than the 70,000 I had expected the two tickets to cost (in coach), and so I should re-evaluate the award value before booking.
I also want to use this booking as an example of how I now calculate the Value Per Mile of a "First Class" award booking. I've recently changed how I calculate vales for premium cabin awards.  Many people take the price of a premium award and divide by the number of miles needed to book it: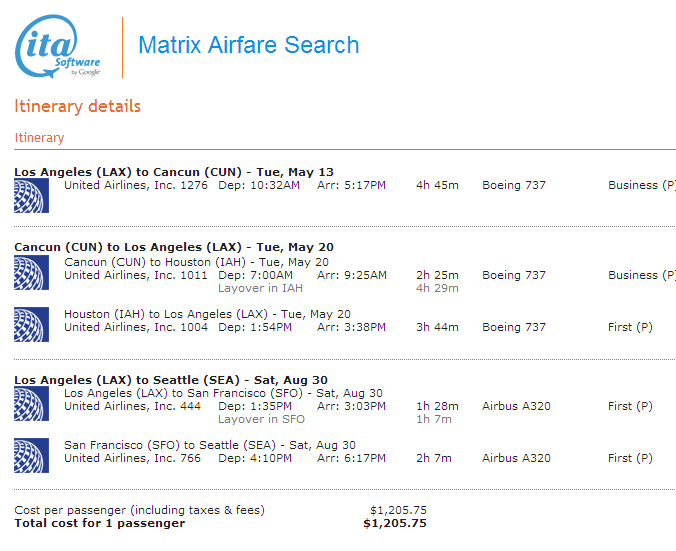 The standard thinking is to take the total of $1205.75 per person, subtract our $116.99 in fees and dividing by the 60,000 Skymiles. This gives me a value of 1.8 Cents per mile.
This doesn't work for one simple reason:
I would never pay $1205 for these flights.
We've discussed value here on Milenomcis before–and the value of something in the Milenomics Universe is only what you're willing to pay for it.  If you're like me, and do not see $1205 in value in flights to Cancun/Seattle in a mediocre first class cabin, then the price above is not "your" price.
In my case before paying $1205 for these flights I'd instead fly the above nonstop coach ticket for $558, and add $100 for the LAX-SEA flight.  I'm now looking at flights I'd pay $658 for.
To be clear: there is some value in flying Business/First (to me), just not $547 worth of Value ($1205-$658).  Lounge Access is worth about $40 per person to me, because that is what I can buy lounge access for.  In addition, getting off of an international flight first might save me 30 minutes in baggage claim, and customs, so $25 there. The food which will be served and the drinks might be worth $25. For me, really, that's it. If this were a long haul flight, with a flat bed seat I would probably add the number of hours x my T-Rate to the total value. These seats aren't much more comfortable than a coach seat (to me) so I won't be adding anything for "comfort" to my valuation of these flights.
Again, this is the value I place on these flights.  You might value them differently, but I'm asking you to consider a true valuation when you calculate the value you're earning when you book with your miles.
Taking my value into consideration I've now got a Value of:
$658 – Flights

$

40

– Lounges

$25 – Baggage & Customs 

$

25

– Food & Beverages

$

748

– Total Value to S. Simon. 
At this $748 value, subtracting the $116.99 in fees and dividing by 60,000 miles gives me $0.011 per Skymile in value.  Well above my $0.0064 cost to acquire, and still a valid award for me.
Note: An excellent piece on the above thinking of value per mile is this post by Jeff @ CanadianKms, which should be mandatory reading for anyone getting into this game.
Delta.com Is Awful
I can't state this fact enough. Delta's search engine is horrible. The solution to a buggy search engine is usually to call in–but Delta's phone agents can be worse than their search engine. Some gems I've heard from DL booking agents:
"Sir, Virgin Atlantic is not a valid airline to use Skymiles on."
"Only KLM and Air France are our Partners."
"You can only book Delta Flights with Delta Miles. You'll need KLM miles to book KLM flights"
Needless to say, if you find yourself on the phone with one of these robo-agents, hang up, and call again.  Just last week I had two excellent phone agents, who not only greeted me by name, but were able to handle everything I asked the first time, and correctly.
When it comes to award bookings remember the old saying, "If at first you don't succeed…try, try again."
I'm available for help on Twitter, Facebook, and via email: samsimontravel@gmail.com