Note: Today's Post is only for #101 level Milenomics.  Most of us should be using our US Airways miles for international travel. A good post to read before this is "Why are Frequent Flyer Miles So Hard to Use?"
Desperate Times Call for Desperate Measures
Last night I received a call from a friend who was in a jam–and wanted my help with booking an award ticket using his US Airways miles. In doing so I want to share the tips I used to help him book a Milenomics US Airways One Way ticket.
My friend Jim is strapped for cash–and he's moving across the country. His plan is to move from Tallahassee to Seattle over Christmas break. This is less than ideal since flights are expensive at that time. He's really trying to limit his cash expenditures, and moving right before the 1st saves the better part of a month's rent. Because of the time of year a 1 way ticket is pricing between $425 and $600.
Unfortunately, when ticket prices are high, mileage costs are usually high as well. US Airways employs a 3 tiered award calendar–which hopefully doesn't make it through the AA Merger. For Domestic flights this chart goes from 25k round trip, to 40k and then 60k (incidentally, exactly matching Delta's chart).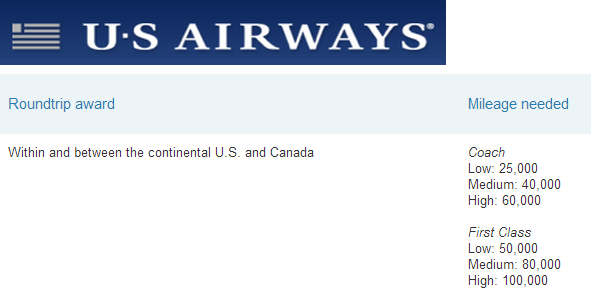 We should almost never book a 1 way flight with Delta or US Airways. Instead, look at booking a return you can use, even months into the future.  Or, book a second one way to a totally different destination (Multi-city). A good example of stringing two or more one ways together is the Milenomics Hybrid System for Delta Flights. Also the US Airways' attempted robbery I foiled is another example of a route you can fly as two one ways for the price of a round trip.
My friend however, is in a tough situation–he's only collected a small amount of US Airways miles, and he's really just looking to save the $500 or so the flight will cost him. The flight my Friend Jim was looking at was pricing at the highest level, 30,000 miles each way:

US airways (like Delta) prices one way flights at the round trip price.  Unlike Delta.com they won't even let you book 1 way travel online, instead telling you to call the 800 number and book it via phone, incurring a $30 phone booking fee.
The agent Jim spoke with was very happy to warn him that the one way flight on the 28th would cost "the same as a round trip flight, 60,000 miles." This is technically true, but is also an example of phone agents leading you astray, and taking more of your hard earned miles and money than they need to.
What I instructed James to do was to look for, and book a return flight, on any day in the future.  The ideal would be a flight he could use–but with Jim moving and taking a new job he wasn't sure when or where he'd be able to travel.  In this case we decided  to go as far into the future with the return flight as we could, in order to hopefully make this a true one way flight.  Working with me he put together a great return flight.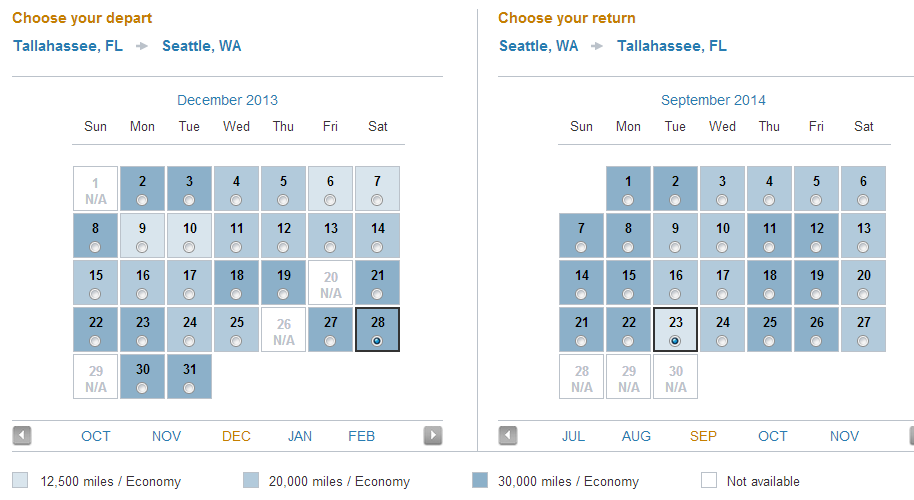 As you can see in the above calendar the flights out on the 27th, 28th and 30th and 31st are all at the high (30,000 mile level). If he were to call in and book a one-way flight on one of these dates US airways would charge Jim 60,000 miles and a $30 phone booking fee. Milenomics hates spending more miles than we absolutely need to, and also hates fees that we shouldn't be paying. Seriously, US Airways, shame on you guys for this cash and miles grab from your loyal customer.
By adding the flight on September 23, 2014 we've turned this into a 1 way at high level, and return at low level booking–saving 17,500 miles.
Use Strategic Mis-Connects to Book a True 1-way with US.
The Ideal thing to do is to just not book a one way trip with US Airways. Instead book a multi-city ticket, flying somewhere you know you'll need to go off of your demand schedule.  Timing that correctly could even allow you to make this second flight the start of a free one way with an international ticket later in the year.  But sometimes, like my friend in this situation, you just really need a one way ticket, and life is too complicated to sit down and figure out when you can take another flight.
Whenever you find yourself backed into a corner, having to book a 1 way with US Airways (or Delta) search as far out as possible, near the limit of the 330 day booking window. Find any day with low level availability. As you can in the above screenshot see there is exactly one day in September 2014 with low level flights from SEA-TLH on the return.  For this technique I couldn't have asked for a more perfect combination of days out, and flight options.  The flight I advised Jim to book on the return was this one: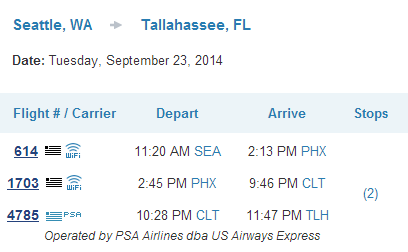 Ordinarily you'd never want this flight–but for this purpose it is perfect. Why? We've picked it to hopefully force a mis-connect. Picking a flight as far in the future gives us a pretty good chance at a schedule change happening. In addition Our connections are tight–one is just 32 minutes. We could force a mis-connect with even a slight schedule change, either the SEA flight leaving later, or the PHX flight leaving earlier. By booking a 2 stop flight, the second flight gives us another chance at that mis-connect with a 42 minute connection.
The final booking, which my friend was able to book online was as follows: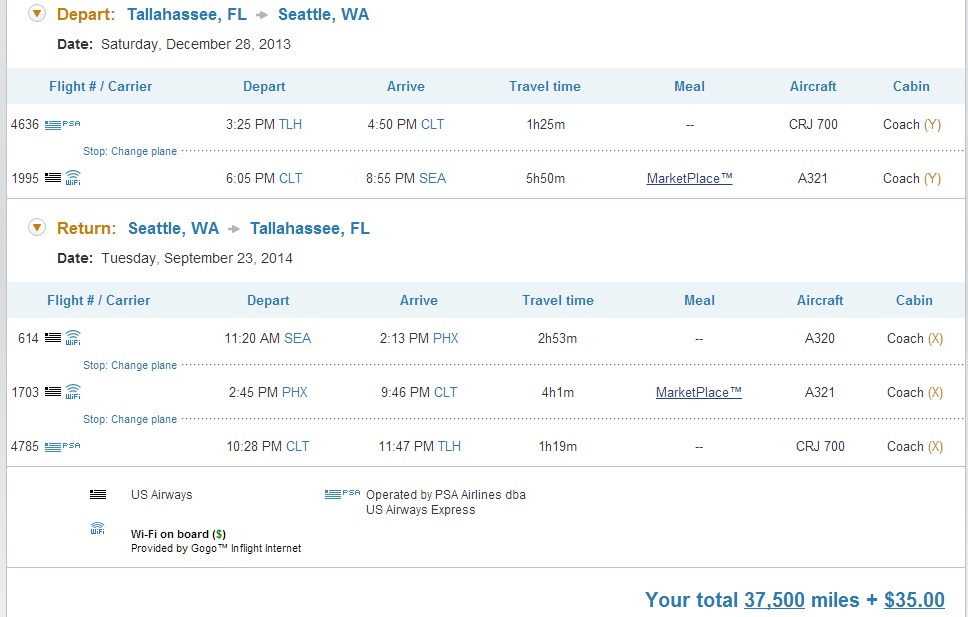 Miles Saved: 17,500
Money Saved: $30 Phone booking scam fee.
What happens if a schedule change occurs?
I've instructed Jim to not worry about it– he's got bigger issues with the move, and a new city. I'll get an email if/when a schedule change occurs. After a schedule change I'll walk Jim through calling and saying that he would rather change the flight to something he knows he'll use–I'm very confident the right agent will allow a change of dates and even a city change should the mis-connect happen. Hopefully James can change the return to SEA-LAX and fly down here to visit.
In the best case, if he really didn't want to fly anywhere with the return I'd instruct him to ask for his miles back. I've known US airways to refund the miles spent on a return under circumstances like this. While he'd only get back 10k miles–it ultimately will make his flight a true 1 way US airways award flight if it should happen.
Delta Offers a Similar "Service"
Delta allows you to do something similar–finding a throwaway one way at the low level to bring down the cost in miles of a high/peak award.  Finding a tight connection with Delta will be tougher, Delta low level awards love to have between 2 and 4 hour connections.  But even if you just save the difference in miles and throw away the return you're still ahead of the game.


The Wrap Up
We should really try to never book 1 way tickets with Delta or US Airways–if we could find a return, or another destination that fits our schedule (multi-city) we should try to do that first. However if we absolutely must, and we can't find anything, booking a low level return saves us when we're stuck booking during peak demand on the outbound.  It also avoids having to pay US Airways a phone booking fee, which is nothing more than a cash grab on US Airways' part.
The Airlines are perfectly happy to take extra miles and extra money from us. Instead put the pressure on them, with a 2 stop (or 3 stop) return at the low level.  Look for flights with the tightest possible connections and hope the Airline makes a schedule change sometime in the next 10 months.
---