I recently received a message From Milenomic Maria.  She had a very detailed set of questions, and I thought stepping through an answer here would help others.
Name: Maria
Mile and point collector for less than 6 months
Excellent credit
T rate: $50/hr if I have to go out in the world and do stuff $10hr, if something I can do while I'm in front of the TV like research or planning
Usually travel with a group of 4 (husband, me, 2 children)
_______________
Current Credit Cards: 2 Chase Ink cards, 1 Chase Freedom, 1 Discover, 1 Amex BlueCash
Upcoming CC apps before end of 2013 will probably be 2 Southwest Air (1 personal, 1 business) in an attempt to earn companion pass
_______________
Existing Points/Miles
I have approx 130K Chase Ultimate Reward points
$350 in Discover Cashback rewards
Approx 5K SW air points in each of 4 SW rapid reward accounts
____________
Goals
Planning trip in March 2014 to Park City Utah to ski and stay at Hyatt Escala (booking is pending with UR) Plan is to use SWCC Companion pass and points for the flight.
Trip to South America (Peru or Chile–we're flexible) in the next 18 months
Planning trip to Jamaica (Negril or Ocho Rios)
Maria included all the pertinent information: T-Rate, number of travelers, Level of Milenomics Travel (#201), as well as places she and her family would like to go.
The more short term goal is a family ski trip to Park City UT.  The longer term goals are 2 Domestic trips per year, and an international trip as well. I'll break this up piece by piece, and once I'm done if you have tips for Maria please include them in the comments section.
Why I Like This Example
I really enjoy this example because it has all the elements of a  true travel plan.  Having a family of 4 also brings up some challenges of its own.  Among those challenges, is really making your miles stretch, since you have 4 seats to find.  For these reasons I suggest families should familiarize themselves with ways to pay less than 25,000 miles per domestic award that we discussed here on Sunday.
We'll start with the upcoming Ski Trip, where Maria is looking at a point booking for the Hyatt Escala in Park City, Utah: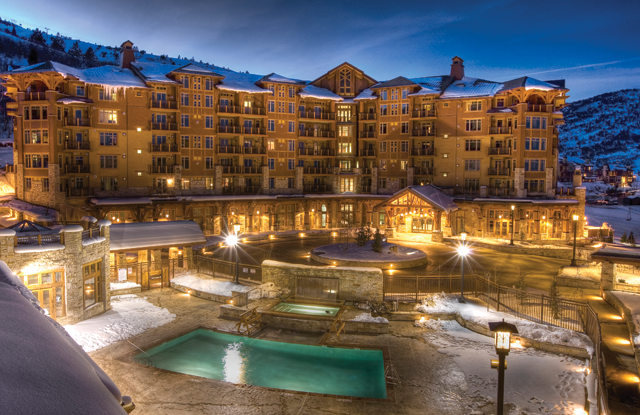 Maria wrote that she is looking at the Category 4 Hyatt Escala Lodges, and using points for a Suite.  This would run 23,000 points per night. I'm not sure how many nights she was looking to stay, but 100,000+ UR might be needed for this.
One of the main reasons Milenomics doesn't always like to use points for hotels is that you're usually burning a ton of points.  The good part about a popular ski destination is that there are plenty of other great ski condos on VRBO to fit any budget.
However, If Maria and her family were set on staying at the Hyatt Escala, say for a specific reason (ski-in ski-out, they've been there before and love it) then by all means I don't want to convince you not to stay there.  I will, however, offer an alternative:
Alternative:The Hyatt Escala Lodges.  
How is this an alternative you might be asking?  Well the Escala is a Vacation ownership property (like a time share).  What this means is that people who own units can put their unit up for rental.  Like this one.
(I have no affiliation with this owner, I picked the unit at random)
Maria, there's plenty of time between now and then, to do more research and keep an eye on different locations and properties.   You can even contact an owner of a VRBO unit and see if someone is willing to "deal" the unit for less.
With kids your dates are not usually very flexible—My guess is Maria's likely trying to make the trip happen during their spring break.  The point booking might end up being her best bet–but she should still look at other options, especially in a ski area full of great Vacation condo rentals. And don't convert those UR to Hyatt until you're sure you'll use them!
Picking Domestic and International Alliances for Flights.
Maria mentioned she wants to put together a plan for domestic travel, and international travel, with her eye on Jamaica and Peru/Chile.  There's plenty of good news I can give her:
Domestic Travel: Southwest
With a family of 4 the savings in points by using WN is going to really add up.  Also living in Texas means lots of short flights and availability.  A companion pass would save 25% for Maria (1 person free, the other 3 paid), which also can add up over the course of 1.5 years or so.  Living in SAT I'd say that southwest is Maria's best bet—There are more nonstop options from SAT with WN than any other carrier—and points redemptions are cheap for many of them: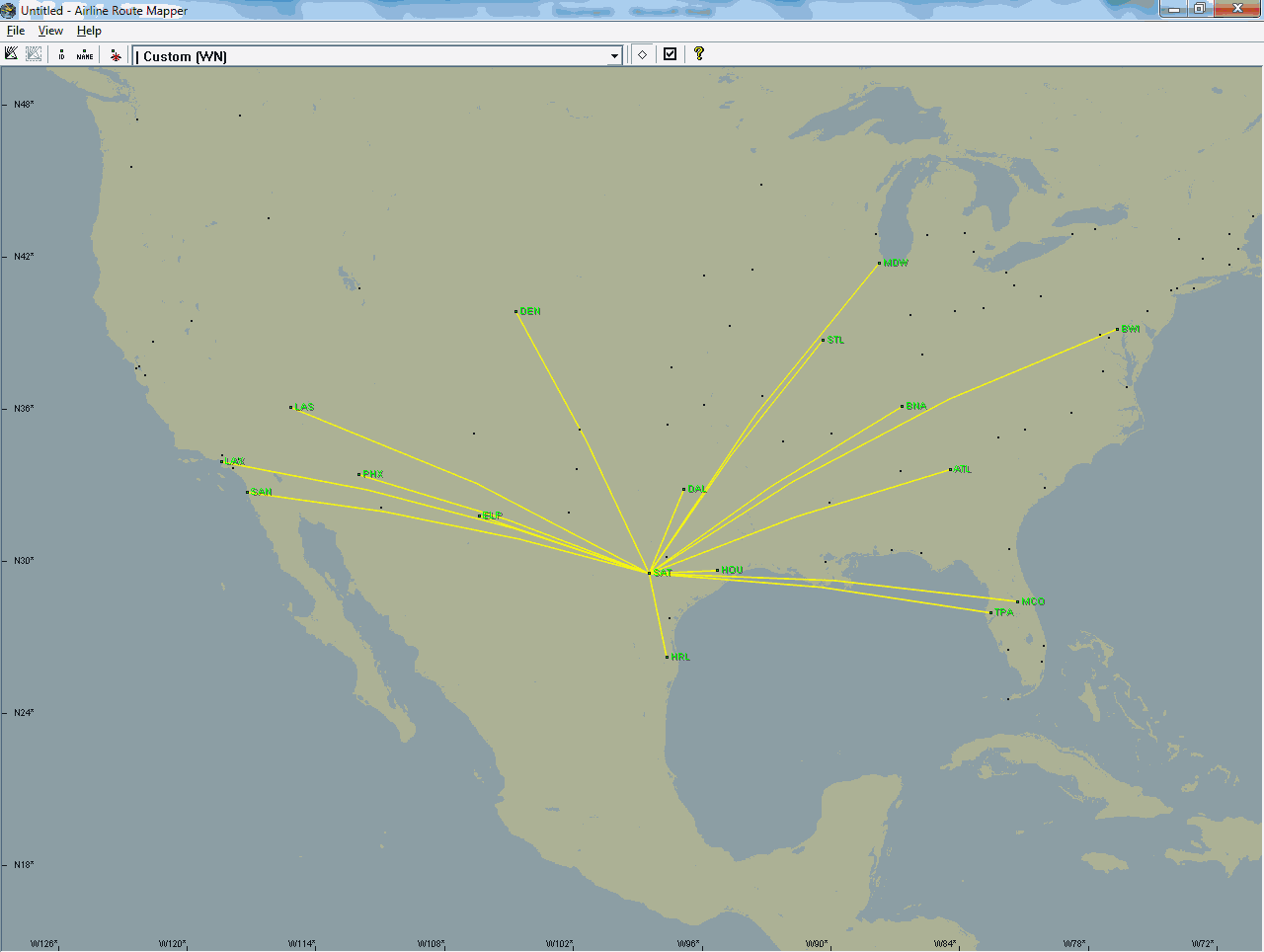 International Alliance: AA/Oneworld
Without a doubt this should be the place Maria earns her miles for international travel.  In Fact I listed DFW as the #1 place to live when using AA Miles for international travel. The reasons are simple: Free one ways on international stopovers using Operation Twist. The twist portion for Maria's family would be making their way from DFW to their home.  They have two options:
1. Drive. 5 hours both ways. Maybe worth it for a family of 4, but with a T-rate of $50 I'd look at option #2:
2. Avios, 4,500 miles DFW-SAT and SAT-DFW per person
Note:There's an option to fly DAL-SAT with WN RR, but DAL and DFW are about a $40 cab/super shutle ride away from each other–and would need to take that in both directions. If Maria gets a Companion pass this might get a little more competitive, but for now I don't think it is a good idea.
Ski trip, South America, and Jamaica—total per person 64,700 Miles
For the purpose of this post I'm going to assume these trips are all happening next year.  In reality I know they won't–but this is an example using real flights and searches to hopefully be as helpful as possible.  Maria can replace the first trip in this list with any other future trip, and the basics will still work for her. If you're in a similar geographic location this post will be helpful for you–if you aren't, but are near one of the great Oneworld cities I wrote about a few weeks ago you also can take these basics and use them for your travel.
I'll be putting the following illustration together, and will include as many photos as I can. The trip will encompass the following:
I won't use the Companion pass discount for WN flights—but if Maria does end up earning one It'll reduce the WN points by 25% for her family.
I've ordered these trips in this way to save the most miles:
I. WN SAT-SLC  (10,200 WN RR Per person)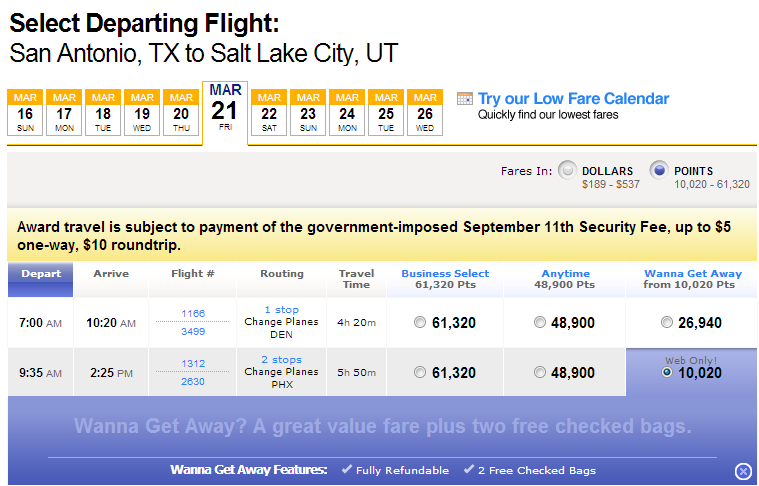 II. AA SLC-DFW (STOP)  (0 miles per person), free one way for item III. You'll need to book an avios redemption for 4,500 DFW-SAT this time, because you started the trip in SAT. 4,500 per person.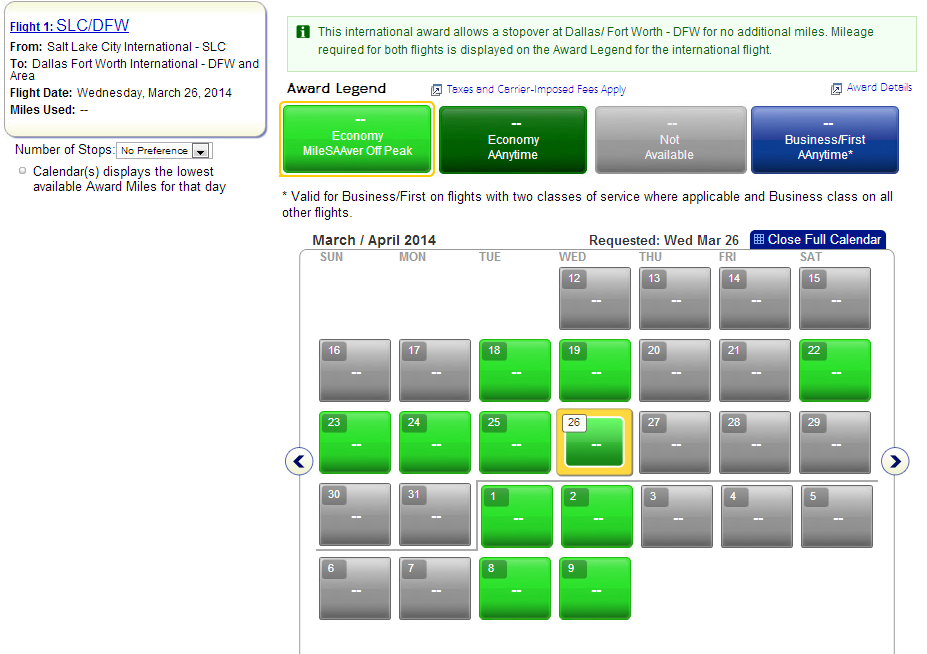 III. AA DFW-SCL-??? Can be as low as 20,000 per person.  Because the trip started in AA off-peak season (technically starting in March with the SLC-DFW) the DFW-SCL part is pricing at offpeak, saving 10,000 AA miles on the outbound to Chile. This is a great way to make your free one way better than free.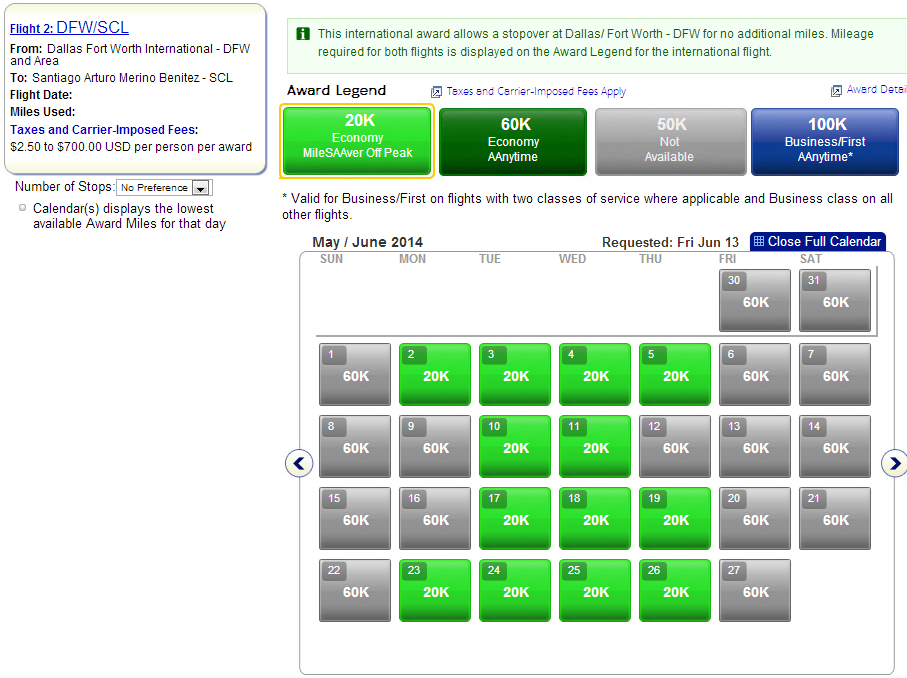 IV. AA SCL-DFW (STOP) 30,000 per person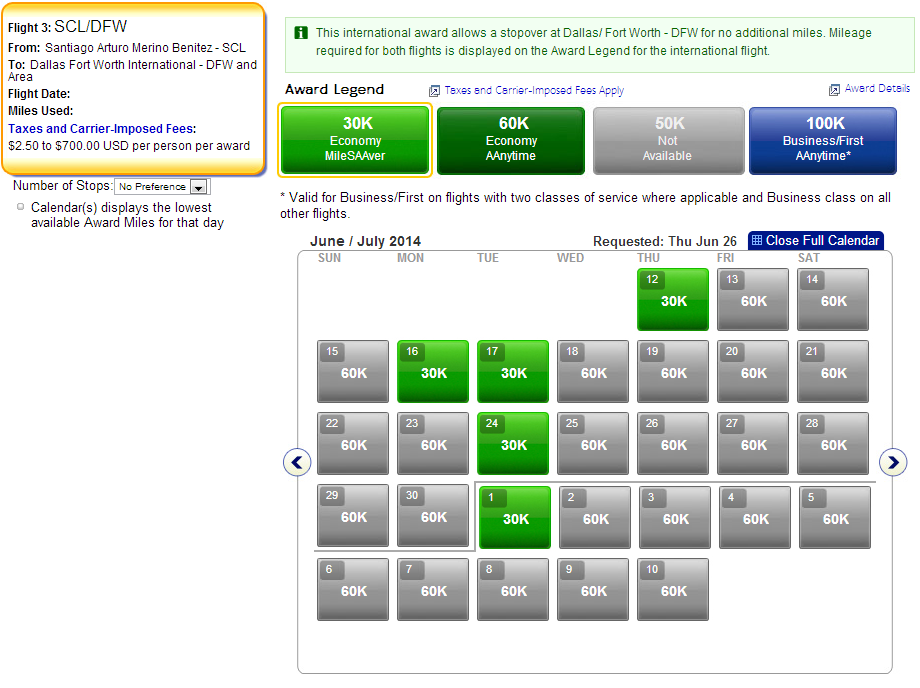 V. AA DFW-MBJ (Jamaica) 0 miles per person (free one way)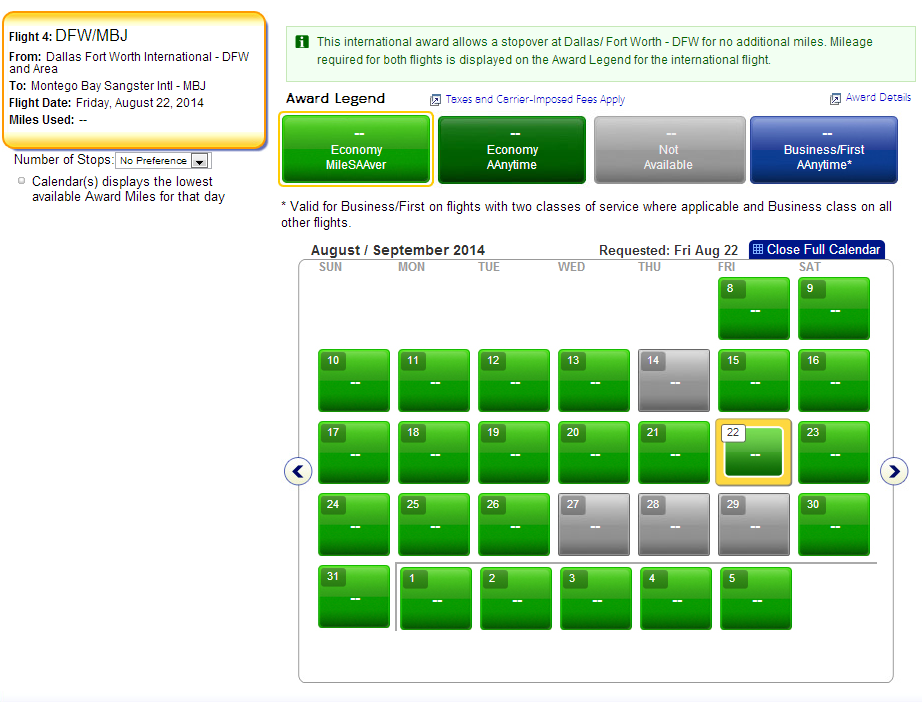 VI. Repeat, starting with MBJ-DFW (Stop) as part of next international trip (Europe maybe?)
Needed: 50,000 AA miles (plus return MBJ-DFW-???), 10,200 WN RR, 4,500 Avios per person. Total 64,700 per person. Potential savings of 33,200 miles/points per person. 
Note: Add more Avios to replace driving with flying DFW-SAT and SAT-DFW at the start and end of  these trips.
Where to Focus Earning
Maria should start focusing on collecting AA miles.  All told she'll need 200,000 for the above example, plus either some extra avios, or more AA miles to get home at the end of this trip.  Her family could instead start the operation in Jamaica, flying MBJ-DFW stop, DFW-SCL, and then on the return go to Hawaii, or anywhere else in North America.
The basics of this strategy are that all Maria's international flights will run through DFW—and her family can use that for extra 1 way flights inside of North America.  They'll augment that with domestic trips on WN, flying right into and out of SAT all year long. Then they'll drive to DFW and pick up where they left off the international flights.
Also, it is important to note that the South America Flight could be DFW-LIM which is flown on AA as well.  I did not have much luck finding 4 seats on it—so I did not use it for this search.  Maria should use her dates and try for the best possible use of her family's miles.
In South America Avios are valuable for short, expensive flights.  Whether you'll need those depends on which cities in S.A. you're looking to hit. You can connect to smaller cities in South America as part of that flight (but no stopover is allowed). Check for award seats with oneworld partner LAN using www.Britishairways.com.
A little more about orphaned miles:
Maria currently has 20,000 WN RR miles—enough for 2 people to fly to Park City UT. Unfortunately they are spread across 4 accounts (her husband, herself, and her two kids). She needs a total of just over 40,000 WN RR points for the Utah Flights in march. What this means is that she would technically need to either:
– Earn 35,000 more RR points in one account (say from a CC signup). This leaves 15,000 WN RR points orphaned.
– Transfer 5000 points into each person's RR account from her Chase UR balances—and book one ticket from each account. Try to keep parity across the accounts from then on.
Good mile management is a cornerstone of family accounts. Keeping accounts at or near levels you can use them at will eliminate potentially orphaned miles.  I wrote more about this when I discussed pooling miles.
What About Earning Miles?
Maria wrote: "The city I live in only has 1 grocery store chain–H-E-B (not counting Super Walmart and Super Target). No Krogers, Ralphs, Albertsons, Safeway, etc. Just the local H-E-B.
I plan to earn most of my pointsmiles through credit spend
About 2 months ago i got an Amex Bluebird and i have relatively easy access to vanilla reloads at CVS and gas stations. "
Super Walmart and Super Target both can have a place in Miles and Points—don't discredit them simply because they're not a "grocery" chain.  I've discussed Safeway deals here—but that is a product of my geographic location.  If there are H-E-B deals Maria will want to sniff them out with help from fellow Texans.  She's got a good gas station and CVS connection, and with her Ink's I hope she's got an office supply strategy as well.
In addition there are plenty of online strategies that are geography neutral.  Maria will want to keep focus on anything that can be done online.  In the short term she may want to just handle this ski trip as a single award flight with WN RR points–and get to work on the rest of her mileage balances with AA and Avios.  Needing 200,000 AA miles is a lofty goal, but it is easily doable in 3-6 months and at minimal cost.
I'd suggest booking these trips as soon as you can, finding 4 seats can be tough on AA flights in the high demand parts of the year.  There's a balance you'll need to find–between booking 11 months out and not being able to use a free 1 way (due to 1 year limit on ticket length), and waiting to book at the last minute and not finding flights.
Best of luck to Maria and her family.
-Sam
---