Today's post is for pure #101 travelers–those of us who fly a few times a year to a few different places and just want their tickets to be paid for with miles whenever possible.
I wanted to pick the easiest program to get started collecting Miles in. Today I'll introduce the process I used to come to my decision, and ask those of you who are new to using miles to try out the program yourself.  In doing so I'll also go step by step through the booking process and discuss how much savings you can expect using the program.
Milenomics Can Overcomplicate Things
Unfortunately, when you're trying to take things to the limit and push for as much return on your investment in miles as possible things can look difficult to a beginner.  While there are plenty of great ideas thrown around here on the blog, even I have to admit; a lot of them are pretty complex. Today we'll take it back to the start–and really try to simplify things.
Southwest(WN) probably has the easiest redemption–you find a flight, and book it.  Every flight with paid fares available books with WN RR points.  Unfortunately a program like Southwest doesn't expose us to the true nuances of booking with Miles.  I want to disqualify Southwest for the purpose of this post because it was really just a fixed value point system, crediting you for the cost of the flight. What makes WN rapid reward points different from capital one miles? or US bank Flexperks? Nothing–except that they're only useful for flights on Southwest. Lets agree to disqualify Southwest on these grounds.
Note: There's nothing inherently wrong with these types of points.  Milenomics loves WN RR points–and also has started to really like Virgin America Elevate points.  Finding what works for you is the most important thing you should do.  If your strategy–especiall as a #101 is to fly Southwest, go for it.  
Limiting the Challenge to Traditional Frequent Flyer Programs Only
"Traditional" Frequent Flyer programs do things differently.  The points hold no real value until you redeem them.  Redemptions are done against an award chart which lists the cost for each type of flight, either based on zones, countries, or distances.
In addition (unlike Southwest, or other fixed value points), your choice of flights is limited.  The benefits of these types of programs is that the number of miles does not depend on the cost of the flight–but on the origin and destination. What we try to do is find those flights of ours that are pricey–and then book them with as little points as possible.
In order to find the best program for first time users of Miles let's start by looking at mainline US Carriers:
United: Sets the standard for how an award engine should work.  Even complicated open jaw and stopovers can be booked online with this engine.  However for domestic flights I don't recommend (yet) using United Miles.
US Airways: Absolutely horrible online engine–no one way awards.  With a few months until the merger goes through I can hardley recommend anyone use the terrible US engine for booking.  Also impossible to do a 1 way booking–which results in having to resort to these kinds of Milenomics tips to book a 1 way.
American Airlines: AA's award engine is very easy to use–and can show many partner awards as well.  I disqualified it because almost always results in spending more (and more valuable) miles than a booking with BA Avios.
British Airways Avios: Unfortunately cannot be used to book all possible partners online, most notably Alaska (AS).  However because it can offer rock bottom pricing, and books AA awards online I argue it is our winner.
Some of you will probably push for AA, or UA, with their online search being so user friendly.  Since my vote is the final word here, I'm pleased to announce the winner of the first annual Milenomics, best program to get started with award:

BA Avios Are the #1 Program to Start Out With.
I know not everyone will agree with this.  And I did, just last week rename British Airways Bandit Airways. But the reasons BA Avios were chosen are as follows:
1. Miles are easy to earn (being a MR transfer parter, a UR transfer partner, as well as having a co-branded card from Chase).
2. You can pool miles using the transfer option of UR/MR or by setting up a BA Executive club household account. This means no more orphaned miles.
3. In addition there are usually bonuses; currently 1,000 MR transfer into 1,200 Avios.  The Chase BA card earns 1.25 Avios per $1 spent–a premium most other cards don't match.
4. The booking engine is powerful–powerful enough that I recommend it for AA and oneworld international searches.  So anything learned by using the engine will be useful for future booking.
5. Bookings can be done for as little as 4,500 Avios one way.  With pricing that low collecting and using BA Avios can happen very early into a mile collecting career.
6. Book AA flights for less miles than with AAdvantage miles (with some bonus BYOE benefits).
In fact the pricing for flights with Avios is super simple to calculate.  Take the two cities you're looking for flights between, and search for the distance between them using www.gcmap.com. Once you find that distance, match it up with the chart below: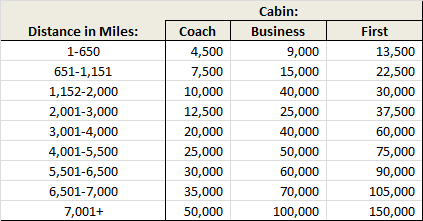 That's all there is to it. No zones–no difference in cost between flying on BA, AA, AS, or any other alliance member or partner airline.
Getting started with Avios
The best way to get started is to just jump in and book something with your BA Avios. If you've never booked a flight with miles before, bookmark this page–and once you're ready to do so take your Demand schedule, and find a flight from your home airport within 650 miles. With Airline route mapper this can be done by going to View–>Options and then limiting the route length to under 650 miles.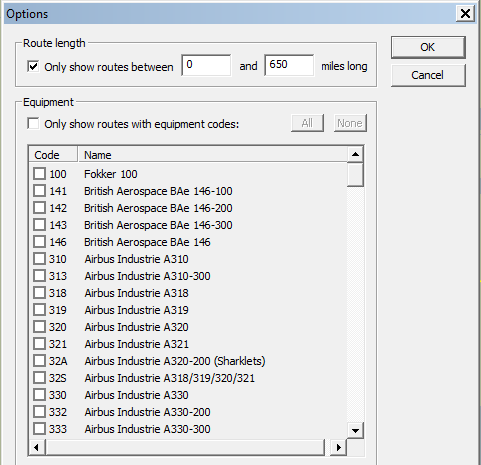 Now that you have a look at what flights are under 650 miles make sure that AA serves the airport of that flight.  Restrict Airline Route Mapper to AA only, and load the map. You can also look up AA route maps here.
In a totally unscientific manner I chose two cities–Nashville, and a sub 650 mile AA city pair: Washington D.C..  Let's assume you want to fly BNA-DCA for Valentine's weekend. Unfortunately the price for this 561 mile 1.5 hour flight is not that nice: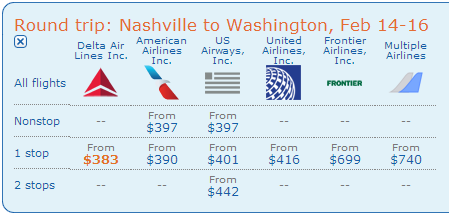 $397 per person for under 2 hours of flying is pretty steep.  Lets look for award flights for the same weekend.  As I mentioned long ago in the post "the best way to search for low level awards," Often times the best way to search for awards is not with the program you're booking with.  When booking AA, or Delta I recommend using the Alaska Airlines search engine found at www.alaskaair.com.
Using the "award calendar" option to show a whole month of flights we are presented with these options for BNA-DCA: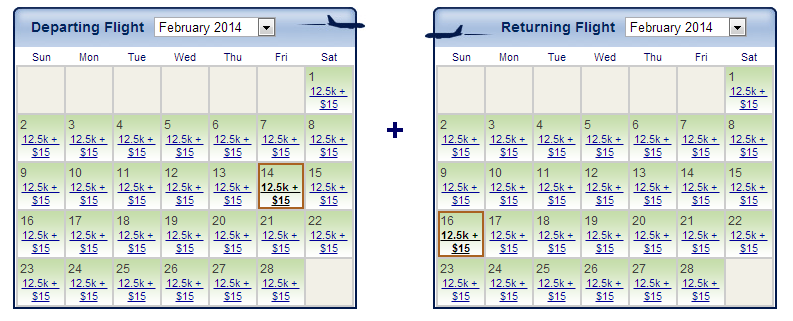 Clicking on our preferred dates 2/14 and return 2/16 we're presented with many different flights for the day: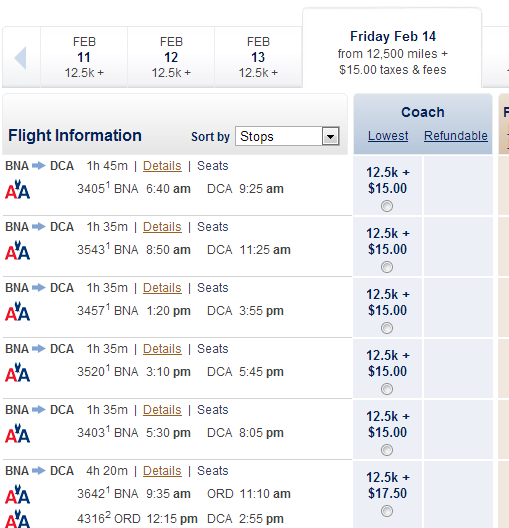 Write down the flight number you like the most, as we'll use it when we go to book. You can't book flights with Avios from this screen, we are only using Alaska's search engine to search for flights.
Note: With Avios you almost always want to look for non-stop flights only.  This is because if you include a stop you pay the mileage for each segment–which could double the miles needed. In this example there are plenty of good nonstop flights, so we look ready to book.
Booking with Avios
A rule you'll want to remember for booking is that you always book with the program who's miles you hold, not the program of the plane you'll be flying on. So in this case even though you're flying on AA–we're booking with BA Avios– so we need to do the booking with British Airways.  We didn't do the search with BA, but with Alaska because they have an excellent calendar that shows a month at a time.  All three, AA, AS, and BA have the ability to book on each other.  These types of alliances and partnerships are what confuse first time Mile users, and also allow airlines to commit robberies.
You'll have to have previously signed up for a BA Executive Club (Avios) account either to transfer miles in from MR or UR, or as part of signing up for the BA Visa.  If for some reason you have not done so–sign up for an account now.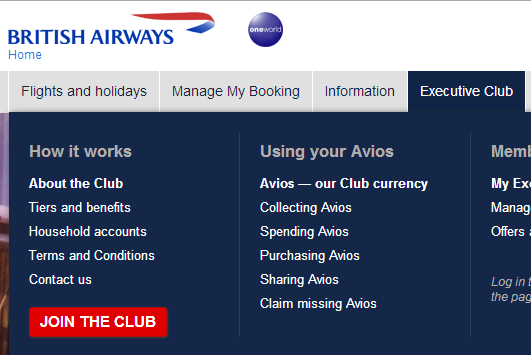 After signing up, and transferring in the miles you need (Call MR/UR for help transferring if you need it) go ahead and log in, and we'll start our booking. Input your cities, BNA and DCA–and the dates from our earlier Search on Alaskaair.com: 2/14 and 2/16,  2 passengers, and finally, make sure you select "Economy" and click search.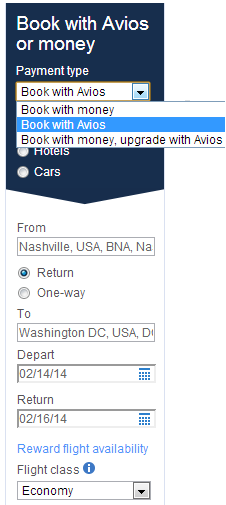 The search will return identical results to the Alaska search. For the outbound there are the options: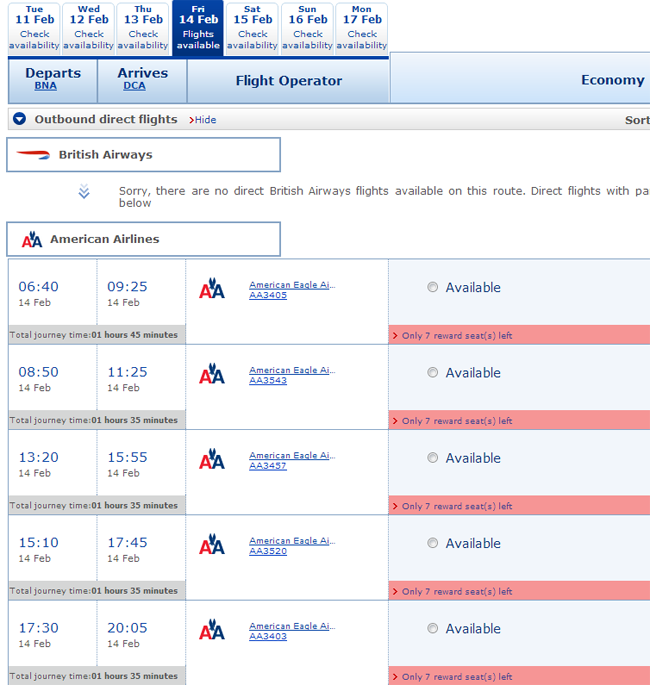 You're free to pick any of these flights.  The benefit of searching for AA flights and booking them with Avios is that all available flights price at the same low 4,500 miles.   The reason behind this is technical–partner airlines only have access to these low level flights.  This is in actually a good thing, limiting the miles we spend.  Because we're getting a $397 trip for just 9,000 miles we need some flexibility -remember Milenomics teaches us to be flexible in either dates, class of travel, or destinations.  In this case we picked DCA because
For the return we only have a few options as well: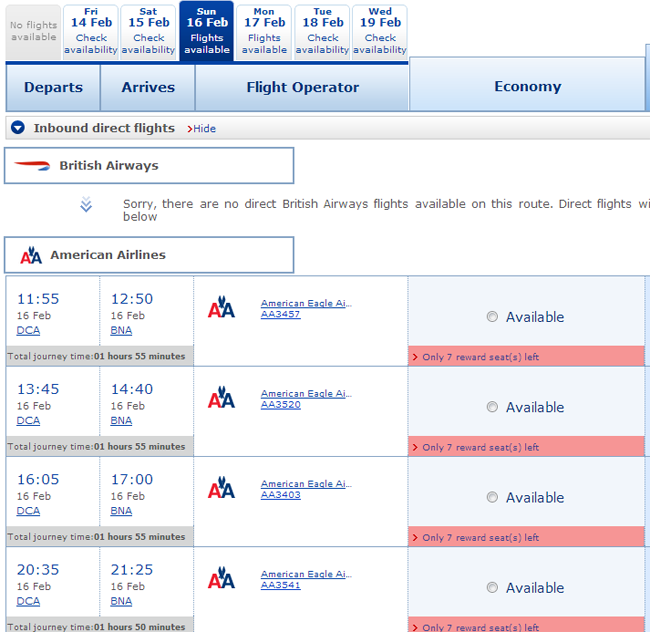 If you'd like to stay an extra day, you can search for +/- a few days by clicking the dates above the flight option. The search on BA.com only shows 7 days at a time, which is why I prefer www.alaskair.com
Once you've completed this first booking hopefully you've learned a few things about the mechanics. Future bookings won't be as intimidating.  Eventually you'll start to prefer award bookings over cash bookings–and then you'll be a full fledged Milenomic.
With Miles the Solution Doesn't Always Make Sense
I know it seems strange–a Company based in the UK, with a relatively unknown mileage currency  which has bookings that are not handled like most other programs ends up being the top program for US domestic travelers on AA and AS?  That's just an example of how miles work. They don't often make sense to us because we've spent a lifetime buying tickets the old way–based on price and from a website that allows us to shop for all kinds of flights.
While spending miles is a little harder, you can't argue with the results: the above booking was $794 for 2 passengers.  Instead we used 18,000 avios and $10. This translates into a 4.4 Cent Per Mile redemption.  While this is a fantastic value–don't chase these high value redemptions and pay for lesser ones–try instead to earn enough miles to pay for all your flights with miles–a little something I like to call EQM-Zero.  If you're a true #101 Milenomic and fly just a few flights a year you should be able to do so without too much trouble.
With miles the simplest solution is often the worst possible one. Calling AA and booking the same flight with AAdvantage Miles would have cost us 50,000 AA miles for the two seats. We saved $784 and 32,000 miles by booking with Avios instead of AA miles (or cash).  The usefulness of BA Avios in other situations (international, premium cabins to/from Europe) can be low.  Miles are usually good for certain travel, and horrible for others. Instead use these easy to earn, easy to spend miles to travel around the country for less.