Note: Today's post is guest blogged by none other than the big man himself.
Sam's away, and I have the day off (the Elves are working on overhauling the sleigh) so I graciously offered to take time off of my Holiday Schedule to guest write these next two posts.
The Original Frequent Flyer
I'll take a moment to introduce myself; There are frequent Flyers, and then there's me, Kris Kringle. In one night I fly more than most of you do in a lifetime–75.5 Million miles in just 31 hours. Due to Santa Global Entry (SGE) I'm able to cross borders without any customs forms or wasting any of my precious time. In fact, when Sam asked me what my T-Rate was, and I told him, "on Dec 24th I calculate my T-Rate in the $Billions."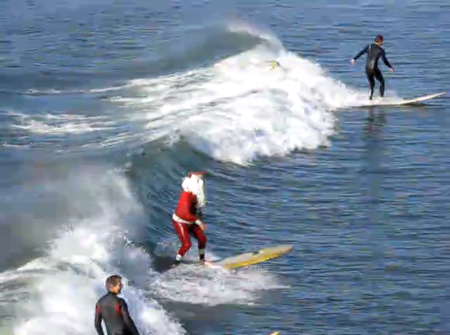 While I rarely Fly commercial I have been known to slip down to Hawaii in January (I'm not a snow-bird, I call myself a Snow-Reindeer) and relax with Mrs. Claus. I also enjoy the surf, once my back has recovered from hauling all those toys that is.
Little Known Fact: Mrs Claus insists we fly coach, when we're traveling for vacation. In 1972 her insistence of this ignited the great debate, Coach or First Class? I lost that debate; but I did put a pretty sweet Lie-Flat in my sled last year (Thanks to my friends at Dragon Air):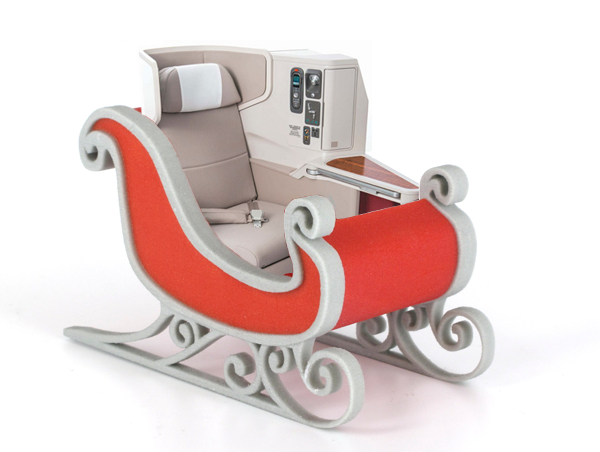 I've Made My List, and Checked it Twice
Sam asked me what my Naughty and Nice list looked like, and if he could take a peek at it.  I offered to write up this list for his blog instead. And so, I present Santa's 2013 Milenomics Naughty list, representing the ten worst developments in Miles this year.
10. Delta Devalues their Award Chart–Twice. I don't fly Delta very much, but I know Milenomics is a fan. When they announced a first devaluation that was bad. But to go back and devalue again; even Rudolph knows better than that! Just look at the award chart now:

9. Loss of Alaska Airlines Debit Card. Being so close to the North Pole Alaska is my go-to carrier.  Most of my elf suppliers don't take credit, so the AS Debit Card was my go-to mile earning card.  Now that the card is leaving I'll have to look elsewhere to pay the Elves for the toys they make.
8. US Airways Award Fees and Booking Engine. 2013 and we're still charging an "award processing fee?" No one ways, unless you get sneaky, and no way to book partners online make for a very customer un-friendly experience.  Yes there are great values to be had with US miles, but the hoops to jump through to use them are Naughty indeed. Once the merger was in the cards any hope for an updated booking engine in 2013 went out the window as well.
7. US/AA Merger. I'm putting it on the naughty list this year–I just hope next year I look back and regret having it here. Many of my Elves are AA EXP and US Chairman's Preferred (due to all their flying back and forth for parts and R&D). The elves are worried about the combined number of elites, and the format of the program. With little hard answers we hope for the best, but expect the worst.
6. Flyertalk, yes, that Flyertalk. What happened to you? You used to be so cool? Everything was easily accessible in the MilezBuzz forum.  Then they split off Manufactured Spending and all Credit Card related discussion. Now everything is a mess. Flyertalk is still the #1 source for all things important; but getting that information is so much more difficult now.  I wish for 2014 things would turn back around, and general Mile realted discussion was all funneled into one forum again, but I have a feeling those are wishes that will not come true.
5. Citibank devaluing Thank You Points (TYP). The reason Milenomics calls TYP a,
"Fixed Value Closed System Credit Cards," is because their value is fixed. Not so when you're Citibank, who swooped down and decreed the value of them be reduced from 1.33 cents to 1.25 cents for travel.
4. Variable Load cards being pulled by Office Depot.  Blame the Bloggers, Blame the thieves, blame each other, but February made 2013 look like it would be a bad year for Miles. (Fortunately that wasn't true).  The rumors that these cards would be pulled were around for a long time, but then the hammer fell, and they were removed in early February.
3. Incomm shutting people down, treating them like criminals, and keeping their money. The lack of Customer Service and the general treatment of their customers as criminals is a shameful thing.  Sure plenty of criminals use their products, a fact which seems to be turning Incomm into criminals as well. When you keep someone's money without cause you're on the Naughty List for sure!
2. Chase, for shutting down accounts across the country. And not only your account–but also your mother's, brother's, and anyone else at the same address. This would be like me, Santa giving everyone at a home coal for Christmas just because one little boy or girl was bad that year.
1. United Changes the very nature of their program. PQD requirements, Devaluing their award chart, and splitting partner awards out as a separate "second class" are bad enough. Raising fees, charging for changes that used to be free (on award tickets), and the general downward  trend, from worse drinks in the club, to lack of compassion from front-line employees make you #1 on S.C.'s Naughty list this year.  All while bringing back the "Fly the Friendly Skies" campaign.  United, you're a mean one, Mr. Grinch.
—
That's the list, at least as I have it folks.  Sam will be taking comments, I'm off to continue oversight and final preparations for the 24th. I'll be back tomorrow for my 2013 "Nice" list, with all the best that happened this year in the world of Miles.
Until Then,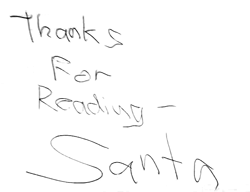 ---
Everything below this line is automatically inserted into this post and is not necessarily endorsed by Milenomics: