Today's post is written for #201 and above Milenomics because it discusses International Travel. 
The last two posts have led up to today–first we looked at where United will fit into our plans for 2014.  Next we looked at our 2014 Domestic travel, and we discussed a few new Low Level Hedges as part of that post.
Today we're back to a Redux post, meaning we're revising (and updating) an older post with new information.  Today we revisit the "Principle of Mileage Conservation," for next year, and update it.
The Principle of Mileage Conservation
When I wrote the first post on this subject, back in early September an alternate title I toyed with was calling it "The Law of Conservation of Miles."  I personally think that title would have been more descriptive of the idea behind Mileage Conservation; but the title felt too closely worded to the "Law of Supply and Demand" post, and so instead it was labeled the Principle of Mileage Conservation.
The Principle of Mileage Conservation states that: For any trip you take domestically, try to ensure the miles used do not negatively impact your international travel plans.
Put simply: Have miles for travel domestically, and larger pools of more valuable miles for international travel.  Conserve your most valuable miles for your most difficult/costly trips. 
Conservation of Miles only works if you then plan to use those miles.  I used to suffer from Range Anxiety, and I would routinely hoard my miles, buying domestic tickets because I didn't want to spend my hard earned miles on flights.  Milenomics changed all that, and I hope it does the same for you.
Continued Differentiation Between Domestic and International Travel
Part of why these Redux posts are great is that travel is very fluid; plans change, destinations change, and we change. My list of domestic and international travel from September is much different than what my demand schedule looks like now. Gone are the plans for the Almafi Coast, Added is Costa Rica and Hawaii. An around the world trips is still somewhere in the future, but I've kept it off the demand schedule as it is more of a dream than a firm plan.
Finding your split between Domestic and International travel is important, if only to know which programs to collect miles in to use for your flights.  My Domestic Cities for next year look to be: BUF, MCO, DFW, SLC, SEA, LIH, and SFO.  Looking at which carriers serve each of those cities (from my home base in LAX) is the basis for coming up with a plan to Conserve Miles.
It is of no value to collect large balances of miles that don't allow you to travel from your home airport.  I'm lucky; Los Angeles is served by just about every major and minor player in the domestic market.  If you live in a smaller market, get familiar with the airlines that fly into/out of your home airport and to your domestic cities of choice.  If you live in a large/mid sized hub, focus on the carriers who fly the routes you need to take nonstop.  Remember, time is money–so why add an unnecessary stop when you don't need to.
Take for example a traveler who lives in Las Vegas, NV and flies back to DFW often: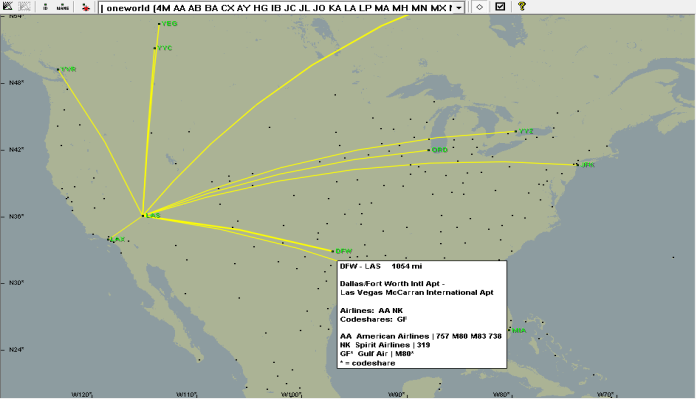 As  you can see this route is served by AA and Spirit Air as a nonstop, and by many others as a 1 stop (or more) option:

With this in mind, collecting miles that let you fly the nonstop should be your first priority. For a LAS-DFW flight on AA that means British Airways Avios. This 1,054 mile flight is just 7,500 Avios each way–a significant savings over the 12,500 AA would charge you for the same exact flight.  You're saving 10,000 miles each round trip, and you'll also be conserving your AA miles for future international travel.
Taking this a step further, if it meant saving your AA miles for international travel, would you fly that spirit flight?  The Principle of Mileage Conservation asks you to at least consider doing so. If doing so saved my international miles for much more expensive flights I would at least try one flight to decide whether I ever want to ever fly Spirit again.
Putting Together your International/Domestic Split
I've updated my Domestic and International Programs and my whiteboard for 2014 now looks like this: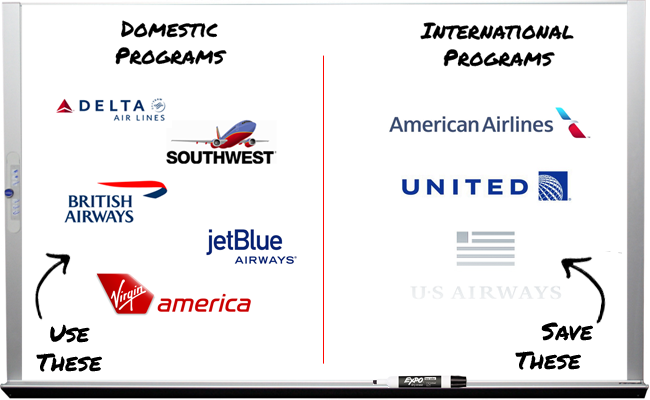 I suggest starting out with just one program each for your first Domestic/International split.  Holding too many miles opens you up to time decay and depreciation. Find the miles you can acquire the cheapest and make those your domestic mileage program.
While my program list might look extensive, the majority of the programs on my Domestic side are served by either American Express Membership Rewards points, or Chase Ultimate Reward points.  In this way I've limited the number of Domestic programs I hold a balance in to just Delta; the rest will be transferred in and booked immediately.
Focus, Focus, Focus.
The basics of this Conservation system are to focus earning in International programs, both for your next trip, and the one after that (Leapfrogging).  Identify programs you can earn cheap miles in (Like Delta, or Amex MR), and use those cheap miles for your domestic travel.
Book flights with those domestic miles freely to save money any time the value is there.  Doing this will preserve your International program balances, and save your most expensive/hardest to earn miles for those flights where your out of pocket costs would be the highest.
---
On a personal note: I hope that 2014 takes you to great places.  I'm off to celebrate Christmas Eve. To all of you Celebrating with friends and family, I wish you a merry and safe Christmas.
---
Everything below this line is automatically inserted into this post and is not necessarily endorsed by Milenomics: